I'm Being Blackmailed Over Sex Video With My Current Lover, Laments Tiwa Savage
Popular Nigerian singer, Tiwa Savage, has opened up in a recent interview about being blackmailed with a sex tape of her and her current lover.
The music star disclosed this in New York during an interview with American OAP, Angie Martinez, on Power 105.1 radio station.
The "Somebody's Son" crooner told Martinez that she will not give the blackmailer power over her for doing something that is natural.
In her words:
"Yesterday, I was in the car when my road manager sent me a message and told me to check my phone. So I checked it and I was just like, 'wow! Where did you get this from?' The video was sent to him and it's a tape of me and the person I'm dating right now. The first thing I did after I got off the phone was that I sent it to my manager and asked what we should do. The person is asking for money now. The person I am dating is going crazy too."
However, the "Koroba" singer said she has decided not to accede to the alleged blackmailer's demands and pay them off, noting that any form of payment could encourage them to repeat such an act anytime.
She said: "I decided I was not going to pay the person because if I do, two months from now, three months down the line or even two years later, you are going to come back again. Who knows, if I send the money, the person will probably release it. I am not going to let anyone blackmail me for doing something natural
"No part of me wants to pay the person. That is what is getting me angry. If you want to put it out, put it out. I am that crazy that I can put it out myself. You are not making any money from me. This was an intimate moment with someone I am dating. The person I am dating is not famous, he is a regular guy and his whole business is about to be out.
"He is more concerned about me because he knows that I am going to be more affected. My mother and my son having to see it. I am going to talk to my son about it.
"For me, it is when he is older at about 15 and someone is rude to him at the playground and they make reference to the tape. I have to brace him up."
Tiwa stated that the video was accidentally posted on Snapchat by her lover, who deleted it immediately when he realised the error.
She, however, noted that the remedial action was too late.
''He Injured Me With His Penis'' – Tiwa Savage Speaks Viral Sextape (VIDEO)
Tiwa Savage has spoken on her viral Sextape with an unknown boyfriend says ''He Injured Me With His Penis''.
JomogNews Nigeria reports that Nigerian Ace Female musician, Tiwa Savage has reacted to her s*x tape after it was leaked online by unknown persons.
In the video, Tiwa Savage was seen with her boyfriend in some serious romantic action.
People had thought Tiwa Savage will break down after this but unfortunately, she has disappointed everyone.
During a show late night yesterday, Tiwa Savage addressed the issue and said her boyfriend 'injured' her with his manhood.
WATCH VIDEO BELOW
Meet Ooni Of Ife's Latest Queen, Oloori Afolashade Ashley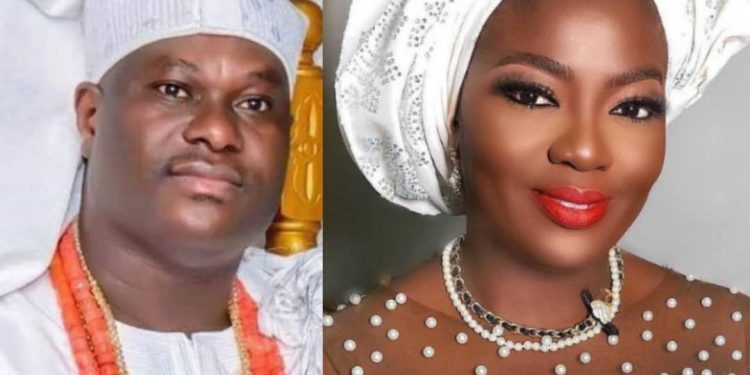 She is called Oloori Ashley and she is an entrepreneur and an accountant. The pretty queen runs a non-profit organization known as Ashley Adegoke Foundation.
She was based in London before relocating to Ile Ife.
Really, Ashley isn't a new entrant at the Ile Ife palace. She is not a new lover in Ooni's life too.
She has always been in the handsome monarch's life even before he married Oloori Wuraola (who left after the palace and divorced the king) Mind you, Ashley took a part of Oba Adeyeye's heart before Naomi Silekunola became his queen.
In fact, the Ooni of Ife, Oba Adeyeye Enitan Ogunwusi, who clocked 47 years old, last week, would have married Ashley before Naomi but there was an impediment—Ashely is a single mum.
Recall that the tradition in Ife forbids the Ooni from marrying any woman who has ever had a baby for another man.
Simply put, a single mum cannot be the Yeyeluwa.
Investigations further revealed that whoever wants to be the Yeyeluwa in Ife kingdom must be a woman with no string of motherhood in any form.
A source exclusively told Kemi Ashefon, "Ashley is a good woman who is very generous to the king and had always been like a financial backbone but their marriage was delayed because she has a child out of wedlock.
In 2017 when Oloori Wura left, everyone thought Ashley would replace her but the fact that she has become a mother before meeting the Ooni became the obstacle. Ashley relocated to Ile Ife since Oba Adeyeye ascended the throne and has refused to leave the palace ever since.
Though Oloori Naomi is recognized as the first Queen in the palace, she and her family members who live with her, know categorically that Ashley cannot be toyed with.
They all know Ashley is a no-go area and the Ooni doesn't tolerate any form of disrespect towards his beautiful Ashley."
Well, Ashley has been unveiled as the latest queen during the 47th birthday of the Ooni last weekend. Even Oloori Naomi acknowledged the presence of some queens in the palace while giving her vote of thanks at the surprise party organised for the king.
She referred to Ashley as the Princess of the Source and prayed for more queens in the palace.
In her birthday shout-out, Oloori Ashley referred to the monarch as 'my crown.' She refers to herself as "Omo Olofin, Aya Olofin, Aya Osha, Aya Adimula'
She wrote in the birthday message to the Ooni,"To know you is to LOVE you… Father to the nation, husband to many… Oko Osho… Oko Opo.. Oko Aje… Ekun Omo Giesi.. Orisha Oke ti gbogbo Orisha ile ngba fun…Orunmila Oko ODU…Dagunduro…Akande Ajiwe fun'osha… Olori Alade Gbogbo…Okirikiribiti….Igba Odun Odun Kan ni. If I could give you a gift, it'll be to see yourself in people's eyes and see how special you are to many. Cheers to many more years in good health and abundance of wealth ni Ase Olodumare 👏🏽👏🏽 Happy Birthday my Crown Jewel 👑ODU Aya Osha… Aya Olofin…Omo Oba 👑🥰❤️👑"
Source: KemiAshefon
JUST IN: Annie Vs Pero Adeniyi: Finally, Tuface Reveals His Next Step….
Legendary Nigerian singer, 2Face Idibia has reacted after he was recently criticised for being unfaithful to his wife, Annie, and also being the cause of his recent marital crisis, after his first baby mama, Pero Adeniyi linked up with his family, who declared Pero the unbothered and unshakeable first lady as was seen in a viral video which sparked reactions on social media over the weekend.
Taking to his instastories, the singer said he is not going to change who he his nor allow the criticisms he is receiving make him go crazy";
One of his posts read;
"Una No Fit Make Me Crase"
See below.