New Naira: CBN, EFCC To Track Large Withdrawals – Emefiele
The Central Bank of Nigeria (CBN) governor, Godwin Emefiele, says the apex bank will make it difficult for large cash withdrawals at banks as well as collaborate with law enforcement agencies like the Economic and Financial Crimes Commission (EFCC) and the Independent Corrupt Practices and Other Related Offences Commission (ICPC) to track such heavy withdrawals.
This was made known by Emefiele at a press briefing after the unveiling of the new Naira notes by President Muhammadu Buhari on Wednesday in Abuja.
Emefiele said the promotion of the cashless policy initiative was the reason for the reissue of these notes, noting that the CBN will insist on the implementation of the policy nationwide as the country moves towards a cashless economy.
To complicate huge cash withdrawals: Emefiele, at the briefing, said that the amount of money that can be withdrawn from the counter would be reduced drastically, adding that bulk withdrawals would require several procedures and security checks to track use.
He said, "There is no economy imbued with the thinking that it has to be a cash economy; the world has moved from predominantly cash to a cashless economy. And I think Nigeria and the Central Bank of Nigeria are prepared to move towards a cashless economy. And that is why following the redesign and issuance of this note, we will insist that cashless will be nationwide.
"We will restrict the volume of cash that people can withdraw over the counter. If you need to draw large volumes of cash, you will fill out uncountable forms; we will take your data, whether it's your BVN or NIN so that our law enforcement agencies like EFCC and ICPC can follow you and be sure that you are taking that money for a good purpose."
Control of money supply: The CBN boss noted that among other reasons, the redesigned notes would ensure that the apex bank has ample control over the amount of money in circulation.
He also pointed out that the redesign of the naira is not targeted at anyone while noting that the past attempts to redesign the naira notes were resisted.
He added, "The Central Bank of Nigeria, by law, has the mandate to reissue and redesign currency for the country, and for Nigerian people, every five to eight years. And I want to hope that after the event of today, the Central Bank of Nigeria can take it as part of its programmes to see that the currencies are designed or reissued every five to eight years.
"It is mainly because the central bank should be able to control the size of currency in circulation fully. That is the actual mandate of the Central Bank of Nigeria because it has implications for monetary policy management in the country.
"There is no need for anybody to think this program is targeted at anyone. Like you heard the president, he said, this discussion to redesign and reissue currency started early in the year."
For catchup: Recall on October 26, the CBN governor, Godwin Emefiele, while announcing the planned redesign of the high denomination naira notes by December 15, 2022, said that the initiative will aid security agencies in tackling illicit financial flow among other benefits.
According to the CBN, the existing notes would cease to be regarded as legal tender by January 31, 2023.
Emefiele said there was significant hoarding of naira notes by members of the public, with statistics showing that over 80% of the currency in circulation was outside the vaults of the commercial banks.
Naira Slumps To N950/$Dollar As FOREX Scarcity Worsens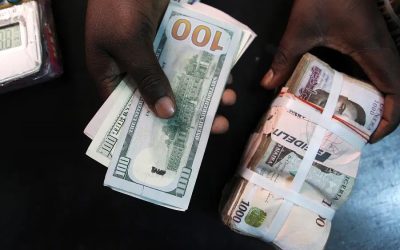 The naira fell further to the dollar on Wednesday after closing at 950/$ at the parallel market.
Bureau de Change operators who spoke to The PUNCH, said the naira which had earlier closed at 930/$ at the close of operations on Tuesday, was bought and sold at 935/$ and 950/$ on Wednesday.
At the Investor & Exporter forex window, the naira closed at 758.12/$ on Wednesday, from 742.10 on Tuesday, according to figures obtained from the FMDQ, the official trading platform.
A BDC operator, Yusuf Kareem, who spoke to The PUNCH said, "We commenced trading at 930/$ in the morning and it closed at 950/$ in the evening. The naira has been scarce; we don't know what is happening."
Another BDC operator, Sanusi Ibrahim, said, "the naira was bought and sold at 935/$ and 950/$ today. We don't know what will happen tomorrow."
External reserves fall by $915m after naira float
The Association of Bureaux De Change Operators of Nigeria, recently, urged the Central Bank of Nigeria to grant Bureaux De Change operators digital autonomy to achieve exchange rate convergence.
In a statement, the President, ABCON Dr. Aminu Gwadabe, called on the apex bank to grant a no objection approval for the BDCs to fully go digital on all their operational correspondences.
He said the move would promote rate convergence, curb volatility in the market and promote economic growth.
ABCON had in the past, led its members to achieve rate convergence in 2006, 2009, 2018 to 2020 before the outbreak of COVID-19 in 2020, he said.
Granting digital autonomy to the operators, he noted, would lead to a true market rate discovery, enhance the achievement of the Federal Government harmonised foreign exchange rate policies, and promote effective monitoring of BDCs' transactions for statutory and regulatory requirement.
Polaris Bank Partners EAS, Funds Training of over 1000 Nigerian SMEs on Export to US, Europe
…Provides local funding for stock purchase
Polaris Bank, in its show of commitment towards empowerment of Small and Medium-sized Enterprises (SMEs), is pleased to announce a strategic partnership with Export and Sell (EAS), a renowned expert in export solutions, to train and subsequently fund over 1,000 successful SMEs on export opportunities to the USA via Amazon and other international platforms.
Polaris Bank is leveraging the expertise of EAS as an intermediary between Online and African Stores in the US, UK and Nigerian businesses, for supply of Raw foodstuffs and other items from Nigeria. With a focus on e-commerce sales through Amazon, the training provides in-depth exposure to Nigerian SMEs on export opportunities and sales expansion into the American market. The training will provide an opportunity to educate SMEs on how to find buyers and how to meet specifications for export, especially into the US market.
The training programme is slated to commence in October 3, 2023 as a hybrid model, with in-person sessions slated to hold in Port Harcourt, Abuja and Lagos. Subsequently intensive sessions will hold for four days with over 1000 successful SMEs; many of whom could access facilities of up to ₦20m for SMEs and ₦1billion for large corporate.
This collaboration aims to equip SMEs with the knowledge and tools required to successfully export their products.
In today's global marketplace, SMEs face unique challenges, including, access to financing, shipping, product registration and finding buyers for their business. Polaris Bank recognizes the importance of fostering economic growth by supporting SMEs, as the backbone of the Nigerian economy. Through the partnership with EAS, Polaris Bank is taking a significant step towards fulfilling its commitment to SME growth and development in Nigeria.
The partnership and training programme, will provide SMEs with a comprehensive understanding of onboarding on Amazon and exporting successfully to the USA, with insights on export credit insurance and risk mitigation strategies. Participants will gain insights into available funding windows provided by Polaris Bank as well as be equipped on how to leverage them effectively.
The training sessions will be led by industry experts from both Polaris Bank and EAS, ensuring that participants receive the highest quality education and guidance.
Commenting on the Export and Sell Business Model, Polaris Bank's Group Head, Products & Market Development, Adebimpe Ihekuna expressed enthusiasm for the partnership, stating, "At Polaris Bank, we understand the pivotal role SMEs play in driving economic growth. Through our collaboration with EAS, we aim to empower SMEs with the knowledge and tools necessary to access export financing opportunities and compete effectively on the global stage. This partnership underscores Polaris Bank's commitment to SME development and Nigeria's economic prosperity."
A BusinessDay news article published on March 23, 2023, quoting Nigerian Bureau of Statistics (NBS) indicated that a total of N598.2billion worth of agricultural produce were exported in 2022, accounting for 18.5 percent increase when compared to the figure recorded in 2021.
Polaris Bank was adjudged Digital Bank of the Year in 2021 and 2022 by Business Day's Banks and Other Financial Institutions (BAFI) Awards. It also emerged as the best MSME Bank because of its ability to use technology to enable bottom-up support to the MSME sector.
LP Knew Obi Lost 2023 Polls, Says Soyinka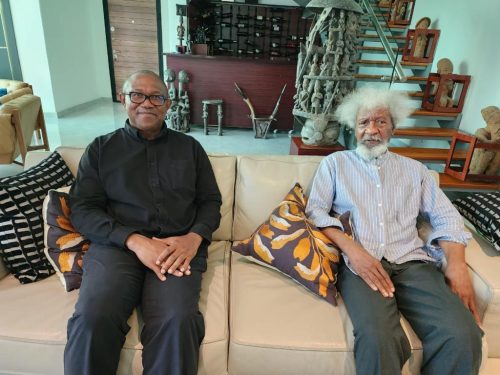 Nobel laureate Prof Wole Soyinka said yesterday that Labour Party (LP) knew its candidate February 25 presidential poll did not win.
The literary giant accused the LP leadership of trying to force "a lie" on Nigerians, especially youths, that Obi won the election.
According to a report published by The Cable, he spoke at an event titled: "The Lives of Wole Soyinka — A Dialogue". The programme organised by "Africa in the World" took place yesterday in Stellenbosch, South Africa.
Soyinka, who was asked to react to his comment against Datti Baba-Ahmed, Obi's running mate, after the general election, said the truth matters to him. He noted that many people always look for shortcuts.
According to him, he was armed with facts when he invaded a radio station in Ibadan in 1965 and not "relying on "third-hand information" about the result of the regional election.
Accusing the LP of taking over the organised Labour movement in the build-up to the election, he noted that Obi achieved "something remarkable" by breaking the monopoly of power established by the All Progressives Congress (APC) and the Peoples Democratic Party (PDP).
He said: "This recent election – two things happened first of all. One party took over the Labour movement, which is not my favourite movement, and then it became a regional party.
"Whereas it was a marvellous breach into the established two camps. Peter Obi achieved something remarkable there, that he broke that mould. However, he did not win the election.
"I can say categorically that Peter Obi's party came third not even second and the leadership knew it but they want to do what we call in Yoruba 'gbajue', that is force of lies."
Soyinka also alleged that the LP leadership attempted to mobilise young people to protest against the outcome of the election on the "banner of lies and deceit".
He said: "They were going to send some of the hardliners, proud young people into the street to demonstrate. I'm also ready to be among such demonstrators but only on the banner of truth not on lies, and deceit."
Soyinka alleged that the LP wanted a post-election violence on the basis of a lie, adding that its vice presidential candidate went on television boasting, insisting, threatening and trying to intimidate both the judiciary and the rest.
He said: "What kind of government will result from that kind of conduct? In addition, they did not know this but they were being used.
"Before the election, there were certain clandestine forces, including some ex-generals, who were already calling for an interim government before the elections began.
"Some of them were known figures, including a proprietor of a university calling for an interim government before the election took place."