Deborah Samuel: Atiku deletes Twitter, Facebook posts after fanatics threatened his presidential ambition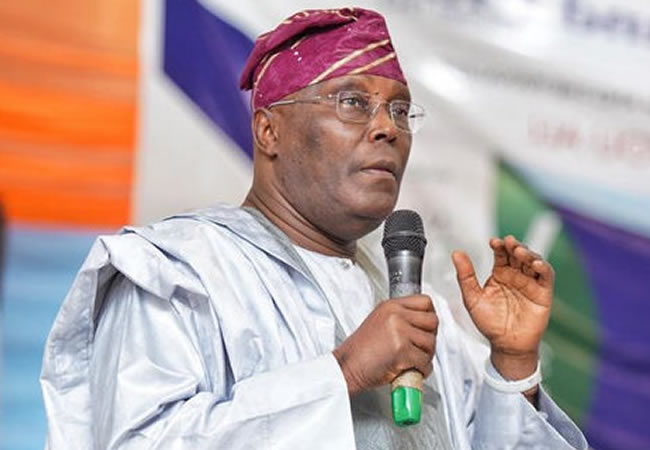 Former Vice president and a presidential aspirant, Atiku Abubakar has deleted a post he made on his Facebook and Twitter handles condemning the killing of Deborah Samuel, a 200-level student of Shehu Shagari College of Education, Sokoto State, who was burnt on Thursday.
The student was beaten to a pulp and burnt alive by male Muslim students who accused her of insulting Prophet Muhammed via a WhatsApp platform.
The school authority has shut down academic activities indefinitely as tension gripped residents of the area.
Mr Atiku's posts around 10:20 p.m. Thursday were deleted less than an hour later. Both had garnered thousands of reactions within minutes, according to screenshots taken by JomogNews.
Most of the comments were from fundamentalists who warned the politician to stay away from condemning the murder of the Christian student.
"There can not be a justification for such gruesome murder. Deborah Yakubu was murdered, and all those behind her death must be brought to justice," Mr Atiku said. "My condolences to her family and friends."
A spokesman for Mr Abubkar did not return a request seeking comments about why he took down the post on Facebook.
The former vice-president didn't delete a similar message that he posted on Twitter until much later, indicating that he might have seen a difference between Facebook and Twitter users on the sensitive development.
Ms Samuel was murdered at Shehu Shagari College of Education on Thursday morning for allegedly posting comments that blasphemed Prophet Mohammed. The violence has elicited widespread uproar and condemnation, with Catholic priest Matthew Kukah and Sultan of Sokoto calling on authorities to immediately bring the killers to book.
Mr Abubakar is from northern Adamawa state, but continues to receive support across the country, especially amongst southern Christians who see him as a moderate statesman.
Danish National Sentenced To Death For Killing Nigerian Wife, Daughter
A Lagos High Court on Friday sentenced a Dane, Peter Nielsen, to death by hanging for killing his Nigerian wife and daughter.
Justice Bolanle Okikiolu-Ighile convicted Nielsen, 54, on two counts of murder brought against him by the Lagos State Government.
The judge sentenced Nielsen to death by hanging on both counts.
The Dane was charged with the death of his wife and singer, Zainab and their three-year-old daughter, Petra.
Lagos State Government accused him of smothering Zainab and Petra to death at 3.45am at No. 4, Flat 17, Bella Vista Tower, Banana Island, Ikoyi, Lagos State.
Nielsen was arraigned on June 13, 2018.
He pleaded not guilty to the two-count charge of murder contrary to Section 223 of the Criminal Law of Lagos State, 2015.
Okada Ban: June 1 Deadline Won't Stop Enforcement — Lagos Govt
The seizure of commercial motorcycles by the Lagos State Task Force will continue, despite the June 1 deadline issued by Governor Babajide Sanwo-Olu for them to leave six Local Government Areas.
The six local governments are: Eti-Osa, Ikeja, Lagos Island, Lagos Mainland, Apapa and Surulere.
The deadline does not invalidate the provisions of the Lagos State Transport Sector Reform Law of 2018, which states that "no persons shall ride, drive or propel a motorcycle or tricycle on a major highway within the State, and any person in contravention of this provision commits an offence" and will be made to face the wrath of the law.
The Lagos State Task Force, led by CSP Shola Jejeloye, has continued to enforce the law. It seized 238 motorcycles in Lekki on Tuesday and Wednesday.
In Iba on Lagos-Badagry Expressway, where it was violently resisted today, the Task Force seized 195 motorcycles.
The riders were operating on highways and bridges in flagrant disobedience of the law because, according to them, they are free to ply unauthorized routes till June 1. This is wrong.
The February 1, 2020 directive has not been reversed. The enforcement was weakened by COVID-19, which affected all areas of life. Now, the action is being reinforced.
The government praises Lagosians who have come out to support the ban on commercial motorcycles in the six local government areas, which Governor Sanwo-Olu has described as the "first phase" of the action triggered by safety and security concerns.
Gbenga Omotoso
HC, Information and Strategy
Inside Multi-Billion Naira Properties Linked To Suspended AGF, Ahmed Idris (PHOTOS)
The Economic and Financial Crimes Commission (EFCC) says it has traced not less than 17 properties to Ahmed Idris, the suspended Accountant-General of the Federation, being detained over alleged N80 billion fraud.
The minister of finance and national planning, Zainab Ahmed, had on Wednesday, suspended Idris after following his arrest by the EFCC.
An official of the EFCC, who wished to remain anonymous, said the properties traced to Idris are located in Kano, Lagos, Abuja, Dubai and London.
He, however, said preliminary investigations showed that the nation's chief accountant allegedly used proxies to buy some of these properties. The commission would therefore need to invite some of the proxies of the accountant-general. The detective added that from all indications, these properties were purchased while Idris was in office and did not declare them before the Code of Conduct Bureau as stipulated by law.
"About 17 houses in London, Lagos, Kano, Abuja and Dubai have been traced to him. In Abuja, some of the houses are located in serviced estates," he said.
The EFCC had in a statement on Monday announced the arrest of the accountant-general for fraud to the tune of N80bn.
The statement read in part, "The commission's verified intelligence showed that the AGF raked off the funds through bogus consultancies and other illegal activities using proxies, family members and close associates. The funds were laundered through real estate investments in Kano and Abuja."
It was learnt that Idris came under scrutiny last year following allegations that he offered huge sums of money to a family in order to secure the marriage of their 16-year-old daughter.
This newspaper learnt that Mr Idris was still in EFCC custody as of the time of filing this report on Wednesday.
This newspaper also reliably gathered from sources with direct knowledge of the case that some assets believed to be proceeds of Mr Idris' alleged unlawful activities have been traced.
The sources, who asked not to be named because they had no permission to speak about the case in the press, provided photographs of a sprawling edifice located in Kano allegedly linked to Mr Idris.
Our reporter gathered that the agency has obtained a court order for the arrest of more suspects linked to the alleged crime.
Operatives refused to reveal the identities of the suspects in order not to jeopardise investigations.
An EFCC official said the legal department was already getting an order to remand the accountant-general and get an interim forfeiture on some of his properties pending the completion of investigations.