All You Need To Know About Lupus, A Life-Threatening Disease Actress Kemi Afolabi Is Battling
Lupus is an autoimmune illness in which the immune system targets the body's own tissues and organs. There is no cure for it; it can only be managed.
Recall that Selena Gomez, an American singer, has been vocal about her lupus battle and had to undergo kidney transplant surgery years ago due to lupus complications.
Lupus is a disease that occurs when your body's immune system attacks your own tissues and organs (autoimmune disease). Inflammation caused by lupus can affect many different body systems including your joints, skin, kidneys, blood cells, brain, heart and lungs.
Lupus can be difficult to diagnose because its signs and symptoms often mimic those of other ailments.
The most distinctive sign of lupus is a facial rash that resembles the wings of a butterfly unfolding across both cheeks and occurs in many but not all cases of lupus.
Some people are born with a tendency toward developing lupus, which may be triggered by infections, certain drugs or even sunlight.
While there's no cure for lupus, treatments can help control symptoms.
All You Need To Know About Lupus, A Life-Threatening Disease Actress Kemi Afolabi Is Battling
Lupus most commonly affects your:
Skin
Joints
Internal organs, like your kidneys and heart
What are the types of lupus?
When people talk about lupus, they're usually talking about systemic lupus. But there are four kinds of lupus:
Systemic lupus erythematosus (SLE), the most common form of lupus
Cutaneous lupus, a form of lupus that is limited to the skin
Drug-induced lupus, a lupus-like disease caused by certain prescription drugs
Neonatal lupus, a rare condition that affects infants of women who have lupus
Who is at risk for developing lupus?
Anyone can develop lupus. But certain people are at higher risk for lupus, including:
Women ages 15 to 44
Certain racial or ethnic groups — including people who are African American, Asian American, Hispanic/Latino, Native American, or Pacific Islander
People who have a family member with lupus or another autoimmune disease
Lupus is not contagious, you can't "catch" lupus or give it to someone else.
Symptoms
No two cases of lupus are exactly alike. Signs and symptoms may come on suddenly or develop slowly, may be mild or severe, and may be temporary or permanent. Most people with lupus have mild disease characterized by episodes — called flares — when signs and symptoms get worse for a while, then improve or even disappear completely for a time.
The signs and symptoms of lupus that you experience will depend on which body systems are affected by the disease.
The most common signs and symptoms include:
Fatigue
Fever
Joint pain, stiffness and swelling
Butterfly-shaped rash on the face that covers the cheeks and bridge of the nose or rashes elsewhere on the body
Skin lesions that appear or worsen with sun exposure
Fingers and toes that turn white or blue when exposed to cold or during stressful periods
Shortness of breath
Chest pain
Dry eyes
Headaches, confusion and memory loss
 When to see a doctor
See your doctor if you develop an unexplained rash, ongoing fever, persistent aching or fatigue.
Causes
As an autoimmune disease, lupus occurs when your immune system attacks healthy tissue in your body. It's likely that lupus results from a combination of your genetics and your environment.
It appears that people with an inherited predisposition for lupus may develop the disease when they come into contact with something in the environment that can trigger lupus. The cause of lupus in most cases, however, is unknown. Some potential triggers include:
Sunlight. Exposure to the sun may bring on lupus skin lesions or trigger an internal response in susceptible people.
Infections. Having an infection can initiate lupus or cause a relapse in some people.
Medications. Lupus can be triggered by certain types of blood pressure medications, anti-seizure medications and antibiotics. People who have drug-induced lupus usually get better when they stop taking the medication. Rarely, symptoms may persist even after the drug is stopped.
Risk factors
Factors that may increase your risk of lupus include:
Your sex. Lupus is more common in women.
Age. Although lupus affects people of all ages, it's most often diagnosed between the ages of 15 and 45.
Race. Lupus is more common in African Americans, Hispanics and Asian Americans.
Complications
Inflammation caused by lupus can affect many areas of your body, including your:
Kidneys.
Lupus can cause serious kidney damage, and kidney failure is one of the leading causes of death among people with lupus.
Brain and central nervous system. If your brain is affected by lupus, you may experience headaches, dizziness, behavior changes, vision problems, and even strokes or seizures.
Many people with lupus experience memory problems and may have difficulty expressing their thoughts.
Blood and blood vessels. Lupus may lead to blood problems, including a reduced number of healthy red blood cells (anemia) and an increased risk of bleeding or blood clotting.
It can also cause inflammation of the blood vessels.
Lungs.
Having lupus increases your chances of developing an inflammation of the chest cavity lining, which can make breathing painful.
Bleeding into lungs and pneumonia also are possible.
Heart.
Lupus can cause inflammation of your heart muscle, your arteries or heart membrane.
The risk of cardiovascular disease and heart attacks increases greatly as well.
Other types of complications
Having lupus also increases your risk of:
Infection.
People with lupus are more vulnerable to infection because both the disease and its treatments can weaken the immune system.
Cancer.
Having lupus appears to increase your risk of cancer; however, the risk is small.
Bone tissue death.
This occurs when the blood supply to a bone declines, often leading to tiny breaks in the bone and eventually to the bone's collapse.
Pregnancy complications.
Women with lupus have an increased risk of miscarriage. Lupus increases the risk of high blood pressure during pregnancy and preterm birth.
To reduce the risk of these complications, doctors often recommend delaying pregnancy until your disease has been under control for at least six months.
Nigeria has one psychiatric doctor to a million citizens – APN President, Obindo cries out
The President, Association of Psychiatrists in Nigeria, Prof. Taiwo Obindo says the country currently has a ratio of one qualified psychiatric doctor to about a million Nigerians.
He made the worrisome disclosure in Enugu on Thursday at the 53rd Annual General and Scientific Meeting of all psychiatric doctors in Nigeria holding at the Federal Neuropsychiatric Hospital, Enugu.
The four-day meeting, which started on Nov. 23, is themed: "Insecurity and Forced Displacement: Mental Health and Psychological Implication".
Obindo said, "This development has made accessibility and deliverability of psychiatric care relatively difficult in the country."
He revealed that up to two-third of yearly well-trained and certified psychiatric doctors leave the country annually, adding that in psychiatric hospitals, qualified psychiatric doctors leave the country in droves, thus creating challenges for the country.
"The standard is that one psychiatric doctor should take care of 10,000 patients; but today, we have one psychiatric doctor to over one million Nigerians.
"As we speak now, we are having less than 250 certified psychiatric doctors throughout the whole country and more are leaving by the day," he lamented.
He called for the passage of the National Mental Health Bill (amended) to give proper process and administration of mental health treatment and other issues relating to mental health, which included adequate funding and enumeration of its professionals.
"Mental healthcare should be incorporated into the primary healthcare system to cater for the primary and secondary institutions treating mental health disorders in localities.
"Presently, the little budget meant for mental health treatment goes to the tertiary institutions only.
"Mental health should be fully taken care of at the Primary Healthcare Centres to save Nigerians transport, feeding and accommodation cost, as well as stress of conveying a mentally ill relative to urban centres where psychiatric hospitals are found," he said.
On the theme, Obindo, who is with the Jos University Teaching Hospital, noted that those that were entangled within the current insecurity and forced displacement had continued to face psychological and psychiatric trauma and disorders.
He noted that government and other organisations providing succour should not only provide food and shelter items but also psychological and psychiatric care.
According to him, we should ensure they recover from the shock of insecurity scenes they witness or their personal losses.
"It is important that the government and other support groups give them special attention to meet their current challenging emotional, psychological and psychiatric needs and not to fall into deeper depression or societal withdrawal," he said.
In a remark, Prof. Monday Igwe, the Medical Director of Federal Neuropsychiatric Hospital, Enugu, said that insecurity was becoming a major cause of mental trauma and stress for some Nigerians.
Igwe, who is also the Chairman of the Local Organising Committee (LOC) for the meeting, said that traumatic condition caused by insecurity and forced displacement can further lead to psychological imbalance, depression and suicide.
"It is time we put the psychological and psychiatric needs of these people into serious consideration and ensure that they pass through their ordeal with renewed hope that tomorrow will be better," he said.
The event was also attended by the Enugu State Commissioner for Health, Dr. Emmanuel Obi and several other stakeholders in the health sector.
Doctor Recounts How Metals On Lady's Semi-Permanent Wig Frustrated Doctors Who Were To Carry Out Major Scan On Her
A US-based medical doctor has recounted how she came to the rescue after her colleagues found it difficult to carry out an MRI on a lady who came into their hospital with stroke-like symptoms.
In a Twitter thread, the doctor @B_DrMadden said her colleagues couldn't carry out the major scan on the said lady because of the metals on the glued semi-permanent wig she had on. Dr Madden said with her little knowledge of applying alcohol on the metals and the wig, she was able to rescue the situation and ensure that the lady carries out the needed scan.
Read her tweets below
FG: We'll No Longer Tolerate Strikes That Don't Follow Due Process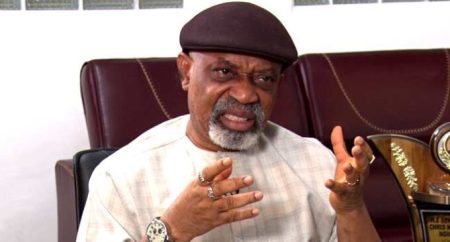 The Federal government says it will no longer tolerate industrial actions that do not follow due process "particularly during the transition period of the current administration".
The Minister of Labour and Employment, Chris Ngige, issued the warning after receiving an 'award of excellence conferred on him by the Nigerian Association of Resident Doctors (NARD) at the 42nd annual general meeting/scientific conference of the association.
A statement released by his media aide, Olajide Oshundun, quotes the Minister as saying;
"The federal government will no longer tolerate a strike that does not pass through due process. Any group that embarks on strike will be visited with section 43 of the Trade Dispute Act (TDA), Laws of the Federation of Nigeria (LFN) 2004.
It says that when a worker goes on strike, especially those on essential services, the employer can also refuse to pay compensation or wages which accompanies work done.
The due process of a strike is that social dialogue negotiation with employers should be explored first.
In the event of failure, the federal ministry of labour and employment office in the affected state or FCT should be notified and, finally, a trade dispute notice (TDN) served."
He advised all aggrieved unions to emulate the doctors and commence proactive discussions with the federal government rather than resort to strike whenever issues arose.