Formula 1: Max Verstappen Reflects On Last Year's 'Crazy' Season
Meet the man with the golden boots. That is how Max Verstappen will attire himself when he steps into the cockpit for the 2022 season as the new and defending world champion.
He is in relaxed form as we meet in the Barcelona sun in a break from testing. Tucked away in the Red Bull motor home on whose terrace we speak sat a whopping £40million-a-year contract that only required his signature, since appended. No wonder he seems content.
But, for all his double-his-money riches that keep him at the team until the end of 2028, he remains very much the unassuming and unvarnished Dutchman who partied away on the Abu Dhabi harbour after his last-lap bravura controversially robbed Lewis Hamilton of an eighth world title.
Max Verstappen said he deserves to be world champion as he prepares to retain his F1 crown
He would not greatly mind you noting that in 2021 he led most laps (652 to Hamilton's 297), won most races (10 to 8) and secured most poles (10 to five). So, as he sees it, the contentious denouement to Formula One's longest and most gruelling, Covid-ridden season was merely a flashpoint rather than a sullying statement on his right to wear the cherished No 1 on his car.
'I believe I deserve to be world champion,' he declares.
Has he been in touch with Hamilton over the winter?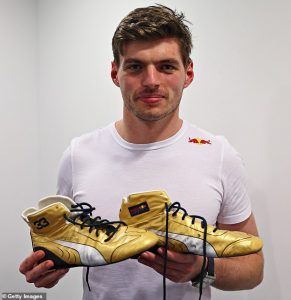 Verstappen won the 2021 World Championship as he pipped Lewis Hamilton in the final race
'No. There is no reason to. We haven't seen each other since just after the end of the race. It is fine. We are racers and we move on.'
Yes, you can understand Hamilton and Mercedes' fury. They blame race director Michael Masi, now brutally removed from post, for his unusual call to restart the race without all the lapped cars having unlapped themselves. But the Australian was not biased. He was trying in the heat of battle to squeeze in one final lap rather than allow the championship to end under a safety car.
Credit to Red Bell for putting Verstappen on new tyres, granting him a crucial speed advantage. Credit, also, to Verstappen for expertly pouncing on the previously dominant Hamilton earlier than anyone expected.
A late safety car decisions saw him win in controversial style but he argues he deserved it.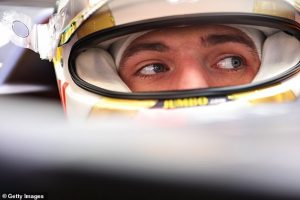 The slings and arrows of sporting fortune can be cruel.
Verstappen says: 'A championship is won over the season, right? Not because of the last lap. Some people just look at that race because of the tension building up around it and think the outcome was wrong.
'But if you look at the year, the title would normally have been decided way earlier. It is just that I was taken out twice and had some bad luck with tyre blowouts.
'It came down to the last race because of all that misfortune. And look at the stats. That usually gives you a picture of how the season went.' Does he feel sorry for Lewis? 'I can understand with how Abu Dhabi played out that he was upset and not happy with it but, as I say, you have to look at the championship in general.
2021 was a stellar year for him as led most laps, won most races and secured most poles
'It was a crazy and epic season. I don't care if people try to take the shine off it. It doesn't matter. The losing side always will complain, but the winning side think about it differently.'
As for Masi, he still works for the governing body but not as their top official.
He will be replaced by Eduardo Freitas and Niels Wittich in a strange job-share that hardly lends itself to consistency of judgments.
But the title rival came down to the final lap of the final race after a decision from Michael Masi
'What happened to Michael is very unfair,' says Verstappen. 'The FIA were pressurised (by Mercedes) into making a decision. I wrote a message to him about it.
'I said we didn't always agree on everything but that's racing. We always wanted to make the sport better as a whole. Nobody is perfect, but what was always brought up was that we needed to race. We needed that mindset and he had that.
'For Michael to jump in after Charlie (Whiting, the long-term race director who died suddenly on the eve of the 2019 Australian Grand Prix) was a difficult task.
Masi has since lost his job but Verstappen said what happened to him was 'very unfair'
'Everyone needs help. I have the whole team around me. Maybe Michael needed more people around him but he never got the opportunity. They really put him in the ground.
'He appreciated my message. He got a few more. It was very fresh for him. I have had my moments with the stewards but at the end of the day you have to have respect for each other. You don't always have to agree. The aim is to make the racing better, more exciting but also fair.' Since the celebration bash, Verstappen enjoyed catching up quietly with his family and holidaying with girlfriend Kelly Piquet, daughter of three-time world champion Nelson.
'That evening on the boat was crazy, but I went away later to Brazil and Miami for two and a half weeks, time not to think about Formula One.
Red Bull and Mercedes are set to battle it out once more when the season starts in mid-March
Red Bull and Mercedes are set to battle it out once more when the season starts in mid-March
'But the problem was that I am involved in various group chats about simulator racing. I was trying not to think about F1 but the phone was going ping, ping, ping.'
An obsessive, he took part in Le Mans Virtual, just missed out on pole and was leading when he crashed — a 'rookie error', as he describes it.
He adds: 'I don't mind enjoying food but you look at yourself in the mirror. I gained three or four kilos, less than usual actually over the winter. But you still see the difference in your body. I had love handles. When you have been one shape your whole life growing up, it is strange and you know it is time to start again, to get into training twice a day.'
Red Bull and Mercedes are expected to be right in the mix again this year despite the biggest change to the regulations in recent times, while Ferrari also looked strong on the not entirely indicative evidence of the first test in Barcelona.
More testing follows in Bahrain ahead of the race there on March 20, the first of 23 rounds if a replacement is found for the axed Russian Grand Prix.
Even after becoming world champion, Verstappen said he has the same level of motivation
Does he feel liberated now he has bagged his first title at the age of 24?
'I will always want to win,' he says, admitting the hectic week leading into the decider in the desert still makes him shudder. 'But the desperate "must win" is gone. It doesn't mean I am less motivated. I have the same level of motivation, maybe more, to do it again.
'It feels nice. It is a relaxation. There is less of a rush. I was already in my seventh season. I had never really had a shot at the title before. I had my first chance and, of course, I wanted desperately to do it. Winning a championship is one of those things that doesn't happen often. It may never happen again, who knows?
He wants to be back on top of the podium but admitted he needed 'some luck' and the right car
He wants to be back on top of the podium but admitted he needed 'some luck' and the right car
'Wearing the golden shoes (made for him by Puma to mark his title-winning feat) is a way of celebrating a special moment. You have to enjoy it.
'I remember when I was watching on TV when I was go-karting as a boy and there was a podium celebration and the national anthem was playing and my dad (former F1 driver Jos) said to me, "That's where we need to go", and I said "I'd like that".
'Now I need some luck, the right car, to do it again.
'For now, I am happy.'
Credit:DailyMail,CN,Getty Images
Formula 1: Sir Lewis Hamilton 'bombs' FIA over jewellery rules
Lewis Hamilton has called on Formula 1's governing body the FIA to back down in its strict approach to drivers wearing jewellery in their cars.
Race director Niels Wittich reiterated before the inaugural Miami Grand Prix it is prohibited to wear body piercings or neck chains in competition.
Hamilton described the new focus on the issue as "almost a step backwards".
"It seems unnecessary to get into this. I am here to be an ally of the sport – we have bigger fish to fry," he said.
Hamilton, the driver who wears most jewellery out of the car, said that when in it he only wore "earrings and nose ring, which I can't remove".
Lewis Hamilton
For this race, Hamilton removed his earrings in the car and has been given a two-race exemption for his nose ring.
It is a new issue this year following the FIA's decision to change its race director in the wake of the controversy at last year's title-deciding Abu Dhabi Grand Prix. Wittich has taken a less flexible approach to many areas of the rule book than had been the case in the past.
Hamilton said he had reached out to FIA president Mohammed Ben Sulayem on Friday to try to resolve the stand-off but had not managed to get through.
"I am willing to sign a waiver to take the responsibility away from them if necessary," the seven-time champion said. "It is about individuality and being who you are.
"I did try calling Mohammed this morning and I think he was super busy but I sent him a message. I wanted to reassure him and said: 'I want to be an ally. I don't want to fight with you guys over this.'"
He added: "It has never been a safety issue in the past. If they stop me, we have a spare driver. There are lots of things to do here."
Before first practice in Miami, the FIA issued a further document emphasising that Mercedes "had not confirmed… that he is complying with the requirement to not wear any jewellery, in the form of body piercing or metal neck chains or watches".
Ben Sulayem was then seen going into a meeting with Mercedes team principal Toto Wolff.
The issue is highly unlikely to be taken so far as stopping a driver racing.
Hamilton was backed by colleagues, including Alpha Tauri driver Pierre Gasly.
The Frenchman said: "I do believe there are bigger things to focus on. I appreciate the FIA are looking after our safety. But in my case I am religious and there are things I have with me that I do not feel comfortable not having in the car.
"In the end, we are the ones who go out there and put our lives at risk and I do feel it should be a personal choice. I hope in the end we could find a better solution than this very strict one."
Hamilton shrugs off critics
Hamilton has had a difficult start to season in a Mercedes team whose car is not competitive.
In the last race, he was lapped by world champion Max Verstappen after being stuck behind slower cars, which prompted Red Bull motorsport adviser Helmut Marko to say after the race that perhaps Hamilton should have retired at the end of last year.
Hamilton said: "I don't listen to those silly comments, to be honest. It has been interesting to see – there have been quite a lot of disrespectful comments I have seen over time, but it's to be expected.
"I just keep my head down. I know who I am. I love what I do.
"[We're] going through a tough time, didn't come out the starting blocks the way we wanted, but we're fighters and if you don't know that about me, you don't know me. I will keep doing my best to huddle up with the team and fight as hard as we can."
Will Mercedes improve with car developments?
Hamilton said he was not expecting a significant improvement in Mercedes' performance in Miami despite the team bringing their first serious development parts this season to the race.
There are new front and rear wings to try as the team bid to reduce what they believe is their biggest single problem – a high-frequency bouncing on the straights known as 'porpoising', which is promoted by aerodynamic disruption under the car.
But asked whether he expected the developments would improve Mercedes' competitive position, he said: "I don't anticipate that much change in that sense."
Credit:BBC,Getty Images,CN
Football 'Super Agent' Mino Raiola Dies, Aged 54 – Family
Football super agent, who represented Paul Pogba and Erling Haaland, Mino Raiola has passed away at the age of 54, following a period of illness.
A statement from the Raiola family on the Italian's Twitter page confirmed his death on Saturday afternoon.
"In infinite sorrow we share the passing of the most caring and amazing Football Agent that ever was," the Italian's family said in a message on Twitter.
"Mino fought until the end with the same strength he put on negotiation tables to defend our players. As usual, Mino made us proud and never realised it.
"Mino touched so many lives through his work and wrote a new chapter in the history of modern football. His presence will forever be missed.
"Mino's mission of making football a better place for players will continue with the same passion.
"We thank everybody for the huge amount of support received during these difficult times and ask for respect for the privacy of family and friends in this moment of grief."
— Mino Raiola (@MinoRaiola) April 30, 2022
On Thursday, Raiola was forced to take to social media to address his state of health after widespread reports emerged from his native Italy prematurely announced his death.
Details later….
African Football Is Beyond Having 11-11 Players On The Pitch, There Is Much More- Dimeji Lawal
Former Super Eagles' star and the acting General Manager of Shooting Stars Sports Club (3SC) Ibadan, Dimeji Lawal has revealed that African football as it is today should be perceived far beyond the 11 and 11 players seen on the pitch of play.
He also added that there are 'mysteries' and 'mystics' in African football beyond having 22 players on the field.
His words "I think apart from these, corruption is one of the greatest problems affecting football and sports administration in Africa and this is even affecting our league. All these can only improve when we change our mindset".
He further stated that that the ultimate aim of Shooting Stars Sports Club (Club) is to grab continental ticket, while denying the notion that the team is focused on not being relegated to the Nigeria National League (NNL).
Speaking further on the current position of 3SC, "I feel relaxed and better; the energy we bring into it is already yielding results. When people complain of the poor performances of the team, I took it upon myself to discuss with the coaching crew and they always assured me that things would get better".
According to him, football is a process and does not require haphazard approach. We are just a new team in NPFL. We need to understand the terrain and build a team that can compete globally. There is a big difference between the NNL and the NPFL. It took Manchester City under Pep Guardiola some time before the club started competing globally with top clubs.
"In this part of the world, we are used to fire brigade approach and in football; there are three results which include draw, loss or win. We want people to support us at all times; we are investing our energies to win at all times and our aim is to get a continental ticket and not to get relegated".
Dimeji Lawal further appealed to the Governor of Oyo State Engineer Seyi Makinde, not to renege on his promise to the team while calling for more support from interested individuals and stakeholders.
Speaking on how he ventured into football, "I grew up around Cocoa Research Institute area (CRIN) where playing football is seen as a top priority. My father was also a footballer while my late mother was an athlete for the then Western State. Sporting activities runs in our blood, even my brothers played in Atletico Madrid. My big break came in football when I signed for Femo Scorpions in Eruwa and I was paid around N4000".
He further stated that he would have loved to be a lawyer while revealing that Diego Maradona is one of his favorite idols during his playing days.
The former Super Eagles player made these revelations while featuring on a weekly radio show, Parrot Xtra/Ayekooto on Radio' anchored by Olayinka Agboola broadcast live on Splash 105.5FM, Felele Ibadan, the capital city of Oyo State on Tuesday.
Lawal further stated that the coach of 3SC, Edith Agoye is technically gifted and not a pushover in football game planning while urging the club's fans to continue to support the coaching crew in its bid to get a continental ticket at least.
Speaking on the vacant position of Super Eagles coach, "A good coach can come from anywhere, what I want is that they should hire a good and technically sound coach, it does not matter his origin or where he is from".
Speaking further, "It is always good to have a round peg in a round hole. If an ex-footballer is given the opportunity to head the Nigeria Football Federation (NFF), I am sure he will be able to handle the affairs better because of the experiences he has gathered during his playing days".
The former Eagles player further stated that Nigeria could come up with a formidable Super Eagles team by developing and paying more attention to grassroots football teams in the country.
"Many of our football fields have been turned to mosques, churches and event centers. Also at the top, the Nigeria league has to be properly scrutinized because if the league gets better, we have more hungry players who are willing to play than the foreign-based players.
"Sometimes, the foreign-based players have nothing to lose if they do not perform well for their country. In Nigeria, do we give local coaches the same opportunity as we give foreign coaches? Why should we discriminate against an indigenous coach? NFF should support indigenous coaches to get results".
He, also revealed that betting and gambling are constituting problems affecting football in Nigeria while revealing that gamblers are always frustrated after losing their hard-earned money on betting.
His words "I think it is wrong for fans to place bets and expect the players to read their betting tickets and perform according to what they have staked. A typical fan invests two hundred naira on betting and hopes to win a million naira. So, if the team now plays a draw instead of winning, the fan is now unhappy and ready to vent his anger. This type of scenario is hurting the game of football especially in Nigeria."
He further stated that officiating in the NPFL is gradually improving while elaborating that there is need for further improvement in order to make the Nigerian league more competitive.