BREAKING: Beninese Court Sends Sunday Igboho Back To Detention
Popular Yoruba activist, Sunday Adeyemo a.k.a. Sunday Igboho has been returned to detention after hours of deliberations in court yesterday.
The Cour De'appal De Cotonou in Benin Republic decided that the Yoruba agitator while investigation will be going on, should remain in detention, JomogNews Nigeria reports.
The details of Igboho's trial have not been made public but it might be Immigration-related despite denials by his lawyers and associates.
It is unclear if the Nigerian government filed formal charges yet. If this has not be done, the court ruling which approved further grilling of Igboho could mean he might have run foul of Beninise laws.
At the resumed hearing, scores of secessionist's admirers and traditional rulers thronged the court premises. He was driven in at about 7 a.m.
Igboho remained there for 15 hours as the prosecution and his lawyers argued over his trial. The wife, Ropo, was with him.
The Court President, as proceedings continued, called the Police in to control journalists and supporters for decorum.
Nigerian authorities want Igboho repatriated. He is accused of stockpiling weapons and threatening the federal government and security agencies.
Before his arrest, the presidency said the separatist was carrying out acts of terror and disturbing the peace under the guise of protecting fellow kinsmen.
Igboho was incriminated for "hate speeches," alleged attempt to build an armoury as well as plan to undermine the unity of Nigeria.
"Assault weapons are not tools of peace loving people. Regardless of who they are and where they are from, the Security Agencies should treat them all the same," President Muhammadu Buhari's spokesman, Garba Shehu had said.
Breaking: 12 Nigerian Soldiers Killed In Fresh Boko Haram Attack
JomogNews Nigeria reports that the Islamic State of West Africa Province (ISWAP) have killed at least a dozen Nigerian soldiers and local vigilantes in Borno State.
This online news platform gathered that the terrorists buried improvised explosive devices(IED) on the road a military convoy travelling to Maiduguri from Marte would pass.
The motorcade was escorting soldiers that were granted leave to pass from the Marte unit.
The troops were ambushed around Ala village situated between Marte-Dikwa town, PRNigeria reported.
As one of their vehicles came in contact with the IED, the terrorists hiding around opened fire.
The attack occurred the same day troops repelled ISWAP at a military base in Malam Fatori in Borno and Babangida community in Yobe.
IPOB Declares Sit-At-Home, Orders Removal Of Nigerian Flags October 1
The Indigenous People of Biafra, IPOB, has declared a sit-at-home across the Southeast on October 1.
IPOB said the October 1 sit-at-home is to show its rejection of Nigeria and all the country stands for.
In a statement by its spokesman on Saturday, Emma Powerful, the group also declared the commencement of "operation no Nigerian flag begins in Biafra land from October 1st."
Powerful said the sit-at-home order was declared to celebrate Ambazonia Independence Anniversary.
The statement reads partly: "IPOB has declared 1st of October 2021 total shutdown in Biafra land as a sign of our rejection of the evil construct called Nigeria and there shall be no movement in Biafra land on this day.
"Also, IPOB has declared from today 25th September 2021 that all Nigerian flag mounted anywhere in Biafra land must be brought down, Banks exceptional, IPOB leadership will communicate to Banks directly and give them reason they must peacefully bring down Nigeria flag in their banking premises before we do it ourselves in our own way.
"Every body must strictly adhere to this directives from IPOB leadership, we want to let the world know you that Biafraland is not Nigeria and shall not be. Don't say I don't know, a word is enough for the wise."
Buhari Approves Redeployment Of 5 Permanent Secretaries (FULL LIST)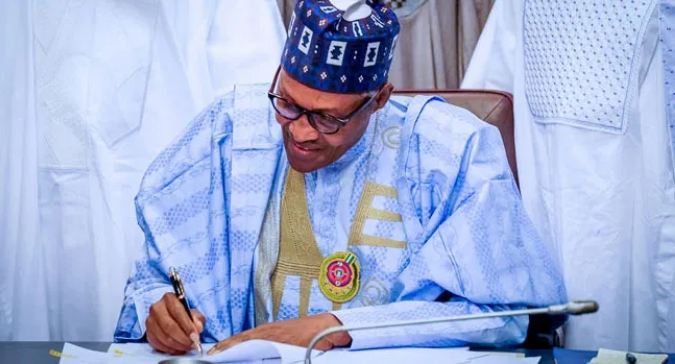 JomogNews Nigeria reports that President Muhammadu Buhari has approved the redeployment of five Permanent Secretaries.
The Head of Civil Service of the Federation, Dr. Folasade Yemi-Esan, made this known in a statement on Friday night in a statement signed by the Director, Communications, Mallam AbdulGaniyu Aminu.
According to the directive, William Nwankwo Alo of the Federal Ministry of Power was redeployed to Police Service Commission (PSC); Abel Olumuyiwa Enitan, Federal Ministry of Environment now redeployed to the Federal Ministry of Aviation; and Hassan Musa, Federal Ministry of Aviation now redeployed to the Federal Ministry of Environment.
Also redeployed are Nebeolisa Anako, Federal Ministry of Youth and Sports Development, now redeployed to the Federal Ministry of Power; and Ismaila Abubakar, Police Service Commission (PSC) now redeployed to Federal Ministry of Youth and Sports Development.
"The redeployment take immediate effect," the statement said.