Video: "You Filled Our Hearts With Joy" Mercy Chinwo And Husband Welcome First Child
Nigerian Gospel singer, Mercy Chinwo and her pastor husband, Pastor Blessed have welcomed their first child.
The acclaimed singer and her husband were expecting their first child, one year after their marriage.
Confirming the news, the gospel singer shared shared a music video of her rocking her baby bump, as she praised her creator for the new addition.
She stated that they are grateful to Him as he has filled their hearts with joy and their lips with testimonies.
Though the singer didn't reveal the gender of the child, reports making rounds online have it that the couple welcomed a baby boy.
"Lord, we are grateful; we approach Your throne with heartfelt songs of praise and thanksgiving.
You've filled our hearts with joy, our lips with testimonies, and our home with celebration. Indeed "YOU DO THIS ONE.
The Blessed family says, 'You Do This One.' Now streaming on all platforms from our upcoming album 'Overwhelming Victory.' Click the link in our bio to watch the full video on YouTube and pre-save the album".
Congratulatory messages are already pouring in for the new parents.
One Frank Richboy tagging Pastor Blessed wrote, "My brother, you do this one!! Yes, Jesus sef do!!
One Ojulewa Studio wrote, "Congratulations, this made my day. As many as are believing God for their babies this year, you will conceive yours
One Dunny Drille wrote, "Congratulations Mama and Pops. Let's feast, in Chineke we trust
One Ojone Happiness wrote, "Congratulations Mercy. This one sweet me die
One Gourmet Twist wrote, "God is so good!!! Congratulations
One It's Giftie wrote, "Congratulations once again my Mama. The real MM1 is finally here
One Cute Cakes N More wrote, "Congratulations Mama
One Cioma wrote, "Ayo…it can only be God
One The Real MK Queen wrote, "Thank you, Jesus, you do this one
One Blessed Paul wrote, "God he praised!! Hearty congratulations
One Sarah Adebambo wrote, "I'm going to cry this morning oo. Thank you, Jesus. Congratulations Daddy and Mumny and Baby Blessed.
One Adorable Ada wrote, "Congratulations my beautiful mama".
A few weeks back, the couple who tied the knot a year back, celebrated their first anniversary.
Pastor Blessed, who is no doubt a romantic lover, aroused emotions with his anniversary note to Mercy Chinwo, where he poured out his heart to his Queen, whom he considers his Love jackpot and sweetest nightingale.
Complimenting the singer, he showered her with sweet words and crowned her the best gift God gave to him.
Revealing intimate details about her, he praised her for her unwavering support.
Mercy Chinwo, on her part, reminisced on the past year with her husband, describing their married life as the sweetest.
Mercy Chinwo further expressed how blessed she is to have Pastor Blessed as her husband, spiritual covering, and priest.
Video: I'm The Voice Behind Psquare's Popular Song 'Story' – Helen Paul
Popular Nigerian comedienne, Helen Paul has disclosed that she was the voice behind 'Uncle, Please Tell Us a Story' in a song titled 'Story' by Psquare in 2005.
The 45-year-old comedienne revealed this in her latest interview on The Honest Bunch Podcast.
She was working as a studio receptionist at the time and the children who were meant to do the voiceover failed to show up.
"I didn't know PSquare at the beginning. I didn't even know they were going to blow. They came to the studio, and they wanted to record their songs.
" When the song started reigning, I didn't even know what it was to put your name on a song; I didn't fight for it."
Watch the video below:
Helen Paul voiced, Uncle, please tell us a story in PSquare's song?

Wow. Legend 🔥pic.twitter.com/U0Pglo9cIo

— POOJA!!! (@PoojaMedia) November 27, 2023
Defamation: Iyabo Ojo Sues Lizzy Anjorin, Demands N500m In Damages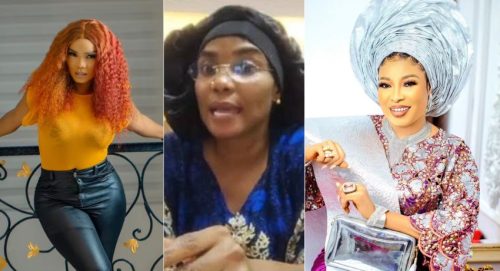 Nollywood actress, Iyabo Ojo has sued colleague, Lizzy Anjorin, over some allegations made against her.
Recall that Lizzy had in a series of clips on the internet, accused Iyabo of dating singer Naira Marley. She also made different allegations about Iyabo's daughter and her lover, Paulo.
Lizzy also accused Iyabo of being the brain behind the popular faceless blog, Gistlover.
However, Iyabo Ojo through her lawyer, Olumide Alake, has written to Lizzy to demand an apology and payment of damages in the sum of N500 million.
Lizzy was also given 14 days to respond to the lawsuit.
Sharing screenshots of the lawsuit on her Instagram page on Tuesday, Iyabo wrote: "14 days is round the corner. Saga activated."
If Anything Happens To Me Hold My Husband Responsible – C, Sheila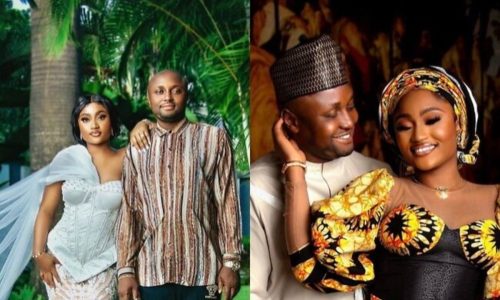 Sheila, the spouse of Davido's Logistics Manager, Israel Afeare, known as Israel DMW, has stated that her husband should be held responsible if she or any of her family members are harmed.
The former beauty queen raised the alarm on Saturday, expressing concern for her life and the safety of her family members.
She alleged that Israel, along with hoodlums, invaded her mother's shop to harass her.
Sheila made the allegation while responding to Israel DMW's claims of fraud and his assertion that she left their marriage upon gaining fame.
Contrary to Israel's depiction of her family as "gold diggers," she emphasized her family's affluent background, revealing that her father and former Edo State governor, Adams Oshiomole, are first cousins.
In an Instagram story, Sheila wrote, "If anything happens to me or any member of my family, #IsraelDMW should be held responsible.
"Going to my mum's shop to beat her up? You wan kill pikin, kill mama join?"
'This isn't even something to be quiet about at this point.
"I was going to post this just yesterday! I held back because aside from involving the police, I reached out to someone I believed could reach him and would act on it. I say make I no forward so I don't get the 'oh, you shouldn't have brought it online.'
"Yesterday! This man carried boys to harass my mum at her shop!"