I Had Robust Relationship With President Tinubu – Seun Kuti
Grammy-nominated afrobeat singer, Seun Kuti has revealed that President Bola Ahmed Tinubu was his political mentor.
The son of late afrobeat legend, Fela Kuti disclosed this while speaking on his relationship with the president in a recent interview with a media personality, Chude Jideonwo.
He explained that he has a "robust" relationship with the president whom he described as an "uncle", stressing that he was a mentor to him while growing up.
He recalled that Tinubu was a leading member of the National Democratic Coalition (NADECO) that fought for Nigeria's democracy after the military annulled the June 12, 1993 presidential election assumingly won by Chief MKO Abiola.
Kuti said, "My relationship with President Tinubu on a personal level is very robust. I grew up knowing him as an uncle. He was a very good friend of uncle Beko [Kuti]. He was a political mentor to me growing up as a child.
"Many of the ideas that I understand today, it was these men that taught me as a child growing up. Knowing them fighting for democracy in this country with NADECO, even when he [Tinubu] went on exile… Wale Soyinka, uncle Beko, Asiwaju, these were the men who fought for our democracy.
"During Tinubu's first term as Governor of Lagos State, I performed at all his rallies. I've always been close to him personally. But I don't have any political relationship with him. And even at that, I don't think it's anybody's business. I've not been to his house in years except when I need to see him for national issues.
"So, these things that people say are just to tarnish your image. They make it seem like everybody must be paid for what they're saying. No, no, no. What's the truth is the truth. And I say it regardless of fear or favour of anybody."
He, however, said so far, President Tinubu has not been performing well.
Video: I'm The Voice Behind Psquare's Popular Song 'Story' – Helen Paul
Popular Nigerian comedienne, Helen Paul has disclosed that she was the voice behind 'Uncle, Please Tell Us a Story' in a song titled 'Story' by Psquare in 2005.
The 45-year-old comedienne revealed this in her latest interview on The Honest Bunch Podcast.
She was working as a studio receptionist at the time and the children who were meant to do the voiceover failed to show up.
"I didn't know PSquare at the beginning. I didn't even know they were going to blow. They came to the studio, and they wanted to record their songs.
" When the song started reigning, I didn't even know what it was to put your name on a song; I didn't fight for it."
Watch the video below:
Helen Paul voiced, Uncle, please tell us a story in PSquare's song?

Wow. Legend 🔥pic.twitter.com/U0Pglo9cIo

— POOJA!!! (@PoojaMedia) November 27, 2023
Defamation: Iyabo Ojo Sues Lizzy Anjorin, Demands N500m In Damages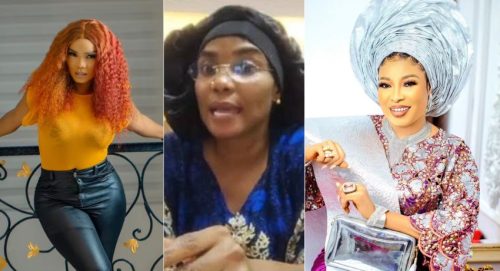 Nollywood actress, Iyabo Ojo has sued colleague, Lizzy Anjorin, over some allegations made against her.
Recall that Lizzy had in a series of clips on the internet, accused Iyabo of dating singer Naira Marley. She also made different allegations about Iyabo's daughter and her lover, Paulo.
Lizzy also accused Iyabo of being the brain behind the popular faceless blog, Gistlover.
However, Iyabo Ojo through her lawyer, Olumide Alake, has written to Lizzy to demand an apology and payment of damages in the sum of N500 million.
Lizzy was also given 14 days to respond to the lawsuit.
Sharing screenshots of the lawsuit on her Instagram page on Tuesday, Iyabo wrote: "14 days is round the corner. Saga activated."
If Anything Happens To Me Hold My Husband Responsible – C, Sheila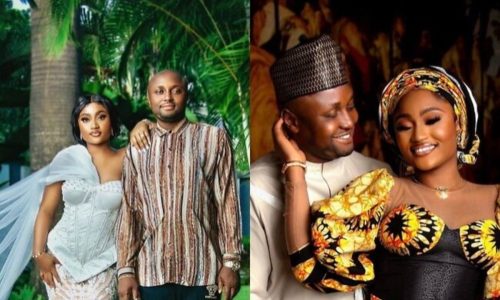 Sheila, the spouse of Davido's Logistics Manager, Israel Afeare, known as Israel DMW, has stated that her husband should be held responsible if she or any of her family members are harmed.
The former beauty queen raised the alarm on Saturday, expressing concern for her life and the safety of her family members.
She alleged that Israel, along with hoodlums, invaded her mother's shop to harass her.
Sheila made the allegation while responding to Israel DMW's claims of fraud and his assertion that she left their marriage upon gaining fame.
Contrary to Israel's depiction of her family as "gold diggers," she emphasized her family's affluent background, revealing that her father and former Edo State governor, Adams Oshiomole, are first cousins.
In an Instagram story, Sheila wrote, "If anything happens to me or any member of my family, #IsraelDMW should be held responsible.
"Going to my mum's shop to beat her up? You wan kill pikin, kill mama join?"
'This isn't even something to be quiet about at this point.
"I was going to post this just yesterday! I held back because aside from involving the police, I reached out to someone I believed could reach him and would act on it. I say make I no forward so I don't get the 'oh, you shouldn't have brought it online.'
"Yesterday! This man carried boys to harass my mum at her shop!"