Polaris Bank rewards 50 Lucky Winners in its ongoing 'Save & Win' promo
Polaris Bank held the first draw in her ongoing Polaris 'Save & Win' promo where 50 persons emerged winners. 
The development is in line with the Bank's commitment to rewarding its loyal customers across the nation.
The Bank, said winners emerged through a draw exercise which was witnessed by relevant Agencies of government; Federal Competition & Consumer Protection Commission (FCCPC), National Lottery Commission (NLRC) and Advertising Regulatory Council of Nigeria (ARCON) who confirmed that the 50 lucky winners were selected from various regions spanning the six geo-political zones of Nigeria.
Each winner received a cash prize of N10,000. The draw which took place at the Bank's headquarters in Lagos, further underscored Polaris Bank's dedication to fairness in all its promotions and activities.
During the draw, winners were called at random using a hybrid media technology which enabled in-premises event; as well as participation of over 1000 customers through the Bank's virtual network and social media handles.
One of the winners commended the Bank in putting in place the promo at this time which he said was relevant saying "Thank you to Polaris Bank, this money definitely came in at the right time, I will make sure to tell my friends to open accounts with the Bank and participate in the promo so we can all enjoy this money".
Speaking at the live draw event, the representative from FCCPC; Susie Onwuka said, "We've been monitoring Polaris Bank since the promo started and it has been fair, they comply to rules and guidelines. Customers should feel free and confident to participate in the promo".
During the unveiling of the winners, Polaris Bank's Group Head, Brand Management & Corporate Communication, Mr. Nduneche Ezurike, also expressed the Bank's commitment to encouraging a culture of savings among its customers. "The Polaris Bank Save & Win promo is not just about rewarding customers; it's also about encouraging our customers to save for the rainy day".
He emphasized that customers can still participate in, or increase their chances of winning by depositing a minimum of N10,000 in their Savings account. He also noted that non-customers of the Bank can participate for a chance to win in the draws by opening a Polaris Savings account with N2,000 and growing same to N10,000 before the next draw date.
The representatives of the regulatory bodies commended the Bank for making good its promise to winners of the draws.
For those wishing to be part of the Campaign, below are four (4) ways to participate in the ongoing Polaris Save & Win promo:
1. Download VULTe on iOS and the App store to open a Polaris Savings Account or dial USSD *833*0# on your phone or log into Polaris Bank savings portal.
2. Grow your account by N10,000 or more and maintain for 30 days or by N10,000 for 3 consecutive months to qualify for monthly & quarterly draws respectively.
3. If your account is dormant, you can reactivate your account without visiting the Bank by simply dialing *833*30#.
4. Follow the Bank's handles @polarisbankltd across all social media platforms or visit the website to stay updated.
Polaris Bank, adjudged Digital Bank of the Year 2021 and 2022, is a future-determining Bank committed to delivering industry-defining products for individuals and businesses.
Fidelity Bank set to host 2 days of Family Entertainment
…….announces maiden edition of its Fidelity Family Weekend Fiesta
In the spirit of the Yuletide, leading financial institution, Fidelity Bank Plc, has announced plans to host the maiden edition of the Fidelity Family Weekend.
Scheduled to hold on Saturday, 16 and Sunday, 17 December 2023 at the Fidelity Grounds, Oniru, Victoria Island, Lagos, the event is designed to create a fun and relaxed atmosphere for children to play, parents to relax and young adults to unwind during the festive season.
"The Yuletide season is all about coming together and spending quality time with loved ones especially as we wind down the year in anticipation of a new year. As a bank committed to providing memorable experiences for its clients, we pioneered the Fidelity Family Weekend to fete host our customers and clients to two fun filled days of family entertainment. We believe this is one more way of thanking our customers for a successful year," noted the Divisional Head, Brand & Communications, Fidelity Bank Plc, Meksley Nwagboh, Ph.D. in a chat with journalists.
The Fidelity Family Weekend would run from 10am to 10pm daily and would feature dedicated fun activities for children including dancing competitions, bouncing castles, train rides, Santa's Grotto, balloon games, amongst others. Similarly, the programme for the adults' section would feature exciting activities like karaoke competitions, games arcades, couple games, musical performances and so many more fun games that are geared towards providing a memorable experience for guests.
Entry into the event is free but guests are required to pre-register at www.fidelitybank.ng/family-weekend before 12 December 2023.
Commenting further, Dr Nwagboh said, "As a bank dedicated to helping individuals grow, businesses thrive and economies to prosper, we boast of an array of products and services for our diverse client base. These include the Fidelity SWEETA account for young children below the age of 17 years, Fidelity Flex for teenagers and undergraduates; and even the Fidelity Vintage Account for senior citizens; all tailor-made to meet our customers specific needs. The Fidelity Family Weekend is therefore another demonstration of this devotion to provide platforms for our customers to fulfill their lifestyle requirements".
Ranked as one of the best banks in Nigeria, Fidelity Bank is a full-fledged customer commercial bank with over 8 million customers serviced across its 251 business offices in Nigeria and the United Kingdom as well as on digital banking channels.
The bank has won multiple local and international awards including the Export Finance Bank of the Year at the 2023 BusinessDay Banks and Other Financial Institutions (BAFI) Awards, the Best Payment Solution Provider Nigeria 2023 and Best SME Bank Nigeria 2022 by the Global Banking and Finance Awards; Best Bank for SMEs in Nigeria by the Euromoney Awards for Excellence 2023; and Best Domestic Private Bank in Nigeria by the Euromoney Global Private Banking Awards 2023.
Union Bank and BFREE Forge Strategic Partnership to Revitalize Loan Portfolios
Union Bank of Nigeria and BFREE, a cutting-edge German-Nigerian FinTech firm, have signed a Memorandum of Understanding (MOU).
This agreement signifies a joint commitment to addressing economic challenges and revitalising distressed loan portfolios in Nigeria. This MOU was formalised during the German-Nigerian Business Forum in Berlin on November 21, 2023.
Under the terms of the MOU, BFREE, in conjunction with its international financing partners, will explore the acquisition of distressed loan portfolios from Union Bank, with a potential investment cap of $40 million. The key focus will be refinancing non-performing loan portfolios, particularly those delayed in repayment or already written off.
Union Bank, a leading provider of loans to Retail customers and Small & Medium Enterprises in Nigeria, has proactively adapted to the challenging economic environment. The ongoing economic pressures have necessitated increased flexibility for loan repayment plans, and BFREE, leveraging artificial intelligence (AI), presents an innovative solution.
BFREE's AI-driven automated interaction with loan customers facilitates discussions and agreements on revised loan terms. This streamlined approach enables the rapid review of many loan agreements within short periods, resulting in higher repayment rates and reduced instances of loan write-offs for Union Bank. It also demonstrates the Bank's confidence in BFREE's robust recovery process. This strategic partnership not only positions Union Bank for enhanced financial resilience but also relieves the institution of the burden of managing low-performing loan portfolios.
President Tinubu's active participation in promoting Nigeria as a prime destination for business and investment underscores the collaborative efforts to attract international businesses. The anticipated increase in foreign currency inflow, particularly USD and EUR, is expected to alleviate pressure on the exchange rate of the Naira, contributing to economic stability.
Speaking about the partnership, Joe Mbulu, Executive Director of Union Bank, said:
"We are excited about the strategic partnership with BFREE as it aligns with Union Bank's commitment to innovation and adaptability. This collaboration signifies our dedication to finding innovative solutions to the economic challenges faced by our customers. By leveraging BFREE's advanced AI capabilities, we aim to enhance the efficiency of our loan portfolio management, ensuring flexibility for our customers in these challenging times.
This partnership reflects Union Bank's proactive approach to navigating the evolving financial landscape and reinforces our commitment to providing sustainable financial solutions to individuals and businesses in Nigeria."
Also commenting on the partnership, Julian Flosbach, Chief Executive Officer of BFREE, expressed:
"BFREE is thrilled to announce our strategic partnership with Union Bank, a collaboration that underscores our joint commitment to innovation and resilience in the face of economic challenges. With a track record of successfully managing over 4 million distressed customers across Africa, BFREE brings extensive experience to the table. Our proprietary AI capabilities will play a crucial role in streamlining Union Bank's loan portfolio management, offering unparalleled flexibility to customers during these challenging times. The commitment of our financing partners is instrumental in driving this initiative, highlighting their dedication to supporting Union Bank's revitalisation efforts."
Union Bank is optimistic that this strategic partnership with BFREE will not only bolster the bank's financial health but also contribute significantly to the broader economic recovery of Nigeria.
Daily Black Market Dollar to Naira Exchange Rate Tracker, 27 November 2023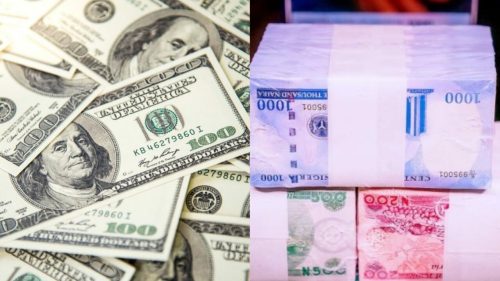 Daily Black Market Dollar to Naira Exchange Rate Tracker, 27 November 2023 in Nigeria can be accessed below.
JomogNews Nigeria has obtained the official Naira black market exchange rate in Nigeria today including the Black Market rates, Bureau De Change (BDC), and CBN rates. Please note that the exchange rate is subject to hourly fluctuations influenced by the supply and demand of dollars in the market. As of now, you can purchase 1 dollar at ₦1,140 and sell it at ₦1,145 however, it's important to keep in mind that the rate can shift (either upwards or downwards) within hours.
The Nigeria parallel market (black market dollar exchange rate today) to the Nigerian Naira is as follows: For the Lagos market (black market) and Abuja (FCT Black Market Rates).
Daily Black Market Dollar To Naira Exchange Rate Tracker, 27 November 2023
Dollar to Naira (USD to NGN) Black Market Exchange Rate Today
Buying Rate 1,140
Selling Rate 1,145
The local currency opened at N1,145 per $1 at the parallel market otherwise known as the black market today Monday, 27 November 2023, in Lagos Nigeria, after it closed at N1130 per $1 on Sunday, 26 November 2023.
Even though the dollar to naira opened in the parallel market at ₦1145 per $1 today, JomogNews Nigeria reports that the Central Bank of Nigeria (CBN) does not recognise the parallel market, otherwise known as the black market. The apex bank has therefore directed anyone who requires forex to approach their bank, insisting that the I&E window is the only known exchange.
JomogNews Nigeria reports that in the black market, the players buy a dollar for N1140 and sell for N1,145 on Monday, 27 November 2023.
CBN official dollar to naira exchange rate today
The domestic currency depreciated 9.73% to close at N830.97 to a dollar at the close of business on Tuesday, data from the NAFEM where forex is officially traded, showed.
This represents an N80.83 loss or a 9.73% decline in the local currency compared to the N750.14 it closed on Monday
The intraday high recorded was N1121/$1, while the intraday low was N600/$1, representing a wide spread of N521/$1.
According to data obtained from the official NAFEM window, forex turnover at the close of the trading was $122.46 million, representing a 30.72% decrease compared to the previous day.
Meanwhile, JomogNews Nigeria reports that the USD started this week at ₦1,150 in Parallel Market also known as Black Market on Monday, 27 November 2023, in Lagos Nigeria, after it opened at ₦1200 last week Monday, 20 November 2023.
Disclaimer: JOMOGNEWS NIGERIA does not set or determine forex rates. The official NAFEX rates are obtained from the website of the FMDQOTC. Parallel market rates (black market rates) are obtained from various sources including online media outlets. The rates you buy or sell forex may be different from what is captured in this article.