Geneveive Nnaji Makes First Public Appearance After Months Of Reportedly Battling Mental Illness
Beautiful actress and mum of two, Genevieve Nnaji has been spotted publicly for the first time in months.
It was gathered that she was seen delivering a speech at an event in Abidjan recently, looking chubbier and healthy.
The Nigerian actor, director, and producer spoke to delegates at the 2022 edition of Creative Africa Nexus, discussing the importance of the film industry to development in Africa.
The Creative Africa Nexus is a gathering of Africa's brightest creative minds, business and political leaders, policymakers, and thought leaders to drive global expansion and trade in the creative and cultural industries.
The viral photos have since sent many of her fans into a jubilatory mood.
One Kim wrote "I am the happiest right now. She is even looking more chubby. May God continually be with her and be with her through whatever she may be going through"
One Bola wrote "Are we sure she wasn't on maternity all along? This chubbiness looks like that of a nursing mum. She's very good at keeping her life private & that's one of the many things I like about her. I am glad she is healthy and fine"
Kemi Filani recalls there were unconfirmed reports that Genevieve Nnaji was reportedly staying off the public eye to take care of her health, especially after she suddenly deleted all her posts on Instagram.
Why I Took A Break From Acting – Actor Chidi Mokeme
Nollywood actor Chidi Mokeme has revealed why he took a break from acting. The actor in an interview on Channels TV on Monday said he took a break from the movie industry to focus on his health.
Mokeme who featured in the recently released movie, Shanty Town, said he battled Bell's Palsy, a condition that affects the face.
"We were preparing to go for a trip to the UK for the British International film festival and I was suffering from something called Bell's palsy, it comes like a stroke and it affects one side of the eye and the doctor said it was incurable because they did not know how to treat it.
"For an actor, if you come back with something that affects your face, you can imagine what it might look like at that time; I wanted to come for the premiere for the 76 at the time, but the attention was more focused on the face at the time than the premier, and it was not something I could work with. I decided to take time off to go sort out the problem," he said.
Mokeme who said he considered himself mentally strong added: "I am a student of life and I take life very seriously and I focus on God."
Iyabo Ojo In Fresh Trouble For Fighting Comedian Princess Over Apostle Suleiman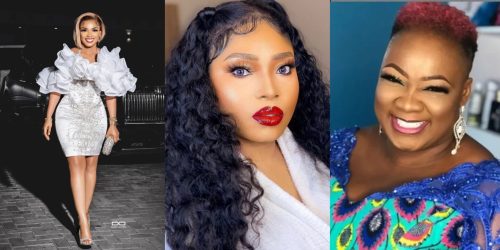 Popular Nollywood Actress Iyabo Ojo is presently being attacked by some of her online followers after she called out Comedian princess on Instagram to express her displeasure for conducting the Apostle Suleiman interview with Halima Abubakar.
'Princess betrayed and was disloyal to me by letting gistlover know that I called her on the phone while Halima's interview about Apostle Suleman was ongoing' Iyabo Ojo claimed.
The action has sparked reactions from her followers on social media, with many of them condemning her.
Reactions against Iyabo Ojo
"With all the pressure Princess was on that interview day with Halima, she still ignored all the questions that bothers about Iyabo, obviously if she did ask Halima, Halima will surely pure out that day cos Halima Dey vex, what does Iyabo want? Stella Otobo mentioned her name that time, her name Don come out this time, Goldmyne TV posted something overnight about her but quickly deleted it, why calling Princess when you obviously knew she was on IG Live ? Something doesn't seem to be right" One Wole criticized
"Rubbish, always acting like na only she get fire for head. Something you supposed ignore totally or have a chat with your friend . Princess was even overwhelmed then, it was a harmless comment. worst case you go call am para for her , if she continues like this , How many people go remain for her corner, abegi!! Typical building a mountain out of a mole hill , person wey supposed dey low key and protecting Her new home .as an interviewer if princess come ask Halima about iyabo relationship with sulamon nkor ? she go kill am " one Lola wrote
"Princess meant no harm, she respected her friendship with Iyabo, iyabo has d right to feel betrayed too, but then they should both settle it amicably because a lot of people are actually waiting for them to fall out" One Fola wrote.
Kemi Filani reported over the weekend that Halima Abubakar had resumed exposing her affair with Suleman, who sued her for N1 billion.
Halima Abubakar had an interview with Comedian Princess, where she spoke at length about their affair. During the interview, Iyabo Ojo, who has been linked to Apostle Suleman, put a call through to Princess.
The comedian in a chat with controversial blogger, Gistlover revealed that she was in a phone conversation with Iyabo Ojo, who was likely afraid that her secrets could be exposed.
As expected, Gistlover shared the screenshot of her chat with Princess about Iyabo to her fans and the actress was filthy dragged.
An heartbroken Iyabo, who felt betrayed took to her Instagram page to lash out a her. In a series of posts, Iyabo faulted Princess for revealing her phone conversation to the Instagram blogger.
Iyabo Ojo shades Princess
"Princess betrayed and was disloyal to me by letting Gistlover know that I called her on phone while Halima's interview about Apostle Suleman was ongoing".
In another since deleted post, Iyabo stated that the incident was an eyeopener for her as she has learnt a lesson in the hardest way.
She avowed that one shouldn't take a bullet or risk his life for anyone, but when they turn around, it hurts differently.
"O re ni wan…. I have learned this in the hardest ways… Never inherit anyone's energy, never risk your life or take a bullet for no one & nobody.
Never go beyond & above for anyone…
Bcos when you do & they turn around & stab you… It hurts differently.
It's ok to help, but with great caution".
Iyabo Ojo was said to have unfollowed her, but when Kemi Filani did a check, Iyabo Ojo has re-followed Princess. Hopefully their friendship has been repaired.
Credit:KFN.
Bovi Reacts To Nancy Isime's Nude Scene In Shanty Town
Comedian Bovi has reacted to Nancy Isime's revelation that her nude scene in the latest Nollywood movie on Nexflix, 'Shanty Town' wasn't real but a prosthetic.
Recall, Nancy Isime who plays the lead role of the young girl, caught in the same web of prostitution, caused outrage after a controversial nude scene exposing her breast and other sensitive parts of her surfaced.
The scene, which shows Nancy being forced to undress by Nollywood actor, Richard Mofe-Damijo, highlights the vulnerability and exploitation faced by women in such situations.
Reacting to the outrage online, Nancy Isime in a post shared on Instagram reveal that the gorgeous body party people are talking about is not her but a prosthetic.
Parts of her post reads: "Simmer down horny boys and girls. I know those gorgeous body parts excite you but they sadly belong to my beautiful body double.
"Mine aren't that succulent.
"Enjoy our beautiful masterpiece, get the message from each scene and Focus on the right Focus!"
Reacting to Nancy's post, Bovi wrote in the comment section "Na lie! Na you! It's by force. Na you Nancy!"
'Shanty Town' tells the story of a group of prostitutes who plots to break free from the clutches of a notorious criminal mastermind, Scar, played by Chidi Mokeme but political corruption makes achieving liberty a daunting task, and even when someone finally gets freedom, she is killed.
The movie also portrays the harsh conditions of life in the slums and the ways in which poverty can lead to exploitation and abuse.