Cubana Chief Priest, Iyabo Ojo, Eniola Badmus, Nigerians Celebrate Davido At 30
It's Davido's big day and tributes are already pouring in for singer, Davido as he turns 30 today, November 21st.
As the singer and his wife, Chioma Rowland remain out of the spotlight over the death of their son, many are showing their support for the couple.
The likes of Cubana Chief Priest, Eniola Badmus, Dorathy Bachor, Iyabo Ojo and more have taken to social media to celebrate him.
Celebrities celebrate Davido at 30
Eniola Badmus wrote, "Happy Birthday to the strongest!! Continue to live long Oriade @davido. God got you and I dey with you for life. Welcome to the 3rd floor".
Cubana Chief Priest wrote, "Happy Birthday Bestie Mi! On this 30th floor you shall know no sorrow all you shall feel is peace, love, joy & prosperity. God has sworn to bless, protect, guide & wipe your sorrow. I Iove you so much bestie mi".
Iyabo Ojo wrote, "Happy 30th birthday king@davido. May you continue to rise against all odds, may God renew your strength, you will soar on wings like eagles; you will run and not grow weary, you will walk and not he faint. Jesus is your hope, he will feel your heart with unending joy & gladness…stay blessed champ"
Dorathy Bachor wrote, "Happy Kind-hearted and always willing to lift the next person up. You're such a light to the world Fave. Thank you for always being you. Happy 30th birthday David".
Davido reveals birthday wish
Before the unfortunate loss of his son, Davido had made a special announcement on his birthday.
The singer revealed his desire for his 30th birthday on November.
Davido stated via his Instagram story that he wanted his birthday gift this year.
"I want my GIFTS THIS YEAR!!!!".
We aren't sure the singer would be needing any gift this year, following his son's untimely death.
A source close to the singer stated that Davido wouldn't be celebrating his birthday.
Hollywood A-listers 'Avoiding Meghan And Harry' To Stay In William And Kate's Good Books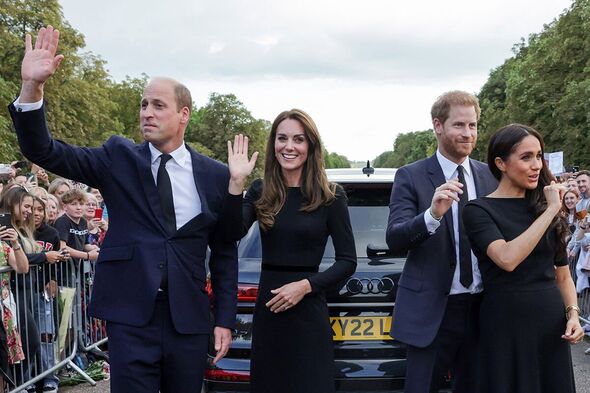 Hollywood celebrities, including their high-profile neighbors Steven Spielberg, Julia Louis-Dreyfus, and Rob Lowe, are eportedly staying away from exiled royals, Meghan Markle and Prince Harry over fears they could be alienated from the future King of England, Prince William and his wife Kate Middleton.
The California couple were not even invited to Oprah Winfrey's birthday party this year, despite her bombshell interview with the Sussexes in March 2021.
"Everyone's got a movie to sell and a Broadway play they want to debut on screen in London or [London's] West End and they know that Prince William and Kate — who are the biggest [celebrity] gets over there won't show if they think someone is friends with Harry and Meghan," NewsNatio senior story producer Paula Froelich told NewsNation Now's host Nichole Berlie.
"My sources tell me it's all about the money," she added.
"And the big power players in Hollywood aren't jeopardizing their business for Harry and Meghan."
The Duke and Duchess of Sussex, who broke away from the royal family in 2020, were also snubbed by the White House when they were denied a flight on Air Force One when they tried to get a ride back to the US after Queen Elizabeth's state funeral in September.
The White House reportedly worried that escorting the estranged royals with President Biden and first lady Jill Biden would strain relations with Britain.
Hollywood celebrities are also worried about the couple spilling their secrets, Froelich said.
"What if they dish on what's in the refrigerator as well?" she said.
In his bestselling memoir, "Spare," Harry wrote that while attending a party at Courtney Cox's home in Los Angeles, an unnamed actor allegedly showed him a box of "black diamond mushroom chocolates" in Cox's refrigerator.
"My mate and I grabbed several, gobbled them, washed them down with tequila," he wrote before describing his hallucinations.
Cox denied that she provided the mushrooms, telling Variety, "I definitely wasn't passing them out."
Tonto Dikeh: Stay Away from Nollywood Drama Queens – Journalist Advises Pastor Jerry Eze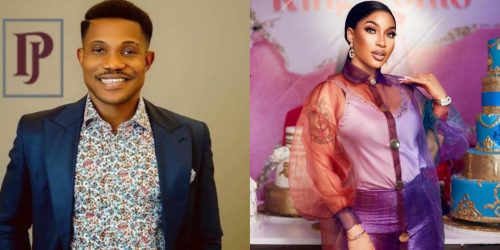 A Nigerian Journalist, Moji Danisa has called out popular Pastor, Jerry Eze for gifting actress, Tonto Dikeh a huge amount of her money on her birthday.
This comes after Nollywood actress cum politician, Tonto Dikeh publicly appreciated the renowned pastor for sending her a sizable sum of money in celebration of her 38th birthday.
Appreciating the pastor, Tonto Dikeh in a now-deleted Instagram post wrote: "I would love to appreciate my papa, my spiritual leader @realjerryeze, papa I can't shout, you shook my account balance… Eh pastor when will I finish this money, I am in awe. God bless you, sir.
"I am super grateful for the gift of you in my life. I pray that your pocket will never run dry Amen oooo pastor see my dancing ikwere dance. God favor you, sir, Thank you too mummy @enojerry22. Please help me thank my Papa @realjerryeze ooh pastor you did dorime on my account… I can't even stop dancing. What God cannot do, does not exist."
Reacting to the actress post, the journalist via her Instagram page queried the clergyman's intention for gifting the actress such funds.
"This is for you Pastor Jerry Eze. Stay away from Nollywood Drama Queens. You sent money to this one for her birthday. I will still say allegedly because I nor wan believe, she don carry you enter social media say na substantial amount. Imagine! So all those small donations and the big ones from those who truly believe in you na… Let me stop here… I don't want my hand to scratch me too much this morning. Nevertheless, this is a very simple advice. Thank you."
I Can't Wait To Change My Daughter's Surname – Sophia Momodu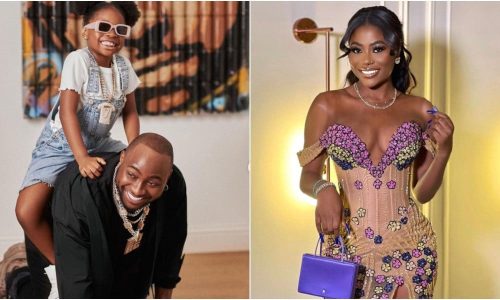 Sophia Momodu, the first baby mama of the famous Afrobeat singer, David Adeleke, aka Davido, has stated that she can't wait to change her daughter's last name.
Sophia who has been at loggerheads with Davido over his continued absence in her life gave a hint in a post on her Snapchat on Monday.
The mother of one who disclosed that she has been playing the role of mom and dad to their daughter Imade, also added that she is considering changing her daughter's last name to 'Momodu'.
She wrote, "I can't wait to change my daughter, Imade's last name
"I still think Momodu is 👌 as I'm Mom and Dad."
Recall that Sophia had last month accused men of financially bullying a woman into staying with them.
Moments after she shared the above comments on Snapchat, another fan identified as @Grace warned that her remarks may be misinterpreted by bloggers.
In her reply, Sophia said; ''I don't know any educated, intelligent Nigerian that has had anything negative to say to a woman that actively plays the role of a mom and dad all by herself. The rest can set up a gofundme account if they are really pressed.