Desmond Tutu: 12 things to know about late South Africa's Archbishop who wanted 'assisted death'
President Cyril Ramaphosa announced the death of Archbishop Desmond Tutu, on Sunday. The anti-apartheid icon died at 90.
This is five years after the South African anti-apartheid icon celebrated his 85th birthday in October 2016, saying he would like to be allowed the option of dignified assisted death.
"I have prepared for my death and have made it clear that I do not wish to be kept alive at all costs.
"I hope I am treated with compassion and allowed to pass on to the next phase of life's journey in the manner of my choice.
"For those suffering unbearably and coming to the end of their lives, merely knowing that an assisted death is open to them can provide immeasurable comfort," he wrote in Tutu wrote in an op-ed published in The Washington Post.
Before his death, one reason for his regular hospitalisation was an infection resulting from the prostate cancer treatment he has been receiving for over 24 years.
Medically-assisted suicide or voluntary euthanasia is illegal in South Africa, but in recent years there have been growing calls for it to be legalised.
Here are a dozen things to know about the late Archbishop
1 – He is the first black Archbishop of Cape Town and bishop of the Church of the Province of Southern Africa (now the Anglican Church of Southern Africa).
2 – Tutu received many international accolades during his long and illustrious life, including the Nobel Peace Prize in 1984; the Albert Schweitzer Prize for Humanitarianism in 1986; the Pacem in Terris Award in 1987; the Sydney Peace Prize in 1999; the Gandhi Peace Prize in 2007; and the Presidential Medal of Freedom in 2009.
3 – Initially trained as a teacher after leaving school, he began studying theology after having taught at a high school for three years and was ordained as a priest in 1960.
4 – He bagged a Master of Theology degree in 1966 in England.
5 – In 1975 he was appointed Dean of St Mary's Cathedral in Johannesburg, the first black person to hold that position. From 1976 to 1978 he was Bishop of Lesotho.
6- In 1978, he became the first black general secretary of the South African Council of Churches.
7 – After the fall of apartheid, Tutu headed the Truth and Reconciliation Commission.
8 – He retired as Archbishop of Cape Town in 1996 after serving in that capacity for 10 years, and was made emeritus Archbishop of Cape Town, an honorary title that is unusual in the Anglican church.
9 – In 1997, Tutu was diagnosed with prostate cancer and underwent successful treatment in the US. He was readmitted to the hospital at various times thereafter to address the cause of recurring infections.
10 – In September 2019, the world got its first proper look at Prince Harry and Meghan's baby son when the pair relished their meeting with Tutu in Cape Town, a photograph of which they shared on their official Instagram as "Arch, meet Archie."
11 – Tutu was married to Leah, whom he met at college, and shared four children with.
12 – Their only son, Trevor Tutu, is the eldest child. He was named after Tutu's mentor and fellow apartheid activist Trevor Huddleston.
Their eldest daughter is Theresa Thandi Tutu, who leads a largely private life. Naomi Tutu studied in the US where she also started a foundation to provide scholarships and other help to South African refugees.
Mpho Tutu, their youngest daughter, followed in her father's footsteps by becoming a cleric and champion of human rights issues. In 2010, she co-wrote a book with her father called Made for Goodness: And Why This Makes All the Difference.
My Dad Asked Me To Kill Him – Man Arrested For Hacking His Father To Death In Ogun Says
A 38-year-old man identified as Matthew Ifeanyichukwu Onadike who was recently arrested for macheting his octogenarian father, Pa Anthony Onadike, to death, has said that he carried out the act to satisfy his father's request.
Matthew who was apprehended by the Ogun State Community, Social Orientation and Safety Corps, codenamed So-Safe, and handed over to Sango divisional headquarters of Ogun State Police Command, said his father had told him severally that he wanted peace of mind, which he interpreted to mean the old man asking to be killed.
So-Safe Corps, in a statement, had disclosed how its officers were called and informed of the suspect killing his biological father, Pa Onadike, by inflicting several machete cuts on his head. Though the octogenarian was rushed to a hospital, the doctor who attended to him on arrival at the hospital confirmed him dead.
Matthew was said to have resisted arrest but was eventually subdued and taken into custody. During preliminary investigation, he claimed that it was his father's refusal to give him the N70,000 he kept with him since 2022 that made him commit the murder.
He said his parents advised him to quit his job. However, after quitting his job, his parents refused to cater for him.
"I was working in a company at Ajao Estate. However, problem arose when my parents asked me to leave the job and come back home. In August 2021, my father came to where I was living in Oshodi, Lagos. He told me to give him rest by coming home.
I was very angry because I didn't understand why he wanted me to kill him. He ran as I pursued him to leave my room. I stopped going to our family's residence in Sango, Ogun State, and whenever I was in that area, I avoided my father. If I saw him, I would take another way. I was seeing my mother only.
One day, I came to see my mother and she told me to do my father's bid. After some time, my father called my office and I observed some changes. In September 2021, my landlady also told me not to pay house rent again, asking me to move out. I was not owing the landlady any money but there used to be quarrels between me and other tenants. I lived in that house in Oshodi for eight years.
My work place also started reducing the salary I was being paid. When I observed all the changes, I called my father and told him what I was experiencing. He said he had told me to pack my belongings and return home. My brother came and assisted me in packing on December 31 that year. My father was not around when I got to our house, and when he came in, we hugged each other. He reminded me of what he discussed with me and we almost quarreled again.
In January 2022, I gave my father N20,000 to keep for me. In August, I gave him another N50,000. I also kept N20,000 with my mother. By then, I had stopped working. I was so stressed but my father kept telling me that I should do what he asked me to do to him.
In November 2022, I asked my father to give me the money with him for me to start selling robber footwear but he denied having my money. In January this year, I noticed that he truly wanted me to kill him. One day, I called my mother to discuss the negative trend in our family. My elder brother had died.
She told me that she knew of my father's request, saying that was why he didn't want to give me my money, as an act of provocation. Later, she also denied my giving the money to my father. I was tired of sitting at home. I went to a bakery to work but my mother told the business owner to sack me. She said I should just be at home, saying that she would be taking care of my needs.
By then, I was under pressure. I was not allowed to work, and when I asked for money, I was not given. I fought with my father and seriously injured him. However, he said that injuring him was not enough as he wanted me to kill him. I went to Sango police station to report what was happening. I stood outside and told police officers in a loud voice that my father wanted me to kill him. They didn't let me in but brought me to Eleweran in Abeokuta. I went back home when we didn't see the person the police brought me to.
On August 28, I was in my room with the plantain I went to cut in our backyard farm. I wanted to sell it and use the money to feed. Unfortunately, I didn't get any buyer. When I asked my mother for money to eat, she gave me N700. My father came home and saw that I had cut two bunches of plantain. He asked me why I did so without informing him. He threatened to pick a cutlass and cut down all the plantain trees. He said I should kill him like he had been telling me.
We dragged the issue as I held him, but I later went to my room.
While I was there, my father started banging on the door of my room, shouting that I should come out and kill him. That was when I picked the cutlass I used in cutting the plantain and started inflicting machete cuts on his head. People around heard what was happening and rushed to our house. I locked the backyard door when the community people asked me to come out. When they insisted, I went out to meet them. That was how So Safe officers were called and I was arrested."
The Ogun state police command say the suspect will be arraigned in court as soon as investigation is completed.
Two Children Electrocuted, Mother Hospitalized In Lagos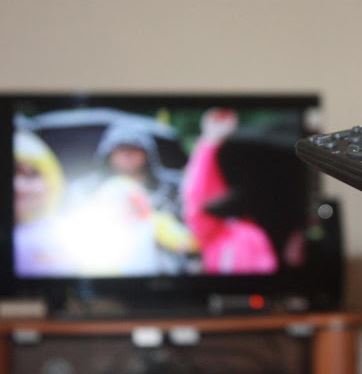 A mother is being treated in a hospital after two of her children were electrocuted in Mushin, Lagos State.
The children, a girl aged 10 and a boy aged seven, were electrocuted on Thursday, Sept. 26, when they attempted to turn on the television after returning from school.
The children's mother reportedly fainted when she got news of her children's death and she is currently hospitalized.
A resident of the area named Toyosi told Punch: "I heard that it was after school on Thursday, the girl was trying to turn on the TV from the socket when she got electrocuted. Without even knowing what had happened to his older sister, the younger boy went to touch her, he too got electrocuted.
"They stayed at that spot until the light was taken and then they fell. I heard the woman is still at the hospital. She has yet to recover from the shock. We heard that when people went to visit her, she couldn't talk, she couldn't cry, she just sat at a spot, looking."
Another resident of the area, who didn't give her name, disclosed that the mother of the children had a third child she was breastfeeding when the two older ones passed on.
Tight Security As Tribunal Set To Deliver Judgment On Petitions Against Sanwo-Olu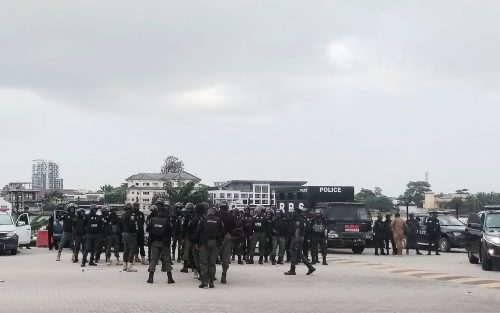 Security has been beefed up at the Roseline Omotosho Courthouse, Ikeja, as the Lagos State Election Petitions Tribunal is set to deliver judgement in petitions challenging the election of Governor Babajide Sanwo-Olu.
The Peoples Democratic Party governorship candidate for the state in the March 18 poll, Abdulazeez Adediran, also known as Jandor, and his Labour Party counterpart, Mr. Gbadebo Rhodes-Vivour, filed the petitions.
Security operatives took over the main entrance of the courthouse, screening journalists, lawyers and others before they could gain entrance.
Securing operatives prevented a number of people from entering the premises.
Adediran, in his petition, alleged that the governor presented a forged West African School Certificate to the Independent National Electoral Commission.
Adediran also accused Lagos deputy governor, Kadri Hazmat, of not including an oath declaration in the INEC Nomination Form EC9.
He added that APC did not comply with the Electoral Act when nominating Sanwo-Olu and Hamzat.
Rhodes-Vivour, in his petition, also challenged the eligibility of Hazmat to contest on the grounds that he allegedly renounced his Nigerian citizenship and swore allegiance to the United States of America.
NAN