Desmond Tutu: 12 things to know about late South Africa's Archbishop who wanted 'assisted death'
President Cyril Ramaphosa announced the death of Archbishop Desmond Tutu, on Sunday. The anti-apartheid icon died at 90.
This is five years after the South African anti-apartheid icon celebrated his 85th birthday in October 2016, saying he would like to be allowed the option of dignified assisted death.
"I have prepared for my death and have made it clear that I do not wish to be kept alive at all costs.
"I hope I am treated with compassion and allowed to pass on to the next phase of life's journey in the manner of my choice.
"For those suffering unbearably and coming to the end of their lives, merely knowing that an assisted death is open to them can provide immeasurable comfort," he wrote in Tutu wrote in an op-ed published in The Washington Post.
Before his death, one reason for his regular hospitalisation was an infection resulting from the prostate cancer treatment he has been receiving for over 24 years.
Medically-assisted suicide or voluntary euthanasia is illegal in South Africa, but in recent years there have been growing calls for it to be legalised.
Here are a dozen things to know about the late Archbishop
1 – He is the first black Archbishop of Cape Town and bishop of the Church of the Province of Southern Africa (now the Anglican Church of Southern Africa).
2 – Tutu received many international accolades during his long and illustrious life, including the Nobel Peace Prize in 1984; the Albert Schweitzer Prize for Humanitarianism in 1986; the Pacem in Terris Award in 1987; the Sydney Peace Prize in 1999; the Gandhi Peace Prize in 2007; and the Presidential Medal of Freedom in 2009.
3 – Initially trained as a teacher after leaving school, he began studying theology after having taught at a high school for three years and was ordained as a priest in 1960.
4 – He bagged a Master of Theology degree in 1966 in England.
5 – In 1975 he was appointed Dean of St Mary's Cathedral in Johannesburg, the first black person to hold that position. From 1976 to 1978 he was Bishop of Lesotho.
6- In 1978, he became the first black general secretary of the South African Council of Churches.
7 – After the fall of apartheid, Tutu headed the Truth and Reconciliation Commission.
8 – He retired as Archbishop of Cape Town in 1996 after serving in that capacity for 10 years, and was made emeritus Archbishop of Cape Town, an honorary title that is unusual in the Anglican church.
9 – In 1997, Tutu was diagnosed with prostate cancer and underwent successful treatment in the US. He was readmitted to the hospital at various times thereafter to address the cause of recurring infections.
10 – In September 2019, the world got its first proper look at Prince Harry and Meghan's baby son when the pair relished their meeting with Tutu in Cape Town, a photograph of which they shared on their official Instagram as "Arch, meet Archie."
11 – Tutu was married to Leah, whom he met at college, and shared four children with.
12 – Their only son, Trevor Tutu, is the eldest child. He was named after Tutu's mentor and fellow apartheid activist Trevor Huddleston.
Their eldest daughter is Theresa Thandi Tutu, who leads a largely private life. Naomi Tutu studied in the US where she also started a foundation to provide scholarships and other help to South African refugees.
Mpho Tutu, their youngest daughter, followed in her father's footsteps by becoming a cleric and champion of human rights issues. In 2010, she co-wrote a book with her father called Made for Goodness: And Why This Makes All the Difference.
BREAKING: Osinbajo meets state governors over fuel subsidy, launches COVID-19 stimulus program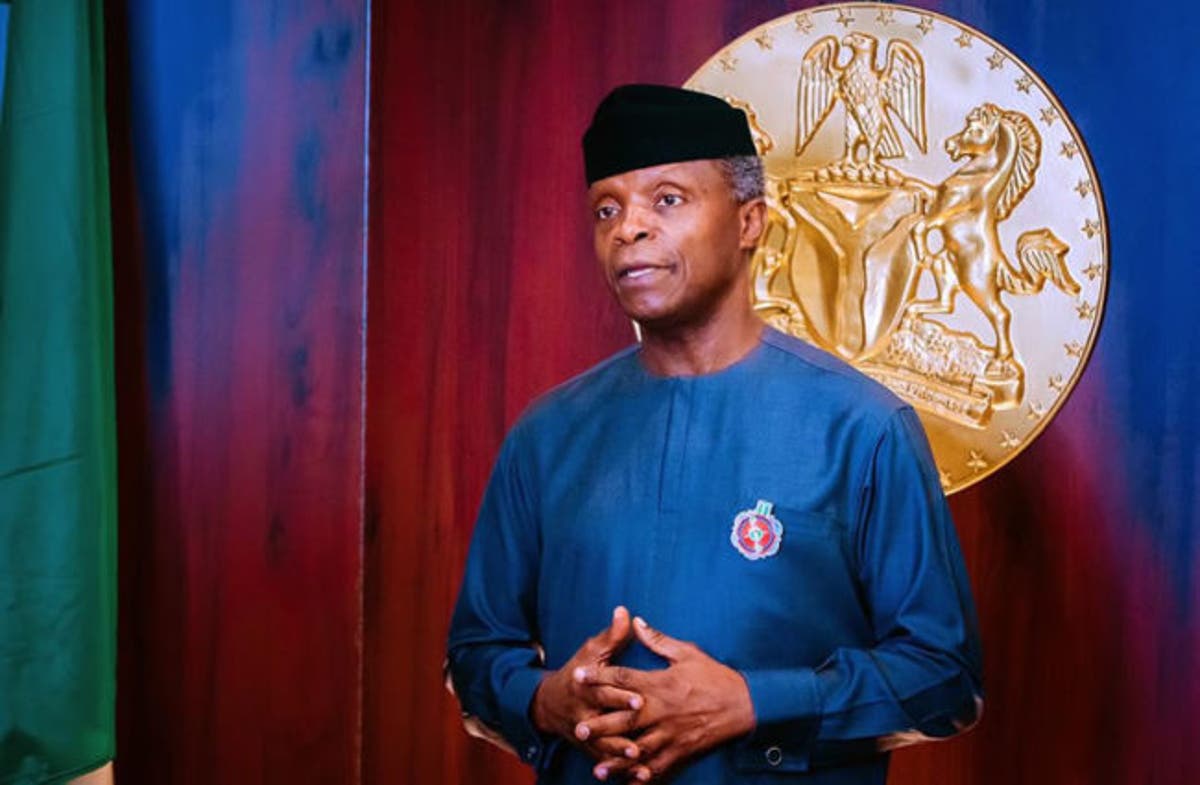 Vice President Yemi Osinbajo is currently presiding over the National Economic Council NEC meeting at the Presidential Villa, Abuja, where a good number of state governors are in attendance.
Before the meeting kicked off, Osinbajo launched the Nigeria COVID-19 Action Recovery and Economic Stimulus NG-CARES Program.
The program is being funded under the World Bank N750million loan.
As at the time of filing this brief report, there are strong indications that the meeting would deliberate on the contentious issue of fuel subsidy.
DAILY POST reliably gathered that most of the state governors who are members of NEC are not favourably disposed to the situation where deductions are made from their federal allocations, which goes into subsidising fuel products for the populace.
Osinbajo serves as chairman of the National Economic Council while the 36 state governors are members, including the FCT Minister, Mohammed Bello, the Minister of Budget and National Planning, Zainab Ahmed among other key agencies of government.
Meanwhile, at the federal level, the government appears to be at crossroads in taking concrete decisions on fuel subsidy removal owing to economic constraints.
More details later…
LASOMP Congratulates Rasheed Bolarinwa As He Emerges ACAMB President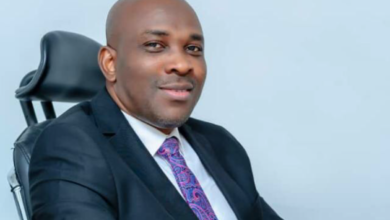 Lagos State Online Media Publishers (LASOMP) has felicitated with Mr Rasheed Bolarinwa on his election as the President of Association of Corporate Affairs Managers of Banks, ACAMB, wishing him every success in his new position of leading corporate managers to chart a path of professional development and fulfilment.
LASOMP in a statement by its President, Mr Sola Adeyemo, said, "As a professional in the corporate industry who has held several strategic positions in Polaris Bank, a leading commercial bank in Nigeria, I trust that Mr Bolarinwa's vast knowledge and experience in corporate world will greatly benefit the banking sector.
Adeyemo assures the new leadership of ACAMB of the continued cooperation of his administration in addressing the broad range of challenges and opportunities facing the banking sector.
Other elected executives include Oze Kalu, 1st vice-president (FirstBank); Lola Egboh, 2nd vice-president (First City Monumental Bank, FCMB); Sipe Babajide, secretary-general (EcoBank); Omide Odekina, assistant general-secretary (United Bank for Africa, UBA); Patrick Osilaja, financial secretary (Fidelity Bank); Funmilayo Falola, treasurer (Wema Bank); Abdul Imoyo, publicity secretary (Access Bank); Utulu Ozena, social secretary (Heritage Bank).
ACAMB was established in 1996 as an umbrella body for managers and public relations professionals in the Nigerian banking sector. It was founded as a response to the then negative perception of the banking industry.
Police Arrest Suspect Over Disappearance Of 35-year-old Woman In Lagos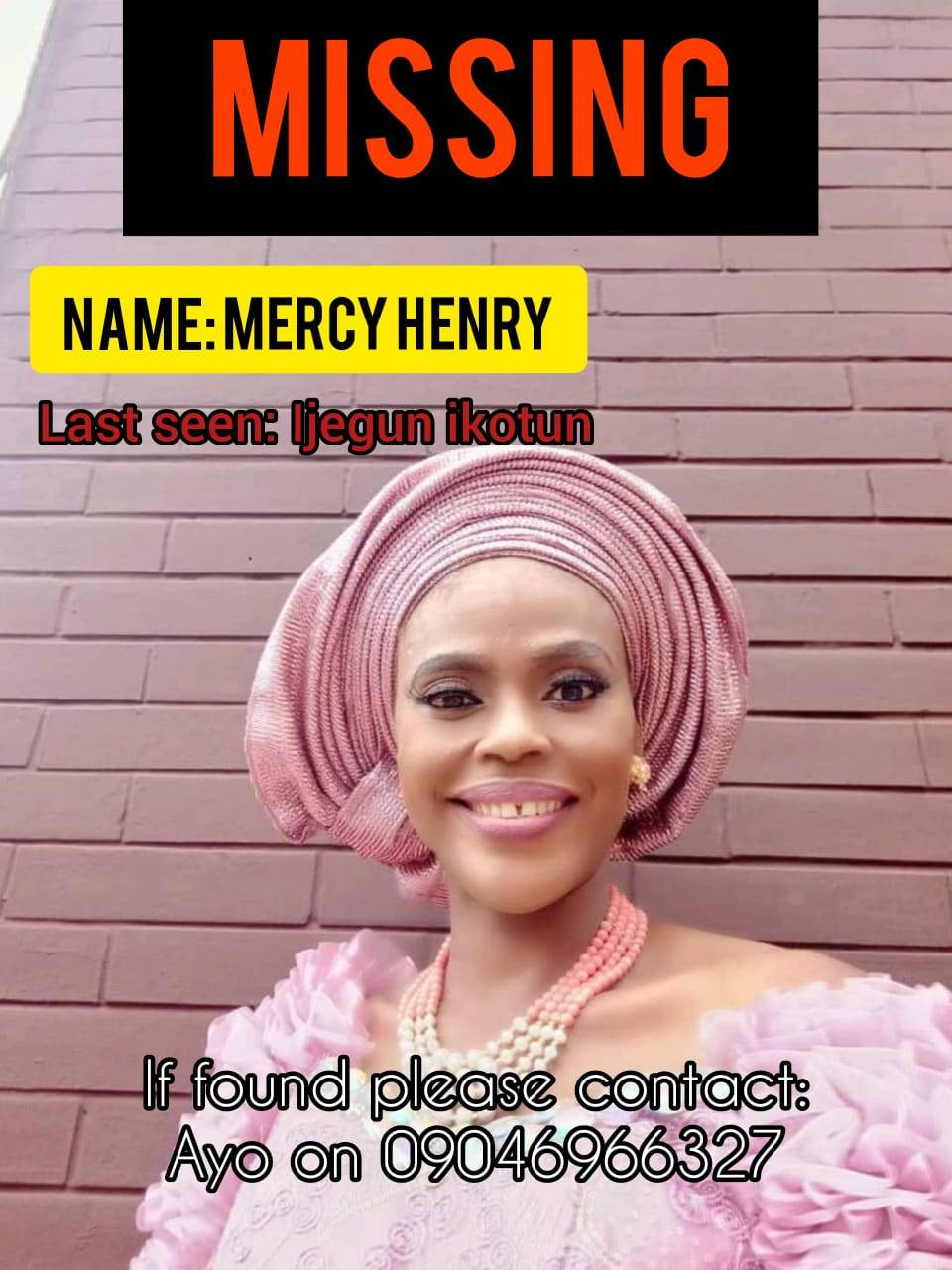 The police has arrested a suspect in connection with the disappearance of Mercy Henry, a 35-year-old mother of two, a month ago in Lagos.
According to the woman's father, Pa Henry Ekienabor,70, Mercy had told her family she was going to Ijegun, a suburb in Lagos State on December 16, 2021 and has since not been seen.
Speaking to the Guardian, Pa Ekienabor, who raised the alarm, said the family was apprehensive as the whereabouts of Mercy remains unknown.
He said not knowing whether Mercy is alive or dead was the most distressing for him and his family members.
Ekienabor, who said he has reported the matter to the police, was dissatisfied with the manner the police were handling the investigation.
He explained that although a suspect, Mayowa Timothy Bamidele, has been arrested and in police custody, he insisted that the police were not escalating the matter to the level he wanted. He also accused the police of handling Mayowa's interrogation with kid gloves.
"I feel frustrated and dejected because I have never experienced this type of situation in my life. It's been almost a month now and Mercy is nowhere to be found. We went round, called her friends and reported to the police. Police keep saying the investigation continues. We've gone to spiritual homes and we were told Mercy was being caged somewhere, but where? Nobody knows!" he said.
Recalling how Mercy disappeared, Ekienabor said: "On December 16, I got a call from my son that Mercy didn't return home to sleep. She had told everyone she was going to Ijegun, but she didn't mention the name of the person she was going to see. That same night, her siblings started calling all her friends, asking if they had heard or seen Mercy
"One of her friends residing at Port Harcourt, named Ayo, said that she spoke with Mercy at noon. She said that Mercy called, asking for a loan of N30, 000, that she needed it for treatment at a trado-medical home, that she was short of blood and getting leaner.
"Ayo told us that she paid the money into a First Bank account bearing the name, 'Mayowa Timothy Bamidele,' given to her by Mercy. The money landed in the account at 1:59pm and at 2:02p.m., Mercy's phone number stopped going. Since then, we've not been able to reach her."
The following day, the anxious family members dashed to Gowon Estate Police Station to make a formal complaint, declaring Mercy missing.
Using the information supplied by Ayo, the police went to First Bank and with the assistance of the Bank, Mayowa; the account holder that received the N30, 000, was arrested.
"Mr. Mayowa's story has too many discrepancies. He claimed to have seen Mercy four years ago when she came to his traditional birth centre to deliver a baby girl. But his phone history and chats showed that he and Mercy spoke on December 15 about 9:00p.m.
"Now, if you call her phone it would be switched off, but at night it would ring twice or thrice, then it would be switched off. It shows that someone is in possession of it. On December 24, we requested that the matter be transferred to the State Criminal Intelligence and Investigations Department (SCIID), Panti, Yaba," said Ekienabor.
Spokesperson of the Lagos State Police Command, Adekunle Ajisebutu, who confirmed the incident, said that a suspect has been arrested in connection with the disappearance of the woman.
"The case is still under intensive investigation at the SCIID. The Commissioner of Police, Hakeem Odumosu, has directed detectives handling the case to intensify efforts to trace the whereabouts of the woman. Meanwhile, a suspect has been arrested and is currently helping the Police detectives in their investigation." he stated.