Desmond Tutu: 12 things to know about late South Africa's Archbishop who wanted 'assisted death'
President Cyril Ramaphosa announced the death of Archbishop Desmond Tutu, on Sunday. The anti-apartheid icon died at 90.
This is five years after the South African anti-apartheid icon celebrated his 85th birthday in October 2016, saying he would like to be allowed the option of dignified assisted death.
"I have prepared for my death and have made it clear that I do not wish to be kept alive at all costs.
"I hope I am treated with compassion and allowed to pass on to the next phase of life's journey in the manner of my choice.
"For those suffering unbearably and coming to the end of their lives, merely knowing that an assisted death is open to them can provide immeasurable comfort," he wrote in Tutu wrote in an op-ed published in The Washington Post.
Before his death, one reason for his regular hospitalisation was an infection resulting from the prostate cancer treatment he has been receiving for over 24 years.
Medically-assisted suicide or voluntary euthanasia is illegal in South Africa, but in recent years there have been growing calls for it to be legalised.
Here are a dozen things to know about the late Archbishop
1 – He is the first black Archbishop of Cape Town and bishop of the Church of the Province of Southern Africa (now the Anglican Church of Southern Africa).
2 – Tutu received many international accolades during his long and illustrious life, including the Nobel Peace Prize in 1984; the Albert Schweitzer Prize for Humanitarianism in 1986; the Pacem in Terris Award in 1987; the Sydney Peace Prize in 1999; the Gandhi Peace Prize in 2007; and the Presidential Medal of Freedom in 2009.
3 – Initially trained as a teacher after leaving school, he began studying theology after having taught at a high school for three years and was ordained as a priest in 1960.
4 – He bagged a Master of Theology degree in 1966 in England.
5 – In 1975 he was appointed Dean of St Mary's Cathedral in Johannesburg, the first black person to hold that position. From 1976 to 1978 he was Bishop of Lesotho.
6- In 1978, he became the first black general secretary of the South African Council of Churches.
7 – After the fall of apartheid, Tutu headed the Truth and Reconciliation Commission.
8 – He retired as Archbishop of Cape Town in 1996 after serving in that capacity for 10 years, and was made emeritus Archbishop of Cape Town, an honorary title that is unusual in the Anglican church.
9 – In 1997, Tutu was diagnosed with prostate cancer and underwent successful treatment in the US. He was readmitted to the hospital at various times thereafter to address the cause of recurring infections.
10 – In September 2019, the world got its first proper look at Prince Harry and Meghan's baby son when the pair relished their meeting with Tutu in Cape Town, a photograph of which they shared on their official Instagram as "Arch, meet Archie."
11 – Tutu was married to Leah, whom he met at college, and shared four children with.
12 – Their only son, Trevor Tutu, is the eldest child. He was named after Tutu's mentor and fellow apartheid activist Trevor Huddleston.
Their eldest daughter is Theresa Thandi Tutu, who leads a largely private life. Naomi Tutu studied in the US where she also started a foundation to provide scholarships and other help to South African refugees.
Mpho Tutu, their youngest daughter, followed in her father's footsteps by becoming a cleric and champion of human rights issues. In 2010, she co-wrote a book with her father called Made for Goodness: And Why This Makes All the Difference.
Buhari 'Renews Tenure Of DSS Boss', Yusuf Bichi Amid Lingering Insecurity
Buhari Has 'Renewed The Tenure Of DSS Boss', Yusuf Bichi Amid Lingering Insecurity in Nigeria.
The tenure of the Director-General of the Department of State Services (DSS), Yusuf Bichi, has been extended by President Muhammadu Buhari.
Recall that Bichi was appointed in September 2018, following the retirement of the former head of the secret police, Matthew Seiyefa.
Sefiya, who headed the agency in an acting capacity from August 7, 2018, to September 14, 2018, handed over to Bichi following his appointment by President Buhari.
According to DAILY NIGERIAN, the President approved the extension of Bichi's tenure for another four years after rejecting a number of candidates proposed to him.
It was said that Buhari wanted Bichi "to continue with the good job he is doing in intelligence gathering" instead of appointing a new head of the agency.
Confirming the development to the newspaper, the spokesman for the DSS, Peter Afunanya, said Bichi's tenure has been renewed.
Profile of Bichi
Bichi attended Danbatta Secondary School, the Kano State College of Advanced Studies and the Ahmadu Bello University, Zaria where he graduated with a degree in Political Science.
He began his career in the security division of the Cabinet Office in Kano, from where he joined the defunct Nigerian Security Organization (NSO) before it became the present-day SSS.
The 66-year-old was appointed in September 2018 after retiring from service two years earlier to serve as the director-general of the service.
Emirates Suspends All Flights To Nigeria From September 1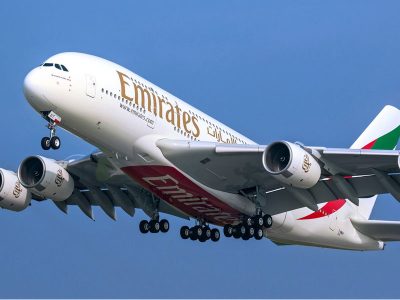 There are indications that the failure of Emirates Airlines to repatriate its trapped ticket sales fund in Nigeria back to its home country in the United Arab Emirates (UAE) may have led to the carrier's decision to stop all flights in and out of the country.
The airline in a statement on Thursday morning said that it would suspend flights from Nigeria effective September 1, 2022.
At least, $600 million of over 20 foreign airlines has been blocked in Nigeria since the beginning of the year.
Emirates had about two weeks ago said that out of these funds, it had about $85 million in Nigeria.
The airline had on Monday cut its 11 weekly frequencies into Lagos Airport to just seven.
A statement by the media consultant to the airline in Nigeria alleged that all efforts to repatriate the funds had proved abortive and it was compelled to take the decision of suspending all flights into the country.
The airline's statement on Thursday said: "Emirates has tried every avenue to address our ongoing challenges in repatriating funds from Nigeria, and we have made considerable efforts to initiate dialogue with the relevant authorities for their urgent intervention to help find a viable solution.
"Regrettably, there has been no progress. Therefore, Emirates has taken the difficult decision to suspend all flights to and from Nigeria, effective September 1 2022, to limit further losses and impact on our operational costs that continue to accumulate in the market.
"We sincerely regret the inconvenience caused to our customers, however the circumstances are beyond our control at this stage. We will be working to help impacted customers make alternative travel arrangements wherever possible.
"Should there be any positive developments in the coming days regarding Emirates' blocked funds in Nigeria, we will of course re-evaluate our decision. We remain keen to serve Nigeria, and our operations provide much needed connectivity for Nigerian travellers, providing access to trade and tourism opportunities to Dubai and to our broader network of over 130 destinations."
Jigawa Govt Shuts Schools Over Security Threats
The Jigawa State Government has ordered the immediate closure of all public and private schools in the state over security threats.
State Commissioner for Education, Dr. Lawan Yunusa Danzomo disclosed this to newsmen in his office.
Danzomo explained that the directive is not peculiar to Jigawa State but all the states, especially the border states.
DAILY POST learnt that the state government had directed the immediate closure of all primary and secondary schools without further delay while the students were taking their terminal examinations.
The sudden closure has caused panicking among residents, students and teachers.
A headmaster confided in DAILY POST that they were asked to shut down the schools and release the students immediately.
He said the directive came while the students are writing their examinations a few days before the normal closing date.
DAILY POST had also observed that most of the students, especially boarding schools were left stranded after closure of the schools.
Police spokesperson in Jigawa, Lawan Shiisu Adam, said the police command in the state did not order the closure of the schools, and the Ministry of Education has not briefed the command on what led to the sudden closure.