Electoral Act: Sign Amendment Bill Into Law – Arewa Youths Tell Buhari
The Arewa Youth Consultative Forum, AYCF, has urged President Muhammadu Buhari to sign the Electoral Act Amendment Bill into law.
National President of AYCF, Yerima Shettima, said all is not well with Nigeria's electoral system, hence the need for the bill to become law.
JomogNews  recalls that President Buhari failed to sign the bill into law due to the compulsory use of direct primary to pick candidates.
In a letter sent to the National Assembly, Buhari said assenting to the bill may open up the electoral system to a series of litigations from party members and stakeholders.
He stated that the adoption of direct primaries violates the spirit of democracy and would fuel corruption as well as encourage the monetization of elections.
Speaking with DAILY POST, Shettima said Buhari will be remembered for good and for doing the bidding of Nigerians by signing the bill into law.
According to Shettima: "The fact of the matter is that our electoral system is not doing good at all. We must make sacrifices to make it improve. If we have to improve on it, then we have to change the pattern.
"I don't know the reason why the president is thinking twice about this issue of electoral Act and I don't know his fears.
"But, one thing I'm sure of is that, if he can take the bold step and be courageous enough, he would be remembered for good. I do not think it would be good for him not to do the bidding of Nigerians.
"From all indications, Nigerians want the electoral Act to be signed into law. I don't know if it's because of direct primaries or there are other reasons. For me, I will advise him to do it, so that his name will be remembered for taking advantage of what this opportunity has provided."
Everything About You Bundle Of Lies – Bode George Attacks Tinubu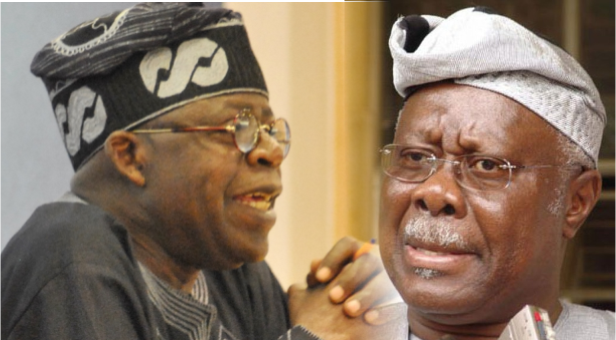 A chieftain of the Peoples Democratic Party, PDP, Bode George, has described the All Progressives Congress, APC, presidential candidate, Bola Tinubu, as a "bundle of lies."
George said everything Tinubu attributed to himself was a "bundle of lies".
He said Tinubu did nothing to alleviate the pains of residents of Lagos State despite serving as a governor for two terms.
Speaking with Channels Television last night, George said: "I absolutely have no qualms, no quarrel with Tinubu, but all I know is that everything he has said he was or his name is this or his school is that it's a bundle of lies.
"I'm a bonafide Lagosian, we knew what Lagos was like, and Lagos remains the commercial nerve centre, not only in Nigeria but in the whole of West Africa. What has this fellow done to us?"
The PDP chieftain charged Tinubu to open up on the ownership of Alpa Beta company.
He said the APC presidential candidate should tell Nigerians how much the company has allegedly stolen from the Lagos State Government.
"I have asked a very simple question and none of them has been able to answer it: who owns the Alpha Beta company? How much has the Alpha Beta company stolen from the coffers of our treasury in Lagos state?
"What has he done to alleviate the pains of the people of the state?" he asked.
PHOTOS: Tinubu Arrives Abeokuta, In Closed-door Meeting With Ex-President Obasanjo
Presidential candidate of the All Progressives Congress (APC), Asiwaju Bola Ahmed Tinubu, arrives Abeokuta to meet with former President Olusegun Obasanjo at the latter's Penthouse in the Ogun State Capital, on Wednesday.
Details of the meeting are yet to be made known but sources say it is not unconnected to Tinubu's presidential bid and the need to get Obasanjo's endorsement ahead of the 2023 presidential election.
On this visit, Tinubu was accompanied by the Speaker of the Federal House of Representatives, Femi Gbajabiamila, first interim Chairman of the All Progressives Congress, Chief Bisi Akande, the governor of Ogun State, Dapo Abiodun, former Governor Olusegun Osoba, Otunba Gbenga Daniel among other dignitaries.
The trip to Abeokuta comes a few days after President Muhammadu Buhari received Tinubu and his running mate Kassim Shettima at the State House in Abuja.
The duo were accompanied by the APC Chairman, Abdullahi Adamu and Plateau State Governor, Simon Lalong.
According to Adamu, the meeting was to brief the President and get his approval on the party's plans regarding the campaign outfit and organogram.
At a briefing after the meeting, Adamu also unveiled Lalong as the Director-General of the APC presidential campaign organisation.
2023: Real Reasons I Met Peter Obi, Wike, Others – Gov Ortom
Governor Samuel Ortom of Benue State has justified why he met the Labour Party, LP, presidential candidate, Peter Obi, Governor Nyesom Wike of Rivers State, among others.
Ortom explained that he is open-minded about receiving any presidential candidate regardless of party affiliation.
He spoke on Tuesday while addressing journalists after returning from Port Harcourt, Rivers State.
Obi had met with Governor Nyesom Wike of Rivers State, Governor Samuel Ortom of Benue State, Governor of Abia State, Okezie Ikpeazu; former Attorney General of the Federation and Minister of Justice, Mohammed Adoke.
Others at the meeting include former Governor of Ondo State, Olusegun Mimiko; former Governor of Cross River State, Donald Duke; and former Governor of Gombe State, Ibrahim Dankwanbo, among others.
However, Ortom said he couldn't turn down a request to attend such meetings.
Ortom explained that he did nothing wrong by attending the meeting with Obi.
According to Ortom: "At the end, the solution to the challenges of Nigeria is what matters. Where we are today calls for all hands to be on deck.
"I am free to receive any candidate who comes visiting or seeking audience with me. I cannot say no when such request comes."