How Toyin Abraham Paid Millions For Mo Bimpe's Wedding Dress – Toyin Lawani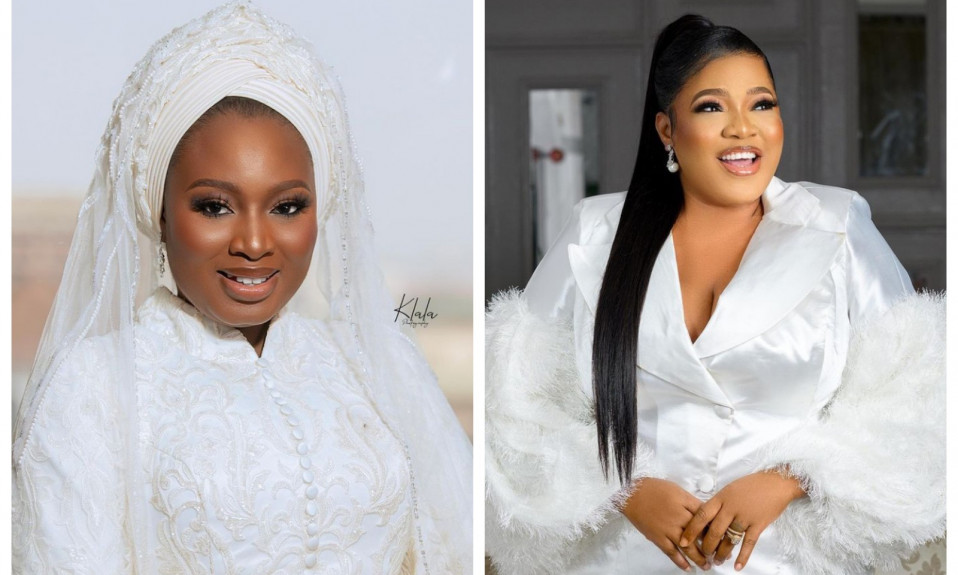 Celebrity stylist, Toyin Lawani, on Friday revealed that actress Toyin Abraham paid for the wedding dress of her junior colleague, Adebimpe Oyebade aka Mo Bimpe.
The designer took to her Instagram page to share photos of the dress, as she appreciated Toyin Abraham.
The fashion lover shared a photo of the dress on Instagram, appreciating Toyin for her magnanimity.
"@mo_bimpe Nikai wedding dress, designed by the fashion goddess via @elegantebytiannah styling courtesy of @toyin_abraham. I was just randomly discussing with her that I was making three dresses for Bimpe and I was so busy this time.
"Next thing she said, 'ah she's my God Daughter o, let me pay for her wedding dress', and you know I charge millions."So she did the transfer boom! and I made this masterpiece happen. Thanks Toyin, you are a wonderful friend. Well, everyone say thank you to @toyin_abraham Mummy Ire. God bless you," she wrote.
Mo Bimpe married fellow actor, Lateef Adedimeji on Wednesday in a star-studded event in Lagos.
Toke Makinwa Faces N50bn Lawsuit Over Alleged Defamation Of Abuja Businessman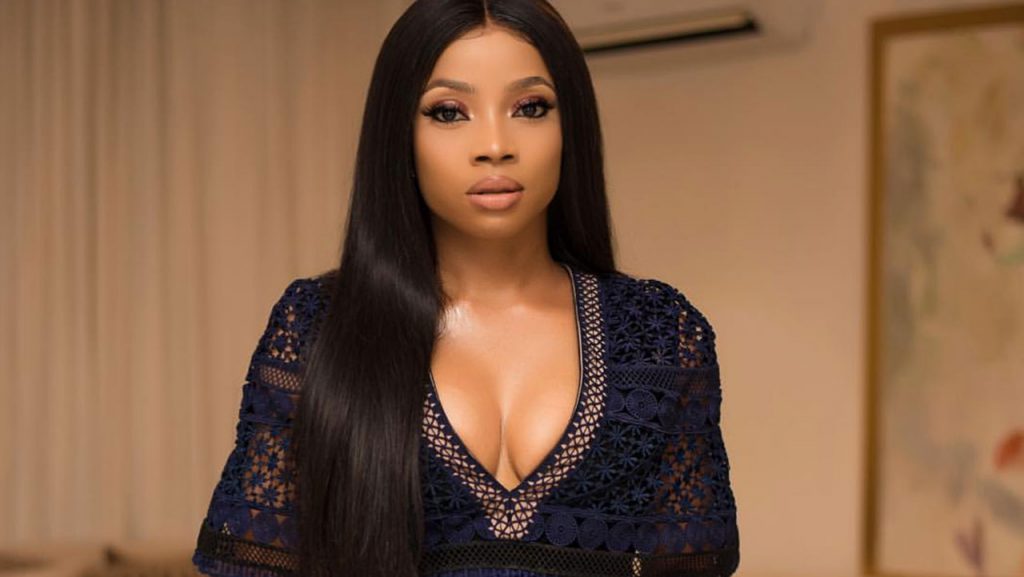 Toke Makinwa, a Nigerian celebrity and On-Air Personality, has been given a 48-hour ultimatum to retract an allegation made against an Abuja-based businessman, Alhaji Abubakar Aliyu, or risk a N50 billion naira defamation lawsuit.
The allegation published against the business man claimed Toke Makinwa was in a relationship with him and that he had made promises to her which were not fulfilled.
It was widely reported that Toke had slammed a lawsuit against the supposed lover following the unfulfilled promises.
But in a swift reaction to the rumours, Alhaji Aliyu expressed surprises at the allegation making the rounds on social media platforms, saying he has never met Makinwa in his life and wondered why she would make such spurious and malicious allegations against him.
A press statement by Media Aide, Kadiri Joseph, quoted Alhaji Aliyu as saying he is a responsible married man with children and will never stoop so low to such an act.
He described the allegation as a cheap blackmail by his detractors to ridicule him and bring him to disrepute.
Alhaji Aliyu is, therefore, demanding that Toke Makinwa retracts the allegation and tenders an unreserved apology that must be published in at least seven national dailies and in all the online platform where the allegation were originally published.
He is also demanding that all the online platforms pull down the false publication and apologise for not verifying the story before going to press as responsible journalism demands.
He said failure to do this within the next 48 hours, he would have no option but to approach a court of competent jurisdiction for redress.
Alhaji Aliyu said " I do not know this girl in question, my detractors are at work. How? When? This is pure defamation, she must retract this false allegation".
"I have spoken to my lawyers to take appropriate action."
Welcome To My World, I Love And I Will Always Be There —Lateef Adedimeji Promises Wife, Adebimpe
Nollywood actor Lateef Adedimeji has taken to social media to share moments from their wedding, which is currently taking place in Lagos.
Lateef Adedimeji shared photos of himself and his wife Adebimpe Oyebade adorned in Muslim outfits and made a promise to her.
Lateef Adedimeji reaffirmed his love for Bimpe Oyebade, vowed to always be there for her and officially welcomed her to his world.
He wrote: ALHAMDULILAH. May Allah be praised . Adebimpe Rahmatullah , I just want you to know I love and I will always be there . Welcome to my world .
Kemi Filani News earlier reported that Bimpe Oyebade took to social media to share beautiful moments from her baby shower.
Bimpe Oyebade took to her Instagram page a few hours ago to share how many friends and colleagues turned up for her bridal shower.
Bimpe Oyebade described the bridal shower as one of the beautiful days of her life while expressing appreciation to her sister and everyone who came through for her.
She wrote: YESTERDAY WAS ONE OF THE HAPPIEST DAY OF MY LIFE! My bridal shower organized by my sisters.
How do I begin to thank you all for coming through for me this much , for all the money spent, for Time, for energy just to make me happy, I had the best bridal shower party all thanks to you my sisters , thanks and God bless you all, I love you all.
Ikoyi Club Suspends Alakija Over Alleged Assault, Abuse
The popular Ikoyi Club in Lagos has announced the suspension of Modupe Alakija, the husband of billionaire businesswoman, Folorunsho Alakija.
The 72-year old father and grandfather is trending for allegedly fighting with a fellow member at the prestigious Ikoyi Club 1938. Thus, he's been suspended for one year.
According to his suspension notice posted on the club's notice board and signed by Bamidele Ibironke, the secretary: "The above named member of the Club is hereby placed on a one (1) year suspension from the Club for physically assaulting and abusing a fellow member, conduct injurious to the interest of the Club, thereby violating Rule S(C)of the Club's Rule Book. This suspension takes effects from December 1st, 2021 to November 30th 2022."
Alakija, with membership number A.518, is married to Sharon of Rose's Folorunsho Alakija, a fashion designer turned major oil industry player and philanthropist.
A lawyer by training, they got married in 1976 and are blessed with four sons – Folarin, Rotimi, Ladi and Dele.
Born on May 5, 1949, the silver-haired businessman and his wife run the multi billion Famfa Oil Ltd, among other companies.