Breaking: Barely 24 Hours After Divorce Notice, Ooni Buys New Car For Estranged Queen Naomi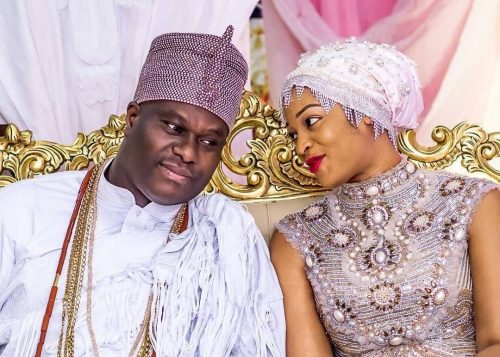 The Ooni of Ife, Oba Adeyeye Ogunwusi, bought a new car as a Christmas gift for his wife, Prophetess Queen Silekunola Naomi, hours before a divorce notice surfaced on social media.
Mr. Moses Olafare, the Spokesperson for Ooni of Ife, confirmed the development to P.M. News on Friday.
Olafare also confirmed that Queen Naomi received the car after the divorce notice surfaced on social media.
Olafare said Ooni of Ife, who was participating in a three-day music program tagged, 'Memorable Moments With Music' at the Muson Centre, Lagos State, was not aware of any misunderstandings with his wife before he left the palace.
He confirmed that the monarch was simply looking forward to returning home to his family only to see the reported separation on social media.
Olafare said: "Marriage is a private affair between two spouses and the marriage will come with an agreement between the two and if the marriage is to be dissolved it will also come upon the agreement between the two, so to that effect, the palace is not aware of the separation between the Queen and Ooni of Ife because even Kabiyesi only saw it on social media like everybody.
"A night before yesterday when everyone went to bed there was no indication to warrant the reported separation of the marriage, in fact, that previous day was when Kabiyesi brought a brand new car to serve as a Christmas gift to the queen so if u are planning to separate with your wife tomorrow why will you buy a car for her today.
"And so it became a surprise to everyone including Kabiyesi when we saw what was reported on social media. The palace is unaware of this because there are traditional procedures to follow.
"I can confirm that there are no issues at all to warrant that, at least as at two days ago there was no indication at all, the car was delivered to her yesterday after she has written that thing she wrote. As I speak to you that car has been delivered to her. Everybody is still surprised and we remain surprised. Well, we are watching."
Queen Naomi had yesterday declared that her marriage with Ooni of Ife was over.
The evangelist wrote, "Today I announce the beginning of a new dawn and the close of a chapter. Today, I am a mother to God's unique gift. I am no longer a slave to my thoughts of perfection. I, at this moment, announce that I shall no longer be referred to as wife to the Ooni of Ife or as Queen of Ile-Ife but as the Queen of the people and mother of my adorable Prince."
Breaking: Zenith Bank Exonerated By Appeal Court, Upturns High Court Judgement …Slams Fine on Real Integrated & Hospitality Limited
After several months of legal tussle between Zenith Bank Plc v Real Integrated & Hospitality Limited and State Universal Basic Education Board (SUBEB) Gombe State, a three-man panel in the Court of Appeal sitting in Lagos led by Justice Muhammed Sirajo in Appeal No:CA/LAG/CV/262/2022 – have unanimously upturned the Lagos State High Court judgment of Justice O. O. Abike-Fadipe over claims that; on March 8, 2022, there was a breach of contract because on October 7, 2011, Zenith Bank refused Real Integrated to withdraw from its Account No. 1012465427.
In her judgment, she directed Zenith bank to pay an interest of 15 per cent per annum on the N872,780,522.84 from May 17, 2011, when the advanced payment guarantees expired till judgment and thereafter at the rate of 10 per cent per annum until final liquidation
Through Zenith Bank's team of counsel led by Prof. Fabian Ajogwu, SAN and Mr Sylva Ogwemoh, SAN, the bank challenged Justice O. O. Abike-Fadipe's decision of awarding N2,500,000 as the cost of the action in favour of Real Integrated.
The legal team via valid argument backed by proofs argued and sought an order setting aside the lower court decision on the ground that it acted in full compliance with its contractual obligations in line with the Advanced Payment Guarantee (APG) contract and that the trial court was wrong.
The Court of Appeal, in a unanimous decision on November 23, agreed with the bank's submission and resolved all the issues raised in its favour.
It was gathered that; the 1st Respondent, through its Counsel, E.O Jakpa, argued that the bank breached the contract while SUBEB Gombe State did not contest the Appeal.
Apart from the appellate court setting aside the judgment of Justice Abike-Fadipe, the judge also awarded a cost of N200,000 against Real Integrated & Hospitality Limited and in favour of Zenith Bank.
The appeal court further stated that the lower court judgment was upturned on the ground that the trial court was wrong to have presumed that the bank withheld the full account statement of Real Integrated in the light of Exhibit C6 (the comprehensive Statement of Account of Real Integrated), which was tendered by the bank for a limited purpose, adding that there was no need for the lower court to have invoked Section 167 (d) of the Evidence Act, 2011 against the bank.
Just In: Gospel singer, Sammie Okposo is dead
Gospel singer, Sammie Okposo, has died. He was aged 51.
The news was confirmed to DAILY POST by a close source.
He simply said: "Bros don go", which in local parlance means "he is dead".
There are speculations that Okposo slumped and died.
Okposo's death comes months after he was embroiled in an adultery scandal.
The 'Wellu Wellu' crooner, in a lengthy Instagram page, urged Nigerians to pray for him.
He admitted cheating on his wife when he travelled to the US in late 2021.
The 51-year-old also suspended himself from all ministry work until full restoration as he sought forgiveness from God.
BREAKING: Buhari Appoints Lauretta Onochie As Chairman Of NDDC Board
President Muhammadu Buhari has appointed Lauretta Onochie as chairman of the board of the Niger Delta Development Commission (NDDC).
Buhari, in a letter, to Senate President Ahmad Lawan, also announced the nomination of 15 others as NDDC board members.
The president requested the Senate confirm Onochie and other nominees of the NDDC board.
Ms Onochie, currently a special assistant to the president on news media, was enmeshed in a controversial appointment into the electoral umpire, INEC, in 2020. She was appointed by Mr Buhari as an INEC commissioner to represent Delta State.
The appointment generated public outcry from individuals, civic groups and opposition parties who wrote petitions, staged protests and called on the Senate to reject Ms Onochie's appointment.
Many also described the appointment as unconstitutional – majorly because she is partisan and has openly campaigned for the ruling All Progressives Congress (APC).
Although she had told the Senate committee on INEC that she quit politics in 2019 and that she was no longer partisan – a claim which turned out to be false, she was rejected by the Senate in July.
The basis for her rejection was however not her partisanship. The Senate had said her appointment was rejected because "it breaches the federal character principle."
"In the case of Ms Onochie's…the Senate may wish to recall that in 2016, the Senate based on the recommendation of its INEC Committee confirmed Barr. May Agbamuche-Mbu from Delta State as a National Commissioner in INEC, who is still serving," Kabiru Gaya, chairman of the INEC committee had explained. "Confirming the nomination of Ms. Lauretta Onochie from the same Delta State will be a violation of the Federal Character Principle.
"Therefore, based on the provisions of Section 14(3) of the Constitution…and in order for the Committee and the Senate to achieve fairness to other states and political zones in the county, the Committee is unable to recommend Ms. Lauretta Onochie for confirmation as a National Electoral Commissioner for INEC but would rather recommend to the Senate to request that the President makes another nomination."
Some of the other nominees for the NDDC board are Dimgba Erugba – State representative (Abia, South East), Ene Wilcox ( Akwa Ibom, State Representative, South South ), Pius Odudu (Edo, South South), Gbenga Odegba (South West, Ondo) and Anthony Ekene (South East, Imo state).
Others are Onyekachi Dimgba (Rivers State South South), Mohammed Abubakar(Zonal Representative, Nasarawa), Tallen Mamma, (North East Representative, Adamawa), Sodique Sani (North West, Zonal Representative), Samuel Ibukun (MD), Charles Airhiavbere, (Executive of Finance) and Charles Ogunmola (Executive Director Project , South West).
The nominees will be screened by the Senate committee on NDDC on another legislative day.
More details later…