BBNaija: Organizers Tag Sunday Live Show 'Kingsize Eviction'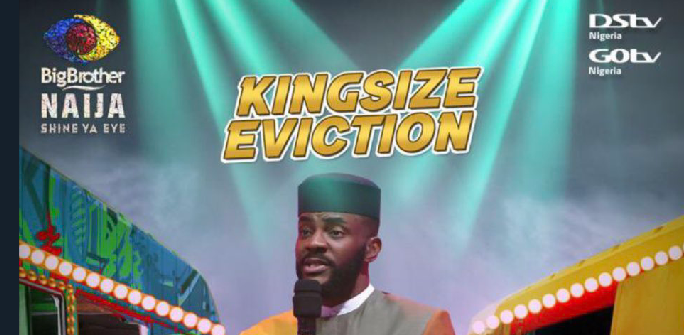 The Big Brother Naija (BBNaija) Shine Ya Eye Sunday live show to be aired on September 5, has been tagged 'Kingsize Eviction.'
This was revealed in an e-flier created for the event which was released on Friday.
According to the flier, the show will air on BBNaija stations on GOtv and DStv by 7 pm prompt.
'Kingsize' describes something that is bigger or larger than usual.
This may not have come as a surprise as the house also witnessed 'kingsize' nominations this week.
Recall that during the nomination show on Monday, Biggy introduced a twist that produced two Heads of House and 15 nominated housemates for possible eviction.
After the tedious HoH challenge, Jackie B and Jaypaul emerged victorious and the rest of the housemates were up for possible eviction.
Liquorose and Pere were the first to be automatically up for possible eviction because they were not eligible to play the game.
While Liquorose couldn't play because she was the immediate past Head of House, Pere did not participate because he was given a strike.
See some fans reactions below:
As this week witnessed up to 15 evictions, fans have taken to Twitter to predict the results of the 'Kingsize eviction.'
Expressing surprise, @therealdollypee asked," What's Kingsize eviction again? It seems five housemates will be evicted."
@chi_derrah said, "Kingsize eviction? Seven people should go home."
"I cover Liquorose Emmanuel Cross Whitemoney and Queen with the Blood of Jesus in this kingsize eviction on Sunday," @tharbie_mvundla prayed.
@faiiryss said, "May the spirit of kingsize eviction touch Boma, Tega, and Peace."
''He Injured Me With His Penis'' – Tiwa Savage Speaks Viral Sextape (VIDEO)
Tiwa Savage has spoken on her viral Sextape with an unknown boyfriend says ''He Injured Me With His Penis''.
JomogNews Nigeria reports that Nigerian Ace Female musician, Tiwa Savage has reacted to her s*x tape after it was leaked online by unknown persons.
In the video, Tiwa Savage was seen with her boyfriend in some serious romantic action.
People had thought Tiwa Savage will break down after this but unfortunately, she has disappointed everyone.
During a show late night yesterday, Tiwa Savage addressed the issue and said her boyfriend 'injured' her with his manhood.
WATCH VIDEO BELOW
Meet Ooni Of Ife's Latest Queen, Oloori Afolashade Ashley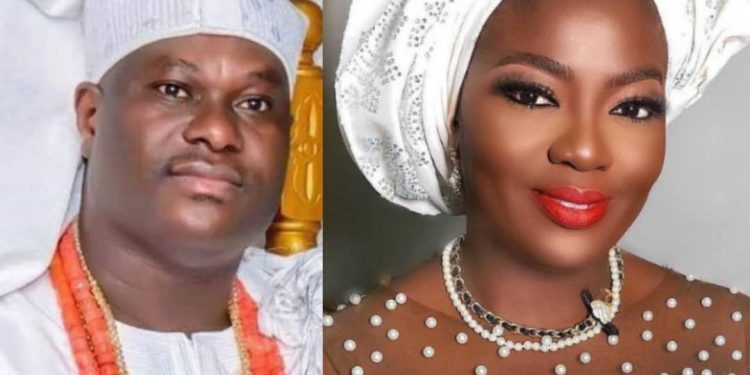 She is called Oloori Ashley and she is an entrepreneur and an accountant. The pretty queen runs a non-profit organization known as Ashley Adegoke Foundation.
She was based in London before relocating to Ile Ife.
Really, Ashley isn't a new entrant at the Ile Ife palace. She is not a new lover in Ooni's life too.
She has always been in the handsome monarch's life even before he married Oloori Wuraola (who left after the palace and divorced the king) Mind you, Ashley took a part of Oba Adeyeye's heart before Naomi Silekunola became his queen.
In fact, the Ooni of Ife, Oba Adeyeye Enitan Ogunwusi, who clocked 47 years old, last week, would have married Ashley before Naomi but there was an impediment—Ashely is a single mum.
Recall that the tradition in Ife forbids the Ooni from marrying any woman who has ever had a baby for another man.
Simply put, a single mum cannot be the Yeyeluwa.
Investigations further revealed that whoever wants to be the Yeyeluwa in Ife kingdom must be a woman with no string of motherhood in any form.
A source exclusively told Kemi Ashefon, "Ashley is a good woman who is very generous to the king and had always been like a financial backbone but their marriage was delayed because she has a child out of wedlock.
In 2017 when Oloori Wura left, everyone thought Ashley would replace her but the fact that she has become a mother before meeting the Ooni became the obstacle. Ashley relocated to Ile Ife since Oba Adeyeye ascended the throne and has refused to leave the palace ever since.
Though Oloori Naomi is recognized as the first Queen in the palace, she and her family members who live with her, know categorically that Ashley cannot be toyed with.
They all know Ashley is a no-go area and the Ooni doesn't tolerate any form of disrespect towards his beautiful Ashley."
Well, Ashley has been unveiled as the latest queen during the 47th birthday of the Ooni last weekend. Even Oloori Naomi acknowledged the presence of some queens in the palace while giving her vote of thanks at the surprise party organised for the king.
She referred to Ashley as the Princess of the Source and prayed for more queens in the palace.
In her birthday shout-out, Oloori Ashley referred to the monarch as 'my crown.' She refers to herself as "Omo Olofin, Aya Olofin, Aya Osha, Aya Adimula'
She wrote in the birthday message to the Ooni,"To know you is to LOVE you… Father to the nation, husband to many… Oko Osho… Oko Opo.. Oko Aje… Ekun Omo Giesi.. Orisha Oke ti gbogbo Orisha ile ngba fun…Orunmila Oko ODU…Dagunduro…Akande Ajiwe fun'osha… Olori Alade Gbogbo…Okirikiribiti….Igba Odun Odun Kan ni. If I could give you a gift, it'll be to see yourself in people's eyes and see how special you are to many. Cheers to many more years in good health and abundance of wealth ni Ase Olodumare 👏🏽👏🏽 Happy Birthday my Crown Jewel 👑ODU Aya Osha… Aya Olofin…Omo Oba 👑🥰❤️👑"
Source: KemiAshefon
JUST IN: Annie Vs Pero Adeniyi: Finally, Tuface Reveals His Next Step….
Legendary Nigerian singer, 2Face Idibia has reacted after he was recently criticised for being unfaithful to his wife, Annie, and also being the cause of his recent marital crisis, after his first baby mama, Pero Adeniyi linked up with his family, who declared Pero the unbothered and unshakeable first lady as was seen in a viral video which sparked reactions on social media over the weekend.
Taking to his instastories, the singer said he is not going to change who he his nor allow the criticisms he is receiving make him go crazy";
One of his posts read;
"Una No Fit Make Me Crase"
See below.