Nnamdi Kanu: IPOB Vows To Defy FG As Trial Resumes Tomorrow
The self-determination group, IPOB, has told the President Muhammadu Buhari government to be prepared to shoot and kill as many people as possible in Abuja tomorrow, Monday.
The organisation said its members and other similar bodies would shut down the Federal Capital Territory, FCT, in solidarity with Kanu.
They vowed that no amount of threats can stop its members and other Biafrans from flooding the court.
Attorney General of the Federation, AGF, Abubakar Malami, had warned members of the secessionist organisation to stay away from the court sitting which holds at the Federal High Court, Abuja on 26 July, 2021.
The Minister also warned against display of branded IPOB T-shirts or caps around the court premises.
Nnamdi Kanu, who was reportedly arrested in Kenya was extradited to Nigeria few week ago and kept in the custody of the Department of State Services, DSS.
He will appear in court on Monday.
"The federal government of Nigeria has no right to stop IPOB or Biafrans from coming to Abuja to witness the court proceedings or to show solidarity to our leader, Mazi Nnamdi Kanu. Nigeria government cannot beat a child and force him or her not to cry. IPOB has every right to be in court on that day," Emma Powerful, IPOB's mouthpiece, told Vanguard.
"Anybody who doesn't want to go to court is free to do so but Mallami and Federal Government of Nigeria have no powers or rights to stop anybody from going to Abuja.
"One thing they forget is that it's not about Nnamdi Kanu, it's about Biafra. The issue of Biafra agitation has since gone beyond Nnamdi Kanu. It's now an unstoppable mass movement.
"The truth is that not just IPOB members but thousands of Biafrans and their sympathizers will flood Abuja on Monday to show solidarity to our leader, Nnamdi Kanu. He is only a freedom fighter and Nigeria cannot stop people from identifying with him.
"So, if they want to shoot or kill people they should prepare very well because they will have enough to kill or arrest.
"We are not afraid and can't be afraid at this point of our journey when our freedom is at the threshold. We can't abandon our leader.
"The only thing is that we shall be very civil, organized and peaceful but we can't be cowed. The world will see how they kill innocent citizens that day in Abuja," he added.
BREAKING: Malami 'Speaks On Releasing 300 Boko Haram Sponsors'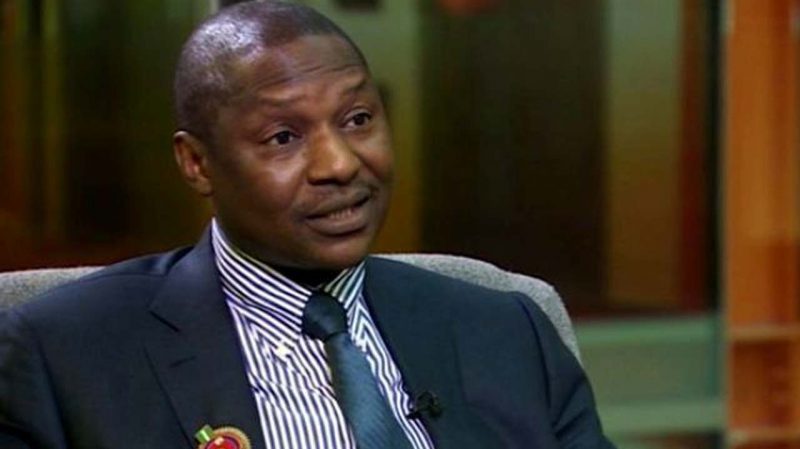 The Attorney General of the Federation, Abubakar Malami has denied releasing any Boko Haram Financier, contrary to a report by online news media on Friday.
Malami, in a statement signed by his media, Umar Gwandu, stated that the report of him ordering the release of Boko haram Sponsors was 'False'.
The statement read; "None of the suspected financiers in respect of whom remand orders were procured by the Federal Government was at any time ordered or facilitated to be released by the Attorney General of the Federation and Minister of Justice, Abubakar Malami, SAN."
"The report by Sahara Reporters of the alleged release of 300 suspects by the Honourable Attorney General of the Federation and Minister of Justice is a malicious misrepresentation of facts relating to the ongoing investigation of terrorism financing suspects in Nigeria."
"It is important to reiterate at this point that the fight against the menace of terrorism is an ongoing operation characterized by intelligence gathering, arrest, investigation, and prosecution."
"The story is inherently contradictory and substantially mischievous. The contradictions in the story can best be understood from the point of the analysis of the affidavit that was said to have been procured by Sahara reporters as deposed before a court in relation the subject matter."
"By their own showing, the Office of the Attorney General, has deposed to an affidavit on account of which an order of a Court was obtained, seeking for the continued detention of those financiers that were alleged to have been in custody. This, by implication, established that the matter is effectively submitted to the jurisdiction of the court."
"It is common knowledge that where a matter is submitted to a Court of law, it is only through the judicial process that any subsequent action can possibly be taken. The question then arising from the claim of Sahara Reporters is this:"
"When was an application filed in Court by the office of the attorney general by which the release of the purported suspects was procured?"
"It amounts to approbation and reprobation for the Office of the Attorney General of the Federation to, in one breath, obtain an order seeking for continued detention of the alleged financiers of Boko Haram and at the same time having them released. Sahara reporters must have lost their sense of logic in view of their inherent illogical position.
"If the interest of the Office of the Attorney General of the Federation was to have the people released, the idea of approaching the Court for an order of the court seeking for extension or time to have them in custody couldn't have even arise in the first place."
"The most important, and in fact, interesting aspect that people would like to know about the mischief associated with the position of Sahara Reporters story was who are the custodian of these people alleged to have been taken into custody. One needs to know by which communication or correspondence or application was their release procures since the matter is already pending before the court of Law, and they were taken to custody on account of Court order."
"It does not add up for the Office of the Attorney General of the Federation to procure the release of someone that has been in custody on account of Court order without approaching the Court."
"The public, in essence, are entitled to know which application was it that was subsequently filed to procure the release financiers. When was the application filed, before which court was it taken and which lawyer is it that has taken the application and where is the Court order on which account the release was effected?
Your credibility as a news medium remains terribly tainted and I wonder when it will ever be redeemed!
We are also amazed that an allegation of bribe taking is made."
"The public is entitled to know who the originator of the bribery was. Who facilitated the giving of bribe? Who accepted or collected the bribe on behalf of the Attorney General? Who were the vendors and facilitators? Expect, perhaps, if Sahara Reporters in their own rights were the perpetrators and indeed, vendors of the bribery allegation."
"Sahara Reporters are simply using the hard earned reputation of the Attorney General of the federation as an associated ploy to re-enact their lost glory and goodwill to win a reading consideration of the public against the background of the fact that people have lost faith and confidence in them. They are indeed, battling to see what they can sell in terms of fabricated stories in line with their tradition of fabricating lies and sharing same in the public media space."
"The public are entitled to know further information arising from their wield, unfounded and baseless allegation which is characterized by mischief and falsehood."
FBI: 11 Nigerians Indicted In US For $117 Million Romance Scam (SEE LIST)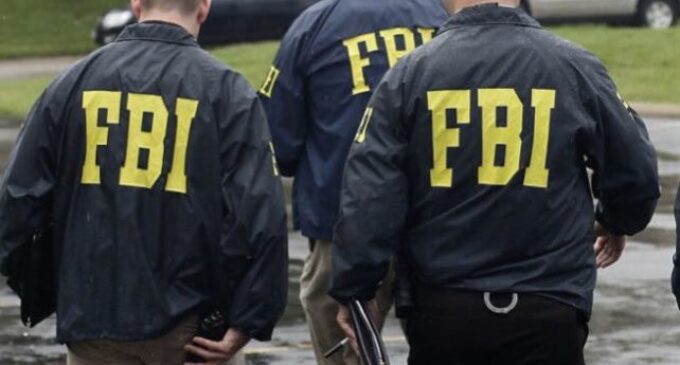 Federal investigators with the Department of Justice say 35 people in North Texas are accused of conducting romance schemes to defraud and steal money from older adult Americans.
Officials with the U.S. Attorney's Northern and Eastern Districts of Texas and the FBI announced a multi-year investigation into a wide-ranging criminal enterprise operating out of North Texas.
Investigators announced indictments for criminal charges against 35 people accused of wire fraud and money laundering as part of a very sophisticated scheme that stole more than $17 million from more than 100 people nationwide.
According to court documents, these defendants allegedly preyed on older victims, many of whom were widowed or divorced. They assumed fake names and trolled dating sites like Match.com, ChistianMingle, JSwipe, and PlentyofFish, searching for targets.
Conspirators would pose as an interested partner and then build a level of trust with their target before eventually sharing a sob story that ended with them needing a large sum of money.
Crimes like these are especially despicable because they rely not only on victims' lack of internet savvy, but also, their isolation, their loneliness, and sometimes their grief," acting U.S. Attorney Prerak Shah said at a press conference announcing the charges. "The only mistake these victims make is being generous to the wrong people."
In many cases, investigators said, the alleged thieves would then siphon thousands of dollars from their victim's bank accounts.
"Once they depleted the savings they vanished into thin air," said Shah.
Investigators said the funds are taken from the victims eventually made their way to accounts located in Africa and Asia.
Shah added that romance scams are often difficult to prosecute because victims are often embarrassed, feel duped, and don't want to come forward. Still, they encourage victims to come forward and reassure them that the scams are more common than one might think — more than 20,000 people lost $600 million in romance scams in 2020.
Eleven of the arrests were made in the Northern District of Texas while 24 arrests were made in the Eastern District of Texas.
Those charged in the Northern District of Texas include:
David Animashaun, 38 – arrested in DFW, charged with wire fraud conspiracy
Oluwalobamise Michael Moses, 40 – arrested in DFW, charged with wire fraud conspiracy
Irabor Fatarr Musa, 51 – arrested in the Eastern District of Texas, charged by the Northern District of Texas wire fraud conspiracy, money laundering conspiracy
Ijeoma Okoro, 31 – arrested in DFW, wire fraud conspiracy fraud, money laundering conspiracy
Chukwemeka Orji, 36 – arrested in DFW, charged with wire fraud conspiracy, money laundering conspiracy
Emanuel Stanley Orji, 35 – arrested in DFW, charged with wire fraud conspiracy
Frederick Orji, 37 – arrested in Dallas, charged with wire fraud conspiracy, money laundering conspiracy
Uwadiale Esezobor, 36 – arrested in Lubbock, charged with mail & wire fraud conspiracy
Victor Idowu, 36 – arrested in Los Angeles, charged with mail & wire fraud conspiracy
Afeez Abiola Alao, 37 – wire fraud conspiracy, money laundering conspiracy
Ambrose Sunday Ohide, 47 – wire fraud conspiracy
All of the defendants named are innocent until proven guilty. If convicted, the defendants face up 20 years in federal prison on the wire fraud conspiracy counts and up to 10 years in federal prison on the money laundering conspiracy counts.
Use Your Position To Stabilise West Africa – UN Secretary-General Tells Buhari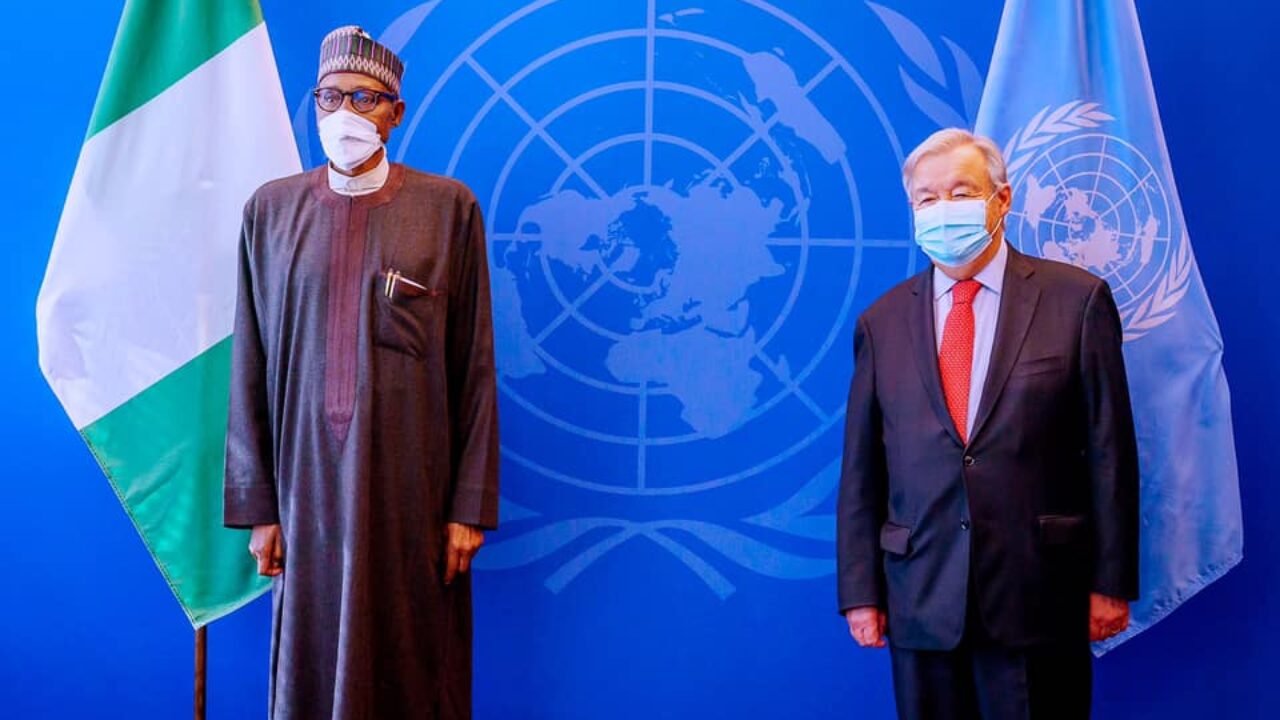 The Secretary-General of the United Nations, Antonio Guterres, has urged President Muhammadu Buhari to leverage on his leadership position to ensure stability among West African nations, in terms of democracy and good governance.
According to a statement by Femi Adesina, spokesperson to the president, the UN secretary-general said this at a meeting with Buhari on Friday, at the 76th session of the United Nations general assembly (UNGA) taking place in New York.
"According to the UN scribe, Africa, especially West Africa, was generally seen as an ocean of stability and good governance, but was deeply concerned at recent reversal of fortunes in democratic rule in some parts of the West African sub-region with coups overturning elected institutions," Adesina said.
"He, therefore, urged President Buhari to continue to show leadership as he looks up to Nigeria to help stabilise the sub-region in terms of democracy and good governance.
"On terrorism, the secretary-general commended the efforts of Nigeria on this global phenomenon, assuring the Nigerian leader of the United Nations' continued support in her efforts to address the prevailing security and humanitarian challenges that have arisen, especially with the internally displaced persons.
"He also commended Nigeria's efforts on climate change, expressing willingness of the world body to cooperate with the country in this regard.
"President Buhari applauded Mr Gutterres for his global leadership and the success of the 76th session. He assured the secretary-general that Nigeria had achieved appreciable successes in tackling the insecurity caused by terrorists and bandits.
"The president also thanked him for the global organisation's intervention in activities towards reducing the effects of climate change, especially with the support for the Great Green Wall programme, which is aimed at arresting desertification across the Sahel as well as the campaign against deforestation in Nigeria."
Adesina added that the president also expressed commitment to supporting the UN "towards achieving the Sustainable Development Goals".