Naija Newspapers Headlines And Naija News For July 19th 2021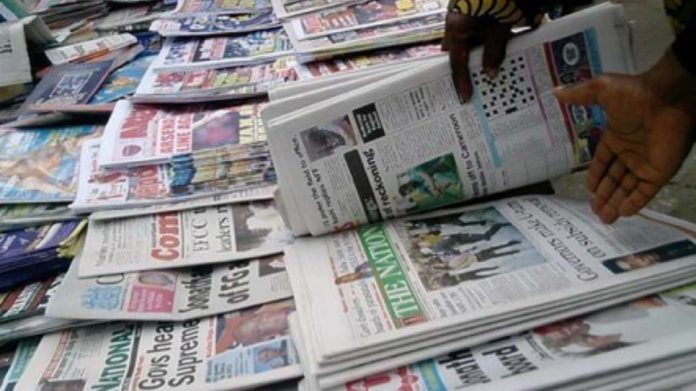 Naija Newspapers Headlines And Naija News For July 19th 2021
Good morning Nigeria.
JomogNews Nigeria brings you Naija Newspapers Headlines And Naija News For July 19th, 2021. Enjoy;
NATION
*Kanu: Beneath the surface
*Insecurity and crisis that 2023 elections provoke
*Thank you, Governor Abiodun but…
*PMB and secessionist agitators
*Lesson from South Africa
*New members, returning executives free to contest, says APC
*IG orders tight security ahead Eid-el-Kabir celebration
*1.6m candidates register for 2021 WASSCE
*OPEC raises Nigeria's output to 1,829,000mb/d from April 2022
*COVID-19: Why no herb has been approved, by NAFDAC
*Ebonyi community cries out over attacks, killings
*Lawan blames past administrations for Yobe neglect
*INEC upgrades 1,750 voting points
*Bishop urges traditional institutions' involvement in security
*Auchi poly inaugurates 110 capacity ICT centre
*Katsina tops open defecation-free states
*Sule emphasises merit in Nasarawa council poll
*Kano sacks school headteacher over misconduct
*Monarch urges Nigerians to pray for Buhari
*INEC: We have capacity for electronic transmission of results
*VIDEO: Winners Chapel sacked me, 40 other pastors for not generating enough income
LEADERSHIP
*KADIPA Board Hold Inaugural Meeting
*Malali Low: Our Plans for the Low Cost Houses – KSDPC
*NSE Seeks Role for Private Sector in Infrastructure Provision
*AfCFTA: Osinbajo Seeks More Inclusive Trade in ECOWAS
*LEADERSHIP Staff Petitions IGP, DSS over Threat to Her Life By Bolt Driver
*On The Money: Opportunities In Bond Market
*Thailand Expands Lockdown As Cases Continue To Rise
*British PM Takes another Huge Gamble by Lifting Lockdowns in England
*Eid-el-Kabir: Police, NSCDC Beef up Security
*Federal Govt Mulls Establishment of Health Reform Council
*No Herbal Medicine Approved For COVID-19 Treatment – NAFDAC
*NIPRD Develops 3 COVID-19 Products, 10 Others
*[EDITORIAL] Taming the Cholera Scourge
*BACK STORY OF THE DAY: The Evolving Tussle In Zamfara Over Matawalle's Defection
*E-Transmission Of Election Results: CSOs, Lawyers Chide NASS For Neglecting Will Of Nigerians
*Bandits Kill 15 Policemen In Zamfara, Niger
*Concerns Over Non-insurance For Money Agents Amid Insecurity
DAILY TRUST
*Despite N1.5tr Funding, Power Firms Still Unable To Deliver
*How Nigerian Federal Legislators Can Optimise Legislative Impact
*FG Floats N150bn Long-Term Bonds
*OPEC+ Crude Oil Production Raise Starts August
*Food Prices Soar As Inflation Drops To 17.75%
*Firm Debuts Waste To Electricity Tech
*Average Price Of Kerosene, Cooking Gas Rose In June – NBS
*IsDB, Kano Train 275 Youths On Agrochemicals
*Sallah: Ram Sellers Decry Low Patronage
*Entrepreneurship: Funding Your Business (II)
*NGO Rolls Out 2nd Cycle Of IVF Grants To 40 Couples
*NSCDC Deploys 1,000 Personnel For Eid
*Sallah: NGO Distributes Food, Clothing To IDPs
*Speaker's Wives Donate Materials To Women In Ningi
*NDLEA Nabs Drug Kingpins In Anambra, Adamawa, Benue
*Navy Intercepts 162 Bags Of Smuggled Rice Off Lagos Shore
*One Killed In Renewed Cult War
*Police Nab 'One Chance' Robbers In Abuja
*Why We Voted For E-Transmission Of Results With Conditions — Lawan
*LG Polls: I Don't Have Anointed Candidates — Gov Sule
*2023: Group Threatens Legal Action Against Perpetrators Of Violence
*No One Will Scheme Me Out Of APC Chairmanship — Yari
*APC Convention Must Adopt New Manifesto For 2023 Campaigns — Chieftain
*Eid: FRSC, NSCDC Deploy 3,793 Officers In Edo, Ondo, Benue
*NEMA Launches Operation 'Eagle Eye' In Niger
*Shun Unpatriotic Conduct, Masari Tells Elite
*Jigawa Suspends Sallah Durbar
*Southern Senators Preach Unity
*Nasarawa Utd, Pillars Win To Close Gap On Akwa United
*11-Year Old Abigail, Olusanya Make History At Ijebu Half Marathon Race
*Zenith Bank Delta Principals' Cup Returns In September
*We Made A Promise To Win And We Delivered – Pitso
*Zidansek Wins Lausanne WTA Title
*Musings On The World's Capital Of Poverty
*Matawalle: We Are Our Own Problem In The North
*Atiku Bagudu On 2023: What Southern Governors Ought To Do
VANGUARD
*Kidnapped Kogi traditional ruler regains freedom
*Of youth inclusion in NSIPs and the narratives of North-Central zone
*Court remands man for alleged possession of human skull
*Gen Hussain Ahmed: Military, Security Agencies launch joint operation to fish out killers in Koton Karfe, Kogi
*Kidnapped Kogi traditional ruler regains freedom
*Women take center stage in 2021 Nigeria Int'l Book Fair
*Why we didn't approve herbal medicine for COVID-19 treatment- NAFDAC
*Airtel yet to renew license, says NCC
*LG poll: Violence won't do anyone any good — Lagos Speaker
*Shaba and the push for space technology for Nigeria
*Nigerian UK-based artist Remykid releases 'Made In London' album
*Requiem River Niger
*Peace in the Abyss: An exploration of marriage as unpredictable phenomenon
*Five kidnap suspects set ablaze in Edo
*EURO 2020: England deserves to lose
*End of the road for cultists in Lagos?
*EID-EL-KABIR: NSCDC deploys over 2500 in Kaduna
*Democracy, federalism and leadership debate
*Katung helps vulnerable Kaduna students to pay school fees
*Final showdown before Bini bronzes come home
*Otedola Bridge Accident: 40 feet container crushes 2 vehicles, kills 1
*Sustainable population growth and realities of climate change
*Atyap seek government's help over Zangon Kataf conflicts
*LASTMA @ 21: The good, the bad and the ugly
*APC grants waivers to new members, returning executives to contest congresses
*El-Amin: Gov Emmanuel charges graduands on academic excellence
*Nigerians will be happy with Buhari by 2023 ― Gambari
PUNCH
*21 robbers, 18 suspected fraudsters, 140 thugs arrested in Kano operation
*NDLEA arrests Anambra drug kingpin, recovers 548,000 Tramadol tablets
*E-transmission of results: Buhari's aide defends rejection, NBA, others say resolution illegal, selfish
*Commuters groan as ram sellers, buyers block Lagos-Ibadan expressway
*Lagos Assembly CSO, others brutalise lawyer over council poll suit
*Angry Edo community burns five suspected kidnappers arrested by vigilantes
*FG, Ogun to remove illegal structures along railway corridors
*Stock market sheds N24.5bn as 32 firms record losses
*Telecom sector depletes forex by $10.8bn in five years
*External reserves drop by $180m in two weeks
*Team nigeria'S chances: Ogunkoya predicts four athletics medals for Team Nigeria
*Team Nigeria arrive Olympic Games Village
*Falcons impress Waldrum in training
*Dosu, Ezenwa rue football teams' absence in Tokyo
THISDAY
*PDP Asks Supreme Court to Sack Matawalle, Defected Zamfara Lawmakers
*Eid-el-Kabir: IG Orders Police Chiefs to Beef up Security Nationwide
*At Sallah, Southern Senators Preach against Insecurity, War
*Presidency Tackles Kukah, Says His Disparagement of Nigeria Disappointing
*Osinbajo Canvasses Inclusive Trade to Boost Sub-regional Economy
*NAFDAC Warns against Use of Unverified COVID-19 Herbal Medicine
*APC Releases Timetable, Guidelines for July 31 Ward Congresses
*To Stop Alleged Assault Probe, CCT Chairman Sues Senate, Others
*APC Chairmanship: Serving, Former North-west Govs Ganging up against Me, Says…
*Ekiti Assembly Condemns Rising Cases of Kidnapping, Promises Legislative Action
*NSCDC Deploys 1,750 Personnel to Kano Ahead of Eid-El-Kabir
*Foundation Urges El-Rufai to Reduce Fees, Offers Scholarships to Indigent Students
*Nigeria's Unity Remains under Threat, Says PGF DG
*SERAP Threatens to Sue FG over Gag Order on Reporting of…
*Obiano, Oye, Umeh Lead Soludo's Campaign for Anambra Election
*Electronic Transmission of Results: No Plan to Rig 2023 Poll, Says…
*Two Nigerians Become Partners in American Law Firm
*Oyo NUJ Launches Journalists Estate, Names Streets after Makinde, Ladoja, Ajimobi,…
*I Warned about this 'Evil' Govt in 2015, Says Oyedepo
*Information Minister Denies Asking Cubana to Loan Nigeria Money
*WAEC Concludes Arrangements for 2021 WASSCE as 1.6m Candidates Register
*Police Officers Feared Killed by Bandits in Zamfara
*Electoral Act: You Have Destroyed Democracy in Nigeria, Ozekhome Tells N'Assembly
*NAF Refutes Report of Another Jet Crash
*NCC: We Have Not Renewed Airtel's Operating Licence
*NDLEA Arrests Anambra Drug Kingpin, Nabs Notorious Traffickers in Adamawa, Benue
*NECA Advocates PPP Framework for Infrastructure Devt.
*WTO Secures Consensus to Commence Negotiations on Fisheries Subsidies
*Customs Seizes Smuggled Goods worth N3.3bn in One Month
*CBN, NSDC Mull Special Funding for Sugar Industry
*How the Partisans Crippled the Electoral Act, PIB
*RAISING THE BAR OF EXCELLENCE
*MICROFINANCE IN THE AGE OF DISRUPTION
*COVID-19 DELTA VARIANT: TIME TO ACT IS NOW
*Kunda Unveils New Books
*AND NOW, THE 'HOLLOW-MPIC' GAMES…
Benin Group Faults Position of Igun-Igbesanwan-Owina Descendants on Custody of Looted…
Eurafric Debunks DPR's Claims, Alleges Bias
DPR: Without Alternative Energy, Petrol Price Will Rise on Subsidy Removal
Airline Supports Nigeria Olympics Team
Afreximbank, Others Honour Mahamadou
Managed Labor Migration Can Help Unlock Nigeria's Unrealised Economic Potential
Trading Value Falls as Investors Adopt Cautious Trading
US Varsities Offer $4.35m Scholarships to 30 Nigerian Students
Coca-Cola, BAF's Tech Project Impact 24,000 School Pupils
CSR: Airtel Reaffirms Commitment to Building Communities
Customs Agents Commend NSC on Digitalisation of Ports' Operations
NGX, Greenwich Securities, Africa Prudential Educate Retail Investors
Traders Protest Demolition of Market
Group Sensitises Women on AfCFTA's Opportunities
NEPZA, Sokoto Partner to Stimulate Economic Devt
Standard Chartered to Commit $200m to COVID-19 Vaccine Acquisition Programme
EEDC Takes Safety Awareness to Schools
BAGAIA Adopts Safety Regulations 2021
'Government Support, Effective Policies, Key to SMEs' Growth'
NECA Advocates PPP Framework for Infrastructure Devt.
Stanbic IBTC Restates Commitment to SMEs
Emefiele Named 'Public Sector Icon of the Year'
FirstBank Empowers Firstmonie Agents with N100bn Loans
Lagos State to Raise $2bn for Agriculture, Food Security
40 Couples to Get IVF Grants from IIF
THE SUN
I warned Nigerians about this govt in 2015 – Oyedepo
Why senate attached conditions to e-transmission of election results -Lawan
2021 WASSCE: WAEC concludes arrangement as 1.6m register
GOC urges public to partner army to fight crime, insurgency
How local government autonomy can curb insecurity –Stakeholders
Let's drive inclusive trade to boost sub-regional economy, Osinbajo tells TPO Network
Clamour for state police invitation to anarchy –Suswam
Insecurity: 36 state bishops invoke God's presence for peace, unity
COVID-19: Jigawa bans Sallah durbar as NAFDAC, UNIJOS disagree on drugs
APC grants waivers to new members, returning executives
Ohanaeze, groups in UK demand Kanu's immediate release
FG tasked on changes in global ecosystem
ECOWAS, FIRS chart new course on revenue mobilisation
Nigeria's oil production hits 1,829 mb/d as OPEC approves increase
Firm rewards customers in promo
'FG should reinstate Alata Oilfield to Bayelsa Oil Company, JV partners'
CIGA virtual roundtable: Stakeholders chart new course for Aba economic hub
GUARDIAN
Emir suspends Kano village head for selling land to herders
Kogi first class monarch regains freedom
Sallah ram sales at Kara market halt movement on Lagos-Ibadan Expressway
Abiodun promises rural development
Presidency dismisses critics on Buhari's appointments
Jonathan, ex-governor offer path to insecurity
Nigeria hopeful of improved earnings from OPEC's 1.8mbpd revised allocation
Cross River community accuses government agencies of neglect, land grab, threatens action
Eid-El-Kabir: IGP promises security as *FRSC, NEMA mobilise men
New members get waivers as APC releases timetable, guidelines.
Breaking: Court Frees Sunday Ighoho's 12 Aides On Bail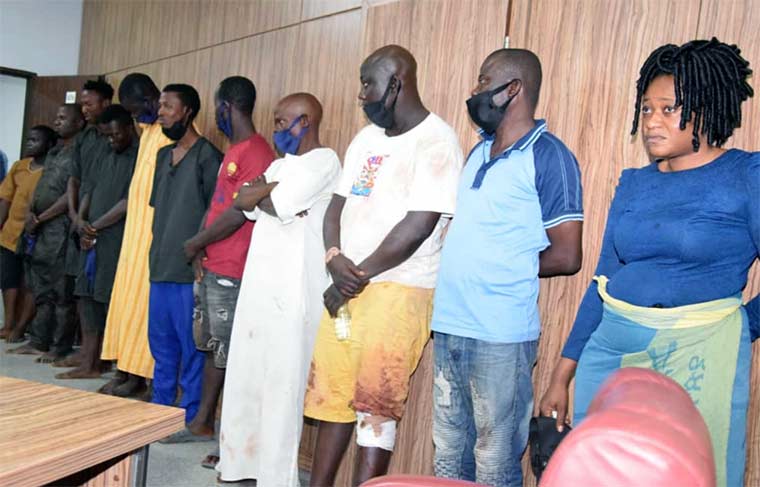 Justice Obiora Egwuatu of the Federal High Court in Abuja has ruled that the detained 12 associates of the advocates for Yoruba nation, Chief Sunday Adeyemo popuplarly known as SundayIgboho be granted bail immediately.
Justice Egwuatu after  entertaining arguments from lawyers to the applicants and the Department of State Services (DSS) that is detaining them ordered that they be released on bail.
Applicants' lawyer, Pelumi Olajengbesi had prayed the court to allow his clients on bail, noting that they have been in DSS' custody for over 30 days.
Justice Egwuatu said that the detainees are entitled to bail by the provisions of the Nigerian law having been held in custody beyond the period stipulated by law.
The judge said that the law even frowned at a situation where citizens' liberty is curtailed under unlawful circumstances.
The suspects were granted bail on various conditions and will remain in the DSS detention until their bail conditions are perfected,Jomog.com reports.
DSS' lawyer, Idowu Awo had earlier said he was not opposed to the court granting bail to eight of the detainees, but would oppose bail for the other four, who were still being investigated in relation to their complicity in Igboho's alleged arm stockpiling offence.
Court Hears Igboho's N5bn Suit Against Malami, DSS Today
The Oyo State High Court sitting in Ibadan has fixed August 4 for the suit filed by Yoruba Nation activist, Chief Sunday Adeyemo, aka Sunday Igboho, for an injunction to stop his arrest.
Igboho had through his counsel, Chief Yomi Aliyyu ( SAN), filed an application before the court asking for N5bn damages for the destruction of his cars and residence in Ibadan during the July 1 raid on his residence by the Department of State Services.
He also asked the court to stop the Attorney General of the Federation, DSS and other security agencies from arresting him or infringing on his fundamental human rights.
Igboho's counsel told our correspondent in a chat that the application would be moved before the court on August 4.
He said, "On August 4, at the High Court 7 of Oyo State, we will moved for an order of interim injunction pending the hearing of the main suit for an order restraining the AGFand DSS from further breach of the applicant's fundamental human rights.
Igboho had prayed for, "An order of injunction restraining the respondents, their agents, privies and associates in other security forces and/or anybody acting on their behalf and/or instructions from arresting, detaining, molesting, harassing and/or in any way interfering with his to personal liberty, freedom of movement of Chief Sunday Adeyemo Sunday Igboho, enjoyment of his property without fear of invasion of his home by the respondents and their agents," among others.
Source: ThePUNCH
Court Orders EFCC To Unfreeze Dokpesi's Account, Release Seized Documents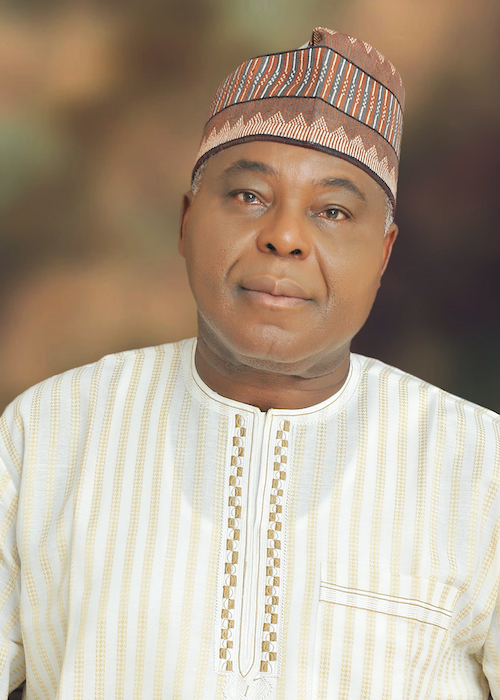 The Chief Judge of the Federal High Court, Abuja, Justice John Tsoho, on Tuesday issued an order unfreezing the N2.1 billion bank account of the founder of Daar Communications Plc, Chief Raymond Dokpesi.
Delivering a ruling in an application filed and argued by Kanu Agabi SAN on behalf of Dokpesi, Justice Tsoho said that the federal government has no basis to put a post no debit order on the account in view of the subsisting and valid order of the Court of Appeal.
Justice Tsoho ordered that the account domiciled at First Bank of Nigeria be immediately unfreezed since the criminal charges, which precipitated the restriction on the account had been dismissed and Dokpesi discharged and acquitted by the Court of Appeal.
Delivering ruling in an application filed and argued by Kanu Agabi SAN, on behalf of Dokpesi, Justice Tsoho said that the Federal Government has no basis to put a post-no-debit order on the account in view of the subsisting and valid order of the Court of Appeal.
Justice Tsoho delivered judgment after taking arguments from Dokpesi's lawyer, Kanu Agabi, SAN and counsel to the Economic and Financial Crimes Commission (EFCC), Oluwaleke Atolagbe.
The Chief Judge held that since the Court of Appeal delivered the judgment that invalidated the criminal charges against Dokpesi, the EFCC had not applied for stay of execution of the judgment.
Justice Tsoho said that in the absence of a stay of execution, his court was bound by law to give effect and implementation to the judgment.
He thereafter ordered that the freeze order and post-no-debit on the account be immediately removed in compliance with the appellate court's decision.
On the claim of EFCC that it has gone on appeal to the Supreme Court, Justice Tsoho held that the notice of appeal filed at the apex court cannot in law stay the execution of the subsisting judgment adding that the anti graft agency ought to have obtained a stay of execution of the judgment.
He also ordered that all documents seized from Dokpesi or voluntarily surrendered to the Federal Government be immediately returned to him.
Atolagbe, in a bid to convince the judge, had drawn the attention of the court that the Department of State Services, DSS, and National Intelligence Agency, NIA, made respondents in the matter, did not appear before the court and as such the court can not make valid order against them.