BREAKING: Pilot Rescued As Nigerian Air Force Jet Crashes In Zamfara
The Nigerian Air Force has finally confirmed the crash of an Alpha Jet aircraft in Zamfara while returning from air interdiction between the boundaries of Zamfara and Kaduna States.
According to a statement by the Director Public Relations and Information Nigerian Air Force Air Commodore Edward Gabkwet, the aircraft came under enemy fire but the Pilot, Flight Lieutenant Abayomi Dairo, successfully ejected.
Recall that NAF initially denied the incident of any jet crash.
See NAF full statement below…
"On 18 July 2021, at about 12.45 pm, a Nigerian Air Force (NAF) Alpha Jet aircraft, returning from a successful air interdiction mission between the boundaries of Zamfara and Kaduna State, came under intense enemy fire which led to its crash in Zamfara State.
"Luckily, the gallant pilot of the aircraft, Flight Lieutenant Abayomi Dairo, successfully ejected from the aircraft. Using his survival instincts, the pilot, who came under intense ground fire from the bandits, was able to evade them and sought refuge in nearby settlements awaiting sunset.
"Using the cover of darkness and his phone set for navigation, Flight Lieutenant Dairo was able to elude several bandits' strongholds and maneuvered his way to a Nigerian Army Unit, where he was finally rescued.
"It is instructive to note that upon receipt of the news of the crash, the Chief of Air Staff, Air Marshal Oladayo Amao, had directed that all efforts must be emplaced to rescue the pilot.
"Accordingly, NAF Intelligence Surveillance Reconnaissance (ISR) platforms and helicopter gunships provided close air support to NAF Special Forces and Nigerian Army troops who were able to locate the crash site and the pilot's parachute, while also combing nearby locations for any sign of the pilot.
"It is gladdening to note that while in hiding, Flight Lieutenant Dairo confirmed that the presence of NAF aircraft within the vicinity of the crash site helped in scaring the bandits who were after him, thus enabling him to find refuge and escape to a safe location.
"It is important to also recall that only recently, the President, Commander-in-Chief of the Armed Forces of the Federal Republic of Nigeria, President Muhammadu Buhari, GCFR, had directed the Armed Forces of Nigeria to do all it takes to flush out criminal elements in Katsina, Zamfara and Kaduna States.
"It is in fulfilment of this directive that the NAF, in conjunction with surface forces, has in the last 2 weeks mounted intensive day and night air interdiction operations against bandits and their hideouts, especially in these 3 states.
"Through these intensive air operations, hundreds of bandits have been neutralized and several of their hideouts destroyed. Despite the setback of yesterday's crash, the NAF remains committed towards fulfilling Mr President's mandate as well as other constitutional roles assigned to it.
"The willingness, readiness and tested ability of the NAF remains unshaken and unwavering as it continues to carry out its assigned roles."
Death Rumour: Tinubu Hale And Hearty As Sanwo-Olu Visits Him In London (Photos)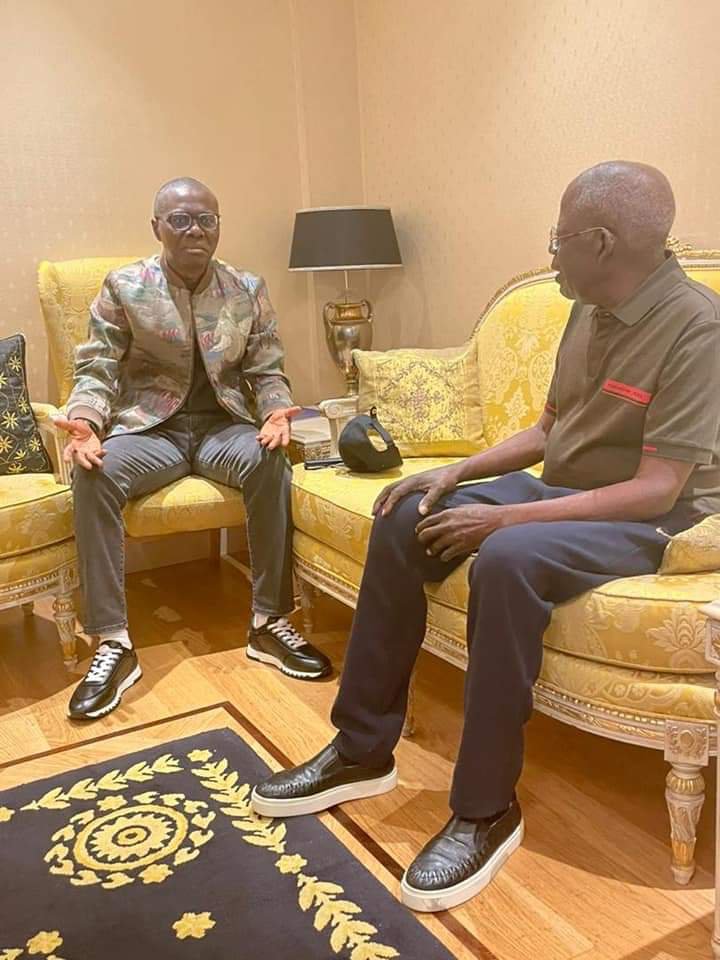 Governor of Lagos State, Babajide Sanwo-Olu has stormed London to visit the national leader of the All Progressive Congress, Asiwaju Bola Ahmed Tinubu, JomogNews Nigeria reports.
Contrary to widespread reports that the national leader of APC is dead, this online medium can authoritatively tell you that the Jagaban of Borgu Kingdom is hale and hearty as he discussed and cheered with Sanwo-olu.
Tinubu's death hit the internet two days ago, the rumor was quickly dispelled by the media aide of the astute politician, explaining that Tinubu is hale and hearty.
Governor Sanwoolu's visit is also proof that Tinubu is not dead as perceived in the media.
During the visit, Tinubu assured Sanwoolu of his wellness.
Photos below;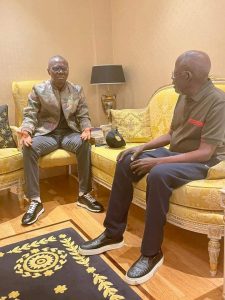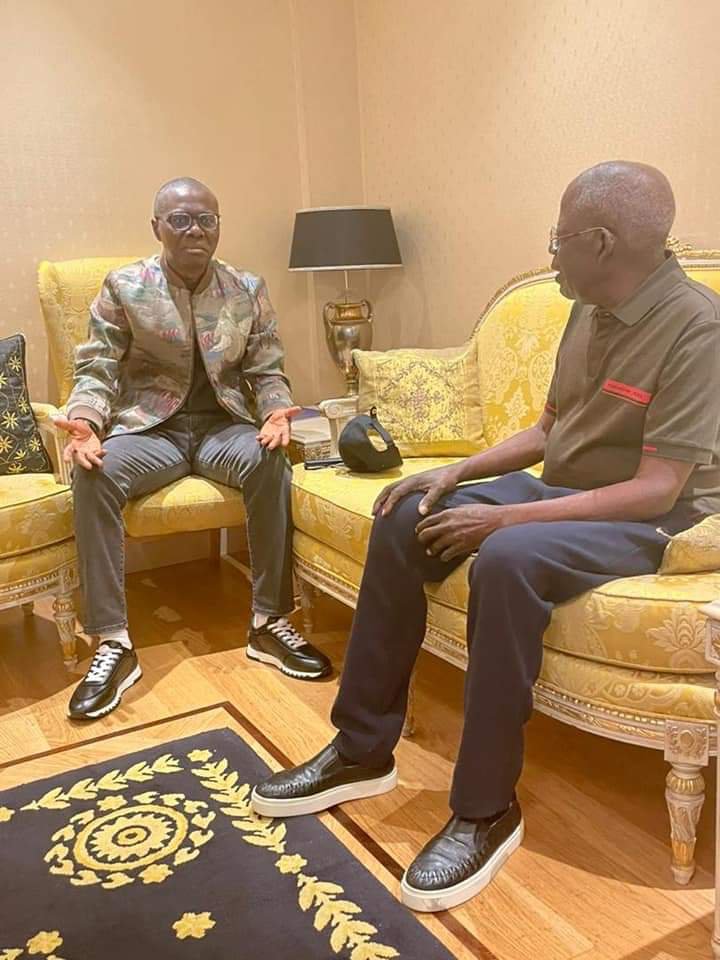 IGP Appoints Tunji Disu To Replace Kyari As Head Of Police Intelligence Unit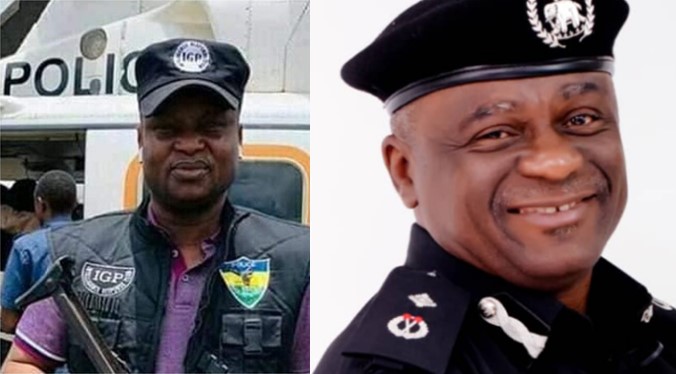 Usman Alkali Baba, inspector-general of police (IGP), has named Tunji Disu as head of the Intelligence Response Team (IRT) — a unit once led by Abba Kyari, a deputy commissioner of police (DCP).
Disu replaces Abba Kyari who was suspended by the Police Service Commission (PSC) over his alleged fraudulent relationship with Ramon Abbas, better known as Hushpuppi.
The Police Service Commission (PSC) had suspended Kyari on the recommendation of the IGP over his alleged relationship with Ramon Abbas, self-confessed international fraudster better known as Hushpuppi.
Hushpuppi had alleged that he bribed Kyari to arrest and jail "one of his rivals in Nigeria after a dispute over a $1.1 million scam on Qatari business people".
But Kyari denied any wrongdoing, saying he never collected money from Hushpuppi.
In a statement on Monday, Frank Mba, police spokesman, said the appointment of Disu "is on the heels of management's decision to fill the leadership gap within the IRT and refocus the unit for better service delivery".
Mba quoted the IGP as saying the IRT will remain focused in the discharge of its duties in line with national statutes and international best practices.
"The Inspector-General of Police, IGP Usman Alkali Baba, psc (+), NPM, fdc has today, 2nd August, 2021 approved the posting of DCP Tunji Disu as the new Head of the Police Intelligence Response Team (IRT)," he said.
"Prior to his appointment as the new Head of the IRT, DCP Tunji Disu, a former Commander of the Rapid Response Squad (RRS) Lagos State, was the Deputy Commissioner of Police, Department of Operations, Force Headquarters, Abuja.
"He had also previously served at the State CID, Rivers State as the Deputy Head of the Unit. He was also a former Commander of the Nigeria Police Contingent to the African Union (AU) Peace Keeping Mission in Dafur, Sudan.
"DCP Disu holds a Bachelor of Arts degree in English from the Lagos State University (LASU) and a Masters Degree in Public Administration from the Adekunle Ajasin University, Ondo State. He has also attended several professional courses both at home and abroad: Small Arms Smuggling Training in Botswana, Internet Fraud Training at the Cambridge University, UK, Strategic Leadership Command Course at the Police Staff College, Jos, Forensic Investigations and Criminal Intelligence Course at the University of Lagos, amongst others.
"He is a member of the International Association of Chiefs of Police, Nigeria Institute of Public Relations and Chattered Institute of Personnel management, amongst other professional bodies."
Breaking: Veteran Nollywood Actress Racheal Oniga Is Dead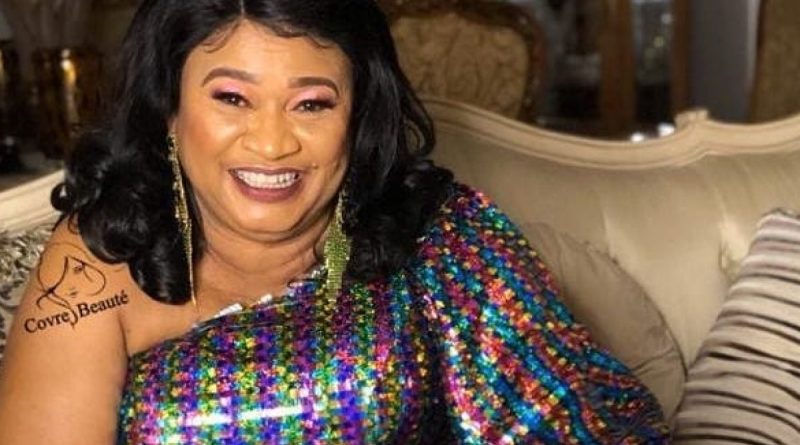 Veteran Nollywood actress, Racheal Oniga, has died. She was aged 64, a member of the Actors Guild of Nigeria has comfirmed.
Oniga, began her acting career in 1993, shortly after her divorce.
She was originally from Eku, Delta State.
She married a Yoruba man, but the marriage collapsed after she claimed another woman bewitched her husband and father of her children.
Among her popular works are Out of Bounds, Owo Blow, The Wedding Party, 30 Days in Atlanta and Power of Sin.
In recognition of her contribution to Nigerian theatre, she was gifted an apartment in Ikorodu by Governor Babajide Sanwo-Olu.
Details later…..