Senate Bill Proposes 10 Years Jail For Hate Speech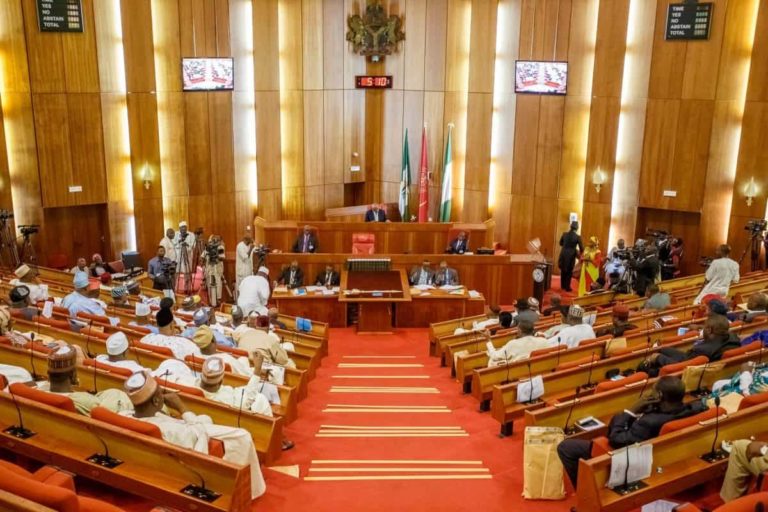 Hate speech purveyors are to be jailed for 10 years, fined N20 million or both, according to a bill passed on Tuesday by the Senate.
It also prescribes 20 years jail term without option of fine for any person who propagates information that undermines the independence, sovereignty, territorial integrity, or unity of the federation.
JomogNews Nigeria learnt these provisions are contained in the bill which seeks to establish the "Electoral Offence Commission and for other related matters 2021".
"Any person who uses hate speech to stir up ethnic, religious or racial hatred, social or political, insecurity or violence, against anyone or group or person", is liable to 10 years in jail or N20 million fine or both, the bill proposed.
The Hate Speech Bill introduced last year by lawmakers was shot down by protestation from across sector of Nigerians.
It has now found its way back through the Electoral Offences Commission.
Tuesday's passage of the bill followed the consideration of the report of the Committee on Independent National Electoral Commission (INEC).
The upper chamber adopted the Committee's recommendation of 20 years imprisonment for any person involved in ballot box snatching, supplying voter card to persons without due authority, unauthorised printing of voter register, illegal printing of ballot paper or electoral document, and importation of any device or mechanism by which ballot paper or results of elections may be extracted, affected or manipulated, and voting at an election when he is not entitled to vote.
The Senate in Clause 12 of the Bill approved at least five years imprisonment or a fine of at least N10million or both, for any officer or executives of any association or political party that engages in electoral fraud that contravenes the provisions of clauses 221, 225(1)(2)(3) and (4) and 227 of the 1999 Constitution as amended
It also approved 10 years imprisonment for any person who sells voter card, or in possession of any voter card bearing the name of another person, or prepares and prints a document or paper purporting to be a register of voters or a voter's card.
The Senate also okayed a term of at least 10 years upon conviction for any election official who "willfully prevents any person from voting at the polling station, wilfully rejects or refuses to count any ballot paper validly cast, willfully counts any ballot paper not validly cast, gives false evidence or withholds evidence, and announces or declares a false result at an election."
The Upper Chamber in Clause 20(2) approved at least 15 years imprisonment for any judicial officer or officer of a court or tribunal who corruptly perverts electoral justice, during or after an election.
It also prescribed at least 15 years jail term or N30 million fine for any security personnel or election official engaged by the Independent National Electoral Commission or State Electoral Commission who attempts to influence the outcome of an election.
In addition, any person found to disturb the public peace on "Election Day" by playing musical instruments, singing or holding an assembly where a polling station is located shall be guilty of breaching electoral peace and liable to six months imprisonment or a fine of at least N100,000 or both.
Also, any person acting for himself or on behalf of any organisation or political party or candidate or his agent with the intention of prejudicing the result of an election, damage or defame, in any manner, the character of any candidate in an election or his family member by making, saying, printing, airing or publishing in the print or electronic media false accusation on any matter shall be guilty of serious corrupt practice and liable on conviction to a term of at least 10 years or a fine of N10million or both.
Any person soliciting or giving votes for or against any political party or candidate at an election, or found to affix campaign materials on any private house, public buildings or structures, or prints posters and banners without the name and address of the political party to which the candidate or person belongs contravenes sub-clause (1) to (5) and guilty of an offence and liable to at least five years or a fine of at least N10million, or both.
The National Electoral Offences Commission Bill, 2021, prohibits any campaign against national interest.
"By the foregoing statistics, it is unrealistic to expect INEC to conduct free, fair and credible election and simultaneously prosecute offences arising from the same elections.
"Indeed, INEC has at several occasions admitted that it lacks the wherewithal to cleanse the system.
"Its failure to prosecute even one per cent of 870,000 and over 900,000 alleged electoral offences in 2011 and 2015 general elections respectively is an affirmation of the necessity for a paradigm shift on how we deal with electoral offences", the Kano South lawmaker said.
According to him, as a result of electoral flaws in the system, the Justice Uwais Electoral Committee; Sheik Nurudeen Lemu Committee; and Constitution and Electoral Reform Committee were constituted.
He recalled that the various committees in their final reports recommended that for INEC to function efficiently, some of the functions currently performed by it should be assigned to other agencies.
The Senate approved the establishment of the National Electoral Offences Commission.
The Commission's membership consists of the Chairman, Secretary and representatives from the Justice, Interior, Defence, and Information Ministries.
The function of the Commission includes investigating electoral Offences created in any laws relating to elections in Nigeria; prosecution of electoral offenders; and maintaining records of all persons investigated and prosecuted.
Others are to liaise with the Attorney-General of the Federation and government security and law enforcement bodies and agencies in the discharge of its duties; liaise with other bodies within and outside Nigeria involved in the investigation or prosecution of electoral Offences; and adopting measures to prevent, minimize and eradicate electoral offences throughout the federation.
Breaking: Court Frees Sunday Ighoho's 12 Aides On Bail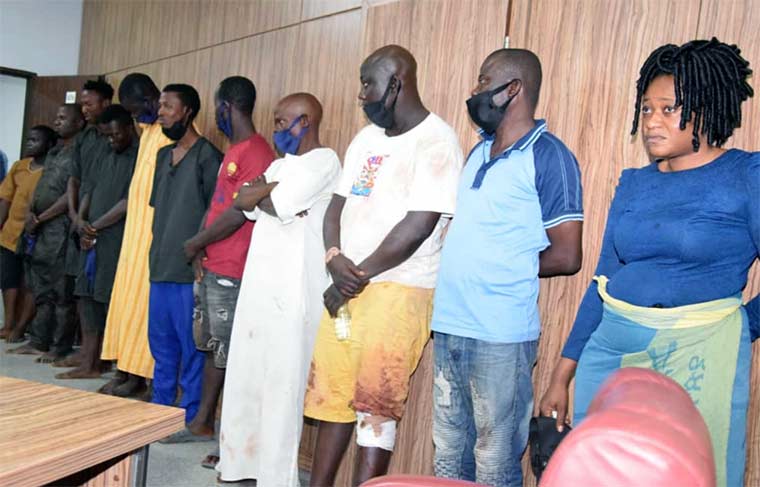 Justice Obiora Egwuatu of the Federal High Court in Abuja has ruled that the detained 12 associates of the advocates for Yoruba nation, Chief Sunday Adeyemo popuplarly known as SundayIgboho be granted bail immediately.
Justice Egwuatu after  entertaining arguments from lawyers to the applicants and the Department of State Services (DSS) that is detaining them ordered that they be released on bail.
Applicants' lawyer, Pelumi Olajengbesi had prayed the court to allow his clients on bail, noting that they have been in DSS' custody for over 30 days.
Justice Egwuatu said that the detainees are entitled to bail by the provisions of the Nigerian law having been held in custody beyond the period stipulated by law.
The judge said that the law even frowned at a situation where citizens' liberty is curtailed under unlawful circumstances.
The suspects were granted bail on various conditions and will remain in the DSS detention until their bail conditions are perfected,Jomog.com reports.
DSS' lawyer, Idowu Awo had earlier said he was not opposed to the court granting bail to eight of the detainees, but would oppose bail for the other four, who were still being investigated in relation to their complicity in Igboho's alleged arm stockpiling offence.
Court Hears Igboho's N5bn Suit Against Malami, DSS Today
The Oyo State High Court sitting in Ibadan has fixed August 4 for the suit filed by Yoruba Nation activist, Chief Sunday Adeyemo, aka Sunday Igboho, for an injunction to stop his arrest.
Igboho had through his counsel, Chief Yomi Aliyyu ( SAN), filed an application before the court asking for N5bn damages for the destruction of his cars and residence in Ibadan during the July 1 raid on his residence by the Department of State Services.
He also asked the court to stop the Attorney General of the Federation, DSS and other security agencies from arresting him or infringing on his fundamental human rights.
Igboho's counsel told our correspondent in a chat that the application would be moved before the court on August 4.
He said, "On August 4, at the High Court 7 of Oyo State, we will moved for an order of interim injunction pending the hearing of the main suit for an order restraining the AGFand DSS from further breach of the applicant's fundamental human rights.
Igboho had prayed for, "An order of injunction restraining the respondents, their agents, privies and associates in other security forces and/or anybody acting on their behalf and/or instructions from arresting, detaining, molesting, harassing and/or in any way interfering with his to personal liberty, freedom of movement of Chief Sunday Adeyemo Sunday Igboho, enjoyment of his property without fear of invasion of his home by the respondents and their agents," among others.
Source: ThePUNCH
Court Orders EFCC To Unfreeze Dokpesi's Account, Release Seized Documents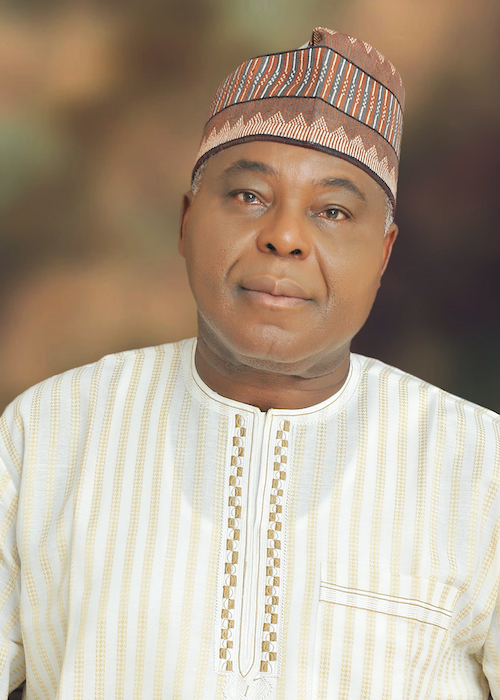 The Chief Judge of the Federal High Court, Abuja, Justice John Tsoho, on Tuesday issued an order unfreezing the N2.1 billion bank account of the founder of Daar Communications Plc, Chief Raymond Dokpesi.
Delivering a ruling in an application filed and argued by Kanu Agabi SAN on behalf of Dokpesi, Justice Tsoho said that the federal government has no basis to put a post no debit order on the account in view of the subsisting and valid order of the Court of Appeal.
Justice Tsoho ordered that the account domiciled at First Bank of Nigeria be immediately unfreezed since the criminal charges, which precipitated the restriction on the account had been dismissed and Dokpesi discharged and acquitted by the Court of Appeal.
Delivering ruling in an application filed and argued by Kanu Agabi SAN, on behalf of Dokpesi, Justice Tsoho said that the Federal Government has no basis to put a post-no-debit order on the account in view of the subsisting and valid order of the Court of Appeal.
Justice Tsoho delivered judgment after taking arguments from Dokpesi's lawyer, Kanu Agabi, SAN and counsel to the Economic and Financial Crimes Commission (EFCC), Oluwaleke Atolagbe.
The Chief Judge held that since the Court of Appeal delivered the judgment that invalidated the criminal charges against Dokpesi, the EFCC had not applied for stay of execution of the judgment.
Justice Tsoho said that in the absence of a stay of execution, his court was bound by law to give effect and implementation to the judgment.
He thereafter ordered that the freeze order and post-no-debit on the account be immediately removed in compliance with the appellate court's decision.
On the claim of EFCC that it has gone on appeal to the Supreme Court, Justice Tsoho held that the notice of appeal filed at the apex court cannot in law stay the execution of the subsisting judgment adding that the anti graft agency ought to have obtained a stay of execution of the judgment.
He also ordered that all documents seized from Dokpesi or voluntarily surrendered to the Federal Government be immediately returned to him.
Atolagbe, in a bid to convince the judge, had drawn the attention of the court that the Department of State Services, DSS, and National Intelligence Agency, NIA, made respondents in the matter, did not appear before the court and as such the court can not make valid order against them.