Veteran Nollywood Actress, Ify Onwuemene Dies Of Cancer (Photo)
Nollywood actress Ify Onwueme has been pronounced dead after battling with endometrial cancer for years.
Nigerian actress, Gloria Anozie -Young, a friend and colleague of the "everyday people" star has taken to Facebook to announce the death of the popular veteran Nollywood actress.
The actress had passed away in the late hours of May 25, 2021 after battling with cancer.
Sharing a picture of the Ify, Gloria Anozie-Young wrote;
"With a deep sense of loss but total submission to God Almighty, we regret to announce that IFEY ONWUEMENE has gone to be with the Lord.
IFEY ONWUEME was diagnosed with endometrial cancer, her womb was removed but she has been battling the ailment for many years now. In 2019, even after 8 sessions of chemotherapy, the doctors told her she had reached stage 4.
However, we are not sure if she was given the wrong diagnosis or being treated with the wrong chemo, because she still felt pains on her upper abdomen and her tummy bloated. Ify spent more than 10million naira, being helped with donations by her fellow actors and other Nigerians.
A gofundme account was opened for her but it did not yield much. She had to go for draining every two weeks at a cost of 280,000naira but only 3litres of liquid can be removed at a time so that her heart is not affected.
IFEY has finally gone to rest, today 25th May, 2021. May her soul rest in perfect peace. Amen. Burial arrangements will be released by the family."
The family is yet to announce Burial arrangements.
Mercy Aigbe Blasts Ex-Husband, Lanre Gentry, After Throwing Shade At Her Over Father's Day Post
Mercy Aigbe has clapped back at her ex-husband, Lanre Gentry after he threw a shade at her over her Father's day post.
Mercy had in the post celebrated herself for playing the role of a father and mother to her two kids. She mentioned that she pays the fees of one of her children in dollars.
Lanre saw her post and while celebrating himself as a father on his IG page, he seized the opportunity to throw a shade at Mercy.
He averred that some women who are bad wives and mothers would also be celebrating themselves on such a day meant for fathers only.
According to him, women who do such do it because their parents are no longer together.
He added:
"If you like take your children to moon is nobody's business if you like pay in yen or dollar is nobody's palaba I have helped you pay for another man's durthar school fees before so"
Mercy has now replied him, calling him out and tagging him a shameless and useless father.
"Mr Lanre Gentry you better stop with the stupid lies! You better don't just infuriate me! Lara Gentry call your useless father to order oh!!!! Cos really I have had enough of his nonsense!!!!!
And the most irresponsible father award goes to my Ex! This shameless man who instead of him to cover his face in shame, will rather come online to post rubbish! I normally ignore you when you respond to my Father's Day post!
But you see this one! Bring it on!!!! I am ready! Alailojuti"she wrote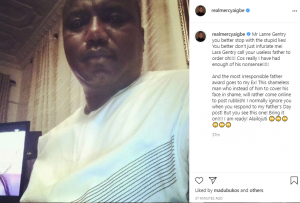 Mr Gentry is yet to reply.
BBNaija Reunion: Day 2 Highlights 2021 For Lockdown Housemates (Video)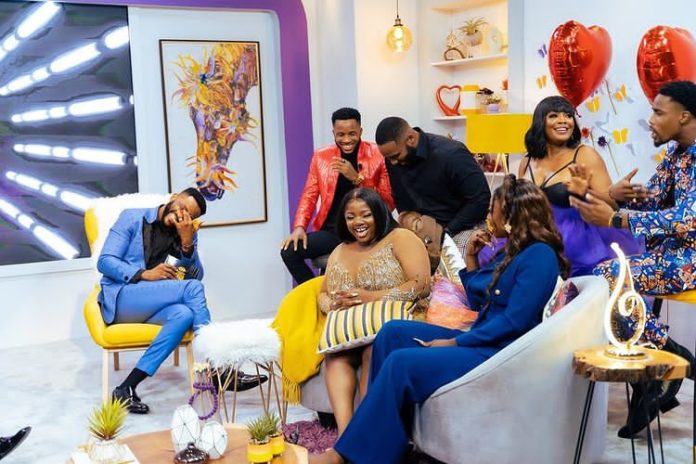 BBNaija Reunion Day 2 show started off with the host Ebuka introducing the topic of discussion which is "Love Triangles", how it happened and how they started.
A short video clip was played where Dorathy gave several advices to Ozo on his relationship with Nengi. After the video clip, Ebuka then asked asked Ozo why he always run to Dorathy for advice.
Ozo responded that Dorathy was the first person he bonded with stating that Dorathy shared her bed with him the first night he spent in the House. However, his relationship with Dorathy was just friendship and no feelings involved.
He also stated that he saw Dorathy as a friend and was comfortable discussing with her the issues he had with his relationship with Nengi.
Ebuka then questioned Ka3na on a comment she made where she called Nengi a side chick. Ka3na replied that she had always seen Ozo to be attracted to Dorathy but his problem was that he likes Dorathy's personality but not her physical appearance.
Wathoni briefly replied that she think Dorathy had feelings for Ozo but it was one-sided as Ozo was after Nengi.
Dorathy responded that she never had feelings for Ozo but had always liked Prince which was the reason she stepped back after noticing Ozo was including her in his love triangle.
She stated that she felt hurt after speaking with Ozo on certain issues but Ozo will move on to discuss her opinions with Nengi.
Prince supported her claimed and disclosed that they have had such conversations before and he's confident Dorathy had no feelings for Ozo.
See the video below;
Why We Bankrolled Kelani's Ayinla – First Bank's CEO, Sola Adeduntan
The MD/CEO of First Bank Nigeria Limited, Adesola Adeduntan has explained why the bank decided to bankroll Ayinla, a joint production of Tunde Kelani and Jade Osiberu.
In a recent chat, Adeduntan explained the bank's resolve to sponsor socio-cultural initiatives in the creatives and arts industry.
He said, "Over time, we have been involved in the sponsorship of several socio-cultural initiatives in the creative arts industry like Moremi, Mokalik, Oba Esugbayi stage drama, October 1, and the Calabar Festival.
"Even in the music industry, we have supported and sponsored artistes like Davido, Burna Boy, and a host of other reigning stars. Importantly, the Bank's sponsorship of 'Ayinla' affirms the bank's support for the development of arts in Nigeria under our First@arts initiative.'
Speaking further, Adeduntan noted that: "First Bank believes that our culture, our art, is a very important part of who we are, and it reflects who we are. And for us to ensure that our culture, our arts, our practices don't perish, especially one that will continue to mainstream our arts, and that is what this movie emphasizes a lot."
On Sunday, June 13, the bank joined other brands to participate in the premiere of 'Ayinla' at the EbonyLife Place.
The premiere had film stars like Kunle Afolayan, Kunle Remi, Mr. Macaroni, Femi Branch, Toyin Abraham, Mercy Aigbe, Omowunmi Dada, Bimbo Ademoye, and Big Brother Africa's Tayo Faniran, amongst several others in attendance.
The highlight of the event was when First Bank handed a cheque of N500,000 each to actress Osas Ighodaro and actor Akah Nnani for being the best-dressed female and male respectively.
The movie, 'Ayinla', appeals to a multifaceted audience that cuts across fans of highlife and Afrobeat music, the youth, and the elite Yoruba demography. It is about the life and times of late Nigerian musician, Ayinla Omowura who made fame with his Apala music laced with wisdom, grit, and yabs.