"I Was Feeling Suicidal"- Meghan Markle Tells Oprah Winfrey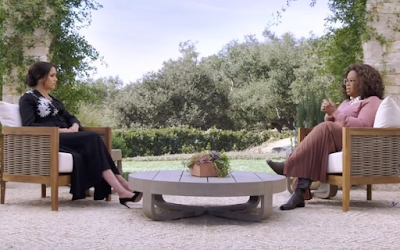 A tearful Meghan Markle said Sunday she contemplated suicide while pregnant with son Archie, amid the pressure of dealing with life as a royal and her treatment at the hands of the British media.
"I just didn't want to be alive anymore," the emotional duchess, 39, told Oprah Winfrey in her highly anticipated TV interview.
The former actress said she "just didn't see a solution" given the barrage of negative reports about her.
"I would sit up at night, and I was just like, 'I don't understand how all of this is being churned out,'" she said.
She said her mother and friends, referring to the Palace, told her, " 'Meg, they're not protecting you.'
"And I realized it was all happening just because I was breathing," Markle said.
Winfrey asked her, "Were you thinking of harming yourself? Were you having suicidal thoughts?"
Markle replied, "Yes. This was very clear."
She said she was scared to tell her husband Prince Harry but eventually did.
"I knew that if I didn't say it that I would do it," she said. "And that was a very clear and real and frightening constant thought.
"I remember how [Harry] just cradled me," the duchess said.
Markle said she went to a senior member of the royal institution for help at one point but was rebuffed.
One on occasion, in January 2019, while she was pregnant with Archie, Markle said she went to an event at Royal Albert Hall against Harry's advice because she was afraid of what she would do if left alone.
"I had just had that conversation with Harry that morning," she said. "We had to go to this event, and I remember him saying, 'I don't mind,' I said, 'I can't be left alone.'"
She said she sobbed while sitting in the royal box, only putting on a brave face for photos once the lights were turned on.
"If you zoom in, you can see how tightly his knuckles are gripped around mine. You can see the whites of our knuckles, because we are smiling and doing our job, but we're both just trying to hold on," Markle said.
"Everytime that those lights went dim that royal box, I was just weeping, and he was gripping my hand."
The next day, Markle said she went to a senior member of the royal institution for help and the possibility of seeking professional care but was rebuffed because it "wouldn't be good for the institution."
Markle said she couldn't exactly try to seek help herself, noting "I couldn't, you know, call an Uber to the palace."
The former royal also revealed Sunday night that members of the royal family discussed with Prince Harry how dark their son's skin might be.
Markle spoke about learning her son would not be given the royal title of prince, either.
Davido Updates His Marital Status On Wikipedia After Paying Chioma's Bride Price
Famous Nigerian Afrobeats musician, David Adeleke, professionally known by his stage name Davido, has updated his marital status on Wikipedia.
Davido reportedly finalised his traditional marriage rites to Chioma on Thursday. The singer's Wikipedia page now reflects his new marital status and his wife's name.
The singer finally paid Chioma's bride price (Umunna) in full at Ezeala Odu, Imo State, on Thursday, January 5.
Also confirming their marriage in a trending video on social media, Chioma's father could be seen performing the Umunna and Umuada rites on Thursday.
It was earlier reported in November last year that the singer secretly got married to Chioma a month after the death of their only son, Ifeanyi Adeleke.
According to the report, the traditional wedding, which was done in her father's house, had few family friends in attendance with no cameras allowed. And because of the tragedy surrounding their marriage last year, Davido could not perform his Umunna rites. As such, according to the Igbo culture, he and Chioma weren't fully married.
Recall that Davido had, last year before the tragic incident, vowed to marry Chioma in 2023, but after their son's death, the singer speedily wedded her.
"I had an unpleasant experience that left me shocked" May Edochie recounts, days after Yul declared himself a proud polygamist
May Yul Edochie, the estranged wife of Nollywood actor, Yul Edochie has recounted an unexpected and unpleasant experience that left her shocked to the core.
Taking to her Instagram page, May revealed that she had an unpleasant experience yesterday, Monday, December 19th that left her shocked.
However, she is focusing on the bright side as noted how life has got a lot of twists and turns.
"Yesterday, I had an unexpected and unpleasant experience…. I was shocked to the core.
But you know what they say, "Life has got a lot of twists and turns, hold on tight and off you go". So I'm wishing y'all a beautiful morning and a fruitful day ahead".
Yul Edochie declares himself a proud polygamist
Kemi Filani news reported days back that Yul Edochie had stressed that he is a very proud polygamist.
The actor claimed that God gave him the go-ahead to cheat on his wife and eventually marry his baby mama, Judy Austin.
Taking to his Instagram page, the actor and father of five wrote "I'm a very proud Polygamist. With my full chest. Read Exodus 21 vs 10.
The Bible acknowledges Polygamy. It is my destiny. God directed me to do it.
So I can give my son a proper identity. Therefore it came with many blessings,
Blessings for me, blessings for my wife Queen May to calm her down cos as a human being she'll definitely not be happy about it, and blessings for my wife Judy as well. I'm a very solid man of God.
With so much grace.
You may not understand my life and say negative things about me, but I won't blame you.
It's my life, not yours. So you're not supposed to understand it.
Dear Lord, I acknowledge your abundant blessings in my life, and in my family and I just want to say. THANK YOU, LORD. My mouth will forever testify to your goodness. May your Mighty Name be praised forever and ever, Amen."
Sophia Momodu under fire over Imade's controversial birthday post to Davido
Singer Davido's babymama, Sophia Momodu has come under fire over her daughter, Imade's birthday post to the singer.
This online medium reported that Imade had penned a short message to mark his 30th birthday on, November 21st, 2022.
The singer's first daughter also paid a tribute to her late brother, Ifeanyi Adeleke.
Seven years old Imade Adeleke who took a break from social media after the tragic death of Ifeanyi, posted a happy birthday message to their dad, Davido.
She shared a photo of him holding on to his daughters while carrying Ifeanyi; an act of tribute to the departed young one.
"Happy birthday daddy! I wish you peace, joy & love" Imade captioned the beautiful photo.
Sophia Momodu gets dragged
Many thought it was sheer wickedness on Sophia Momodu's part to post a picture of Ifeanyi, who she never acknowledged when he was alive.
Sophia Momodu always shared photos of his second daughter, Hailey and is even bff with her mother.
But it wasn't the same with Ifeanyi, as she never acknowledged him on her page or her daughter's page.
A look through Imade's Instagram page shows that there are lots of photos of Hailey but no single photo of Ifeanyi.
Angered by the post, many took to Twitter to call her out for being insensitive.
Nigerians drag Sophia Momodu
One Dafe wrote, "Normally them suppose wipe the person when they run Imade page cord for neck
One Ene wrote, "Funny how Sophia never thought to feature Ifeanyi on Imade's page his demise. How insensitive!
One the cutest skimmy wrote, "Of all the pictures Imade has with her dad, Sophia choose this one?? Hum I'm starting to see what people they say about her. All shades of wrong, wickedness abeg
One D strategist wrote, "What Sophia did was sooo wrong Damn! What a shade!
One Khaleedah Dollars wrote, "One of the reasons why I don't like Sophia. Imade and Davido have hundreds of pictures together but she chose to post this one
One Larry King wrote, "Did you hate? Someone you have never posted even on Imade's page not even on his birthday after his death suddenly gets worthy of your post. #witchcraft in display
Omalicha Oma wrote, "Sophia this is not Father's Day, you can't tell me you don't have his personal picture or one with Imade to post, allow them heal baby, May be you meant no harm but this is quite insensitive
One Aries Baby wrote, "I'm positive of Ifeanyi was still alive, Sophia wouldn't dare post that family picture on Imade's page to celebrate Davido's birthday today… That girl dey mad!
One Purity Goldie wrote, "So out of all the pictures Imade and her father have together Sophia decided to post this one?? For someone that's recovering? What manner stupidity is this?? I'm not even Davido but I know the emotions I got from this picture
One Mabel wrote, "Papa attended Imade's birthday, she made sure she didn't make a mistake of posting him, in all the million picture she posted she never posted the boy, on papa's birthday she went somewhere else with her daughter and was busy uploading pictures for everyone to notice her, evil girl".