Biafra Agitation: Facebook Blocks Nnamdi Kanu's Account
The Indigenous People of Biafra, IPOB, on Wednesday, condemned Facebook for blocking the account of its leader, Nnamdi Kanu.
The group reacted in a statement released through its media and publicity secretary, Emma Powerful, on Wednesday.
Powerful in the statement said Kanu's Facebook account was blocked after his live broadcast on Tuesday night.
"The Indigenous People of Biafra (IPOB) is appalled at the despicable attitude of Facebook for blocking the Facebook page of our leader, Mazi Nnamdi Kanu, after his expository and explosive live broadcast on Tuesday night. It is not only baffling but too petty for a global social media giant like Facebook to allow itself to be used by agents of oppression in Nigeria to suppress the truth."
"We strongly condemn this attitude of Facebook managers in Lagos and Abuja who collude with corrupt Nigerian government officials to suppress the free flow of Information via their platform. This unconscionable and reprehensible attitude amounts to partnering with perpetrators of human rights abuses and other criminal activities masterminded by the Nigeria state against innocent citizens."
"The Fulani-controlled federal government and its foot soldiers – terrorist herdsmen and bandits – have continued to subjugate indigenous nations in the country, including Biafrans with the intent for conquest. These foot soldiers on a daily basis unleash all sorts of mayhem on the innocent and hapless indigenous peoples while the federal government mischievously remains docile."
"These vampires masquerading as herdsmen have forcibly seized our forests and converted our farms to grazing fields for their cattle. They have equally turned our ancestral lands to slaughterhouses where they kill with impunity in most dehumanising manners, innocent locals going about their legitimate business. They commit these crimes unchallenged by security operatives. They kidnap for ransoms, maim and rape our women. They feed their cattle with our crops, and Facebook is saying we don't have a right to cry out?"
Powerful described the attitude of Facebook as oppressive and prevention of information flow, which he said was similar to how the British government prevented information from Biafra from going out during the Nigerian Civil War of 1967 — 1970.
"Now that our leader has started exposing the atrocities of these wolves in human clothing, Facebook has decided to be an accomplice to mass murder and oppressive tendencies of Fulani Janjaweed rulers of Nigeria. Why should Facebook block the account of the leader of the largest peaceful mass movement in the world for speaking the bitter truth people are too terrified to talk about?"
"Why hasn't Facebook prevailed on the perpetrators of these heinous crimes in Nigeria to stop their atrocities instead of denying innocent victims media access? Facebook is quick to fall for the lie of agents of oppression and accuse us of hate speech but fails to realise that hate action begets hate speech if in the Facebook lexicon, bitter truth translates to hate speech."
"This unholy act is only akin to what Britain and her allies did to Biafra during the Genocidal War of 1967-70 when they imposed land, air and media blockade on Biafra in order to deny the truth about the ongoing genocide from going out."
"Facebook, it seems does not want the atrocities of Fulani killer herdsmen to come to the knowledge of the world but they have failed woefully. Facebook is today assisting an oppressive government that pampers, frees and settles 'captured' terrorists while doing nothing to protect or rehabilitate victims of terror."
"But our message to Facebook is simple: no matter how hard you try to suppress the gospel of truth being preached by our leader, the struggle for Biafra liberation cannot be slowed down. On the contrary, our efforts will be intensified because Biafra restoration is a divine mandate that must be accomplished in this era."
"We are very resolute in our resolve to restore Biafra and will not be deterred. If you like, block all Biafran activists on your platform, we shall keep pushing on until Biafra is fully restored."
In the release, however, IPOB spokesman enumerated other options to be explored in getting information from Kanu henceforth.
"We, therefore, wish to encourage our leader's teeming global audience to follow him and hook up to his live broadcasts via IPOB's numerous other platforms. Our leader can be followed through many other platforms such as Twitter, YouTube, IPOB Community Radio App, Radio Biafra app, satellite and FM."
"May we, therefore, remind all those compromised local staffs of Facebook in Lagos and Abuja that but for Nnamdi Kanu and IPOB, their families in their communities would have today been overrun by herdsmen and terrorists. An accomplice to a cruel man will surely get the reward of cruelty!"
Sen Andy Uba In Trouble Over Heritage Bank Debt (Video)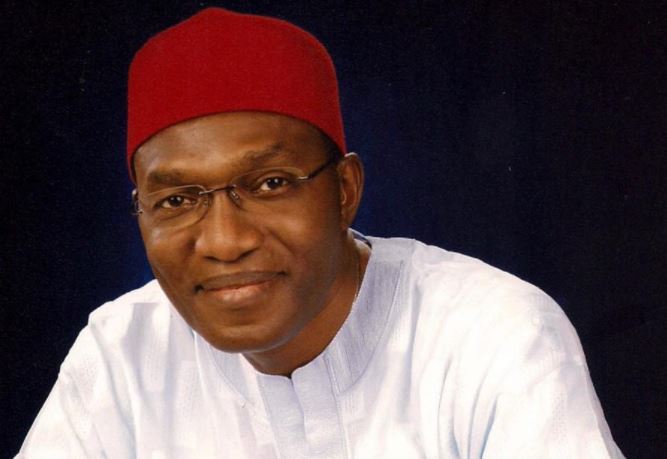 A leading APC governorship aspirant in the Anambra governorship election fixed for November 2021, Andy Uba, is currently swimming in trouble, JomogNews Nigeria reports.
He is said to be heavily indebted to Heritage Bank.
Though the exact amount Uba owes the bank has not been made available, a credible source stated that the debt is in billions.
His indebtedness, insider confirms, has become huge source of worry to the bank executives so much so that the bank mobilized early on Monday, June 21 and stormed his Abuja residence to compel him to pay.
In a video that has gone viral, a voice, ostensibly one of the bank's executives, was heard saying
"We are staff of Heritage Bank in Abuja and we are here Senator Andy's house house in Abuja.
"He has been owing the bank for a couple of years now.
"We are here for a peaceful meeting with him to pay his loans which are depositors money.
"If this debt is not paid, staff will lose their jobs. We are here to appeal to him," the obviously frustrated banker said.
A known face in the Nigerian political space, Andy Uba had won the Anambra state Governorship election in 2007 in a landslide victory and was sworn on May 27, 2007.
But the people of Anambra were stunned when on June 14, 2007, barely two weeks and three days after his swearing-in, Senator Andy Uba was removed from office by a judgement of the Supreme Court.
It was a judgement that spurred uproar in many quarters across the nation because many legal minds argued that the apex court, at that time, had no jurisdiction over the case.
Senator Uba, at the end, however, accepted the sad development and congratulated his opponent, Peter Obi, who became the bonafide governor.
This was after the soft-spoken Senator from Ugah in Anambra South Senatorial District had served President Olusegun Obasanjo as a senior aide in charge of domestic affairs.
The Presidential Villa position energized his political influence across the length and breadth of Nigeria.
It also upgraded him into the club of billionaires in cash and assets.
Subsequently, after the governorship failure, he, in April 2011, won the Senatorial election to represent his District. He did two terms and was in charge of lucrative and grade A committees like INEC.
He is currently in the governorship race which comes up on November 6, 2021 but the debt crisis may be the spoiler.
Born on 14 December 1958 in Enugu, Uba who attended the Boys High School in Awkunanaw and Concordia University is not fresh to controversies.
In the 2011 Senate election under PDP, he won with 63,316 votes, ahead of Chukwmaeze Nzeribe of the All Progressives Grand Alliance (APGA) with 43,798 and Senator Ikechukwu Obiorah of the Accord party with 24,724.
Uba's election was challenged by Senator Obiora, the Accord candidate, who claimed that Uba had forged his West African School Certificate (WASC) and had not obtained any of the university degrees that he claimed.
The story of allegedly faked degrees dates back to a story written by two investigative reporters and published by The News in December 2006. Reporters claim that both Concordia and California State University said that although Uba enrolled, he did not graduate from either university.
Video:
Senator Andy Uba in trouble over debt he is owing @heritagebankplc pic.twitter.com/Jhz8Ap5LDu

— Jomog (@oguntayoomobola) June 21, 2021
Army Rescues More Kidnapped Kebbi Students, Kill Bandit
The Nigerian Army has confirmed the rescue of more students of the Federal Government College, Yauri, Kebbi State who were kidnapped by bandits on Thursday.
JomogNews Nigeria reports one teacher and three students have been freshly rescued by the military from the custody of the bandits.
This development was confirmed to Naija News in a statement on Sunday by the Director Army Public Relations, Brigadier-General Onyema Nwachukwu.
The statement noted that one teacher and three students were rescued by the military on Saturday while one of the bandits was killed and some items including motorcycles and handsets were recovered.
The Army statement reads: "Troops of the Nigerian Army operating under the auspices of Operation HADARIN DAJI supported by Nigerian Air Force component have rescued more abductees of the FGC Birnin Yawuri.
One teacher and three students were rescued yesterday at Makuku, in the ongoing search and rescue operations.
The troops also killed one bandit and recovered nine motorcycles and four handsets from the fleeing bandits.
Additional troops have also been deployed to dominate the forest and deny the bandits freedom of action."
It will be recalled that two teachers and five students were earlier on Friday 18 June 2021 rescued by the gallant troops in a coordinated firefight with the kidnappers.
14 Gunmen Killed As Security Officers Repel Attack On Police Station In Benue
At least 14 gunmen were killed by the police in a foiled attack on Kastina-Ala police station, Kastina-Ala LGA of Benue state.
Catherine Anene, police spokesperson in Benue, confirmed the incident in a statement on Sunday.
She said the attackers numbering up to 50, invaded the police station in the early hours on Sunday to rescue some of their members arrested and detained on Saturday.
The police spokesperson said the officers on duty, however, repelled the attack, killing 14 of them.
"On 19th June 2021, five bandits were arrested and detained at Kastina-Ala Police Division for investigation and prosecution," she said.
"On 20th June 2021 at about 0130 hrs more than 50 other gang members of the detainees mobilised and invaded the police station to rescue their counterparts.
"Officers at the division who were already at alert engaged them in a gun duel and were able to subdue the bandits.
"Fourteen of them were brought down during the exchange of fire, while several others escaped with gunshot injuries.
Anene said the command has launched a series of operations to rid of criminal elements in the LGA.
In recent times, communities in Benue have been targeted by gunmen.
Early this month, over 20 people were killed in Odugbeho community in Agatu LGA of the state.
In May, over 30 people were reportedly killed — including students of the College of Education — in Katsina Ala LGA of the state.