Mutiny: Russia Drops Charges Against Wagner Leader As He Heads To Belarus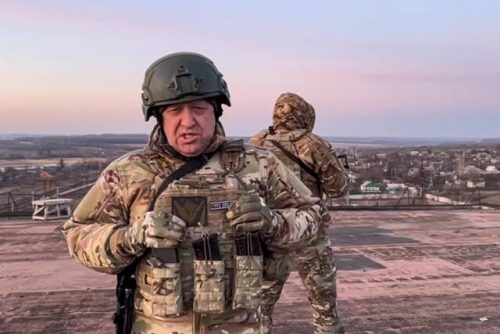 The Russian government says criminal charges against Yevgeny Prigozhin, leader of the Wagner mercenary group, have been dropped, and he will move to Belarus.
Speaking with journalists in the early hours of Sunday, Dmitry Peskov, presidential spokesperson, said the conditions were part of a deal brokered by Belarusian President Alexander Lukashenko to end the rebellion led by Prigozhin against Russia's military leadership.
On Saturday, the Wagner leader and his troops were advancing towards Moscow, the Russian capital, after reportedly taking control of Rostov-on-Don, a city of more than a million people close to the border with Ukraine.
The private army, which had been fighting for Russia since the invasion of Ukraine, vowed to topple Vladimir Putin.
However, less than 24 hours after the uprising began, Prigozhin said the fighters would return to base, citing the risk of blood being spilled.
Putin had earlier described the militia's mutiny as a "stab in the back", adding that measures taken by Russia to address the situation would be brutal.
In the latest development, Peskov, who did not offer much details on the deal, said the charges brought against the Wagner leader by the federal security service had been dropped.
"You will ask me what will happen to Prigozhin personally? The criminal case will be dropped against him. He himself will go to Belarus," the spokesperson said.
Volodymyr Zelenskyy, president of Ukraine, had said the rebellion of Wagner Group revealed the "full-scale weakness" of the Kremlin.
Enough Is Enough: Pope Francis Calls For Ceasefire In Israel-Hamas War
Pope Francis, has waded into the ongoing attacks and violence in Israel and Gaza, saying the killings that had claimed children and women among others.
The leader of the Roman Catholic church, called for humanitarian corridors to allow the delivery of food, water and fuel to the Gaza Strip, which is under heavy Israeli bombardment following a bloody attack by Hamas last weekend
In the eight days since Hamas gunmen killed more than 1,300 Israelis in their attack, Israel has responded with a devastating bombing campaign that had claimed over 2,300 lives in Gaza.
According to reports, conditions in Gaza hospitals were so critical that health workers had begun to store bodies in ice cream freezer trucks because moving them to hospitals has become too risky plus cemeteries have become full.
Pope, speaking after his traditional Angelus prayer in Rome's Saint Peter's Square, on Sunday, October 15, said;
"Humanitarian law must be respected, especially in Gaza, where it is urgent and necessary to guarantee humanitarian corridors and help the population.
"I strongly urge that children, the sick, the elderly, women and all civilians should not fall victim to the conflict.
"There have already been so many deaths, please let's not shed any more innocent blood, not in the Holy Land, not in Ukraine, not anywhere else. Enough is enough. War is always a defeat," he said, castigating "the diabolical force of hatred, terrorism and war."
Pope Francis also renewed his call "for the release of the hostages" kidnapped by Hamas fighters in southern Israel and invited "all believers to unite in prayer with the Church in the Holy Land"
Israel's Prime Minister, Benjamin Netanyahu, on Sunday, vowed to "demolish Hamas" as his military prepared to move into the Gaza Strip in search of Islamist militants, whose deadly rampage through Israeli border towns shocked the world.
Israel has told Gazans to evacuate toward the South, which hundreds of thousands had already done in the enclave that was home to more than two million people, about half in Gaza City.
Israel Pounding Hamas, Will Obliterate hem – Prime Minister Netanyahu Vows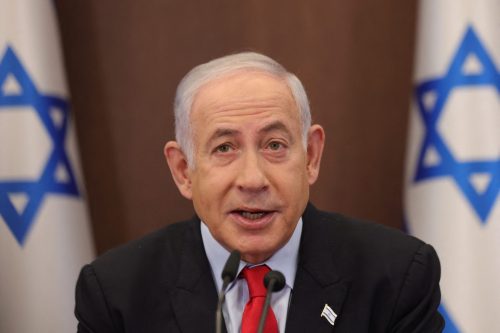 The Prime Minister of Israel, Benjamin Netanyahu, has vowed to obliterate Hamas and emerge triumphant in the ongoing war.
Netanyahu said Israeli forces are pounding Hamas with brute force, adding that they just started paying the price.
The Prime Minister disclosed this in a statement following a security assessment at Kirya in Tel Aviv.
According to him, "Citizens of Israel, Shabbat Shalom. Shabbat shalom to our forces deployed across the country, who are celebrating the Sabbath in the field, far from home.
"And we are fighting tooth and nail: soldiers, police officers, citizens, security forces, health personnel and rescue teams — and Israel's citizens, with your extraordinary volunteering spirit that has touched the world.
"We are all mobilized, we are all united. We will never forget the horrific acts perpetrated against us by our enemies.
"We will never forget the horrific acts perpetrated by our enemies and we will never forgive. We will not allow the world, or anyone, to forget these horrors, the likes of which the Jewish people have not endured in decades.
"We are pounding our enemies with unprecedented force, and I stress, this is only the beginning. Our enemies have only just begun to pay the price. I will not detail our plans, but I tell you, this is only the beginning.
"We will obliterate Hamas, we will triumph. It might take time, but we will end this war stronger than ever. "May the Almighty cause the enemies who rise up against us to be struck down before them."
Israel-Hamas War: Iran Tells Israel To Stop Before 'It's Too Late'
Iran on Saturday warned Israel to immediately halt its "war crimes" against Gaza or it could face "a huge earthquake" of resistance.
More than 320 Palestinians have been killed in the past 24 hours, including many women and children in Israeli air raids on convoys fleeing Gaza City, according to health officials.
The rising death toll comes as Israel continues bombing Gaza a day after telling 1.1million residents to head south ahead of a looming ground offensive following Hamas's attack inside Israel last week.
At least 2,215 Palestinians have been killed and 8,714 wounded in Israeli air attacks on Gaza. The number of people killed in Israel has reached 1,300, with more than 3,400 wounded. The Palestinian health ministry said Israeli airstrikes had killed 724 children by yesterday, of the over 2,000 Palestinians killed in the past week.
In the occupied West Bank, the number of Palestinians killed by Israeli fire in the past week has topped 50. More than 1,000 have been wounded and hundreds arrested.
The Israeli military said it was planning an attack by land, air and sea, according to a statement, but gave no timing or specifics.
Daily Trust on Sunday reports that Israel has warned 1.1m Palestinians living in northern Gaza to evacuate to south; and thousands have been fleeing by vehicles or on foot.
The United Nations has said it is "impossible" for 1.1m Palestinians, about half of the 2.3million people in Gaza to evacuate because there is no place to go.
Meanwhile, BBC Verify has confirmed that women and children were killed when a strike hit their vehicles as they headed away from northern Gaza
This is as thousands of Palestinians sought refuge yesterday after Israel warned them to evacuate the northern Gaza Strip ahead of an expected ground offensive against Hamas, one week after the deadliest attack in Israel's history.
The alarm has grown over the fate of Palestinian civilians in blockaded and besieged Gaza – one of the world's most densely populated areas – if it becomes the scene of intense urban combat and house-to-house fighting.
"The situation in Gaza has reached a dangerous new low," said UN Secretary-General Antonio Guterres, adding, "Even wars have rules," he added, stressing that "civilians must be protected and also never used as shields."
Israel, which has vowed to destroy Hamas, has massed ground forces and tanks around Gaza, dropped leaflets in the north of the enclave telling civilians to flee and staged "localised" raids.
The raids have also sought to locate "missing persons" inside Gaza, the military said, as Hamas has been holding some 150 hostages, whose families have been protesting inside Israel for the release of their relatives.
Al Quds Hospital defies Israeli evacuation order
As thousands flee northern Gaza towards the south, Al Quds Hospital, one of the overstretched health facilities operated by the Palestinian Red Crescent Society (PRCS), refused to follow the orders of the Israeli government that it should evacuate by 4pm local time yesterday.
In a statement posted on the organisation's X 9, formerly Twitter) handle, the PRCS – equivalent to the Red Cross in many countries – said it would continue with its mandate to attend to the sick and the wounded.
"PRCS-Al Quds Hospital is offering live-saving services to a large number of Palestinian patients and the wounded, including critical cases in the Intensive Care Unit (ICU) and children in incubators, in addition to hundreds of civilians who took refuge at the hospital.
"Accordingly, PRCR cannot evacuate the hospital, and by its mandate is bound to continue the provision of services to the sick and wounded," the statement noted in part.
North Gaza resident: 'We prefer to die in dignity'
Meanwhile, it remains unclear how many Palestinians have stayed in northern Gaza after Israel ordered all 1.1million there to leave immediately.
"What we know is that hundreds of thousands of people have fled. And one million people have been displaced in total in one week," said Juliette Touma, a spokesperson for the UN agency for Palestinian refugees.
A Gaza resident, Rami Swailem said he and at least five families in his building decided to stay put in his apartment near Gaza City. "We are rooted in our lands. We prefer to die in dignity and face our destiny."
An estimated 35,000 displaced civilians have crammed into the grounds of Gaza City's main hospital, sitting under trees in the empty grounds, as well as inside the building's lobby and corridors, hoping they would be protected from the attacks.
"People think this is the only safe space after their homes were destroyed and they were forced to flee. Gaza City is a frightening scene of devastation," said Dr Medhat Abbas, a health ministry official.
With no aid in sight, Gaza doctors warn of humanitarian disaster
Doctors at Shifa Hospital, the largest medical complex in Gaza City, have warned of an impending infectious disease outbreak due to overcrowding.
"There are thousands – if not tens of thousands – of people who have flocked to the hospital," surgeon Ghassan Abu Sitta told Al Jazeera.
"They are sleeping on the ground, in the corridors between patients' beds. People are absolutely terrified. They think this is the safest place, and everything around them confirms that.
"Unless there is respite there is going to be a public health catastrophe at the hospital," he said.
Thousands of Pro-Palestinian protesters march in UK, US
Thousands of pro-Palestinian protesters yesterday took to the streets across the United Kingdom (UK), including in London and Manchester.
In London, more than 1,000 police officers were deployed as crowds marched from the BBC's New Broadcasting House to Downing Street.
The Met Police said seven people had been arrested, including one for criminal damage and two for public order offences.
The protest came a week after Hamas launched an unprecedented attack on Israel.
Similarly, thousands of people also marched in New York City to support Palestinians and raise awareness about Israeli bombings in the Gaza Strip.
Protests were seen across multiple neighbourhoods in the sprawling United States city, with demonstrators chanting "Free Palestine" and calling for an end to Israel's illegal occupation of Palestinian land.