Gunmen Kill Man And His 7-Year-Old Daughter Few Hours After Wife Gave Birth In Osun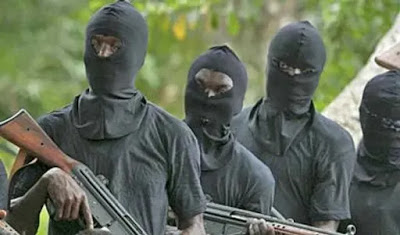 Gunmen have killed a member of the National Union of Road Transport Workers (NURTW) in Osun state popularly called Spanner.
Spanner and his 7-year-old daughter identified as Fatia, were shot dead on Friday afternoon, August 5, in Oke-Ijetu, Ilesa-garage area of Osogbo.
Spanner was a close ally of the Chairman of the Osogbo branch of the National Union of Road Transport Workers (NURTW), Kazeem Oyewale (Asiri Eniba) who was arrested a day to the July 16 governorship election in Osun.
It was gathered that the incident happened few hours after his second wife delivered a baby.
According to Tribune, the unidentified gunmen attacked and shot Spanner at his first wife's shop at Ilesa Garage.
"He was running away with blood while they followed him and shot him dead. Bullet hit his daughter and she was rushed to the hospital before they broke the news of the death of the daughter too." the source told the publication.
Police Uncover Ritualist Den With 20 Mummified Bodies In Edo (Graphic Video)
The Edo State Police Command has uncovered a ritualist den with 20 mummified corpses in Benin City, the Edo State capital.
Spokesperson of the command, ASP Jennifer Iwegbu, who disclosed this in a statement on Wednesday, August 17, said credible information led to the discovery of the corpses in the building along Asoro Slope off Ekenwan Road, Uzebu Quarters in Benin City.
Operatives of the Command immediately mobilised, stormed the scene and arrested three suspects while others fled.
"In pursuance of its operational mandate of nipping crimes in the bud, Operatives of the Edo State Police Command 17/08/2022 unravelled a suspected ritual shrine. Following credible information at the Command's disposal that some corpses were discovered in a building along Asoro slope off Ekenhua road, Uzebu quarters,Benin city. Operatives of the command immediately swung into action and mobilized to the scene," the statement read.
"At the scene, 3 suspects, Chimaobi Okoewu 'M' and Oko Samuel 'M' both of Afikpo in Ebonyi and Gideon Sunday 'M' of Akwa-Ibom State were arrested while others fled. An intensive effort is ongoing to arrest the other fleeing suspects.
"15 mummified male corpses, 3 mummified female corpses and 2 mummified children corpses were discovered at the scene
"To this end, the Edo State Commissioner of Police, CP Abutu Yaro, fdc, has directed the Deputy Commissioner of Police in charge of state CID to carry out a discreet investigation to unravel the circumstances surrounding the discovered corpses and therefore enjoins the general public to be calm as the command will continue to ensure the safety of all law-abiding citizens and those residing in Edo state."
Watch the video below…
Ondo: Four Shot In Failed Robbery Attempt
Four people were on Tuesday shot in a botched robbery attempt at Idanre, headquarters of Idanre Local Government Area of Ondo State.
The victims, who are working at a popular pharmacy, cum supermarket in Idanre, were allegedly approached by the robber, who was reported to be a local political thug, with the intention of taking their bags by force.
An eyewitness stated that the crime was committed by the suspect, identified as "Para," in the Ojota axis of Idanre, where the store was located.
"Para has always been doing it. Para went to the pharmacy to collect money but the owners of the supermarket refused to give him saying it was early in the morning as they were yet to make sales for the day.
"He then snatched their bag and as they started dragging the bag with him, he brought out a gun and shot four people instantly.
"They have been rushed to the General hospital in Idanre where they are now receiving medical treatment."
In response to the incident, SP Funmilayo Odunlami, the spokesperson for the Ondo State Police Command, acknowledged that it was a robbery case and that the suspect had been detained by police.
Police Arrest Alleged Terrorist Disguised As Woman In Lagos
The Lagos State Police Command says it has arrested a suspected terrorist, Sanni Gafar, in the Ijora Badia area of the State.
A mob had descended on Gafar, 29, and were ready to lynch him when police officials intervened.
According to a statement signed by police spokesperson, Benjamin Hundeyin, Gafar, the alleged terrorist was dressed as a woman, causing suspension in the area.
"At about 1100hrs today, a mob descended on an alleged terrorist at Ijora Badia. The Police arrived on time to save him from lynching. Preliminary investigation shows that the male suspect, who many alleged disguised as a woman, is Sanni Gafar, aged 29," the statement said.
"He was found with a bag containing three hammers, six screwdrivers, one pair of pliers, one chisel, five spanners, three rolls of black cellophane, cable wires, a 20mm bending spring, a pair of black trousers, and a plastic box of clips.
"The investigation is ongoing to ascertain his claim that he is an electrician. CP Abiodun Alabi, FDC while commending residents of Lagos for their vigilance, once again warns against any form of jungle justice.
"All suspicious persons or movements are to be reported to security agencies."
According to the PPRO, the Commissioner of Police, Abiodun Alabi, who commended residents of Lagos for their vigilance, warned against any form of jungle justice.
The police boss in Lagos stated that all suspicious persons or movements are to be reported to security agencies.