Ayman al-Zawahiri, Successor To Bin Laden, Killed In U.S. Drone Strike
A US drone strike in Afghanistan has killed Osama bin Laden's successor, Ayman al-Zawahiri, who became the leader of al-Qaeda following the killing of Osama Bin Laden in May 2011.
Confirming the report, President Joe Biden of the US described the death of al-Zawahiri, Osama Bin Laden's deputy, as a huge blow to the Al Qaeda terrorist network, masterminds of the September 11 2001 attacks on US.
Al-Zawahiri, who is said to be one of the world's most deadliest terrorists, is an Egyptian surgeon with a $25m bounty on his head for helping to mastermind the 9/11 attacks in which four civilian aircrafts were hijacked and used to crush the twin towers of the World Trade Centre in New York, the Pentagon near Washington and a Pennsylvania field, killing about 3,000 people.
According to White House officials, Al-Zawahiri was spotted on a balcony on numerous occasions after he moved into a safe house with his family in downtown Kabul, where he continued to produce al-Qaida propaganda videos for several months before he met his waterloo.
President Biden was said to have ordered the attack on the safe house at a meeting of key cabinet members and national security officials on 25 July,
having ensured that every step had been taken to ensure the operation would minimize risk and casualties.
"Two Hellfire missiles were fired at Ayman al-Zawahiri, who was killed. We are confident through our intelligence sources and methods, including multiple streams of intelligence, that we killed al-Zawahiri and no other individual," a Whitehouse official noted.
The official explained that though al-Zawahiri's family members were present in the safe house during the strike, they were not targeted nor harmed.
"We have no indications that civilians were harmed in the strike. We took every possible precaution to avoid civilian harm," the official further noted.
Barack Obama, Monday night, in his reaction to the development said: "We make it clear again tonight that no matter how long it takes, no matter where you hide, if you are a threat to our people, the United States will find you and take you out. We will never forget. We continue to mourn every innocent life that was stolen on 9/11 and honor their memories."
US2024: Trump Leads President Biden In New Poll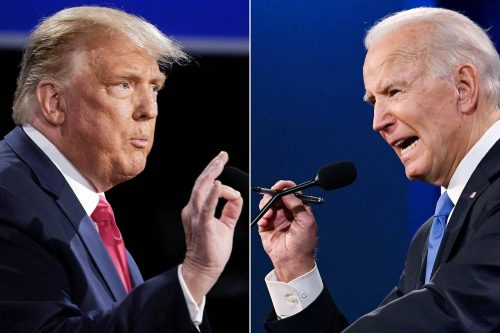 Ex-US President, Donald Trump is leading the country's current President, Biden in new poll. Trump is leading with 10 points in a recent Washington Post-ABC News poll.
The 77-year-old trounced the Democrat 52% to 42% in a hypothetical rematch of the 2020 contest, up significantly from Trump's 49% to 43% lead during a similar survey from the outlets in May.
"Heads are EXPLODING at the Jeff Bezos Amazon Washington Post, as President Trump now leads Biden nationally by 10," senior Trump adviser Jason Miller boasted on X.
During the 2016 election Trump clinched about 46% support and during 2020, he nabbed just shy of 47% support.
Across the board, the poll spelled bad news for Biden, with voters souring on his stewardship of the economy, immigration, age, and more.
Biden's campaign and administration have boasted about the progress of so-called "Bidenomics," but 44% surveyed in the poll argued that their financial picture deteriorated under his watch.
Only 30% look favorably on his handling of the economy, while 37% approve of his performance overall, compared to 56% who disapprove, per the poll.
On immigration, Biden's approval clocks in at 23%, with 45% strongly disapproving.
Then, a considerable 74% of voters feel that he's too old for another term, while about 50% say the same about Trump.
At age 80, Biden is already the oldest sitting US president and would be 86 by the conclusion of a second term in office.
A majority of Americans, including Democrats, have told pollsters that he is too old for another term.
Trump, who would also be the oldest president ever in office if he served a full second non-consecutive term, also leads Biden by one point nationally in the latest RealClearPolitics polling aggregate.
Mutiny: Russia Drops Charges Against Wagner Leader As He Heads To Belarus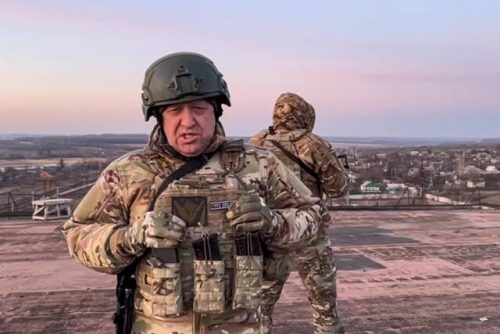 The Russian government says criminal charges against Yevgeny Prigozhin, leader of the Wagner mercenary group, have been dropped, and he will move to Belarus.
Speaking with journalists in the early hours of Sunday, Dmitry Peskov, presidential spokesperson, said the conditions were part of a deal brokered by Belarusian President Alexander Lukashenko to end the rebellion led by Prigozhin against Russia's military leadership.
On Saturday, the Wagner leader and his troops were advancing towards Moscow, the Russian capital, after reportedly taking control of Rostov-on-Don, a city of more than a million people close to the border with Ukraine.
The private army, which had been fighting for Russia since the invasion of Ukraine, vowed to topple Vladimir Putin.
However, less than 24 hours after the uprising began, Prigozhin said the fighters would return to base, citing the risk of blood being spilled.
Putin had earlier described the militia's mutiny as a "stab in the back", adding that measures taken by Russia to address the situation would be brutal.
In the latest development, Peskov, who did not offer much details on the deal, said the charges brought against the Wagner leader by the federal security service had been dropped.
"You will ask me what will happen to Prigozhin personally? The criminal case will be dropped against him. He himself will go to Belarus," the spokesperson said.
Volodymyr Zelenskyy, president of Ukraine, had said the rebellion of Wagner Group revealed the "full-scale weakness" of the Kremlin.
Just In: Many Children Stabbed By Syrian Asylum Seeker In France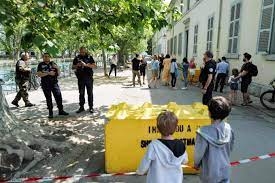 Several children have been stabbed in an attack in a park near Lake Annecy, in France's south-east, the interior minister says.
A man with a knife stabbed several very young children, including at least one in a stroller, and also assaulted adults in a lakeside park in the French Alps on Thursday.
The savagery left at least two children and one adult with life-threatening injuries, authorities said.
Gerald Darmanin confirmed the perpetrator, identified by police as a 31-year-old Syrian asylum-seeker, had been arrested and detained by police.
Regional deputy Antoine Armand described the attack as "abominable" and said authorities were investigating.
The French prime minister, Élisabeth Borne, is on her way to the scene.
Details shortly….