Cable company ordered to pay $7 billion to family of woman murdered by repairman
A Texas jury has ordered Charter Communications to pay $7 billion in punitive damages to the family of an 83-year-old grandmother robbed and murdered by a cable repairman who arrived in the company's van while off the clock.
Charter, which owns Spectrum, was also deemed responsible last month for $337.5 million in compensatory damages for the December 2019 murder of Betty Jo McClain Thomas.
Negligence cases like Thomas' rarely go to trial, and usually settle out of court – and out of the public eye – without the company admitting to wrongdoing. That's often been true even when consumers were assaulted, tortured, raped or murdered.
In a written statement this week from Charter spokesman Rich Ruggiero, the company said it would appeal the verdict: "The law in Texas and the facts presented at trial clearly show this crime was not foreseeable — and the plaintiffs' claims of wrongdoing by Charter are categorically false."
Roy James Holden pleaded guilty to Thomas' murder and was sentenced to life in prison. Thomas' attorneys said that Holden had lied about his past jobs and Charter hadn't verified his employment. Had the company done so and discovered the lie, he would have been disqualified from being hired.
When house calls turn deadly: Are cable companies responsible for workers' violent crimes?
At Charter, court records show Holden had racked up disciplinary actions and taken pictures of driver's licenses and credit cards at the homes of two elderly female customers. He asked his operations manager for money and he requested mental health intervention through Charter's employee assistance program.
Yet he continued to be sent on field calls. Holden was scheduled to work at Thomas' house on Dec. 11, 2019, at 1 p.m, according to the incident report by the Irving Police Department. He returned the next day and murdered her.
For Thomas' family, this case was not about the money, said Chris Hamilton, the family's attorney, from Hamilton Wingo LLP. It was about putting the incident into the public record and making sure "it wasn't a slap-on-the-wrist case where everything is swept under the rug."
During the trial, details emerged that shortly after Thomas' murder, Charter sent an overdue bill that included a $58.94 charge for Holden's work. That bill was sent on to a collection agency.
In March 2021, Charter tried to force the family into arbitration, by submitting documents to the court that showed Thomas had agreed to the company's terms of service, which included an arbitration agreement, by checking a small box when she paid her bill online. The documents showed that she checked that box four times from August to November 2019. They also submitted a document that included Thomas' signature on a work order for the Dec. 11 repair, which also included an arbitration agreement.
But that work order, which should have been signed after the job was completed, was signed at 12:59 p.m., just a minute before Holden was scheduled to start the job. When Thomas' family members saw the signature, they knew it didn't belong to her, Hamilton said. It was simply signed "Bety."
Thomas' attorneys also contacted Thomas' credit card company, and found another discrepancy: She paid her bill over the phone, not online.
"So, we knew they weren't telling the truth about that," Hamilton said of Charter. The online terms of service documents also were copyrighted in 2021, two years after Thomas' death.
Damages in arbitration, Hamilton said, would have been equivalent to Thomas' final bill, about $200.
In its statement, Charter did not directly address the forgery allegations or indicate whether there would be any policy changes related to background checks.
"We are committed to the safety of all our customers and took the necessary steps, including a thorough pre-employment criminal background check – which showed no arrests, convictions or other criminal behavior," it said. "Nor did anything in Mr. Holden's performance after he was hired suggest he was capable of the crime he committed, including more than 1,000 completed service calls with zero customer complaints about his behavior."
US2024: Trump Leads President Biden In New Poll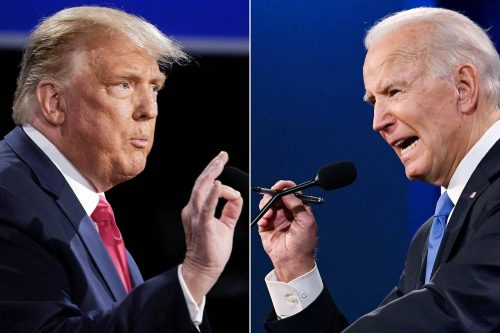 Ex-US President, Donald Trump is leading the country's current President, Biden in new poll. Trump is leading with 10 points in a recent Washington Post-ABC News poll.
The 77-year-old trounced the Democrat 52% to 42% in a hypothetical rematch of the 2020 contest, up significantly from Trump's 49% to 43% lead during a similar survey from the outlets in May.
"Heads are EXPLODING at the Jeff Bezos Amazon Washington Post, as President Trump now leads Biden nationally by 10," senior Trump adviser Jason Miller boasted on X.
During the 2016 election Trump clinched about 46% support and during 2020, he nabbed just shy of 47% support.
Across the board, the poll spelled bad news for Biden, with voters souring on his stewardship of the economy, immigration, age, and more.
Biden's campaign and administration have boasted about the progress of so-called "Bidenomics," but 44% surveyed in the poll argued that their financial picture deteriorated under his watch.
Only 30% look favorably on his handling of the economy, while 37% approve of his performance overall, compared to 56% who disapprove, per the poll.
On immigration, Biden's approval clocks in at 23%, with 45% strongly disapproving.
Then, a considerable 74% of voters feel that he's too old for another term, while about 50% say the same about Trump.
At age 80, Biden is already the oldest sitting US president and would be 86 by the conclusion of a second term in office.
A majority of Americans, including Democrats, have told pollsters that he is too old for another term.
Trump, who would also be the oldest president ever in office if he served a full second non-consecutive term, also leads Biden by one point nationally in the latest RealClearPolitics polling aggregate.
Mutiny: Russia Drops Charges Against Wagner Leader As He Heads To Belarus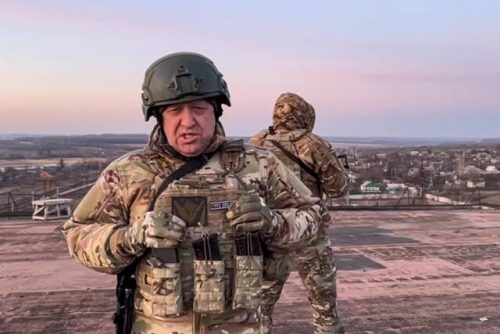 The Russian government says criminal charges against Yevgeny Prigozhin, leader of the Wagner mercenary group, have been dropped, and he will move to Belarus.
Speaking with journalists in the early hours of Sunday, Dmitry Peskov, presidential spokesperson, said the conditions were part of a deal brokered by Belarusian President Alexander Lukashenko to end the rebellion led by Prigozhin against Russia's military leadership.
On Saturday, the Wagner leader and his troops were advancing towards Moscow, the Russian capital, after reportedly taking control of Rostov-on-Don, a city of more than a million people close to the border with Ukraine.
The private army, which had been fighting for Russia since the invasion of Ukraine, vowed to topple Vladimir Putin.
However, less than 24 hours after the uprising began, Prigozhin said the fighters would return to base, citing the risk of blood being spilled.
Putin had earlier described the militia's mutiny as a "stab in the back", adding that measures taken by Russia to address the situation would be brutal.
In the latest development, Peskov, who did not offer much details on the deal, said the charges brought against the Wagner leader by the federal security service had been dropped.
"You will ask me what will happen to Prigozhin personally? The criminal case will be dropped against him. He himself will go to Belarus," the spokesperson said.
Volodymyr Zelenskyy, president of Ukraine, had said the rebellion of Wagner Group revealed the "full-scale weakness" of the Kremlin.
Just In: Many Children Stabbed By Syrian Asylum Seeker In France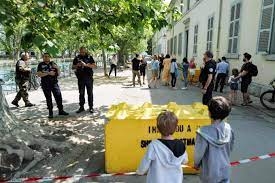 Several children have been stabbed in an attack in a park near Lake Annecy, in France's south-east, the interior minister says.
A man with a knife stabbed several very young children, including at least one in a stroller, and also assaulted adults in a lakeside park in the French Alps on Thursday.
The savagery left at least two children and one adult with life-threatening injuries, authorities said.
Gerald Darmanin confirmed the perpetrator, identified by police as a 31-year-old Syrian asylum-seeker, had been arrested and detained by police.
Regional deputy Antoine Armand described the attack as "abominable" and said authorities were investigating.
The French prime minister, Élisabeth Borne, is on her way to the scene.
Details shortly….