ADEDUNTAN SUSTAINS HIS WINNING STREAK, PIONEERS LEADERSHIP EXCELLENCE IN BANKING
Since his appointment as MD/CEO of First Bank of Nigeria Limited in 2016, Dr. Adesola Adeduntan has completely transformed the financial institution and has made it attractive to every strata of the society.
From an institution that used to be perceived as an old-generation bank, FirstBank is now a darling to all as it leverages latest digital tools to meet its customers' needs.
Also, under Adeduntan's leadership, the 128-year old bank has made huge contributions to national development, thereby stimulating development, setting standards and motivating excellent output across sectors.
Clearly, these contributions to national development were what endeared Adeduntan to President Muhammadu Buhari who recently saluted him on his recognition by Cranfield University, UK, one of the most prestigious citadels of learning in Europe.
Adeduntan will on Wednesday, June 22, be conferred with Doctor of Science, Honoris Causa and he would be delivering an address to the graduating class of the university. This feat, the president in a statement by his Special Adviser (Media and Publicity), Femi Adesina, described as, "another testament to the fact that Nigeria is blessed with the brightest and the best in all areas of human endeavor." Buhari lauded Adeduntan for being a role model to the younger generation, showing that hard work pays, and with resourcefulness and doggedness, great heights are achievable.
Adeduntan holds a Doctor of Veterinary Medicine from the University of Ibadan, Master's in Business Administration from Cranfield University, and is Fellow of Institute of Chartered Accountants of Nigeria (ICAN), as well as Chartered Institute of Bankers of Nigeria (CIBN).
The president sent best wishes to Adeduntan and family as he hoisted Nigeria's flag proudly to receive an honor Cranfield University said was in recognition of his outstanding contribution to business. Incidentally, Buhari's commendation came on the day the bank successfully held its AGM which showed a stellar performance in its financials, a transformational result that put the bank on course to reclaiming its leadership position of the financial sector.
Adeduntan has a distinguished career in finance having held senior positions at Citibank Nigeria, KPMG and Arthur Andersen Nigeria. He studied at Cranfield University as a British Chevening Scholar, achieving an MBA in 2005.
Commenting on the honour by Cranfield University, the FirstBank boss said: "I am extremely humbled and most grateful to the university for this recognition. My time at Cranfield served as a catalyst for my professional and personal development propelling me to the leadership position I occupy today.
"I am a firm believer in talent management, being vital to further accelerate Africa's growth to enable it to benefit from its demographic dividend and the opportunities therein. I look forward to sharing my experiences with the students on the universal applicability of the skills the Cranfield MBA provides to positively impact the world."
On his part, the Chief Executive and Vice-Chancellor of Cranfield University, Professor Karen Holford CBE FREng also congratulated Adeduntan, saying: "It is an honour to welcome Dr Adeduntan back to Cranfield to recognise all his professional achievements in this way. His own experience at Cranfield University has propelled his career forward and this serves as a true inspiration for our graduates both this year and in the future."
Indeed, Adeduntan is an accomplished professional with distinctive international and domestic experience in commercial and investment banking, development finance, audit, and consulting; a philanthropist and leader with keen interest in providing platforms for the development of other young leaders.
The FirstBank Group, the commercial banking arm of FBN Holdings Plc, which he heads is made up of First Bank of Nigeria and subsidiaries including FBNBank UK, FBNBank DRC, FBNBank Ghana, FBNBank Senegal, FBNBank Guinea, FBNBank Gambia, FBNBank Sierra Leone and First Pension Custodian as well as Representative Offices in France and China.
Adeduntan is overseeing one of the most extensive transformation programmes in sub-Saharan African financial services industry, with the goal to reposition FirstBank Group to market pre-eminence.
He is leading FirstBank Group on the journey to win the most significant emerging business opportunities in the financial services industry through the development and execution of a digital-led strategy that has established FirstBank as the dominant player in digital banking.
FirstBank Group's transformation programme, under the leadership of Adeduntan has enabled the bank to grow customer accounts from about 10 million in 2015 to over 36 million (including digital wallets), become the second largest issuer of cards in Africa with over 11.8 million issued cards, onboard over 18.6 million active customers on FirstBank's digital banking platforms, and initiate and grow the most expansive bank-led Agent Banking Network in Africa with over 170,000 agents.
His career in banking and finance, spanning almost three decades, has earned him various recognitions and awards including Forbes Best of Africa – Outstanding Leader in Africa, Distinguished Alumnus Award by both the Cranfield University's  School of Management and the University of Ibadan, African Banking Personality of the Year,  African Banker of the Year Award; Banking Icon of the Decade by the Sun Newspapers and induction into the African Leadership Magazine (ALM) Hall of Fame, Honorary Citizenship of the State of Georgia and Congressional Commendation Award from the Georgia Senate – USA, Bank CEO of the Year by the AES Excellence Club and several other awards.
He has attended various executive and leadership programmes at Harvard Business School (USA), Wharton School (USA), London Business School (UK), IESE (Spain), University of Oxford (UK), University of Cambridge (UK), CEIBS (China) and INSEAD (France). He is a fellow of both the Institute of Chartered Accountants of Nigeria (ICAN) and the Chartered Institute of Bankers of Nigeria (CIBN).
Adeduntan's leadership drive also reflected in First Bank Nigeria Limited's recently released full year 2021 financial statement. The results clearly showed the strength and resilience of the iconic African elephant as well as the financial institution's leadership in the industry.
The impressive results were a reflection of the robust strength and growth of the iconic African elephant, showing that the bank has taken its rightful position among the industry leaders.
In addition, it showed the level of work the current board, management and staff of the bank have put in to turn the tide in the 128 years old institution with entrenched corporate governance.
The full year 2021 performance by the bank represented a shift in the financial institution's performance trajectory and was made possible through its undeterred commitment in pursuing its transformational agenda; cutting across customer-led innovation, building a digitalised bank, culture change, reinventing the bank's workplace and safeguarding its assets for the digital age.
For the first time, FirstBank Group posted the best result in more than a decade history of the bank by crossing the N100 billion profit line. Specifically, in the full year 2021 financial statement, the FirstBank Group reported a 73.9 per cent growth in its profit after tax to N117.8 billion, as against the N67.8 billion recorded as of December 2020, just as its profit before tax stood at N130.9 billion, which was a significant rise by 77.9 per cent year-on-year, as against the N73.6 billion it was as of December 2020.
FirstBank's gross earnings also increased by 30.3 per cent to N716.8 billion in 2021, up from N550.3 billion it was as of December 2020. Also, it recorded non-interest income of N342.2 billion in the year under review, which was 106.4 per cent higher than the N165.8 billion recorded as of December 2020.
As a result of years of strategic restructuring of its balance sheet and operations, its gross earnings also moved northwards by 30.3 per cent, its total assets was up 15.9 per cent to N8.5 trillion as of the end of 2021, as against the N7.4 trillion recorded the previous year, just as its customer deposits also climbed by 19.5 per cent to N5.6 trillion, up from the N4.7 trillion recorded the previous year.
The bank's customer loans and advances also improved by 28 per cent to N2.8 trillion in the year under review, up from N2.2 trillion the previous year.
FirstBank has shown innovation, resilience and commitment to growth by significantly reducing its non-performing loans (NPL) from 25% in 2016 to an acceptable level of 6.1% in 2021.
To demonstrate that the bank's performance in 2021 was not a fluke, the Bank equally performed excellently well in Q1 2022. FirstBank recorded 32% increase in gross earnings to N180bn in Q1'22 from N136.6bn in Q1'21. Profit after tax was up 108% to N32.4 billion (Q1'22) relative to N15.6 billion (Q1'21).
This impressive performance is hinged on robust loan portfolio, effective cost structure and increased digital services. FirstBank recorded the highest decline in its cost-to-income ratio in Q1 2022, dropping from 79.5% recorded in Q1 2021 to 67.03% amongst tier-1 Banks in the review period.
With FirstBank under Adeduntan, the safety of customers and the security of their transactions come first. This has ensured the bank keeps the trust of Nigerians gained over the many years of its enduring legacy of safety and security.
The bank also delivers unique and bespoke financial services solutions across all customer segments underpinned by its commitment to innovation and the customer experience.
It also leverages its strong investment banking capabilities to support clients in defining and executing innovative debt solutions as well as offer strategic advice at the highest level, arrange tailor-made financing structures, manage risk and ultimately help clients to realise their aspirations
Since its establishment in 1894, FirstBank has consistently built relationships with customers focusing on the fundamentals of good corporate governance, strong liquidity, optimised risk management and leadership.
Over the years, the bank has led the financing of private investment in infrastructure development in the Nigerian economy by playing key roles in the federal government's privatisation and commercialisation schemes. With its global reach, FirstBank provides prospective investors wishing to explore the vast business opportunities that are available in Nigeria, an internationally competitive world-class brand and a credible financial partner.
It is expected that the leadership excellence and recognitions accorded to Adeduntan would continue to reflect positively on the FirstBank brand and fundamentals of the bank so that the elephant will continue to stand 'gidigba.'
Naira Slumps To N950/$Dollar As FOREX Scarcity Worsens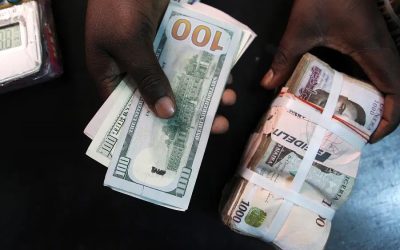 The naira fell further to the dollar on Wednesday after closing at 950/$ at the parallel market.
Bureau de Change operators who spoke to The PUNCH, said the naira which had earlier closed at 930/$ at the close of operations on Tuesday, was bought and sold at 935/$ and 950/$ on Wednesday.
At the Investor & Exporter forex window, the naira closed at 758.12/$ on Wednesday, from 742.10 on Tuesday, according to figures obtained from the FMDQ, the official trading platform.
A BDC operator, Yusuf Kareem, who spoke to The PUNCH said, "We commenced trading at 930/$ in the morning and it closed at 950/$ in the evening. The naira has been scarce; we don't know what is happening."
Another BDC operator, Sanusi Ibrahim, said, "the naira was bought and sold at 935/$ and 950/$ today. We don't know what will happen tomorrow."
External reserves fall by $915m after naira float
The Association of Bureaux De Change Operators of Nigeria, recently, urged the Central Bank of Nigeria to grant Bureaux De Change operators digital autonomy to achieve exchange rate convergence.
In a statement, the President, ABCON Dr. Aminu Gwadabe, called on the apex bank to grant a no objection approval for the BDCs to fully go digital on all their operational correspondences.
He said the move would promote rate convergence, curb volatility in the market and promote economic growth.
ABCON had in the past, led its members to achieve rate convergence in 2006, 2009, 2018 to 2020 before the outbreak of COVID-19 in 2020, he said.
Granting digital autonomy to the operators, he noted, would lead to a true market rate discovery, enhance the achievement of the Federal Government harmonised foreign exchange rate policies, and promote effective monitoring of BDCs' transactions for statutory and regulatory requirement.
Polaris Bank Partners EAS, Funds Training of over 1000 Nigerian SMEs on Export to US, Europe
…Provides local funding for stock purchase
Polaris Bank, in its show of commitment towards empowerment of Small and Medium-sized Enterprises (SMEs), is pleased to announce a strategic partnership with Export and Sell (EAS), a renowned expert in export solutions, to train and subsequently fund over 1,000 successful SMEs on export opportunities to the USA via Amazon and other international platforms.
Polaris Bank is leveraging the expertise of EAS as an intermediary between Online and African Stores in the US, UK and Nigerian businesses, for supply of Raw foodstuffs and other items from Nigeria. With a focus on e-commerce sales through Amazon, the training provides in-depth exposure to Nigerian SMEs on export opportunities and sales expansion into the American market. The training will provide an opportunity to educate SMEs on how to find buyers and how to meet specifications for export, especially into the US market.
The training programme is slated to commence in October 3, 2023 as a hybrid model, with in-person sessions slated to hold in Port Harcourt, Abuja and Lagos. Subsequently intensive sessions will hold for four days with over 1000 successful SMEs; many of whom could access facilities of up to ₦20m for SMEs and ₦1billion for large corporate.
This collaboration aims to equip SMEs with the knowledge and tools required to successfully export their products.
In today's global marketplace, SMEs face unique challenges, including, access to financing, shipping, product registration and finding buyers for their business. Polaris Bank recognizes the importance of fostering economic growth by supporting SMEs, as the backbone of the Nigerian economy. Through the partnership with EAS, Polaris Bank is taking a significant step towards fulfilling its commitment to SME growth and development in Nigeria.
The partnership and training programme, will provide SMEs with a comprehensive understanding of onboarding on Amazon and exporting successfully to the USA, with insights on export credit insurance and risk mitigation strategies. Participants will gain insights into available funding windows provided by Polaris Bank as well as be equipped on how to leverage them effectively.
The training sessions will be led by industry experts from both Polaris Bank and EAS, ensuring that participants receive the highest quality education and guidance.
Commenting on the Export and Sell Business Model, Polaris Bank's Group Head, Products & Market Development, Adebimpe Ihekuna expressed enthusiasm for the partnership, stating, "At Polaris Bank, we understand the pivotal role SMEs play in driving economic growth. Through our collaboration with EAS, we aim to empower SMEs with the knowledge and tools necessary to access export financing opportunities and compete effectively on the global stage. This partnership underscores Polaris Bank's commitment to SME development and Nigeria's economic prosperity."
A BusinessDay news article published on March 23, 2023, quoting Nigerian Bureau of Statistics (NBS) indicated that a total of N598.2billion worth of agricultural produce were exported in 2022, accounting for 18.5 percent increase when compared to the figure recorded in 2021.
Polaris Bank was adjudged Digital Bank of the Year in 2021 and 2022 by Business Day's Banks and Other Financial Institutions (BAFI) Awards. It also emerged as the best MSME Bank because of its ability to use technology to enable bottom-up support to the MSME sector.
LP Knew Obi Lost 2023 Polls, Says Soyinka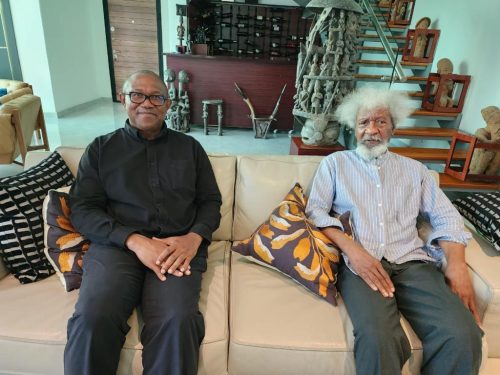 Nobel laureate Prof Wole Soyinka said yesterday that Labour Party (LP) knew its candidate February 25 presidential poll did not win.
The literary giant accused the LP leadership of trying to force "a lie" on Nigerians, especially youths, that Obi won the election.
According to a report published by The Cable, he spoke at an event titled: "The Lives of Wole Soyinka — A Dialogue". The programme organised by "Africa in the World" took place yesterday in Stellenbosch, South Africa.
Soyinka, who was asked to react to his comment against Datti Baba-Ahmed, Obi's running mate, after the general election, said the truth matters to him. He noted that many people always look for shortcuts.
According to him, he was armed with facts when he invaded a radio station in Ibadan in 1965 and not "relying on "third-hand information" about the result of the regional election.
Accusing the LP of taking over the organised Labour movement in the build-up to the election, he noted that Obi achieved "something remarkable" by breaking the monopoly of power established by the All Progressives Congress (APC) and the Peoples Democratic Party (PDP).
He said: "This recent election – two things happened first of all. One party took over the Labour movement, which is not my favourite movement, and then it became a regional party.
"Whereas it was a marvellous breach into the established two camps. Peter Obi achieved something remarkable there, that he broke that mould. However, he did not win the election.
"I can say categorically that Peter Obi's party came third not even second and the leadership knew it but they want to do what we call in Yoruba 'gbajue', that is force of lies."
Soyinka also alleged that the LP leadership attempted to mobilise young people to protest against the outcome of the election on the "banner of lies and deceit".
He said: "They were going to send some of the hardliners, proud young people into the street to demonstrate. I'm also ready to be among such demonstrators but only on the banner of truth not on lies, and deceit."
Soyinka alleged that the LP wanted a post-election violence on the basis of a lie, adding that its vice presidential candidate went on television boasting, insisting, threatening and trying to intimidate both the judiciary and the rest.
He said: "What kind of government will result from that kind of conduct? In addition, they did not know this but they were being used.
"Before the election, there were certain clandestine forces, including some ex-generals, who were already calling for an interim government before the elections began.
"Some of them were known figures, including a proprietor of a university calling for an interim government before the election took place."