EFCC: Yahoo Boys On The Prowl In Abuja Satellite Towns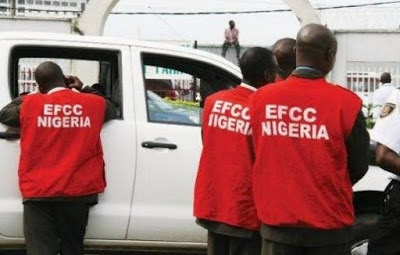 The activities of internet fraudsters, popularly known as 'Yahoo' in Nigeria is now on the sharp increase in Nigeria's satellite towns.
Before the Economic and Financial Crimes Commission, EFCC, began clamping down on them, the fraudsters had taken over major cities in the country, boastfully spending and intimidating neighbours with their ill-gotten wealth.
Foreigners have stereotyped Nigerians as fraudsters and put the country on the red list, while innocent citizens have to go through a lot to gain the trust of investors.
But, with many people becoming aware of the tactics of these internet fraudsters, they have now resorted to the more dangerous and more sophisticated Yahoo Plus.
This entails the use of metaphysical powers to compel victims to do their bidding. It requires diabolical rituals such as human sacrifice.
The fast money seekers would also be made to go through bathing with some sort of spiritual soaps, sleeping in coffins, bathing in burial grounds, market square, acting mad in public places for a while, having sexual intercourse with a mad person or even eating faeces to become rich.
The Federal Capital Territory, FCT, Abuja city centre, the Central Business District and other places such as Wuse, Garki, Asokoro and Maitama, had been a safe haven for these diabolical fraudsters.
And a lot of girls have fallen victim to this as most of them are used for ritual, especially by their boyfriends with their bodies dumped in different canals or roadsides, while some others suddenly run mad.
An investigation by DAILY POST shows that these criminals, majority of whom are youths, are now relocating to satellite towns in the FCT, where they consider safe for their crimes.
One of those incidents of display of arrogance by these boys was when over 40 of them, clad in white garments, stormed Abuja and attempted to breach the security of the popular estates back in February.
The fraudsters came in a convoy of 15 cars, carrying over 40 people, all clad in white around 2:30 a.m.
A security personnel narrated that they became aggressive, as they attempted to forcibly penetrate the estate.
Just recently, over 30 internet fraudsters were arrested and paraded by the EFCC in Abuja.
The Abuja Zonal Command of the EFCC said that the suspects were arrested on Tuesday, June 14, 2022, in Lugbe and Kubwa suburbs of Abuja, following credible intelligence on their alleged internet fraud activities.
The suspects include: Obazee Destiny, Oloton Kenneth, Emmanuel Patrick, Cobirevwhe Lucky, Wisdom Chinedu Okeke, Emmanuel Obiajulu Okafor, Chime Gabriel, Uchime Gabriel, Usenbor Aghosa Austin, Precious Osayi, Salman Abdullahi, Iseri Ochuko and Okator Emeka
Others are Usehbor Eghosa Auhin, Chime Gabriel Onyebuchi, Amas Randy Ehingiator, Osabee Jerry Olabor, Wisdom Usenbor, Etaga Uyuoma, Perokri Destiny, Chime Stephen, Eneome Daniel, Eneh Chukwuemeka, Kennet Okoduwa, Eze Nwaennezie Samuel, Igbinomwanhia Esosa, Igbinomwanhia Miracle, Olajiar Victor, Ekeainya Confidence, Akpa Anthony Somtochukwu and Abubakar Mohammed.
Items recovered from them include Mercedes Benz, Lexus and Toyota cars, mobile phones and laptop computers.
And the anti-graft agency said they will be charged to court as soon as the investigation is concluded
According to DAILY POST, there is a mass relocation of these criminals from the city centre to satellite towns such as the Dutse, Kubwa, Ushafa, Bwari and Gwarinpa, while others find safety in towns along the Airport Road, such as Lugbe, among others.
Many Nigerians believe that the EFCC is doing more in their efforts to clamp down on fraudsters than they are doing in bringing corrupt politicians and public office holders to book.
There are almost daily reports of EFCC arresting these fraudsters with the majority of them in city centres of Lagos, Abuja, Port Harcourt, Enugu and other cities across the country.
And on this, an official of the EFCC, who would not want to be mentioned on the ground that he is not permitted to speak, said, "Well, in this country of ours, people will complain when you fail to do your work and make discouraging comments when you perfectly carry out your duty. EFCC is one Commission whose officials don't listen to side talks. We are focused on the job of purging the society of financial and economic crimes, be it perpetrated by politicians or anybody else.
"EFCC has been arresting politicians but we do not carry out arrests without carrying out investigations and obtaining viable reasons. You can recall the recent arrest and detention of a former Anambra State Governor and a serving Senator from Imo State. There are many such politicians on the EFCC list, some of them are evading arrest but nobody is bigger than Nigerian laws. So it's wrong, I mean, out of point, to say that the EFCC is only chasing Yahoo boys. Please, that notion is wrong."
Asked what he makes of the relocation of Yahoo boys from city centres to satellite towns, the Deputy Public Relations officer of the FCT Police Command, ASP Oduniyi Omotayo, said it was not the duty of the police to check who is relocating from one town to another unless such person or group has been reported for a crime.
"And if you see any one committing or to be found to have committed a crime, report such a person. That is where the police come in. We cannot be monitoring people relocating to other places when there's freedom of movement," he said.
A lifeless body of a yet-to-be-identified young lady was recently found around PW Bridge in Kubwa, Bwari Area Council Abuja.
Residents said the body of the victim was cut into pieces, packed in a bag and dumped at a river bank in the area.
Asked if this could be linked to Yahoo Plus, ASP Omotayo, said that "Investigations are still ongoing", adding that though it could be associated with ritual killing, it cannot be connected to any group until investigations are concluded.
On why these fraudsters are now relocating to satellite towns, the EFCC official added, "When you live in big mansions in Asokoro, Maitama, Wuse, Garki and other such areas in Abuja, some people, maybe your neighbours would ask questions. With the way Nigeria is today and with stories being heard, people would want to know your occupation and for how long will you continue to lie and deceive them.
"It is right to say that the majority of these Yahoo boys are now living in these satellite towns. We have intelligence on their activities and our recent arrests can tell you. But no matter where they are, as long as they are in Nigeria, they will not find a safe haven.
"Abuja is different from Lagos. But that is not to say that they are comfortable in Lagos. But they are very easily identified here in Abuja. Here in Abuja, people will easily ask questions by the time you drive luxury cars and live flamboyant lifestyles and this is the major reason they've now relocated to Kubwa, Ushafa, Bwari, Kubwa and other towns. But it's just a matter of time."
Japa, If You Think Migrating Legally Is Good For You, By All Means — Presidency
The presidency has urged Nigerians who think that migrating legally is good for them to take the sh@t, by all means.
Presidential aide, Femi Adesina, said this during a chat with Channel Television, on Sunday, November 27.
According to him, "The average Nigerian had always wanted to leave. And it is not just in Nigeria. It is in most countries of the world, particularly in the third world.
They always believe that it is greener on the other side. You see, the truth is that if you have an opportunity to better yourself in any part of the world, there is nothing wrong with it. If you think migrating legally is good for you, all well and good. By all means, go!
But you cannot now say that because people are leaving, then it is a sign that something is fundamentally wrong. There are Nigerians who would never leave the country no matter how things are".
Fani-Kayode Reveals Those Trying To Kill Tinubu, Issues Fresh Warning
A former Minister of Aviation, Femi Fani-Kayode has come out to say the people seeking to kill the presidential candidate of the All Progressives Congress (APC), Bola Tinubu, knows themselves, but they won't succeed.
JomogNews Nigeria reports that Fani-Kayode, who is an APC chieftain, took to micro blogging platform, Twitter to declare that no opposition can kill the party's flag bearer before, during, and after the presidential election.
He warned that it would be better for all those that harbour such thoughts know that it won't succeed.
The APC chieftain's reaction follows an allegation by Tinubu on Saturday in Lagos State that no one can kill him either before, during or after the forthcoming general election.
Tinubu, at a recent rally in support of his presidential bid, organised by the Lagos State government, at Teslim Balogun Stadium, Surulere, assured his supporters that, "I cannot be killed," while urging them to get their Permanent Voters' Card (PVC) to vote him into power.
He had also at the rally attacked his Peoples Democratic Party (PDP) counterpart, Atiku Abubakar, while urging electorates in the state to once again reject the "selfish Atiku Abubakar, who has been running for the Presidency since 1999."
JomogNews gathered that Fani-Kayode however said in his post that God has affirmed that Tinubu can't be killed, or cut short, so the people behind such thought should rather accept God's faith.
He wrote : "No opponent can kill me – @officialABAT
"Let those that harbour such evil plans hear it loud and clear.
"YOU know who you are.
"The Jagaban, ekun omo Asabi, cannot be killed before, during or after the election.
"He cannot be cut short. God affirms it, know this and know peace."
Nigerian Tweeps knock Aisha Buhari, DSS Over Aminu Adamu's Arrest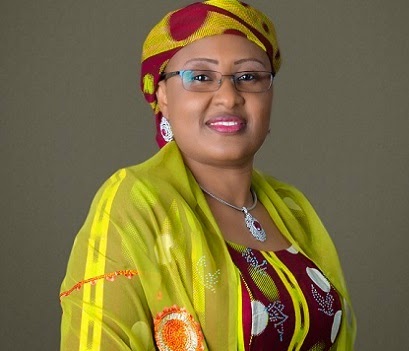 First Lady, Aisha Buhari and the Department of State Services (DSS) are facing criticism over the arrest of a young Nigerian after a remark on Twitter.
Aminu Adamu, a student of the Federal University, Dutse, Jigawa State, is in detention for commenting on Aisha's weight.
In June 2022, the undergraduate tweeted "Su mama anchi kudin talkawa ankoshi" (The mother has got fatter by eating masses' money).
The post, which suggests President Muhammadu Buhari's wife benefited from alleged corrupt practices, generated many reactions.
Aminu's friends said the tweet was in protest of the eight-month strike by the Academic Staff Union of Universities (ASUU).
The industrial action infuriated thousands of students so much that they made comments, videos, and organised rallies against the government.
After the revelation of Aminu's ordeal by Peoples Gazette, Nigerians are clamouring for his immediate trial or release.
The 23-year-old, arrested within campus around 12 noon on November 8, was only allowed to speak to his father, Shalele Azare Adamu.
As of Sunday night, Aisha Buhari was trending on Twitter with more than 60,000 mentions as users mount pressure on the authorities to free the student.
Legal practitioner, Inibehe Effiong said it is petty, ridiculous and unconstitutional for the DSS to hold a citizen for "mockery".
Effiong insists Nigeria is not Iran, North Korea or China and vowed that reckless abuse of power will not be tolerated.
The rights activist stated that Mrs Aisha Buhari should have taken Muhammed to court for libel if she felt defamed.
Effiong said using the secret police to detain a youth "is another evidence of the culture of crass impunity that pervades the Buhari regime".
"It is not acceptable to deploy state apparatus in such a draconian and oppressive manner the way Mrs Aisha Buhari has done to settle personal scores. The DSS has no jurisdiction in this case", he added,
In one of his several reactions on the matter, Investigative Reporter, David Hundeyin quoted a 2013 tweet by the APC United Kingdom verified account.
"Death notice (2) Survived by GEJ (Ex-President Goodluck Jonathan), Shepopotamus (Alleged reference to Patience Jonathan)…Funeral to be held at Aso Rock. No sycophants or flowers please", it reads.
Noting that the tweet was about a sitting First Lady, David wrote: "The sky did not fall down. So please entirely miss me with anything you have to say. Aisha Buhari's bullying has not even started."
@SadiqMaunde: "They arrested Aminu for trolling Aisha Buhari, now thousands of Aminus emerged on Twitter. Nigerians are really uniting against their oppressors, may we carry the same anger to the polls."
@AishaYesufu: "Who is Aisha Buhari that an aggrieved citizen cannot talk about? Those of you talking about her so called powers need to ask yourselves whether you are citizens or slaves."
@Oluomoofderby: "Aisha Buhari can use the DSS to arrest someone who insulted her but the DSS can't arrest the people who stoned and burnt Deborah Samuel to death. Deborah's killers are walking free in Sokoto state. Nigeria is a lawless country."
@firstladyship: "Aisha Buhari did not spare Aminu because he is Arewa, she sent the DSS to arrest him. What we are fighting against are the old guards who are united. 2023 is a class war between the political class & ordinary Nigerians."