Sylvester Oromoni: Doctor Makes Fresh Revelation On Late Dowen College's Student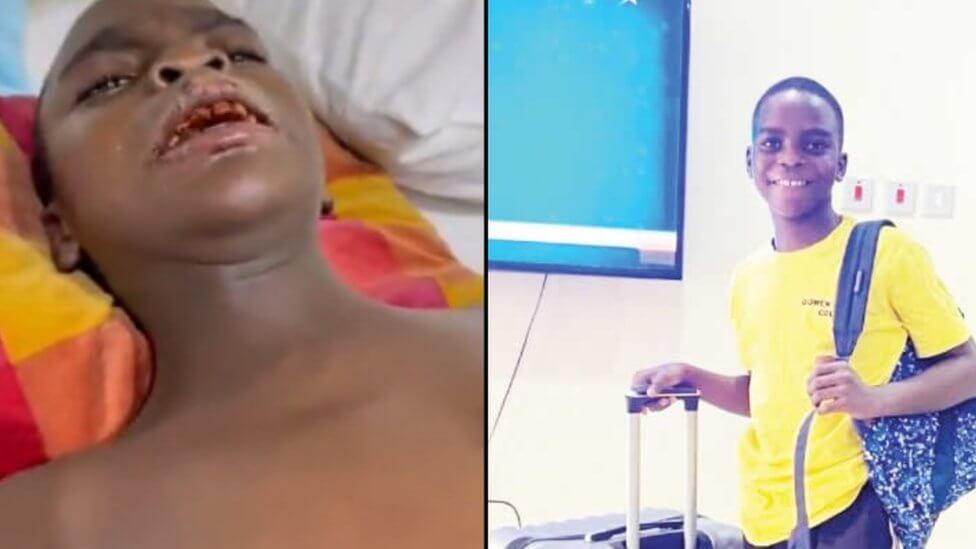 A medical doctor at Dowen College, Dr. Mojisola Bisiriyu, on Tuesday, told an Ikeja Corona's Court that no medical test was conducted on the late student of the school, Sylvester Oromoni before he was taken home on health grounds.
Bisiriyu, the resident doctor at Dowen College, qualified as a medical doctor in 2007.
She told the court that he had been working with the school for five years.
The News Agency of Nigeria (NAN) reports that Bisiriyu made the disclosure while being cross-examined by counsel to Oromoni Family, Mr. Femi Falana (SAN).
"No test was conducted on him because, from my assessment, the deceased's case warranted not taking him to the hospital.
"The school policy states that parents must be informed whenever their children are sick because some parents have specific hospitals they want to take their children to.
"We only refer serious cases to the school hospital, which is Lifeline Children Hospital in Lekki, Lagos, and it is a three-minute drive from the school.
"I did not refer the deceased to the school hospital because his case was not an emergency one," she said.
Bisiriyu, who said her job was to attend to the medical needs of the students and alert parents if need be, testified that the deceased had pains on his right thigh.
"The deceased came to the sickbay with leg pain. I have my office at the sickbay and I saw the deceased on Nov. 22, 2021, after I had gone for a COVID-19 routine checkup.
"His leg was massaged on my instruction by a nurse. On Nov. 23, 2021, he told me he still had pain on his right thigh."
She, however, said that when she saw the student being assisted by his guardian into a car to go home, she advised that he should be taken to a hospital.
"However, I did not give them a referral note to another hospital," she said.
Questioning Bisiriyu further, Falana said, "Dr. Soyemi, a pathologist, said that all the deceased needed was a dose of antibiotics and he would be fine.
"Why didn't you apply antibiotics on the deceased?"
Responding, Bisiriyu said: "As a medical doctor, you do not go ahead administering antibiotics without a proper checkup.
"In this instance, there was no temperature, no fever. We are not a hospital and we are not allowed to run tests," she said.
The doctor said that she was unaware of the allegation that the deceased had a twisted tongue in April 2021 and had to be taken home from the school.
The witness also said that she did not notice any scalding of the student's lips on Nov. 23, 2021.
The Coroner, Mr. Mikhail Kadiri, adjourned proceedings until Feb. 28 for a continuation of the hearing.
Recall that it was alleged by the Oromoni family that the 12-year-old student died on Nov. 30, 2021, from injuries sustained in an attack by five senior students of Dowen College for refusing to join a cult.
It was also alleged that he was forced to drink a substance by his attacker
Why NLC, TUC Must Protect Nigeria's Democracy – Obasa
The survival of Nigeria's democracy should be a key focus of the Nigeria Labour Congress (NLC) and its affiliates, the Speaker of the Lagos State House of Assembly, Rt. Hon. Mudashiru Obasa, has said.
Dr. Obasa gave the charge Thursday at the 2022 Independence Day Anniversary Lecture with the theme 'Nigeria in search for an enduring political structure: imperative of structural reform' held at the NLC Ogun State headquarters.
According to him, Nigeria can only advance positively if the various unions and individuals play roles to keep the country's democracy thriving.
The Speaker, who was chairman of the event, said that the country is seen as practising democracy because there are legislative arms of government in place both at the national and sub-national levels.
He, however, lamented the attempts by some individuals in position of authority to 'pocket' these lawmaking arms of States citing how, in some instances, principal officers of Houses of Assembly are removed at the whims and caprices of single individuals in authority.
"It is hightime we all rose to protect Nigeria's political institution, the parliament. We have seen cases where the civil society looked away while democracy faces danger from some individuals.
"We have seen cases where the parliament was closed and where a governor carried inauguration of legislature by midnight.
"When you have a legislature that is answerable to a single person, you can't progress or meet collective goals or say we are practising democracy. We have heard of a state that already has four Speakers in less than four years.
"It is also surprising that even among the elite, you find that there are some people who do not know their representatives at the parliament. Yet, these parliamentarians make the laws that guide their activities and actions.
"As a union, our concern should not be about where we work, our salaries and welfare alone; we should also protect our institutions. I am not saying you should be partisan, but at least, play a role in guiding our democracy.
"In that way, it would be difficult for individuals to determine how the parliament, which is the true symbol of democracy, should operate," Obasa said.
In his short remark, Rt. Hon. Olakunle Oluomo, Speaker of Ogun State House of Assembly, noted that Nigeria simply practises civil rule and not democracy.
"If you have a vibrant legislature, you have democracy," he said.
In his address, Comrade Abinbola Bankole, chairman of the NLC in Ogun State, said though Nigeria faces many challenges, "as a labour movement, it is our considered opinion that blame-game shall take us nowhere as a people."
He said if Nigeria must work, citizens must be interested in how their country is governed.
Guest lecturer at the event, Chief Mike Ozekhomhe (SAN), noted that the problems with Nigeria are fundamental and systemic. He suggested a new constitution for the country.
"No president who rules Nigeria will do well. Until we do serious structural adjustment or realignments, none of those who would rule Nigeria can make any spectacular difference," Ozekhomhe said while expressing optimism that Nigeria will be successful again.
On his part, Nafiu Aiyedun, Ogun State Head of Service, who represented Governor Dapo Abiodun, promised that the government would continue to focus on the welfare of workers.
Soludo reacts to killing of soldiers in Anambra, assures arrest of perpetrators
Anambra State Governor, Prof. Charles Soludo has decried Wednesday's deadly attack on personnel of the Nigerian Army.
JOMOGNEWS NIGERIA had reported how the so-called 'Unknown Gunmen' terrorising Anambra State and major parts of Nigeria's southeast region attacked and killed five soldiers in Orumba South Local Government Area (LGA).
Among the causalities is a civilian.
According to the governor, from this point on, "these people must surely pay for this heinous and repulsive attack".
"We condemn this wicked and cruel attack in the strongest terms. The perpetrators of this act must pay," Prof. Soludo said, as quoted in a statement signed by Christian Aburime, his spokesman.
"We are not going to rest on our oars, including those people that attacked Senator Ifeanyi Ubah and the rest. There will be absolutely no hiding place for them," Soludo added.
"Going forward, our actions will show, as these people must surely pay for this heinous and repulsive attack."
Over 20 Persons Burnt To Death As Explosion Rocks Kogi
No fewer than 20 persons were burnt to death on a bridge at Maboro River, in Ankpa Local Government Area of Kogi State, on Wednesday in an explosion of a petrol-laden tanker.
The incident occurred when the tanker lost control and fell on the bridge at about 3.30pm on Wednesday.
Kogi State FRSC Sector Commander, Stephen Dawulung, who confirmed the incident, said the casualty could not be ascertained as at press time.
"'My boys are there, putting the pieces together. We don't know the number of dead yet. A tanker, two buses and two motorcycles were involved", he said.
A resident of the area, Usman Ahmed, who witnessed the unfortunate incident, told Daily Trust that several persons were in the river when the tanker exploded.
He said, "Nobody knows the number of dead people now. Many People were in the river doing one thing or the other when the tanker lost control, fell and exploded on the bridge".