Police Arrest Suspect Over Disappearance Of 35-year-old Woman In Lagos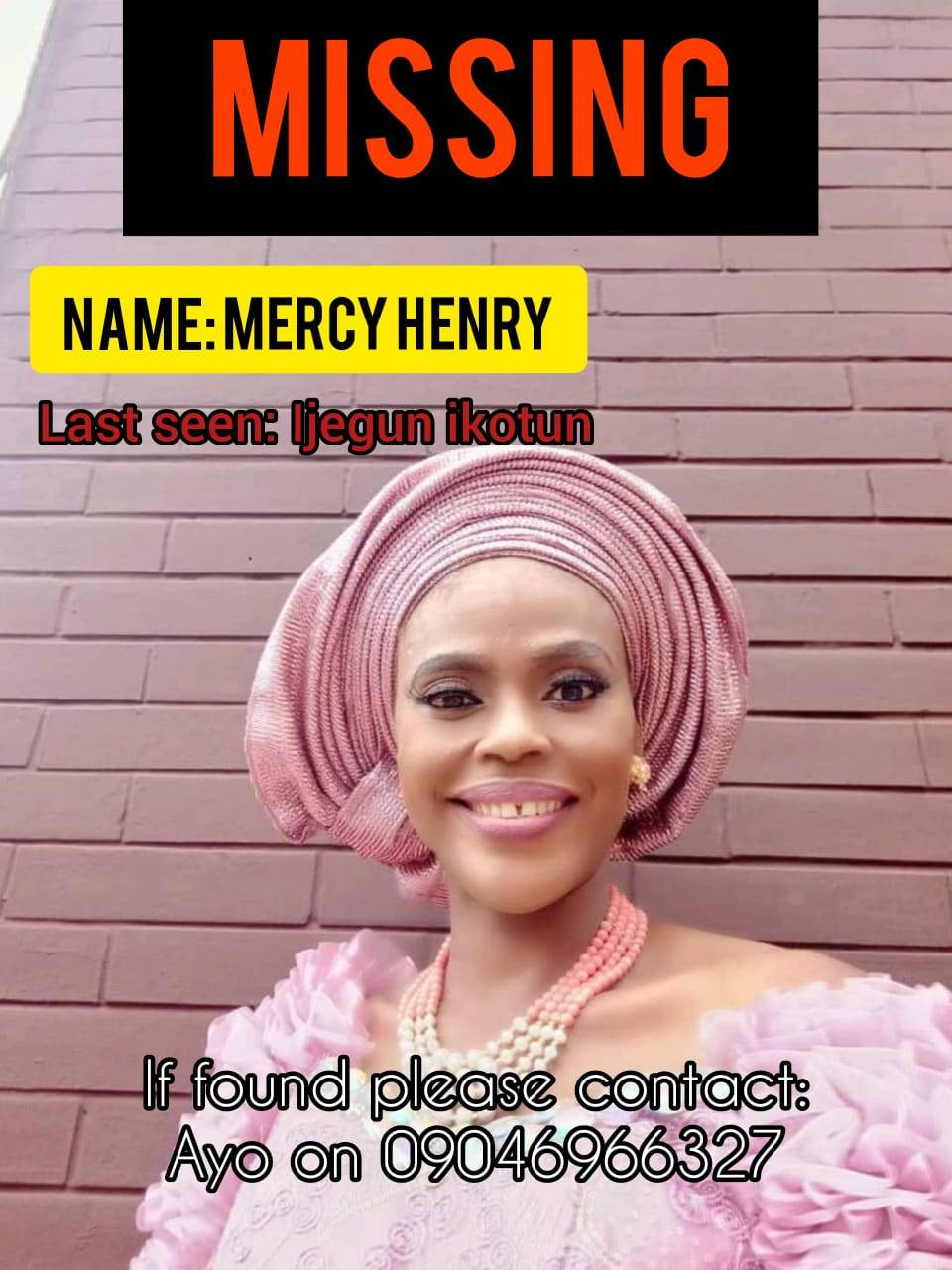 The police has arrested a suspect in connection with the disappearance of Mercy Henry, a 35-year-old mother of two, a month ago in Lagos.
According to the woman's father, Pa Henry Ekienabor,70, Mercy had told her family she was going to Ijegun, a suburb in Lagos State on December 16, 2021 and has since not been seen.
Speaking to the Guardian, Pa Ekienabor, who raised the alarm, said the family was apprehensive as the whereabouts of Mercy remains unknown.
He said not knowing whether Mercy is alive or dead was the most distressing for him and his family members.
Ekienabor, who said he has reported the matter to the police, was dissatisfied with the manner the police were handling the investigation.
He explained that although a suspect, Mayowa Timothy Bamidele, has been arrested and in police custody, he insisted that the police were not escalating the matter to the level he wanted. He also accused the police of handling Mayowa's interrogation with kid gloves.
"I feel frustrated and dejected because I have never experienced this type of situation in my life. It's been almost a month now and Mercy is nowhere to be found. We went round, called her friends and reported to the police. Police keep saying the investigation continues. We've gone to spiritual homes and we were told Mercy was being caged somewhere, but where? Nobody knows!" he said.
Recalling how Mercy disappeared, Ekienabor said: "On December 16, I got a call from my son that Mercy didn't return home to sleep. She had told everyone she was going to Ijegun, but she didn't mention the name of the person she was going to see. That same night, her siblings started calling all her friends, asking if they had heard or seen Mercy
"One of her friends residing at Port Harcourt, named Ayo, said that she spoke with Mercy at noon. She said that Mercy called, asking for a loan of N30, 000, that she needed it for treatment at a trado-medical home, that she was short of blood and getting leaner.
"Ayo told us that she paid the money into a First Bank account bearing the name, 'Mayowa Timothy Bamidele,' given to her by Mercy. The money landed in the account at 1:59pm and at 2:02p.m., Mercy's phone number stopped going. Since then, we've not been able to reach her."
The following day, the anxious family members dashed to Gowon Estate Police Station to make a formal complaint, declaring Mercy missing.
Using the information supplied by Ayo, the police went to First Bank and with the assistance of the Bank, Mayowa; the account holder that received the N30, 000, was arrested.
"Mr. Mayowa's story has too many discrepancies. He claimed to have seen Mercy four years ago when she came to his traditional birth centre to deliver a baby girl. But his phone history and chats showed that he and Mercy spoke on December 15 about 9:00p.m.
"Now, if you call her phone it would be switched off, but at night it would ring twice or thrice, then it would be switched off. It shows that someone is in possession of it. On December 24, we requested that the matter be transferred to the State Criminal Intelligence and Investigations Department (SCIID), Panti, Yaba," said Ekienabor.
Spokesperson of the Lagos State Police Command, Adekunle Ajisebutu, who confirmed the incident, said that a suspect has been arrested in connection with the disappearance of the woman.
"The case is still under intensive investigation at the SCIID. The Commissioner of Police, Hakeem Odumosu, has directed detectives handling the case to intensify efforts to trace the whereabouts of the woman. Meanwhile, a suspect has been arrested and is currently helping the Police detectives in their investigation." he stated.
Danish National Sentenced To Death For Killing Nigerian Wife, Daughter
A Lagos High Court on Friday sentenced a Dane, Peter Nielsen, to death by hanging for killing his Nigerian wife and daughter.
Justice Bolanle Okikiolu-Ighile convicted Nielsen, 54, on two counts of murder brought against him by the Lagos State Government.
The judge sentenced Nielsen to death by hanging on both counts.
The Dane was charged with the death of his wife and singer, Zainab and their three-year-old daughter, Petra.
Lagos State Government accused him of smothering Zainab and Petra to death at 3.45am at No. 4, Flat 17, Bella Vista Tower, Banana Island, Ikoyi, Lagos State.
Nielsen was arraigned on June 13, 2018.
He pleaded not guilty to the two-count charge of murder contrary to Section 223 of the Criminal Law of Lagos State, 2015.
Okada Ban: June 1 Deadline Won't Stop Enforcement — Lagos Govt
The seizure of commercial motorcycles by the Lagos State Task Force will continue, despite the June 1 deadline issued by Governor Babajide Sanwo-Olu for them to leave six Local Government Areas.
The six local governments are: Eti-Osa, Ikeja, Lagos Island, Lagos Mainland, Apapa and Surulere.
The deadline does not invalidate the provisions of the Lagos State Transport Sector Reform Law of 2018, which states that "no persons shall ride, drive or propel a motorcycle or tricycle on a major highway within the State, and any person in contravention of this provision commits an offence" and will be made to face the wrath of the law.
The Lagos State Task Force, led by CSP Shola Jejeloye, has continued to enforce the law. It seized 238 motorcycles in Lekki on Tuesday and Wednesday.
In Iba on Lagos-Badagry Expressway, where it was violently resisted today, the Task Force seized 195 motorcycles.
The riders were operating on highways and bridges in flagrant disobedience of the law because, according to them, they are free to ply unauthorized routes till June 1. This is wrong.
The February 1, 2020 directive has not been reversed. The enforcement was weakened by COVID-19, which affected all areas of life. Now, the action is being reinforced.
The government praises Lagosians who have come out to support the ban on commercial motorcycles in the six local government areas, which Governor Sanwo-Olu has described as the "first phase" of the action triggered by safety and security concerns.
Gbenga Omotoso
HC, Information and Strategy
Inside Multi-Billion Naira Properties Linked To Suspended AGF, Ahmed Idris (PHOTOS)
The Economic and Financial Crimes Commission (EFCC) says it has traced not less than 17 properties to Ahmed Idris, the suspended Accountant-General of the Federation, being detained over alleged N80 billion fraud.
The minister of finance and national planning, Zainab Ahmed, had on Wednesday, suspended Idris after following his arrest by the EFCC.
An official of the EFCC, who wished to remain anonymous, said the properties traced to Idris are located in Kano, Lagos, Abuja, Dubai and London.
He, however, said preliminary investigations showed that the nation's chief accountant allegedly used proxies to buy some of these properties. The commission would therefore need to invite some of the proxies of the accountant-general. The detective added that from all indications, these properties were purchased while Idris was in office and did not declare them before the Code of Conduct Bureau as stipulated by law.
"About 17 houses in London, Lagos, Kano, Abuja and Dubai have been traced to him. In Abuja, some of the houses are located in serviced estates," he said.
The EFCC had in a statement on Monday announced the arrest of the accountant-general for fraud to the tune of N80bn.
The statement read in part, "The commission's verified intelligence showed that the AGF raked off the funds through bogus consultancies and other illegal activities using proxies, family members and close associates. The funds were laundered through real estate investments in Kano and Abuja."
It was learnt that Idris came under scrutiny last year following allegations that he offered huge sums of money to a family in order to secure the marriage of their 16-year-old daughter.
This newspaper learnt that Mr Idris was still in EFCC custody as of the time of filing this report on Wednesday.
This newspaper also reliably gathered from sources with direct knowledge of the case that some assets believed to be proceeds of Mr Idris' alleged unlawful activities have been traced.
The sources, who asked not to be named because they had no permission to speak about the case in the press, provided photographs of a sprawling edifice located in Kano allegedly linked to Mr Idris.
Our reporter gathered that the agency has obtained a court order for the arrest of more suspects linked to the alleged crime.
Operatives refused to reveal the identities of the suspects in order not to jeopardise investigations.
An EFCC official said the legal department was already getting an order to remand the accountant-general and get an interim forfeiture on some of his properties pending the completion of investigations.