Osun 2022: Family At War As Governorship Ambition Tears Senator Ademola and Dele Adeleke Apart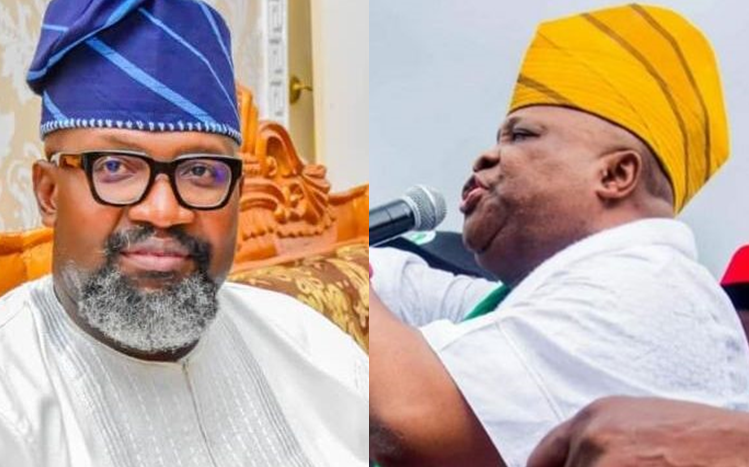 The ambition to run for the Osun governorship election has torn Osun's Adeleke family apart.
The members of the family — Senator Ademola Adeleke and Dele Adeleke — have been screened and cleared as aspirants for the Osun governorship election under the Peoples Democratic Party (PDP), DAILY POST reports.
The two family members were part of six governorship aspirants for the July 16 governorship election in Osun State cleared by Mohammed Adoke, the chairman of the party's screening committee.
However, there has been continuous hot disagreement within the family over the ambition of Dele, who served as Ademola's agent at the Independent National Electoral Commission (INEC) headquarters in Osun during the 2018 poll.
Dele's ambition was a rumour until he obtained expression and nomination form amounting to N21 million in December to officially join the Osun governorship race.
There has been open confrontations and verbal war between a member of the family, David Adeleke (Davido) and his cousin, Dele earlier this week.
Music superstar, Davido took to his verified Twitter handle on Tuesday to warn the people of Osun to be wary of Dele, saying, "Intellectual that has not succeeded in building one single thing in his life on his own. This life ehn!! Osun beware of FAKES! Dele."
His uncle — Ademola responded saying: "Don't worry nephew God got us #IMOLEDE #OSUN2022."
Again on Wednesday, Davido accused his cousin of sponsoring an article about him and mentioned the death of his mother which the singer sees as offensive and further threatened to expose his co-family member, Dele, to the Osun people.
In his response, Dele said Osun deserves the best. He divulged that he has been receiving death threats from Davido's fans since the open confrontation on Tuesday.
In his tweets on Wednesday, Dele said, "You are the king of social media & you know people take it upon themselves to write whatever they believe will give them clout. So many of your fans came to my SM handles to threaten me and some even asked me to go and die. Did you send them to threaten my life?.
"I seriously doubt it and I do not believe you will do such a thing. So, irrespective of politics, please note that I am not that kind of person; I have maintained decorum in the face of provocation and I will continue to do so.
"I respect your decision and choice to support Uncle Demola and that is the beauty of democracy. It is possible we can all make our individual choices without rancour and bitterness. We can all follow different paths and still live as one big, happy family."
The crisis has continued to generate reactions on social media.
Meanwhile, the PDP has scheduled the governorship primary election for March 7.
Yoruba Nation Joined To Referendum Case
PRESS RELEASE
Yoruba Nation has been joined to the case instituted by the Northern Elders as sought from the court by the Yoruba Nation Global Directorate at the Federal High Court sitting in Abuja.
The case with suit No FHC/ABJ/CS/538/2021 – _Nastura Asir Sharif v AG Federation v Princess Atayero Olamijulo & 3 Others_ was instituted by some Northern States elders asking the court to grant the Igbos right to conduct referendum and quit Nigeria. In a swift reaction, the Yoruba Nation Global Directorate acting through its Directorate Director, Princess Adeola Atayero Olamijulo, and three others filed an application for joinder on behalf of themselves and the entire Yoruba nation to enable the court to decide once and for all the vexed issue of referendum.
In the application, the lead counsel for Yoruba Nation Global Directorate's team of lawyers had argued that the Yoruba nation should be joined as co-defendants on the premise that the Yoruba have similar interests as the people of the Southeastern region in whose favour the plaintiffs sought for a constitutional referendum in order to decide for their rights to self-determination.
He argued further that the parties sought to be joined had already desired to file an action of this nature before the suit was instituted by the Northern elders and subsequent filing of a similar matter could amount to multiplicity of action.
He contended further that the matter could not be properly resolved without the presence and involvement of the Yoruba people who were seeking to be joined as parties in the suit, having also been agitating for self-determination for the entire Yoruba nation.
In law, if the demand of the Northern elders is granted by the court releasing the Southeasterners to exit Nigeria, it means the Yoruba too are free to exit Nigeria without much ado.
The matter argued by the Directorate's lawyers has been adjourned to 20 October 2022 for further hearing.
Breaking: 2023: Governor Lalong, Plateau Delegates Endorse Amaechi For President
Governor Simon Lalong of Plateau State has openly backed the presidential ambition of the immediate past Minister of Transportation, Chibuike Rotimi Amaechi.
Lalong stated that the All Progressives Congress (APC) delegates in the state will vote for Rotimi Amaechi in the party's primary election.
The Governor stated this at a meeting with Amaechi and APC delegates at the government house in Jos on Friday.
Lalong revealed that he had invited other APC presidential aspirants to the state to meet delegates but they have all rejected his invite.
Lalong said: "You are the first presidential aspirant to come and see us. When I invited others to come, they said they can't come to Plateau because it would be a waste of time because Plateau people will not vote for them, but will vote for Amaechi.
"So, you didn't need to talk much. We want to rely on somebody that has done it before. We are telling you so that you would not waste your time to come back for campaigns. We have made our decision. You have done a lot for our people.
"You assisted each of the northern states to do registration for the APC and we updated our registration. When we came back to Plateau to contest the general election, nobody supported us, but you did.
"I was the governor and I was a candidate but you said no, as a friend, I like Plateau people and I must do my best. You invested in Plateau people and out of nowhere, we won the election. Not only myself, we have many members in the house of assembly, we have members in the national assembly. Something that nobody gave to us, you gave to us."
2023: Fayose Deceived Me – Ekiti Ex-Deputy Gov, Olusola Withdraws From Senatorial Race
A former Ekiti State Deputy Governor, Prof Kolapo Olusola has withdrawn from the Peoples Democratic Party, PDP, Ekiti South Senatorial primary.
In the withdrawal letter, he personally signed and addressed to the National Chairman of the PDP, the former Deputy Governor said that he even entered the race due to pressure from former Governor, Ayodele Fayose.
According to him, the former Governor, who led him into the race, has subsequently chosen to back another candidate for the same position.
This was contained in a letter entitled 'Notification of Withdrawal from Senatorial Contest'.
"…It is expedient to note, however, that the senatorial ambition was the making of former Governor Ayodele Fayose," he said.
According to the former Deputy Governor, Fayose had sent emissaries to him, asking him to run for the post and he had to yield to the pressure from concerned stakeholders.
"To my great surprise, Mr. Ayodele Fayose, who openly endorsed my candidacy for Senate in my town, discretely aided another person from the same constituency to pick the same senatorial form.
"I've consulted widely and have decided not to dwell where there is no sincerity of purpose but an arrogant display of deception and hence, pulled out from the contest," the letter read in part.