Principled Political Choices Are Not Betrayal – Babafemi Ojudu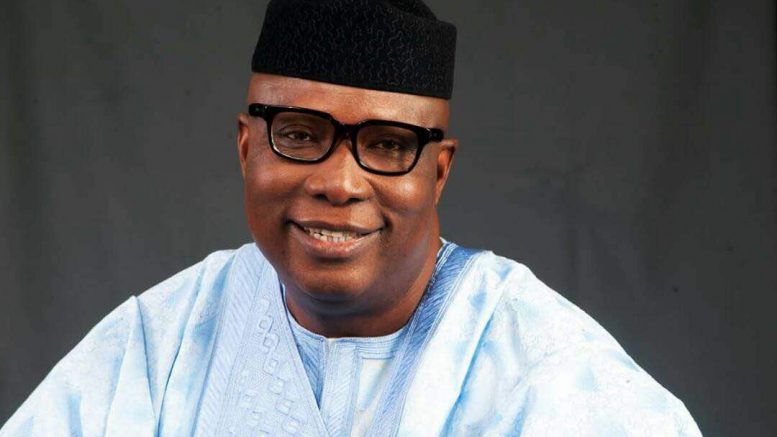 I have seen a statement made by me, many years ago, to celebrate the 60th birthday anniversary of Senator Bola Ahmed Tinubu making the rounds.
Yes I did make that statement. And more of such will come in my autobiography. We, together, have seen good days and bad days.
I and Bola Tinubu have come a long way and we have been there for each other. So let no one use my acknowledgment of his good deeds and my refusal not to support him in his bid for Nigeria presidency to portray me as a betrayer.
Tinubu remains my leader and I will forever cherish him and the contributions he made to my Organisation during our fight against the military.
He however knows I don't follow the herd. I make my choices based on very rigid parameters . He will tell you I am very Independent in my actions and ways.
As a third year university student my dad chose to be in NPN. I never considered the fact that he fed me and paid my school fees to join him in a party I despised. I went to UPN and became a youth leader.
Tinubu will tell you that whatever and whoever Ojudu is committed to is in for 100 percent commitment. Reasons I did rather faced torture and possible death in General Sani Abacha's detention than reveal certain things they wanted me to reveal about him.
The idea that everyone who has related with Tinubu and disagrees with him on this Presidential bid is a traitor and a betrayal is puerile. Many of us, his associates, were not made by him as you also want the world to believe.
We were already made before meeting him and in the cause of relating we gave one another a helping hand. As far back as 1992 when I came to know him I was already one of the editors of a popular news magazine with a good standing too in the civil society. I walked out of my job when our billionaire publisher (Chief MKO Abiola) requested I and my colleagues to apologize to General Ibrahim Babangida over a story critical of the regime. That was 1992.
When I left that job, Chief Gani Fawehinmi, a man whom I was indebted to greatly (gave me a scholarship in my school days alongside King Sunny Ade) invested in my publishing platform (The News, publisher of PM news). The same one that was consequential in the battle to bring democracy back to Nigeria.
At the conclusion of that struggle, Chief Fawehinmi insisted we seat out politics. Senator Bola Ahmed Tinubu disagreed with this notion, and I did as well. Against an obvious choice to blind loyalty, I went along with Senator Tinubu even serving severally in critical roles as he assumed the Governorship position. My actions angered Chief Gani so much he asked that I repay his investments. Guess what? I gladly did.
So if my principled stance against NPN, against IBB and against "siddon look" was not betrayal of my father, Chief MKO Abiola and Chief Gani Fawehinmi respectively, why would my principled stance against our leader present ambition be.?
So, on this matter of 2023 I wish him well but I cannot in good conscience give him my support or cast my vote for him in the coming primary. It is my right. I am above 60 years of age for God sake. I almost died seeking this inalienable democratic rights, held up in detention and severally tortured. Your god is not my god.
Let no one think he can browbeat or blackmail me to do what does not go with my conscience or my ideals. Enough of your phone threats and embarrassment of my family members.
I know Tinubu. I respect and adore him. Many of his latter day supporters do not even know him. If they do, they won't resort to emotional and physical blackmail. When Tinubu decided to go against Afenifere and the Yoruba elders in 2003 by not supporting President Olusegun Obasanjo, he wasn't betraying the Yoruba nation or a traitor to Afenifere. He made a choice and history has been his judge. Let history be my own judge too. When he supported Chief Olu Falae against Chief Bola Ige , our respected leader, who fought for him to emerge candidate of Alliance for Democracy in Lagos, no one shouted betrayal.
For the irritants who have been sending threat messages to me and members of my family or calling to abuse me for not supporting Tinubu, do know that is not democracy. It is something else. I spent my youth years fighting autocracy and intolerance of the military and I am still willing and ready, even now, to stand up for what I believe , even if it will cost me my life. Enough said.
Senator Babafemi Ojudu writes from Abuja
Tokunbo Wahab: An uncommon legal eagle soaring daily to a greater place in history – Victor Ojelabi
It amazes many how some politicians quickly gather court-like followership that often transcend their generation.
Why would the likes of Winston Churchill, D. Roosevelt, Nelson Mandela and the sage himself, Awolowo still command so much respect, many years after their death? Beyond oratory, these figures have an underlining nature of selflessness, deft wisdom and uncommon abilities to get things done and always for the greater good of the society.
Politicians in this class live their lives pursuing the dream of a fair and prosperous society so much that it becomes the only image the people hold of them.
One Nigerian political figure that is fast assuming that status is the Special Adviser on Education to the Executive Governor of Lagos State, Barr. Tokunbo Philip Wahab, whose partisan political journey is only short of a decade.
Like the Legends of People Service that were mentioned above, the endearment to the TW brand cascades from his many years in legal practice and private business.
And those very close to him often attest that it is his unsatisfied desire to scale up the impact of his programmes for the betterment of the lots of the majority that drove him into active public service.
The TW brand that is fast becoming associated with landmark long-term sustainable development projects is one that both the masses and the political class have become connected to.
Though, political kinship these days, particularly in a nation like Nigeria, has been commoditized.
Whereby wealthy individuals purchase crowd of supporters and induce loyalty with cheap gifts and bonded favours with thousands chanting their praises because of basic handouts without a deep relation with their values, vision and personality, the soaring followership of TW is by every yard organic, because there is value-based image and his personality, vision and performance easily command bountiful followership.
Leadership positions, the finality of politics and politicking, is a basic output of a life that is predisposed to the nature of selfless service, where the pursuit of the happiness and fulfillment of the other person is always the focus of the leader.
This naturally makes more and more people voluntarily put their interests, goals, aspirations, voice and rights in the hands of that individual. The growing attraction to Tokunbo Wahab is easily traceable to his natural ability to indeed lead, gaining tremendous trust and support from all corners and strata of the society!
TW is an amiable leadership brand in the eyes of a lot of people who follow the development of Lagos State. His outlandish impact in the last 3years have drawn a lot of people to him, placed him the radar of progressive governance watchers, sparked curiosity amongst the gentlemen of the press, endeared validity amongst educationist and futurists, placed dignity in the office he occupies, which hitherto was not a highly reckoned position in the large scheme of things in the state.
In 2019, when Babajide Sanwo-Olu struck the right chord by calling TW to join his team in pursuing the THEMES agenda with a major emphasis on education, no one could have imagined what the next three years held for Lagos educational sector.
Here are we in 2022, with accelerated transformation, modernization and diligent purposing of all the fundamental aspects of education in Lagos State to meet the immediate needs and drive the future development of not only the state, but the entire West African region. Now at the brink of another election, if all BOS' government will judged by are the successes in this sector, a second term ticket will not only be deserving but worth championing by the common man.
Education is said to be an organized mechanism through which society develops its human resources by equipping them with desirable knowledge, skills, attitudes and values which will enable them operate the social institutions of a given country or nation effectively. The state and future of a state is directly proportional to the investment put into quality education of her people.
By TW's standard, quality means global competiveness. Hence, the use of his office to design and promote a new benchmark and objectives for the substructures of the sector and their managed institutions.
LASU's sporadic climb to the top tier lists of universities in the world, first-of-its-kind training of the heads and management of the state top educational institutions at the University of London, future-proofing programme to digitize libraries across primary, secondary and tertiary institutions across Lagos state are products of a resolve to put Lagos at an advantaged position now and in the future of a rapidly changing and globalised world.
William F. Buckley once said, "I would rather be governed by the first 2,000 people in the telephone directory, than by the Harvard University faculty."
Of course, this speaks to elitism and how the common person in many ways is superior and better at politics for the good of the people they govern. The philosophy around this is the associative tendencies of experiencing the worst of a society, where the common person can relate with plight of the ordinary man.
A Tokunbo Wahab would perfectly fit into the class of an elite, having enjoyed world-class education in the prestigious Harvard Kennedy School of Governance and Wharton University of Pennsylvania, amongst other things. Just like majority of the ruling class, he's expected to be classist in approach to leadership and governance – more given to personal ambitions and protecting of the power block.
But for his aggressive drive for the liberation of the people through quality education, one is easily reminded of his humble beginnings and attestable progress through life's success mountains. From public schools in Epe to polytechnic in Ogun, University of Benin and with such experiences which has apparently formed his appreciative disposition to power, TW connects the divide between the government and the governed, the powerful leader and the common man in many ways deserving of a case study in political science.
So it was quite deserving when Wahab emerged the Most Outstanding Thought Leader in Education at the maiden edition of TheFLEA Awards.
According to the awards organisers, the desire to create thought leadership category in key sectors is to acknowledge exceptional personalities making real impact in the lives of the common man in the society.
"In our consideration of suitable candidates in education, we made deliberate effort to review the roles of several non-mainstream political figures – elected office holders, whose major projects are often powered by behind-the-scenes think tanks. Our very vast team indexed quite a number of public servants who fit into our model and after several considerations concluded on awarding it to you based on Eko Digital Initiative and Overall Transformation of Lagos Education," the award committee revealed.
As Tokunbo Wahab turns 50, majority of his adherent supporters across the world, those he has impacted directly through his programmes, and those he has inspired by his performance and personality, firms up their gaze to the sky to watch this soaring legal eagle glide higher in the ranks, for the sake of our future as a people.
2023: Osinbajo Doesn't Have Convincing Performance Card – Sam Amadi
Law and governance expert, Sam Amadi has continued his assessment of 2023 presidential aspirants.
Amadi earlier gave his analysis of All Progressives Congress (APC) national leader, Bola Tinubu.
On Tuesday, the former Nigerian Electricity Regulatory Commission (NERC) spoke on Vice President Yemi Osinbajo.
Amadi said the VP comes with likeable intellect, style, the best photographer and a good speechwriter.
"But Osinbajo does not come with a convincing performance card, although he did the constitutionally required actions when he acted as VP.
"So he won't be as lawless as Buhari in such matters. But, unlike Tinubu, he has proved incapable of surrounding himself with the best and brightest."
The lawyer noted that Osinbajo's appointees for key federal positions have been mostly mediocre.
"He has deprived himself of strong testimony for the No. 1 job because none of his proxies – in BPE, in NDDC, or in FIRS performed very well. There is also some whirl of corruption around them."
Amadi also said the Senior Advocate of Nigeria (SAN) does not look like one who will shut down the rentier economy.
"He looks like someone who will continue governance as patronage, arguably with a dose of parochialism."
Amadi added that though Osinbajo is far cleaner than Tinubu, more respectable and intelligent, he is "not a great choice for 2023".
The VP is vying for the APC ticket against Tinubu, Transportation Minister Rotimi Amaechi, and Ebonyi Governor Umahi, among others.
How Osinbajo Rejected Obasanjo's AGF Offer To Stay With Tinubu- Journalist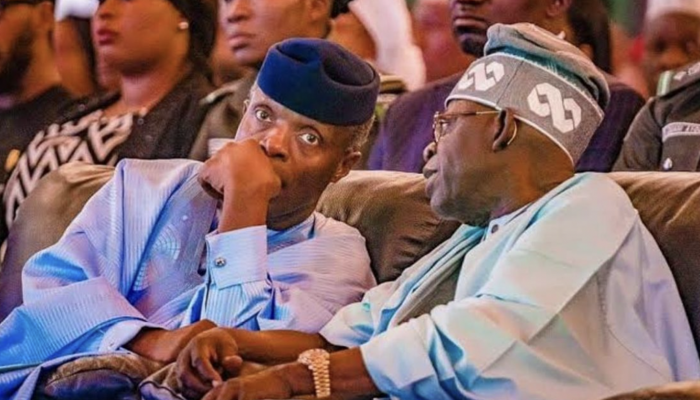 Mustapha Ogunsakin, a journalist, says Vice President Yemi Osinbajo is not a betrayer as being peddled by his traducers as he declined offer to become Attorney-General of the Federation under President Olusegun Obasanjo in 2005, instead keeping faith with the government of former Lagos governor Bola Tinubu.
Mr Osinbajo, a former Lagos attorney general, has come under bitter mudslinging from supporters of Mr Tinubu for daring to declare interest in running for president in 2023, rivaling his former boss who is also pursuing the office he described as his "lifelong ambition."
On Good Friday, Abuja, the nation's capital, was flooded with posters depicting the vice president as a betrayer.
The caption on the now heavily criticised poster bearing Mr Osinbajo downcast image read: "The Judas betrayed his master. Repent because Jesus is coming."
In reaction to the attacks, Mr Ogunsakin released an article stating how Mr Osinbajo had decided to reject the juicy offer from Mr Obasanjo, preferring to stay with the then-embattled Lagos governor.
"In 2005, President Obasanjo invited Osinbajo to take appointment as the Attorney-General of the Federation after Chief Akin Olujimi left office," narrates Mr Ogunsakin.
"Obasanjo saw the sterling qualities and performance that Osinbajo had as Attorney General of Lagos.
"The president, without informing Bola Tinubu, the then Lagos State Governor, offered the post to Osinbajo who was then Lagos State Attorney-General.
"The first thing Osinbajo did was to inform his principal, Tinubu, who gave him a free hand to make his decision."
Mr Ogunsakin claimed that Mr Osinbajo made a request to Mr Obasanjo to release Lagos State Council funds which the then-president had embargoed.
"Obasanjo replied that Osinbajo should first take the appointment and then advise him as Attorney-General of the Federation on the matter.
"Osinbajo went underground and for weeks Obasanjo could no longer reach him.
"It was obvious to the then president that Osinbajo deliberately avoided him; he went on to appoint Chief Bayo Ojo as his Attorney-General of the Federation and Minister of Justice.
"Osinbajo rejected the position of Attorney-General of the Federation and Minister of Justice and stayed with Tinubu; nobody complained then," the journalist noted.
Mr Ogunsakin stressed that Mr Osinbajo not only stood with Mr Tinubu, but stayed loyal to Lagos State, adding that "he did not betray Tinubu then."
He cautioned those calling Osinbajo a betrayer.
"But now when it is convenient for them, some political and religious bigots are shouting betrayal!
"Everyone knows that if you want to hear the story of how your father met your mother, join politics," he said.
He urged anyone criticising Mr Osinbajo over his presidential ambition to do so based on valid facts and "not lazy, religious and political lies that reveal your foolishness and hatred for a man who is doing his best to make his country and people better."
(NAN)