Lewis Hamilton Was Given Surprising Advice For F1 Career: 'Should Go To Red Bull!'
LEWIS HAMILTON was given surprising career advice as Eddie Jordan suggested the Briton should join Red Bull.
Lewis Hamilton will return to Formula 1 next season despite his anger over last season's final race, Martin Brundle has said. The Mercedes man is said to be still furious with the FIA after a controversial decision from race director Michael Masi helped Max Verstappen win his first world title on the last lap. In a special edition of The F1 Show titled Abu Dhabi: One Month On, Brundle was asked whether Hamilton and Mercedes could consider leaving F1 ‒ but was adamant in his response.
He said: "Absolutely not, I don't buy any of it to be honest.
"I'm sure Toto has been asked by Lewis, 'what are you doing about this?' But Formula 1 is fantastically successful for the Mercedes-Benz brand, while Lewis is 37 years old and we know he's driving at his peak, incredibly determined and competitive.
"He'll be back."
While Hamilton has enjoyed dominance at Mercedes since 2014, this hasn't stopped speculation around his future.
Lewis Hamilton news:
In 2020, Eddie Jordan suggested Hamilton should make the move to Red Bull.
He said: "I personally believe Lewis should go to Red Bull and not to Ferrari."
When asked in 2020 about the prospect of Hamilton joining Red Bull, Mercedes team principal Toto Wolff said "never say never".
He added: "Never say never. I've seen crazier things in my life.
"But I don't see why Lewis would do that.
"He has a very strong personal bond with the Mercedes brand and the team that he helped to create.
Lewis Hamilton news:
"At the moment we are giving him the best car and we have mutual trust in each other. We still have successful times ahead of us.
"I do not believe such a move for him would be rationally understandable."
The Mercedes boss has also commented on Hamilton's future this weekend, saying it would be a "disgrace" if the seven-time world champion didn't continue in Formula 1.
Wolff told Kronen Zeitung: "I really hope we see him again. It would be a disgrace for the whole of F1 if the best driver decided to retire because of outrageous decisions."
He added: "No matter what obstacle has been thrown at him, he has known all his life that he has to [do] his talking on the track.
"But it is incredibly difficult for him, until he has found a way between understanding what is right and what is wrong. That just takes time."
The FIA's investigation findings are set to be released just two days before the first race of the 2022 season, meaning the furore around last season's finale is likely to remain a hot topic going into Bahrain.
On the Abu Dhabi Grand Prix, Wolff added: "That will never be forgotten. Because what happened to Lewis was just wrong.
"He was unbeatable that day, until race control blew its fuses. They committed three violations of the rules. That's just hard to understand.
"It will always follow us ‒ although Max Verstappen was a worthy world champion over the season. But that day, one was better than the other ‒ and they didn't win."
Despite the fortune that came Verstappen's way, he has received many plaudits for his performances last season.
The Dutchman was praised this week by his former teammate Alex Albon, who lauded Verstappen's mental strength.
He told motorsport-total.com: "More than anything, I was surprised by his ability not to worry.
"Mentally he's incredible. He just drives the car and doesn't think about the consequences or anything else that's going on. That inspired me.
"If [Max] finished behind Lewis, he would say 'okay, it doesn't matter'. If he led a race or won a race, it was also 'okay, whatever'.
"I admire that because it's not easy to be in the limelight as much as he is."
Just In: Anthony Joshua Knocks Out Helenius With One Punch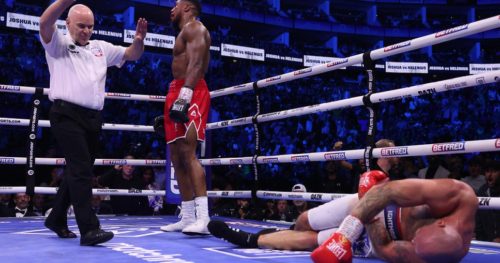 Heavyweight Anthony Joshua spectacularly knocked out Robert Helenius with one punch in round seven, after boxing tentatively in the first half of the fight at London's O2 Arena.
The 33-year-old Briton – who was jeered by fans during the fight – landed nothing of note until an overhand right ended Helenius' night.
The win – Joshua's first stoppage win in two and half years – sets up a blockbuster fight with American Deontay Wilder in January.
"It's a fickle sport, you've got to be real about this industry and not get caught up. I've done my job tonight," Joshua told BBC Radio 5 live.
When asked in the ring about the potential fight with Wilder, Joshua joked: "My back's gone, is there a doctor in here? I want to carry this heavyweight division to the top."
After the knockout, an emotionally charged and smiling Joshua climbed out of the ring, high-fived fans and shared a beer with Irish mixed martial arts star Conor McGregor.
Helenius needed oxygen after the heavy knockdown, but recovered and left the ring unassisted after congratulating Joshua.
Joshua extends his record to 26 wins – with 23 stoppages – and three defeats.
Finland's Helenius – who took the fight on a weeks' notice after Briton Dillian Whyte failed a voluntary drug test – loses his fifth pro fight in 36 outings.
From cautious start to vintage 'AJ' finish
Joshua struggled to find any rhythm but the manner of the finish may just be the confidence-boosting win he so desperately needed, and a gentle reminder to other heavyweights he is not yet done.
Helenius made his way to the ring in a packed out arena at the late time of 23:10 BST. Fans were offered a full refund when Whyte was withdrawn from the card but such is the draw of Joshua – there were no empty blue seats once the main event started.
The Briton confidently strode to the ring to a medley of a violinist playing the title song from the film 'The Godfather' and then the more upbeat 'Insomnia' by Faithless.
The 2012 Olympic gold medallist – fighting at the O2 Arena for the ninth time – kept his eyes firmly locked on Helenius during the introductions, who mockingly clapping back.
Anthony Joshua punches Robert Helenius
Helenius stepped in on Monday for the heavyweight bout
Helenius took the middle of the ring and swung a wild left in the first few seconds. The 'Nordic Nightmare' looked unfazed by the hostile atmosphere but neither man landed anything of note in a cagey opener.
Joshua was moving freely, looking to set traps but throwing single shots and not imposing himself on the stand-in fighter.
Fans started to become restless as early as the third. Boos echoed around the arena. The crowd wanted to see combinations, not this tentative approach.
Joshua had not knocked out an opponent in the first half of a fight since beating Eric Molina in 2016, a staggering statistic for someone once considered one of the heaviest hitters in boxing.
The Watford-born fighter landed a solid left in the fourth which sent Helenius backpedalling, but there was no sustained attack to follow.
Helenius grew in confidence, landing jabs to mark Joshua under the eye in the fifth. There were more jeers from a bored crowd at the halfway stage.
"It's hard to find the right hand," Joshua told trainer Derrick James. The American replied: "Keep trying."
Joshua adhered to the instructions. Those fans who left their seats missed what promoter Eddie Hearn described as the "knockout of the year".
A double feint followed by a right sent the Finn to the canvas, with referee Victor Loughlin halting the contest.
'We hope Wilder fight is imminent' – Hearn
Anthony Joshua celebrates
Joshua is in talks to fight Deontay Wilder in January
Representatives from Saudi Arabia were in attendance, keen to conclude negotiations for a Joshua-Wilder mega-fight in the Middle East early next year.
All Joshua had to do was avoid a potential banana skin in Helenius. Fortunately for him and Wilder, there was no slip-up.
"We hope it's imminent," Hearn said. "That's why he wanted the Dillian Whyte fight, it's hard for him to get up to fights like this.
"If he hits Wilder on the chin then it's over. This is about Anthony Joshua now, it's not about pleasing others. He's given everything to British boxing."
Joshua-Wilder is a fight which has been mooted several times before, notably when the two heavyweights collectively held all four world titles.
Boxing politics starved it from happening then, but it appears the money offered for a Middle East showdown will be too good for either fighter – or their promoters – to turn down.
The winner will be propelled back towards world-title contention, the loser consoled by a career-high purse.
Alabama's Wilder is one of the most ferocious punchers in heavyweight history. 'The Bronze Bomber' stopped Helenius in under three minutes in October, and Joshua was under pressure to deliver an equally devastating, statement win.
Despite the sensational finish, there are still plenty of question marks surrounding Joshua's performance. The same cautious approach may not be wise against Wilder.
"I just want to see AJ fight someone of the calibre of Robert Helenius and treat him like Wilder," former world champion David Haye said on BBC 5 live.
"He can't just stand there and jab, it doesn't work against Wilder. He will run through him."
Prize Money: FIFA Will Still Pay Falcons Through NFF – Aisha Falode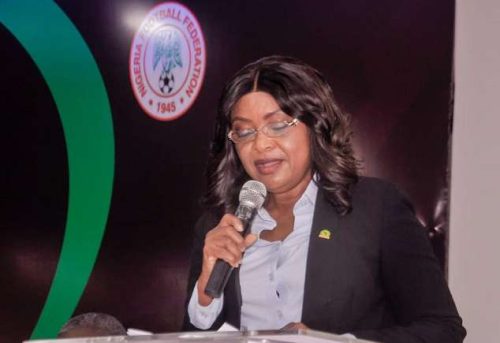 Chairperson of the Nigerian Women's Football League, Aisha Falode, has clarified that FIFA will still pay the 2023 Women's World Cup prize money through the country's federation.
FIFA secretary-general, Fatma Samoura following the qualification of Super Falcons to the second round of the Mundial, reportedly said the world's football governing body would send unpaid allowance to the country's women's football team to the players directly.
FIFA had announced that every player participating in the World Cup group stage will earn $30,000.
The match bonuses will increase to $60,000 in the second round of the competition.
Just In: Tobi Amusan Reacts To Anti-Doping Violation Charge Against Her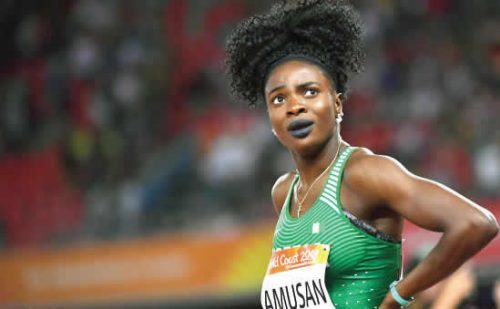 Women's hurdles world record-holder Tobi Amusan said Wednesday she has been charged with an alleged anti-doping rule violation, casting doubt on her participation in next month's world championships.
The 26-year-old Nigerian athlete disclosed this in a post via her Instagram account.
She said, "Today the Athletics Integrity Unit (AIU) has charged me with an alleged rule violation for having 3 missed tests in 12 months.
"I intend to fight this charge and will have my case decided by a tribunal of 3 arbitrators before the start of next month's World Championships."
"I am a CLEAN ATHLETE, and I am regularly; (maybe more than the usual) tested by the AIU – I was tested within days of my third 'missed test.' I have FAITH that this will be resolved in my favour and that I will be competing at the World Championships in August."
Amusan's representatives did not immediately respond to an AFP request for comment.
On Sunday, Amusan took part in the Silesia Diamond League competition in Poland, where she set a new meeting record of 12.34sec.
At the Golden Spike athletics meet in the Czech Republic last month, she finished in third place in the women's 100m hurdles, losing to reigning Olympic champion Jasmine Camacho-Quinn of Puerto Rico, who claimed victory in 12.42sec.
When asked by reporters about improving her world record pace, she said: "Nothing is impossible and 11 seconds? Most definitely".
But she was less confident about an ongoing debate on raising hurdles to give priority to technique over speed.
"Don't do that, don't raise the hurdles. Please," said Amusan, who is 5'1 (156 centimetres) tall.
The latest development has now cast doubt on Amusan's participation in next month's world championships.
Amusan set the current world record for the women's 100m hurdles of 12.12 seconds at last year's World Athletics Championships.