Jealous Lagos Husband Stabs Pregnant Wife's Admirer To Death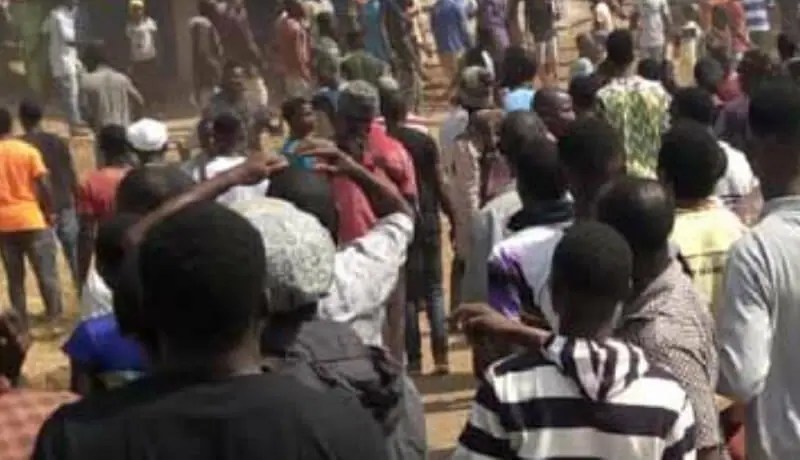 A man, identified as Keke, together with his yet-to-be-identified wife, has gone into hiding after he allegedly stabbed a fashion designer, Daniel, to death in the Iwaya area of Lagos State.
PUNCH Metro gathered that the fleeing suspect returned from work when one of his neighbours reportedly informed him that an illicit affair was going on between his wife and Daniel.
The information was said to have angered Keke, who stepped out of his apartment to challenge the victim.
Our correspondent learnt that Keke threatened the fashion designer with a knife, as Daniel fled the scene and entered his apartment.
The suspect was said to have barged into the apartment and stabbed the victim in the chest.
Daniel was rushed to a hospital where he died around 11pm on Monday.
Keke and his wife were said to have fled their home to avoid being attacked.
The state Police Public Relations Officer, CSP Adekunle Ajisebutu, confirmed the incident.
He said, "As soon as the incident was reported, police detectives attached to the Sabo division immediately visited the scene. The victim was taken to the Harvey Road Hospital, Yaba, for medical attention, but he died while being attended to.
"The body has been deposited at the Yaba Mainland Hospital's morgue for an autopsy. Meanwhile, the Commissioner of Police, Hakeem Odumosu, has directed that the case be transferred to the Homicide Section of the State Criminal Investigation and Intelligence Department, for diligent investigation. He has also directed that all efforts should be made to arrest the fleeing suspect."
Little boy severely abused, beaten and left naked in bush in Akwa Ibom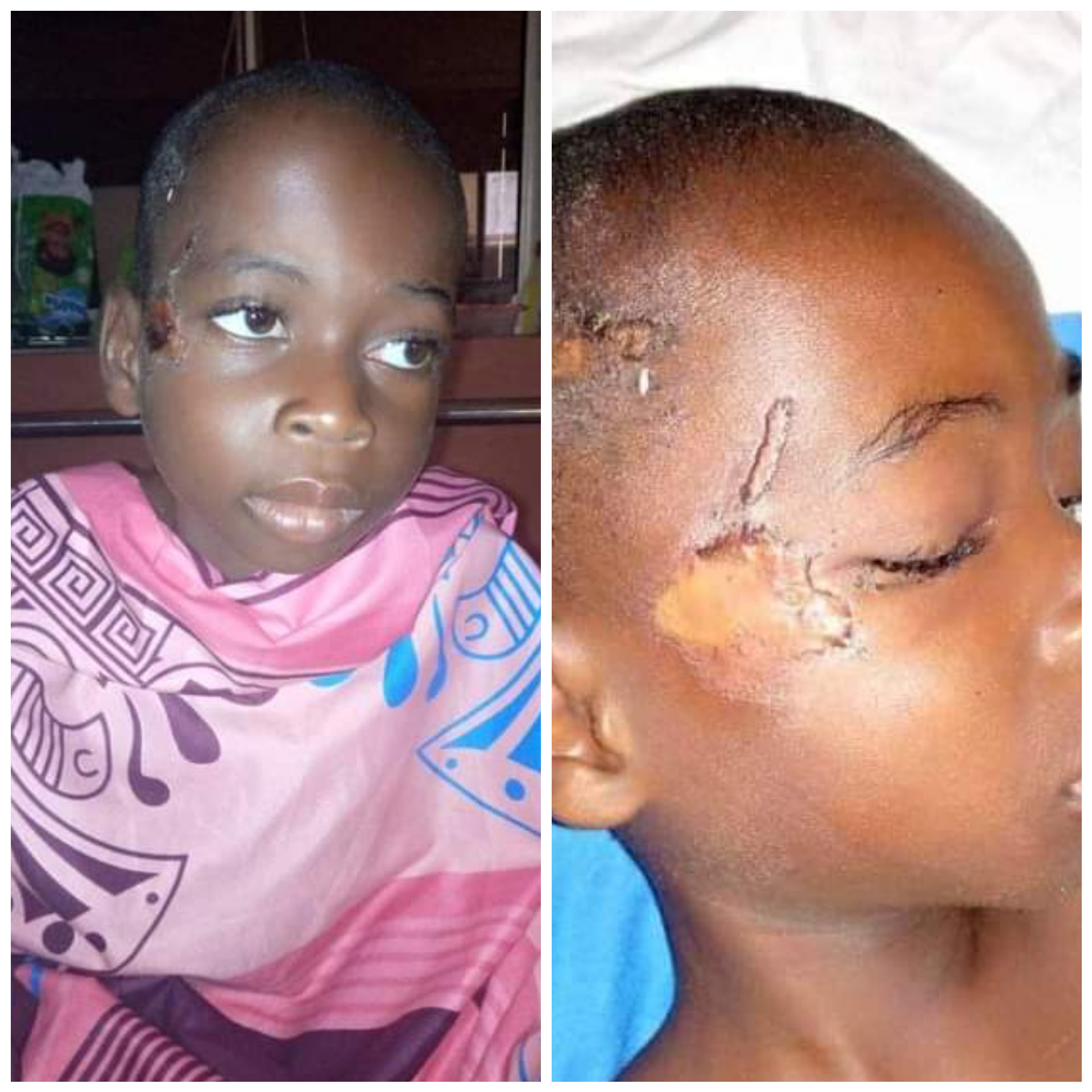 Akwa Ibom-based Danish aid worker, Anja Ringgren Loven and her team have rescued a little boy who was found naked in the bush in Eket.
According to Ms Loven, the child was brutally beaten, abused and in severe pain when he was found few days ago.
Little boy severely abused, beaten and left naked in bush in Akwa Ibom
In a Facebook post on Thursday January 13, the aid worker said that the boy is also very traumatized and had not spoken a word since her husband, David rescued him.
"It has been a terrible week. A few days ago David found a little boy thrown into the bushes along side the road. The boy was not wearing any clothes. He was seriously abused and beaten," she narrated.
David immediately called the police and took the boy to the hospital and called Land of Hope nurse Itoro to meet him there.
The boy is on constant analgesic due to severe pain. Yesterday we got the result of the x-ray taken of his leg and it shows how brutally he has been beaten. The boy is also very traumatized and has not spoken a word since David rescued him.
In an update on Friday, January 14, Ms Loven said the boy spoke a few words to the nurse who was in the hospital with him.
"Thank you so much for your constant love and support. It has such a major impact on our work. It cannot be said enough. It truly save lives.
"The child has not spoken since the rescue, but yesterday we had a breakthrough. He spoke a few words to Land of Hope nurse Itoro Gregory who is with him at the hospital. He also understands when Itoro talks to him. He is very traumatized and might not trust anyone and that is why he does not speak.
"But knowing he is with Itoro makes me so comfortable. Soon he will learn to trust. He is in the best hands with her
Due to the fracture of his leg he is on constant analgesic and this morning he was given a sleeping pill to rest as he has not slept all through the night due to severe pains.
It will be a very long healing process and when he is stronger he needs surgery. But he needs to be much more strong before he can undergo an operation. He has been tested positive of malaria, typhus and others.
We always report these cases to the police as we did when we found Saviour, Life and Victory on the street. So the cases are with the police and as long as they are investigating I cannot share more information. We will do all we can to get justice for our children.
What is important now is the little smile I see on the child´s face. Itoro is telling me that despite all his pains, he is a fighter.
Mother, Elder Son Kill Younger Sibling For Yahoo Plus Money Ritual In Lagos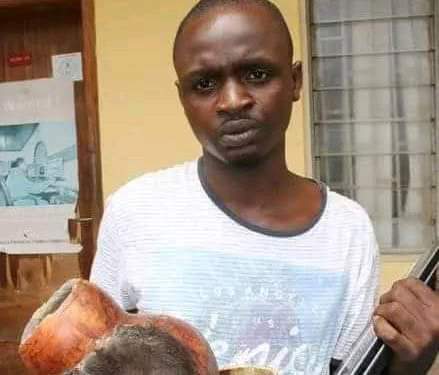 Thirty-two-year-old Afeez Olalere has confessed to the operatives of the Lagos State Police Command that his mother encouraged him to kill his kid brother for money rituals.
He made the shocking confession when he was arrested saying "my mother took me to an herbalist who told me if i want to be successful in the yahoo business I will have to sacrifice one life and that person must be a sibling to me.
"The things he would need to prepare a concoction with are his thumbs, his hair, fingers and a passport photograph.
"So, we went back home and thought about it, then my mother suggested tha we use my younger brother since he is just 21years old.
"She also brought the poison which we gave him to eat. He died within 20minutes after consuming the food. I was the one who cut out the body parts needed. We then wrapped his dead body and headed to the mortuary."
Nemesis caught up with them during a stop and search operation along Itamaga Ikorodu Road in Lagos." SA Omeiza
How CCTV Camera Exposed Ramon Adedoyin's Involvement In Timothy Adegoke's Death (VIDEO)
The owner of Hilton hotel, Prince Ramon Adedoyin has been further indicted in the circumstances that led to the death of Timothy Adegoke, a masters student of OAU who died at the hotel some months ago, JomogNews Nigeria reports.
This reliable platform gathered that he was said to have been gruesomely murdered and buried by staffers of Hilton hotels. The police also confirmed that he was buried without the consent of his family members or the police force.
This made the matter complex and led to the arrest of Ramon Adedoyin as investigations began into the sudden death of the young man.
In the course of investigation, the police revealed that Ramon Adedoyin's son monitored the burial of Timothy Adegoke and that since the matter happened, he has been on the run.
In a new twist on Friday, January 7th, a human right activist who has been making revelations about the case, simply called Hamzat spoke and made it known that the CCTV has been released and Ramon Adedoyin was confirmed to be part of the people that carried out the act.
Revealing the content of the CCTV footage, Gistlover wrote:
CCTV video finally out, Adedoyin has been exposed finally,God is still God🙌🙌🙌Adedoyin I told you, you won't escape this, he don tey wey you and your son don Dey use people for money ritual for Ife, your matter no be Today,but you see this Timothy head, e strong , you will pay dearly for it , Hilton hotel and Oduduwa University should be shut down with immediate effect,you see that last slide please, that's Adedoyin son and also his accomplice, he helped in killing Timothy, immediately the matter was made public he ran away, he is hiding somewhere in Ghana , that's the last I heard of him, don't know if he left Ghana already, please if you have any information about this Adedoyin son, kindly let me know , I have 500k for you as compensation, hate from my pocket, No sinner must go unpunished. Kudos to Oriyomi Hamzat,you outdid yourself on this, weldone,I come in peace
Watch Video Below: