French President Macron's Marriage Hit By Gay Claim
French first lady Brigitte Macron received an anonymous telephone call alleging that her president husband Emmanuel Macron was with a gay lover, it has emerged.
Despite top-level security checks on all her devices, a tormentor got through to the 68-year-old and said: 'I know your husband is right now with a man in such and such a place.'
Political commentator Nicolas Prisette makes the claim in a new documentary called 'In the Hell of the Presidential Campaigns' on BFM – France's most popular TV news channel.
It follows frequent scandalous rumours about the couple's personal life, including claims that Ms Macron was in fact born a man.
The pair first met in 1993, when President Macron, then 15, walked into 39-year-old Brigitte's high-school literature class in Amiens, France.
Brigitte later divorced her husband, with whom she shares three children, in favour of Mr Macron, a man 24 years her junior.
Senator François Patriat, a member of Mr Macron's En Marche (On The Move) party, confirmed that Ms Macron was left devastated by the telephone call alleging her 44-year-old husband was with a lover.
Mr Patriat said Ms Macron told friends afterwards: 'Do you realise what they dare to say? We won't be spared anything. I was sad and shocked to hear that, but we will push on.'
The 24-year age gap between the Macrons has always caused problems, especially as they began a relationship when Emmanuel Macron was still a schoolboy in their home city of Amiens, northern France.
His affair with the future Ms Macron, then a married teacher and mother-of-three, caused a scandal, but the couple have remained together ever since.
In his book and political manifesto Revolution, President Macron described the affair as 'a love often clandestine, often hidden, misunderstood by many before imposing itself.'
The Macrons ended up getting married in the Channel beach resort of Le Touquet in 2007, but not before causing extreme angst among those closest to them.
Mail Online
George Floyd's 4-Year-Old Niece Shot In Houston On New Year's Day
George Floyd's 4-year-old niece, Arianna, was shot while sleeping in her bed Saturday after a gunman opened fire on her home, Houston police said.
The girl was shot in torso and is in stable condition after an emergency surgery, police said. The bullet punctured her lung and liver and also broke three ribs, ABC 13 Houston said. Her family identified her as Floyd's niece.
Arianna was one of four adults and two kids who were in the Houston apartment around 3 a.m. when it was bombarded with bullets.
Police said in a statement they do not know if was one person or multiple people firing the shots. Cops currently have no suspects and don't know a possible motive.
Arianna was asleep in her bed when she was shot, according to ABC 13 Houston. Her family often brought her along to marches and rallies calling for justice for her late uncle.
Ex-Minneapolis cop Derek Chauvin was sentenced to more than 20 years in prison for murdering Floyd after he held his knee on Floyd's neck for nine minutes and 29 seconds in May 2020.
British Court Orders Dubai Ruler To Pay Ex-Wife £500 Million In Divorce Settlement
A UK court has ordered Ruler of Dubai, Sheikh Mohammed bin Rashid al-Maktoum, to pay his ex-wife, Princess Haya, and their two children a record £500 million as a divorce settlement.
During the ruling held on Tuesday, the court said the amount is essential to protect them from the threat the ruler allegedly poses to them, Guardian UK reports.
The Judge, Philip Moor, said the family needed "water-tight security," and that "absolutely uniquely," the main threat to them came from Sheikh Mohammed, rather than outside sources.
Moor ordered that the sheikh should pay over £250 million upfront to Haya and provide a bank guarantee of £290 million for annual payments.
The judge said: "I am entirely satisfied that this means that, although HRH (her royal highness Haya) and the children would require security provision in any event, given their status and the general threats of terrorism and kidnap faced in such circumstances, they are particularly vulnerable and need water-tight security to ensure their continued safety and security in this country.
"Most importantly in this regard, and absolutely uniquely, the main threat they face is from HH (his highness the sheikh) himself not from outside sources. This is compounded by the full weight of the state that he has available to him as seen by his ability to make use of the Pegasus software, which is only available to governments."
During the ruling, the high court judge also ordered that the costs of security for Haya's lifetime should be paid upfront rather than annually.
Haya was also given £83 million a year for her household spending plus an allowance of £9 million per annum and ad hoc gifts while in Dubai.
Haya, 47, fled to the UK in 2019 and sought custody of her two children through the British courts.
The princess, who is the daughter of the late King Hussein of Jordan, said she was "terrified" of her husband, who is alleged to have ordered the forced return to the Gulf emirate of two of his daughters.
Netherlands To Enter New Nationwide Lockdown To Curb Omicron Spread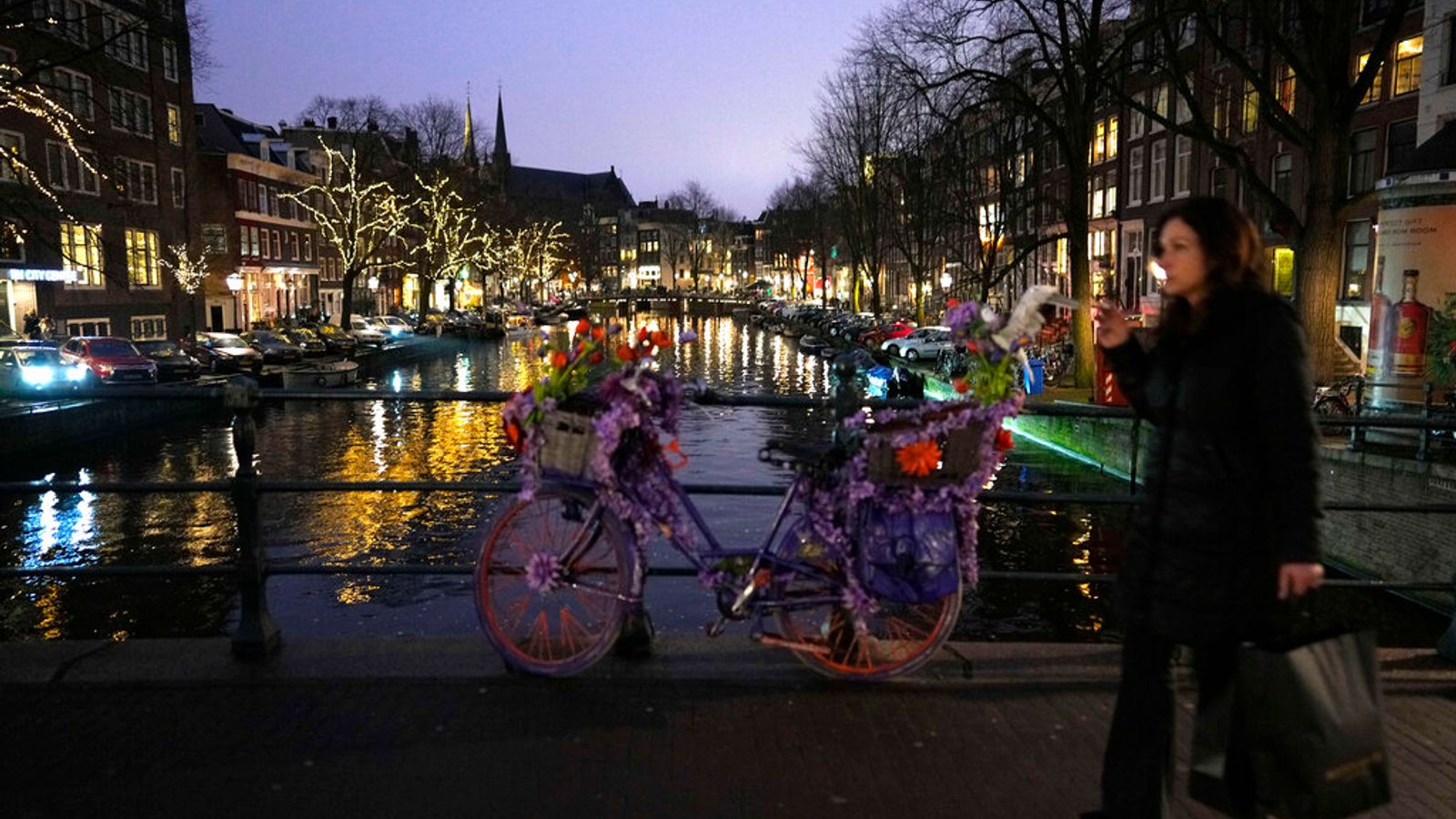 Nations across Europe moved to reimpose tougher measures to stem a new wave of Covid infections spurred by the highly transmissible Omicron variant, with the Netherlands leading the way by imposing a nationwide lockdown.
All non-essential stores, bars and restaurants in the Netherlands will be closed until 14 January starting Sunday, caretaker prime minister Mark Rutte said at a hastily arranged press conference Saturday night. Schools and universities will shut until 9 January, he said.
In what is surely to prove a major disappointment, the lockdown terms also rein in private holiday celebrations. Residents only will be permitted two visitors except for Christmas and New Year's, when four will be allowed, according to Rutte.
Is there any good news at all on Omicron? Yes, there are small signs of hope
Read more
"The Netherlands is going into lockdown again from tomorrow," he said, adding that the move was "unavoidable because of the fifth wave caused by the Omicron variant that is bearing down on us."
It wasn't just the Dutch seeking to slow the spread of Omicron. Alarmed ministers in France, Cyprus and Austria tightened travel restrictions. Paris canceled its New Year's Eve fireworks. Denmark has closed theatres, concert halls, amusement parks and museums. Ireland imposed an 8 pm curfew on pubs and bars and limited attendance at indoor and outdoor events.
London mayor Sadiq Khan underscored the official concern about the climbing cases and their potential to overwhelm the health care system by declaring a major incident Saturday, a move that allows local councils in Britain's capital to coordinate work more closely with emergency services.
Irish prime minister Micheal Martin captured the sense of the continent in an address to the nation, saying the new restrictions were needed to protect lives and livelihoods from the resurgent virus.
"None of this is easy," Martin said Friday night. "We are all exhausted with Covid and the restrictions it requires. The twists and turns, the disappointments and the frustrations take a heavy toll on everyone. But it is the reality that we are dealing with."
The World Health Organization reported Saturday that the Omicron variant of the coronavirus has been detected in 89 countries, and Covid cases involving the variant are doubling every 1.5 to 3 days in places with community transmission and not just infections acquired abroad.
Major questions about Omicron remain unanswered, including how effective existing Covid vaccines are against it and whether the variant produces severe illness in many infected individuals, WHO noted.
Yet Omicron's "substantial growth advantage" over the Delta variant means it is likely to soon overtake Delta as the dominant form of the virus in countries where the new variant is spreading locally, the UN health agency said.
Planes of German air carrier Lufthansa at Frankfurt airport in Germany
Germany tightens restrictions on travel from UK to curb Omicron spread
In the Netherlands, shoppers fearing the worst swarmed to commercial areas of Dutch cities earlier Saturday, thinking it might be their last chance to buy Christmas gifts.
Rotterdam municipality tweeted that it was "too busy in the center" of the port city and told people: "Don't come to the city." Amsterdam also warned that the city's main shopping street was busy and urged people to stick to coronavirus rules.
"I can hear the whole of the Netherlands sighing," Rutte said in his lockdown announcement.
"All this, exactly one week before Christmas. Another Christmas that is completely different from what we want. Very bad news again for all those businesses and cultural institutions that rely on the holidays."
In the UK, where confirmed daily cases soared to record numbers this week, the government has reimposed a requirement for masks to be worn indoors and ordered people to show proof of vaccination or a recent negative coronavirus test when going to nightclubs and large events. But the moves caused anger.
Critics of British prime minister Boris Johnson's latest coronavirus restrictions flooded Oxford Street, a popular London shopping area, on Saturday. The maskless protesters blew whistles, yelled "Freedom!" and told passersby to remove their face coverings.