After 10 years of waiting, Nigerian woman dies on Christmas Day two days after giving birth to twins
A Nigerian lady, Nancy Chiama has taken to her Facebook page to mourn the death of her elder sister, Mrs Gloria Chiaka Aderibigbe, who died two days after giving birth to a set of twins after ten years of marriage.
According to her sister, Nancy, Gloria developed complications shortly after giving birth to her babies on Thursday, December 23. On Christmas Day, she passed away.
Read her post below:
"I am lost of words my darling sister. Sis Gee I fondly call u. My padi, my gist partner, my personal person.
Where do I start from egbon mi….my world is broken. How do I cope with ur demise,egbon mi…
D first day u woke me up n told me ,u were pregnant!!! sleep left my eyes …I cried, cried,thank God, held ur hands and we prayed together…..
Geee….y u con leave me wt d twins God bless u with n u just gave up d ghost naaaaa after 10 years of waiting???
We talk about the preparations, we were ready for their birth, brought drinks n all …all ready for the D-Day..
Geeeee…we no talk like dis naaaa….how do I cope with taking care of the twins egbon mi. I held u on Thursday night n told u congratulation. I left, saw u in d ambulance struggling for life !!!!!!!
Sissssssss!!! Not knowing it was my last ..n u died on Christmas day, a day I will not forget in my life. I made sure ur pregnancy journey was smooth, u did nothing but rested more…sis y na
We had plans , plenty plans on ur journey to motherhood…n death took u away from me…how do I cope with ur demise sis Gloria???
Ur counseling helped me in so many ways,u were always der for me anytime I needed u. Where do I go from here sis of life????
8 years of living wt u, I learnt a lot from ur marriage, from u, how u coordinated ur home. Sis mi, u were selfless. U were kind to a fault. U radiate anywhere u go. U never had enemies. U were a blessing to so many people u came across.
I don't know wat else to write oooooo. I will not forget u egbon mi. I will not forget yesterday. Rest well sis…
Buhari 'Renews Tenure Of DSS Boss', Yusuf Bichi Amid Lingering Insecurity
Buhari Has 'Renewed The Tenure Of DSS Boss', Yusuf Bichi Amid Lingering Insecurity in Nigeria.
The tenure of the Director-General of the Department of State Services (DSS), Yusuf Bichi, has been extended by President Muhammadu Buhari.
Recall that Bichi was appointed in September 2018, following the retirement of the former head of the secret police, Matthew Seiyefa.
Sefiya, who headed the agency in an acting capacity from August 7, 2018, to September 14, 2018, handed over to Bichi following his appointment by President Buhari.
According to DAILY NIGERIAN, the President approved the extension of Bichi's tenure for another four years after rejecting a number of candidates proposed to him.
It was said that Buhari wanted Bichi "to continue with the good job he is doing in intelligence gathering" instead of appointing a new head of the agency.
Confirming the development to the newspaper, the spokesman for the DSS, Peter Afunanya, said Bichi's tenure has been renewed.
Profile of Bichi
Bichi attended Danbatta Secondary School, the Kano State College of Advanced Studies and the Ahmadu Bello University, Zaria where he graduated with a degree in Political Science.
He began his career in the security division of the Cabinet Office in Kano, from where he joined the defunct Nigerian Security Organization (NSO) before it became the present-day SSS.
The 66-year-old was appointed in September 2018 after retiring from service two years earlier to serve as the director-general of the service.
Emirates Suspends All Flights To Nigeria From September 1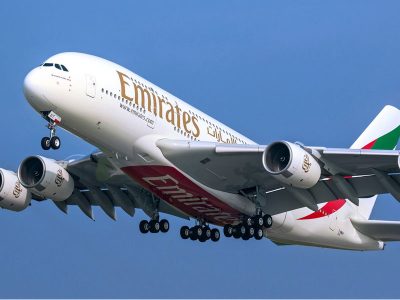 There are indications that the failure of Emirates Airlines to repatriate its trapped ticket sales fund in Nigeria back to its home country in the United Arab Emirates (UAE) may have led to the carrier's decision to stop all flights in and out of the country.
The airline in a statement on Thursday morning said that it would suspend flights from Nigeria effective September 1, 2022.
At least, $600 million of over 20 foreign airlines has been blocked in Nigeria since the beginning of the year.
Emirates had about two weeks ago said that out of these funds, it had about $85 million in Nigeria.
The airline had on Monday cut its 11 weekly frequencies into Lagos Airport to just seven.
A statement by the media consultant to the airline in Nigeria alleged that all efforts to repatriate the funds had proved abortive and it was compelled to take the decision of suspending all flights into the country.
The airline's statement on Thursday said: "Emirates has tried every avenue to address our ongoing challenges in repatriating funds from Nigeria, and we have made considerable efforts to initiate dialogue with the relevant authorities for their urgent intervention to help find a viable solution.
"Regrettably, there has been no progress. Therefore, Emirates has taken the difficult decision to suspend all flights to and from Nigeria, effective September 1 2022, to limit further losses and impact on our operational costs that continue to accumulate in the market.
"We sincerely regret the inconvenience caused to our customers, however the circumstances are beyond our control at this stage. We will be working to help impacted customers make alternative travel arrangements wherever possible.
"Should there be any positive developments in the coming days regarding Emirates' blocked funds in Nigeria, we will of course re-evaluate our decision. We remain keen to serve Nigeria, and our operations provide much needed connectivity for Nigerian travellers, providing access to trade and tourism opportunities to Dubai and to our broader network of over 130 destinations."
Jigawa Govt Shuts Schools Over Security Threats
The Jigawa State Government has ordered the immediate closure of all public and private schools in the state over security threats.
State Commissioner for Education, Dr. Lawan Yunusa Danzomo disclosed this to newsmen in his office.
Danzomo explained that the directive is not peculiar to Jigawa State but all the states, especially the border states.
DAILY POST learnt that the state government had directed the immediate closure of all primary and secondary schools without further delay while the students were taking their terminal examinations.
The sudden closure has caused panicking among residents, students and teachers.
A headmaster confided in DAILY POST that they were asked to shut down the schools and release the students immediately.
He said the directive came while the students are writing their examinations a few days before the normal closing date.
DAILY POST had also observed that most of the students, especially boarding schools were left stranded after closure of the schools.
Police spokesperson in Jigawa, Lawan Shiisu Adam, said the police command in the state did not order the closure of the schools, and the Ministry of Education has not briefed the command on what led to the sudden closure.