First Lady, Aisha Buhari's New Pictures Fuel Pregnancy Rumour- What Nigerians Say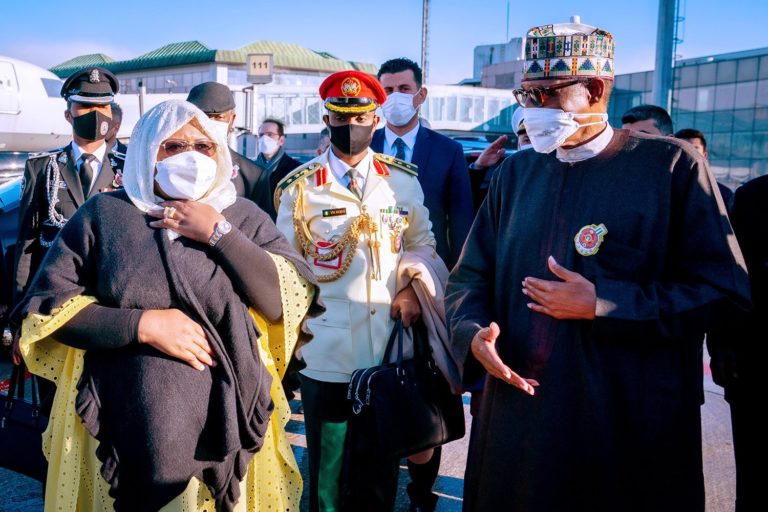 Nigerian first lady Aisha Buhari's new pictures are fuelling pregnancy rumour across the country, with Nigerians wondering if she is actually expecting a baby.
In one of the photos seen by Peoples Gazette, Mrs Buhari, alongside her husband, President Muhamadu Buhari, was surrounded by security officials, with one of them carrying her handbags.
In a yellow lace kaftan and a black shawl draped over what appeared like a baby bump, 50-year-old Mrs Buhari tenderly placed her right hand on it.
Another image showed the first couple seated in a plane. A zoom-in on Mrs Buhari shows a full face like that of a pregnant woman, different from her usual robust youthful visage.
A third picture showed the couple on the plane's stairs, with an apparent baby bump as the first lady gently stepped down the flight of stairs.
"Is Aisha Buhari pregnant or what is in her stomach," a curious Twitter user @Promise, said.
Another Twitter user, @Solowizzy also commented on the photos, stating, "Nigerians, what do you think about this pictures? Aisha Buhari is obviously pregnant."
In a hilarious tweet, @Alamin97296003 congratulated 79-year-old Mr Buhari for his "hard work."
"Aisha Buhari is pregnant. Baba Buhari a hard worker," the Twitter user stated.
If pregnant, Mrs Buhari, already a grandmother, will be the first president's wife known to be pregnant while her husband is in power and will likely be the first to give birth in the Presidential Villa.
It is also expected that Mr Buhari's supporters will that as a political point that the incumbent president is virile despite being assailed by ill health over the years since assuming power in 2015.
The photos were taken following the first couple's arrival from Turkey.
Mrs Buhari's spokesperson, Suleiman Haruna, did not respond when The Gazette contacted him for comments regarding the pregnancy rumour surrounding the first lady's latest pictures.
This month, UK Prime Minister Boris Johnson and his wife Carrie announced the birth of a baby girl at a London hospital.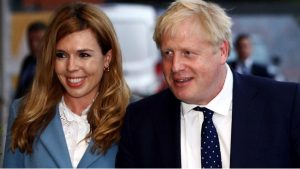 The baby is the couple's second child together, after their son Wilfred was born in April 2020, though Mr Johnson has four children with his ex-wife Marina Wheeler and another child, born in 2009, due to an affair with art consultant Helen Macintyre.
In February and March, The Gazette reported the first lady's disappearance from the public for six months.
Before her daughter's wedding in September 2020, the first lady of Africa's most populous nation, according to media reports, had been out of the country for a couple of months. There were claims she had relocated to Dubai in the United Arab Emirates.
Some have linked her continued disappearance from the public, especially accompanying her husband, Mr Buhari, to Daura, to domestic squabbles in the Presidential Villa.
Since 2016, it became public that Mrs Buhari was not impressed by how her husband was running the country's affairs. In an interview with the BBC's Hausa language service, she claimed Mr Buhari's regime had been hijacked.
According to the February report, she visited Daura with Mr Buhari on March 9, 2019, during the presidential election.
"The president does not know 45 out of 50 of the people he appointed, and I don't know them either, despite being his wife of 27 years," she had claimed.
However, her husband did not take that lying down as he fired a salvo from Germany in the presence of Angela Merkel.
"I don't know which party my wife belongs to. But she belongs to my kitchen and my living room and the other room," Mr Buhari said. The comments drew uproar on social media, with the Nigerian leader sustaining a barrage of public ridicule for several months.
Mrs Buhari had further pointed out in the interview: "A lot of people have been coming … to tell him that things are not going the way they should," she said. "If it continues like this, I'm not going to be part of any (re-election) movement again."
She was, however, back on the campaign train for Mr Buhari's re-election. Nevertheless, since that public outburst, the first lady has had to fight various "battles" in the Presidential Villa.
Though the first lady's office is not provided for in the Nigerian Constitution, the wife of the country's president is allowed to perform ceremonial functions on behalf of the government. In reality, though, a first lady has the president's ears even on national issues. In the case of the Buharis, there appears to be no love lost.
In 2019, there were widespread reports that Mr Buhari was to wed (October 11, 2019) Sadiya Farouq, the current Minister for Humanitarian Affairs, Disaster Management and Social Development.
Back in the country after two months in the United Kingdom, the first lady told BBC Hausa, "The person that promised her marriage didn't know it wasn't going to happen. She didn't deny the marriage until the day passed."
Mrs Farouq later married Sadique Abubakar, Nigeria's immediate past chief of air staff.
–Peoples Gazette, Getty Images.
Saying Hello Is Demonic… It's A Slogan Of Hell – Mummy GO (Video)
Olufunmilayo Adebayo, the evangelist nicknamed Mummy G.O. has revealed why hello is a language of hell.
The controversial Mummy GO of Rapture Proclaimer Evangelical Church of God (RAPEC) in a video shared on social media condemned the casual greeting word, hello, emphatically stating that the greeting is a demonic slogan.
Mummy GO who claimed to be confronted by a fellow preacher from Ghana reiterates that the word 'hello' unlike 'hallo' is a demonic slogan that translates to the word 'hell' when the 'o' is taken out.
"A bishop from Ghana was arguing with me. He said Evangelist Funmi, we are listening to your message but don't say nonsense. Don't teach us wrong things. I said what is the wrong thing that I taught.
He said 'you said if somebody said Hello, it is demonic. It is not good. I said yes sir I said so. I never denied it.'
By the time you remove o from Hello, what remains? Hell! So I greet you in the morning or you call me and I just mention Hell! It is a language of hell, a slogan of hell."
Watch the video below;
DSS detained Me For Six Months, Taunted Me To transform To Cat Like Igboho –Ifasooto
An Ekiti-based traditionalist, Dada Ifasooto, spent six months in the custody of the Department of State Services in Abuja.
He tells KAYODE OYERO how the secret police pronounced him innocent and released him on December 24, 2021 after wrongfully accusing him of preparing charms for the proscribed Indigenous People of Biafra; and embattled Yoruba Nation agitator, Sunday Adeyemo, aka Sunday Igboho
Please tell us about yourself.
My name is Dada Ifasooto. I am 29 years old. I am a herbal medical practitioner and a traditionalist based in Ekiti. I inherited divination from my forefathers. I am also a youth volunteer and I do join vigilantes and Amotekun operatives to chase kidnappers from Ikere Ekiti.
Who is Sunday Igboho to you?
I have not met him before but I have heard a lot about him in news reports of the Yoruba Nation rallies he attended in some South-West states before he was arrested. I have not met him personally.
How were you arrested?
There is a young man called Tajudeen (Irinloye) whom I have known for some time. He is a commercial motorcycle rider in Ibadan and he had come to me for treatment for an ailment. I called him thereafter to follow up on the treatment plan that I gave to him but unknown to me, he is an aide of Chief Igboho and the DSS had arrested him and some other aides during the widely-reported night raid of July 1, 2021.
When I phoned him, his line rang out and he didn't call back, which was strange to me. I never knew he was in the DSS custody. The next thing I saw was that on July 16, 2021, four fully-armed men in mufti stormed my sitting room in Ikere Ekiti around 6pm. They scattered everywhere, asking me where my android phone was. After I gave them my phone, they told me I called a commercial motorcycle rider in Ibadan. They said he (Tajudeen) had been detained and they had come to arrest me. They searched my apartment asking if I had a gun but I told them I do not own one. I asked them to show me their search and arrest warrants but they could not provide any.
Apart from your phone, what else was taken from your apartment?
They frisked the whole house and left the whole place in a mess but they didn't find anything incriminating. They took some of my divination tools. One of the four men said they should start leaving but another fellow shut him up and insisted that they must arrest me. I told them I had not committed any offence to warrant being arrested. They were speaking Yoruba language till that point but the four of them switched to Hausa language immediately and discussed for minutes. I didn't understand what they discussed afterwards because the language they spoke was Hausa.
What happened after the discussion?
One of them ordered me to stand up and follow them to Ikere Police State, claiming that they were from the station. I told them that if truly they were from Ikere Police Station, the police officers there would have informed them that I am passionate about community policing in Ikere as I do join vigilantes and Amotekun operatives to chase out kidnappers and criminals. I insisted that I was not going to follow them but they said I only needed to come to the station to sign a document that nothing incriminating was found in my house after the search.
Did you follow them?
I did but to my surprise, they didn't take me to the police station but went straight to the DSS office in Ibadan. In Ibadan, I resisted them, saying I would not go in until they tell me my offence because I am an easygoing person. In fact, I have not attended any protest or rally before but they took off my clothes, left me with only boxers and pushed me into a cell.
How many DSS operatives came for the operation?
They were more than eight but only four of them entered my sitting room. They came with two Hilux vehicles and a motorcycle.
Did they shoot during your arrest?
They cocked their guns but they didn't release any bullet.
Were there other persons in your house during the arrest and were they also taken away?
My wife was preparing dinner in the kitchen when they came that evening but she fled. I was the only one the DSS took away to their Ibadan office and I was the only detainee they drove to their Abuja office.
When were you moved from Ibadan to Abuja?
On July 18, 2021, which was a Sunday. Very early that morning, the DSS operatives told me to freshen up and I did. They gave me back my clothes and handcuffed me. They told me I would be taken to Abuja and I told them again that I had not committed any offence by phoning someone who is my customer. They told me to cooperate, saying they were the ones that arrested my boss. I asked them which boss? They didn't respond till we got to Abuja that same day.
Who did they say your boss was?
A DSS official interrogated me when I arrived in Abuja. He asked whether any herbalist followed those who came for my arrest and I told him I don't know. The official then informed me that the same people who arrested my boss, Chief Sunday Igboho, who turned to cats, were the ones who also came for me. I told him Chief Sunday Igboho was not my boss and I had never met him before. He mockingly told me to disappear then that I had been handcuffed and I told him I don't know what he was talking about. I told him I can't vanish because I am not a criminal. He shut me up and locked me up. I was locked up for the first three months and nearly forgotten there. I was pained because I did not commit any offence and did not deserve the treatment.
I developed ulcer and high blood pressure in DSS custody after three months. On October 10, 2021, I was taken to a hospital and I wasn't taken back there. On November 10, 2021, I was taken out of the cell to write down a statement and was immediately returned to the cell.
Were you detained alone in a cell or with others?
I was locked up with some Hausa/Fulani detainees accused of being Boko Haram members. We were 13 in the room.
What was feeding like in detention?
I was fed with a small loaf of bread and a tiny sachet of Cowbell as breakfast. They brought some colourless rice for lunch and so on.
Were you beaten in detention?
No, I was not beaten but the conditions I was subjected to were dehumanising. I couldn't sleep in detention, and I developed so many ailments.
While you were in detention, did you see any of the 12 Igboho's aides who were arrested during the raid of his house in Ibadan?
Yes, I met Tajudeen, the same person I telephoned that made the DSS to track my phone number. I met him in DSS custody even though we were not held in the same cell. He was shocked after I told him the whole story. He asked whether my people knew my whereabouts and I said none of my family members knew whether I was alive or dead because the security operatives told me that I was being taken to Ikere Police Station only for them to take me to the DSS office.
All through your six-month detention, what offence did the DSS say you committed?
The DSS said I phoned Tajudeen and I explained to them that he is my customer. They asked for the meaning of my name and I told them that it was given to me by my grandfather who was also a diviner. They asked whether I am also a diviner and if I learnt it somewhere. I told them I am a diviner but inherited it from my grandfather. I told them I had no interest in it but the elders said the oracle chose me upon the demise of my grandfather, so I had no other choice than to walk the path.
After many months in detention, some DSS operatives asked that I be brought out for another interrogation. They asked me of the offence brought against me and I told them that I was accused of phoning Tajudeen. The operatives then ordered that Tajudeen's file be brought out. They checked his file and all they found there was that Tajudeen said he gave me money as a trado-medical practitioner and I wanted to check up on him.
What was the response of the DSS operatives?
They accused me of preparing charms for Chief Sunday Igboho, which is not true. I did not prepare any charm for him. I have not met him before. They also asked me whether I had been to Imo State and I said I had not been to Imo or anywhere in the South-East. The officers then accused me of making charms for IPOB (Indigenous People of Biafra) but I told them that was not true as I had never been in contact with them.
How were you released?
I was eventually released on December 24, 2021 and the DSS operatives told me to be grateful to the lawyer and to their own investigation which showed that I am an innocent man. I was warned to be mindful of my activities going forward so as not to return to their custody. It is painful to be unjustly detained for six months but I thank God that I didn't spend this year's Christmas in DSS custody. The DSS should carry out proper investigation before arresting people.
Ooni Of Ife's Palace Reacts To Queen Naomi's Divorce Announcement From Monarch
The palace of the Ooni of Ife, Oba Adeyeye Ogunwusi Ojaja II, has reacted to reports on the divorce of Her Majesty Queen Silekunola Naomi from the king.
Queen Naomi had on Thursday announced her divorce from the Ooni of Ife via an Instagram post.
In a statement posted on her verified Instagram handle, she announced an end to the three-year marriage.
Queen Silekunola gave many reasons for the demise of her marriage to the Ooni.
According to her written statement, the divorce is not because of 'side attractions' or other lovers, as many opined. She also said that her marriage was not arranged and that the circumstances were being misconstrued by many.
However, when contacted, the palace faulted the claim saying "it is not true."
The Ooni's Director of Media and Public Affairs, Moses Olafare, who spoke on behalf of the Palace said, "This is not the first time such rumours had been peddled.
"There was a time it was reported that she left the palace and the next thing, she gave birth. So, the story is not true and it should not be taken seriously."