Ireti Doyle Distances self from Daughter's Business After Scam Complaints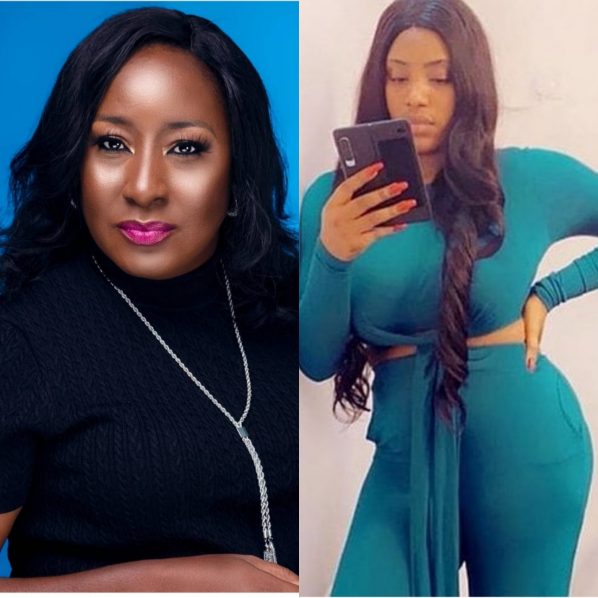 Popular Nollywood actress, Ireti Doyle, has released a disclaimer to distanced herself from allegations of fraud levied against her daughter on social media by people patronising her business.
The actress' daughter, Ngozikachi Abimbola Onyeluo, has allegedly scammed several victims with her empowerment scheme in form of a hair importation business by receiving payment from them without delivering the ordered products.
After being tagged constantly as a part of her business, Ireti has released a disclaimer saying she has no part in Ngozikachi's business and the relationship shared with her is just being her mother.
Some of the people who claimed to have been scammed sent a mail and messaged to the online platform, fij.ng, they read:
"Distributors package,.refund my money so I can pay up the loan you made me incurred so we can go our separate ways." —Pretty. Ddy:
"Refund my 300k and stop being heartless." —Blenwoman:
"Kachi is the biggest scammer I have ever seen, she is soo rude, it will never be well with her ooo she is holding my 206000 for the past six months now no product no refund." — Hairvolution beauty.
"So this is what I heard from a right source oo .. for the wholesale deal , I head Kachi wrote terms and conditions, people who bought from the wholesale deal didn't read that part they just went ahead and payed …if you bought from her whole sales deal the money is gone except you followed the terms and conditions, I don't think she will pay them oo , na Wetin I hear from someone very close to her." — Bolu2704.
"Paid 80k since may last year when I was just 4 months pregnant, now my baby is four months old, no hair and no refund!! Imagine that I wanted to use the returns of the money to buy baby things only to be stranded by Kachi!! Once I asked for refund, she blocked me !! How can you take someone's money refused to deliver and also refuse to refund !! The audacity this Kachi lady has is what is amazing, anyway I don't blame it's cause our justice system is wack. If not she go refund me my money , pay for demurrage and for emotional distress." — Shawtymj.
"My God is not their gods.@kachibeautyproducts did you see me calling you again. The way to get my money back is on process. you will come down to Anambra your self and you must pay me with interest. This is the request I made you will suffer. She is heartless and wicked.if she refused to pay go and petition her at the any of the super shrine in Anambra state.no pity for a heartless bitch. I am Zita,you blocked me,you will suffer I promise you that." —Onyekazy."
This is not the first time Ngozikachi would be called out on this issue. She is yet to give any reply to these allegations.
Davido And Chioma Celebrate Son Ifeanyi's 2nd Birthday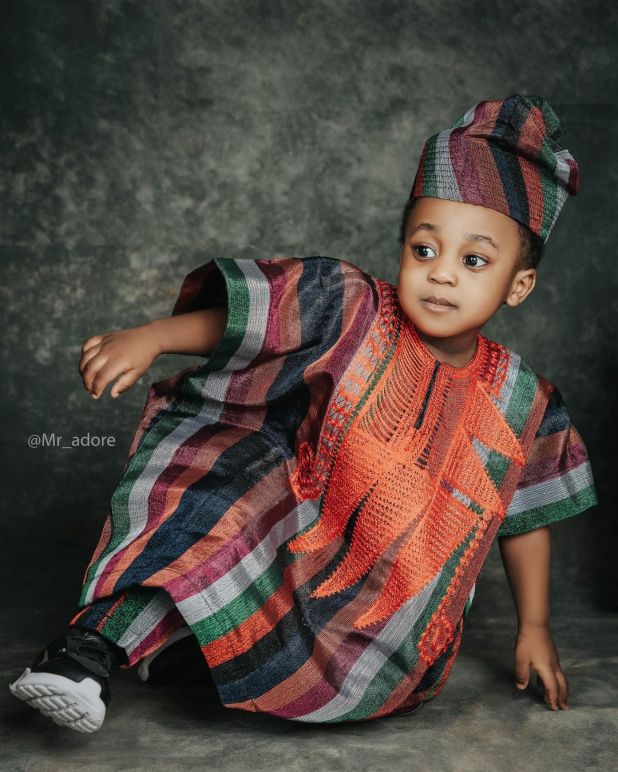 Nigerian singer David Adeleke popularly called Davido has joined his ex-lover Chioma Avril to celebrate their son, Ifeanyi, as he clocks 2 today, 20th October 2021.
Although the former lovebirds have been separated for several months, they took to their Instagram page to shower love and prayers on their son.
While expressing love for his son, Davido prayed that his son Ifeanyi would grow to be greater than him and make him proud.
Davido wrote: Happy 2nd Birthday to my loving Son David Ifeanyichukwu Adedeji Adeleke !!! You will grow to be greater than me Amen ! You will grow to make all of us proud!!! Stubborn!! DADDY LOVES YOU SO MUCH OSUN BOY.
Similarly, on her Instagram page, Chioma described her son as the perfect little man, funny, attentive, caring, loving, and watching him grow comforts her soul.
Chioma said the bond between her and her son is beautiful, and she would not trade it for anything in the world. She also prayed that God would grant him long life.
thechefchi wrote: Happy birthday to the perfect little man! I love you so much, watching you grow soothes my soul! To my loving, funny, attentive, caring son, I pray that God watches over you forever and grants you long life, you're gonna be so great I know! Our bond is beautiful and I wouldn't trade it for anything in this world. Happy 2nd birthday Papa! Mummy loves you so so much. You're blessed!
Tonto Dikeh: Police Give Reasons For Arrest, Detention Of Prince Kpokpogiri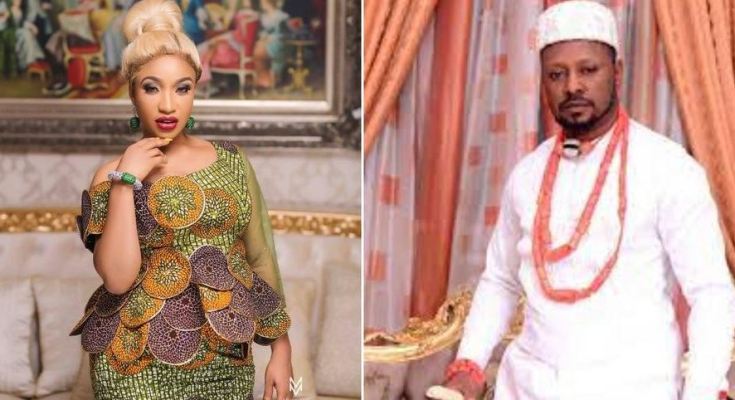 Police authorities at the Force headquarters in Abuja have disclosed the reasons why Prince Kpokpogiri, the ex-boyfriend of Tonto Dikeh was arrested at TransCorp Hilton Hotel Abuja and detained.
The force debunked claims that Kpokpogiri was not detained because the Nollywood actress has a connection with the DIG in charge of Force Criminal Intelligence and Investigation Bureau, DIG Joseph Egbunike.
Rather, Prince Kpokpogiri who is currently facing a pending investigation at Force CID was said to have bypassed Police authorities, went and hired 2 police officers attached to Maitama Police station, took them to Transcorp Hotel and threatened to open fire at Tonto Dikeh if she did not hand over the keys of an SUV to him, Kpokpogiri.
Vanguard investigation shows that in the early hours of Tuesday 19, October, 2021, at about 12.30 am, Prince Kpokpogiri took his driver and two policemen and went to Transcorp Hilton.
"They blocked a vehicle that was packed there and stayed till 6am. Kpokpogiri's driver said he gave the keys of the vehicle to Tonto Dikeh but Prince Kpokpogiri alleged the car was stolen.
In the confusion and argument that ensued, one of the policemen allegedly pointed his gun on the head of Tonto Dikeh, prompting the Security team at Transcorp to alert the Inspector General of Police..
At that point the IGP, Usman Alkali Baba directed the DIG in charge FCIIB to look into the matter. DIG Egbunike subsequently deployed the Commissioner of Police in Charge Administration at Force CID, CP Umar Sanda and some police operatives to the scene.
At the scene, Prince Kpokpogiri was said to have become violent and was allegedly raining insults and curses on the Police officers while all entreaties for him to calm down failed.
Consequently, when DIG Egbunike was briefed about the conduct of Prince Kpokpogiri, he ordered the arrest of the Prince and the policemen that the prince came with."
The force said his arrest is to enable him to regain his sanity after which he would be questioned on the issue about ownership or otherwise on the vehicle in question.
DIG Joseph Egbunike confirmed the arrest to Vanguard saying, "Yes, I called my CP Sanda Umar, CP Administration who dispatched officers to arrest them. He (Kpokoogiri) became insulting and uncontrollable. I ordered his detention to enable him calm down. Besides, he has a pending petition against him which CP Sanda Umar is investigating."
It would be recalled that Nollywood actress Tonto Dikeh had earlier dragged Prince Kpokpogiri to the police headquarters, accusing him of extortion, blackmail and threat to life.
A petition written by her lawyer and dated 10 September 2021 demanded police probe of the politician/lover for a variety of allegations, including criminal defamation, hacking, cyberstalking, and obtaining by false pretences.
The petition read: "Our client has reasons to believe that Kpokpogiri Joseph had planted a closed-circuit television camera (CCTV) at private areas of his residence and staged-managed those visits with the aim of blackmailing our client.
"She was surprised when sometime in August the said Joseph started demanding for the sum of five million naira from her and threatened to expose her nude pictures and other such document relating to her if refuses to pay.
"To actualize this demand, the said Kpokpgiri started sending messages, documents and files containing sensitive information and materials relating to our clients to her phone while releasing some to the public.
"Our client believes that Joseph hacked her phone and illegally obtained private conversations she had with a third party which he, Joseph Kppkpogiri then caused to be released to the public on or about the 6th day of September 2021.
"Our client has been receiving series of threats phone calls which she believes are being orchestrated by the said Kpokpogri.
"On or about the 7th day of September 2021, our client received a phone call from this line 09038727436 which threatened her that if she writes anything against the said Kpokpogri, they will kill her; that they know where her son is schooling and every other detail about her.
"By reason of the above, we urge you to use your good office to cause a detailed investigation into the above facts with a view to bringing Joseph Kpokpogri to book."
Tonto and Kpokpogri are said to have parted ways over allegations he was cheating on her.
Meet Ooni Of Ife's Latest Queen, Oloori Afolashade Ashley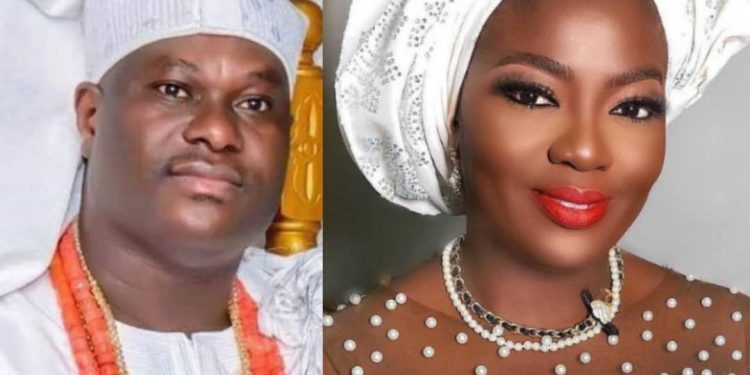 She is called Oloori Ashley and she is an entrepreneur and an accountant. The pretty queen runs a non-profit organization known as Ashley Adegoke Foundation.
She was based in London before relocating to Ile Ife.
Really, Ashley isn't a new entrant at the Ile Ife palace. She is not a new lover in Ooni's life too.
She has always been in the handsome monarch's life even before he married Oloori Wuraola (who left after the palace and divorced the king) Mind you, Ashley took a part of Oba Adeyeye's heart before Naomi Silekunola became his queen.
In fact, the Ooni of Ife, Oba Adeyeye Enitan Ogunwusi, who clocked 47 years old, last week, would have married Ashley before Naomi but there was an impediment—Ashely is a single mum.
Recall that the tradition in Ife forbids the Ooni from marrying any woman who has ever had a baby for another man.
Simply put, a single mum cannot be the Yeyeluwa.
Investigations further revealed that whoever wants to be the Yeyeluwa in Ife kingdom must be a woman with no string of motherhood in any form.
A source exclusively told Kemi Ashefon, "Ashley is a good woman who is very generous to the king and had always been like a financial backbone but their marriage was delayed because she has a child out of wedlock.
In 2017 when Oloori Wura left, everyone thought Ashley would replace her but the fact that she has become a mother before meeting the Ooni became the obstacle. Ashley relocated to Ile Ife since Oba Adeyeye ascended the throne and has refused to leave the palace ever since.
Though Oloori Naomi is recognized as the first Queen in the palace, she and her family members who live with her, know categorically that Ashley cannot be toyed with.
They all know Ashley is a no-go area and the Ooni doesn't tolerate any form of disrespect towards his beautiful Ashley."
Well, Ashley has been unveiled as the latest queen during the 47th birthday of the Ooni last weekend. Even Oloori Naomi acknowledged the presence of some queens in the palace while giving her vote of thanks at the surprise party organised for the king.
She referred to Ashley as the Princess of the Source and prayed for more queens in the palace.
In her birthday shout-out, Oloori Ashley referred to the monarch as 'my crown.' She refers to herself as "Omo Olofin, Aya Olofin, Aya Osha, Aya Adimula'
She wrote in the birthday message to the Ooni,"To know you is to LOVE you… Father to the nation, husband to many… Oko Osho… Oko Opo.. Oko Aje… Ekun Omo Giesi.. Orisha Oke ti gbogbo Orisha ile ngba fun…Orunmila Oko ODU…Dagunduro…Akande Ajiwe fun'osha… Olori Alade Gbogbo…Okirikiribiti….Igba Odun Odun Kan ni. If I could give you a gift, it'll be to see yourself in people's eyes and see how special you are to many. Cheers to many more years in good health and abundance of wealth ni Ase Olodumare 👏🏽👏🏽 Happy Birthday my Crown Jewel 👑ODU Aya Osha… Aya Olofin…Omo Oba 👑🥰❤️👑"
Source: KemiAshefon