Abuja Residents Lament As 'Pure Water' Now Sells For N300, N400 Per Bag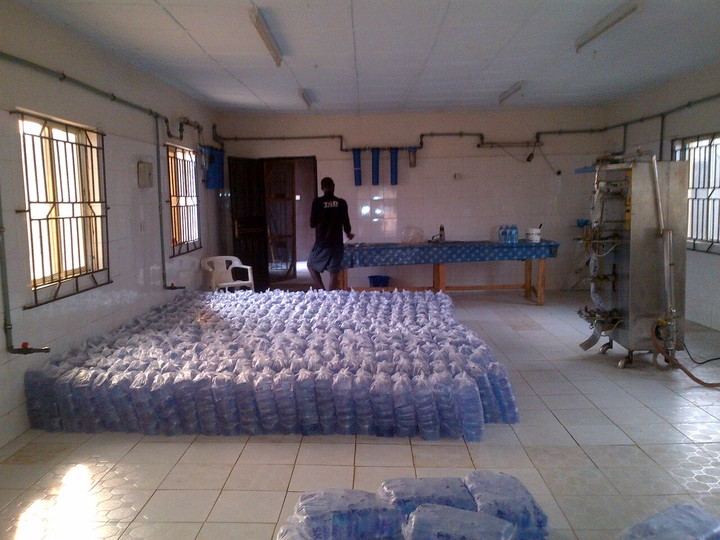 The price of sachet water, popularly known as pure water, has been increased across Abuja metropolis and environs, with a bag now sold at N200 and a sachet for N20, according to information from producers of the commodity.
Findings showed that what is known as a bag of sachet water which contains 20 sachets, is now sold for N200 to N250 by factories while retailers sell for N300 to N400 as against the initial price of Between N80 to N150.
This means that a 50 cl sac of 'pure water', which was sold for N10 before now, is now sold for nothing less than N20 to N30 depending on the area.
Resellers such as cold room operators may sell at N240 a bag.
This development follows the trend of minute by minute rise in prices of goods and services in the country currently battling unimaginable inflation.
Some sections of Abuja residents who shared their grievances with DAILY POST lamented that "pure water" has been their saviour due to the unavailability of a reliable supply of safe and hygienic water.
Findings further reveal that millions of people in the country, especially in the commercial cities, shanties and rural areas rely on the popular "pure water" for their daily drinking needs.
"Pure water" producers, under the Association of Table Water Producers Association of Nigeria, on Thursday announced they have imposed an increase due to rising production costs.
"Water producers are to sell to their customers if less than 100 bags at N200 per bag," the notice partly said.
However, some 'pure water' companies who spoke to DAILY POST in Abuja all cited the increase in cost of production, saying that they could no longer afford to produce at a loss.
"We can't continue the way we were going. At a point, many of us wanted to shut down completely but after our general meeting last week, we decided to carry on but not as we use to," one of the factory operators said.
"What is the essence of venturing in a business if instead of making gains you are losing the little one you've secured. Prices of raw materials we use for production are now 200 percent higher than what we used to buy them. So the only option to remain in business is to increase the price of the product," he added.
Nigerians on the streets of Abuja and market places are not happy with the development and are calling on the government to show more concern to the plight of ordinary Nigerians.
June Ibegbulam, who loads taxi in Wuse motor park, said, "My brother, this one tire me. How we wan take survive? Just when we dey talk say we no fit buy food chop again, now water don join food. I stand here under the sun for the whole day. When it was N10, I drink at least 10 to 15 but now, I have to reduce it 5. This government is killing us faster than we expected. Na only God go save us."
Mama Aminat, a market woman in AMAC Market, said, "Wetin you want make I talk? You no know say everything don spoil? Buhari don finally finish us. The worse you can do to any living thing is to deny them water. Food aside, no one can do without water and that many people can no longer afford ordinary 'pure water' is a big problem. I be mama, I get four children. Before, we dey buy 3 bags for N360. But now 3bags na N750. Tell me, how we wan take do am? Na only water person go drink?"
An Abuja based medical expert, who spoke on condition of anonymity, told DAILY POST that the hike in price of sachet water may lead to waterborne diseases and deaths.
According to him, people, mostly those living in shanties and rural areas will now resort to contaminated water due to their inability to afford cleaner water for themselves and members of their families.
He listed some of the most common waterborne diseases to include "Typhoid Fever, Cholera, Giardia, Dysentery, Escherichia Coli (E. coli), Hepatitis A, Salmonella" and called on the current administration to "see to the welfare of ordinary Nigerians," adding that "if all citizens have access to clean water, these diseases would not exist."
EndSARS: CNN, Amnesty International Must Apologise To FG -Lai Mohammed
The Federal Government has demanded an apology from Amnesty International, CNN and DJ Switch for misleading the world that there was a massacre at the Lekki Toll Gate on Oct. 20, 2020.
The Minister of Information and Culture, Lai Mohammed made this demand on the occasion of the first year anniversary of the famous #EndSARS protests in Nigeria.
According to the Minister who spoke during a press conference in Abuja on Wednesday, CNN, Amnesty, and DJ Switch are all guilty of spreading fake news.
Mohammed maintained that there was no massacre of Nigerian youths at the Lekki Toll Gate incident during the protest last year and the trio mentioned only gave false and misleading reports.
The Minister insisted a professional analysis of what transpired at the Lekki Toll Gate revealed that the military didn't massacre anyone while if truly there was any killing as widely reported, the families of the victims and those affected would have appeared with evidence before the Judicial Panel of Inquiry.
Not done, Lai Mohammed further accused the trio of spreading 'tales by moonlight' about what he described as the phantom killings at the Lekki Toll Gate during the EndSARS protests last year.
He said: "…During the sitting, CNN was summoned but it never showed up, thus missing a great opportunity to prove its allegation of massacre at the toll gate. Also, Amnesty International had a golden opportunity to convince the world, but it rather opted for issuing meaningless press releases."
"In its latest attempt to grasp at straws and redeem whatever is left of its battered credibility on this issue, CNN has continued with its baseless report that soldiers shot at protesters. In a report currently running on the network, CNN brazenly and unashamedly held on to its flawed narrative, relying on an unidentified mother whose son was reportedly shot dead at Lekki, but without convincing evidence of who shot him dead. The same CNN that tweeted on Oct. 23rd 2020 that 38 people were shot dead at Lekki is now struggling to convince the world that one boy was killed at Lekki. What a shame!"
"The testimony of ballistic experts before the Judicial Panel of Inquiry in Lagos contradicts the tales by the moonlight by Amnesty International, CNN, a runaway DJ, and their ilk."
BREAKING: Police Arrest #EndSARSMemorial Protesters At Lekki Tollgate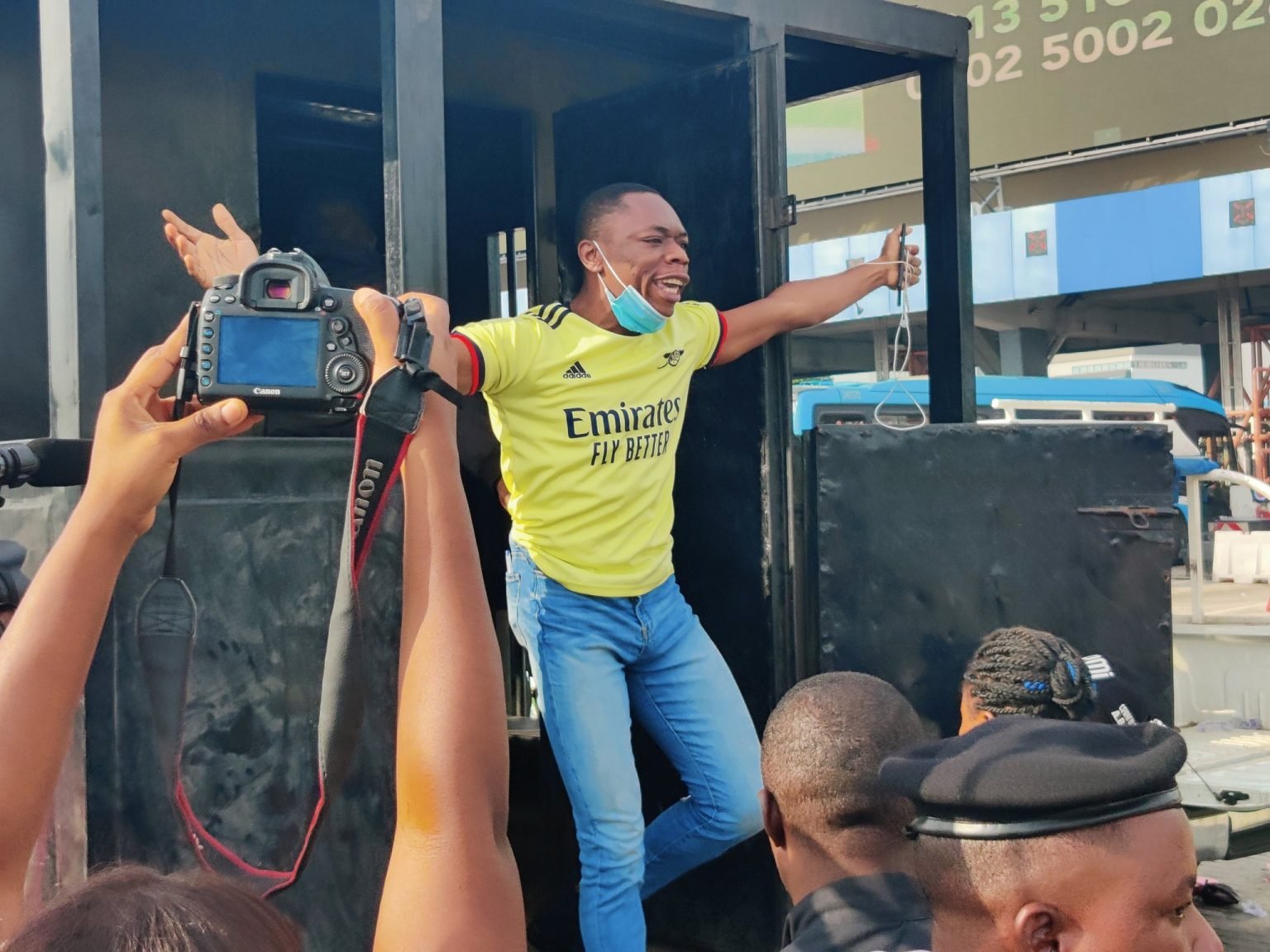 Operatives of the Lagos State Police Command have arrested two protesters at the Lekki tollgate where the #EndSARS Memorial Protest is scheduled to hold in the state today.
One of those arrested claimed to be a journalist while the other was seen carrying a placard.
The police had reportedly warned that anyone seen at the tollgate without an ID card will be arrested.
The arrested journalist told newsmen that he works with LegitTV and that his phone, driver's license and other documents were taken away from him.
Speaking from a Lagos State Task Force van where he was kept by the police, the journalist who identified himself as Abisola stated that he lost his ID card in transit.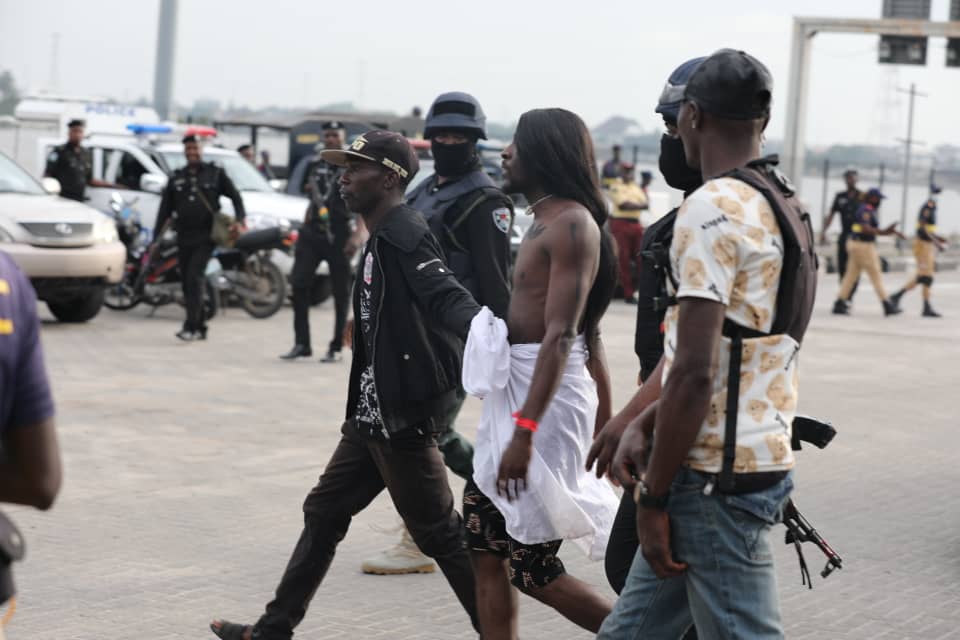 About 30 police trucks and armed personnel are currently at the tollgate to enforce a ban on protests issued by the police command.
A car procession in honour of those believed to have lost their lives at the tollgate when soldiers dispersed #EndSARS protesters on October 20, 2020, is scheduled to hold at the tollgate today.
What #EndSARS protests were about
The #EndSARS protests which were held in October 2020 were against the activities of the now-disbanded Special Anti-Robbery Squad, a unit of the Nigeria Police Force which was accused of police brutality.
The epicentre of the protests was the Lekki tollgate in Lagos where many youths gathered day and night to air their grievances against police brutality and bad governance.
They were dispersed from the location by gun-wielding soldiers on October 20, 2020, an action which some quarters believe led to the loss of lives.
This was followed by the destruction of private and public properties by hoodlums in Lagos, an incident that informed the latest warning issued by the police in the state.
PUNCH
Police Threaten To Punish Inspector For Voting At APC Congress
The Zone 1 Command of the Nigeria Police Force, Kano, on Tuesday said its attention had been drawn to a trending picture on the social media, of a police inspector casting his vote at the Kano State congress of the All Progressives Congress alongside his principal, the state party chairman, Alhaji Abdullahi Abbas.
A statement by the Zonal Public Relations Officer, DSP Abubakar Ambursa, added that the inspector had been identified as Bashir Mohammed of the Special Protection Unit, Base 1, Kano.
According to the statement, the Inspector is attached to the Government House, Kano, from where he was deployed to work with Abbas as a security aide.
"In view of this seemingly unprofessional conduct of the inspector, the AIG (Assistant Inspector General of Police) has referred the matter to the Zonal X-Squad for investigation.
"If the inspector is found to have committed the offence, appropriate disciplinary action will be taken against him," the statement said.
The police assured members of the public that further development on the matter would be communicated.