Primate Ayodele's Warnings To South Africa Comes To Pass Few Days After Release Of Prophecy Book
The nation of South Africa is currently under security threat after protesters and rioters took to the streets to perpetrate violent and criminal acts. In the last two days, shops have been looted, people have been killed and generally, there is tension everywhere.
This according to information is because of the persecution of the former president of the country, Jacob Zuma who was sentenced to prison for issues relating to corruption.
Meanwhile, a popular Nigerian prophet, Primate Elijah Ayodele had prophesied this current situation being faced in South Africa. His prophecy on South Africa is contained in his 27th annual book of prophecy titled Warnings To The Nations released on Friday, 10th Of July 2021.
On page 220 of the book, Primate Ayodele noted that if charges against Jacob Zuma isn't properly handled, it will lead to protests, violence, destructions of lives and properties.
Just as Primate Ayodele said it, the situation in South Africa now is scary due to the violence, killings, properties that have been destroyed so far and this is because of the jail term handed to the former President of the country, Jacob Zuma. The president has deployed the military to the streets yet no positive outcome has been made yet.
Read His words below
Of a truth, Primate Ayodele his one of the greatest prophets to have come out of Africa. He isn't one who gives prophecies without them coming to pass.
Crippled Muslim Man In Tears After Receiving N2 Million Wheelchair At Primate Ayodele's Church (VIDEO)
Popular prophet, Primate Ayodele has continued to extend his magnanimity to several individuals without putting into consideration their religion, tribe, beliefs or any form of differences.
Yesterday, during a live service at his church; INRI Evangelical Spiritual Church, a crippled Muslim faithful got the shock of his life when he was called out to receive a modern wheelchair worth N2 Million for free as facilitated by a church member, Mrs Buchi Anene
It was indeed an emotion moment for the Muslim faithful who has been left with no option than to make use of the old wheelchair due to lack of funds and support from those he went to.
According to information, He has been to about 20 churches, mosques, Muslim clerics and pastors to solicit for help on his wheelchair but never got any till God's favour found him at INRI Evangelical Spiritual Church.
While receiving the gift, He started by reciting some verses in the holy Quran and continued with songs of praises to God. At some point, he became teary while appreciating God, Primate Ayodele and Mrs Buchi Anene who facilitated the precious gift.
His mother who was among the congregation couldn't hold her joy as she ran out of her seat to appreciate Primate Ayodele and Mrs Buchi Anene for the kind gestures towards her son.
Primate Ayodele's church has over the years become a place where the hopeless gets hope, the less privileged gets empowered, it has been more of a charity organization due to the many millions of naira that has been invested into empowerment of all kind.
WATCH VIDEO HERE:
https://fb.watch/77xzgtrt0x/
Primate Ayodele's Prophecies On Air Peace, China, India, Come To Pass
Despite the fact that Primate Elijah Ayodele, the leader of INRI Evangelical Spiritual Church has faced several critics because of the unique prophetic ministry the Lord has given him, He has continued to shine across borders and nations with accurate fulfilment of his prophecies.
Few days ago, Primate Ayodele was celebrated for his fulfilled prophecy on Mali's interim president and assassination attempt on Madagascar President. Primate Ayodele had specifically warned Mali's interim president some months ago to watch his movement because he foresees an attack on his life. This happened last week, Assimi Goita, the interim president of Mali was attacked at the mosque during prayers.
Days after that, Primate Ayodele has proven his critics wrong with the fulfilment of more of his prophecies below
– Air Peace: Two days ago, there was panic at Ilorin Airport when an aircraft of Air peace crash landed as a result of a burst tyre. Up until yesterday, the airport was closed because the aircraft was still on the runway. Primate Ayodele in his annual book of prophecy titled Warnings To The Nations(2020/2021 edition) specifically mentioned Air peace in the aviation sector and warned that the management should be mindful of crash landing. This can be found on page 208 of the book.
– China: The situation in china is one that has never happened before. The country is faced by a natural disaster that has led to the death of many, destruction of lives and properties. This was contained in Primate Ayodele' annual book of prophecy titled Warnings To The Nations 2020/2021 edition on page 135. The man of God noted that China would be faced by natural disaster that will lead to destruction of lives and properties.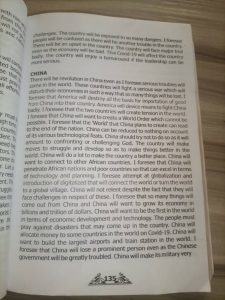 – India: Primate Ayodele on page 149 of Warnings To The Nations 2020/2021 edition noted that India will be ravaged by flood that has never happened before. As we speak, India is having her own share of flooding.
Primate Ayodele has made a name for being the only prophet in Africa that accurately prophecies about virtually everything. With his style of prophecy which is totally different from others, He has been recognized as one of the most consistent prophet in the world.
"He Ended The Race Prayerfully" -TB Joshua's Wife Recounts Last Moment
Evelyn, wife of popular televangelist, Prophet Temitope Balogun Joshua also known as TB Joshua, has recounted her husband's last moment.
She disclosed that TB Joshua spent his last moments prayerfully and was concerned  about India, following the cases of COVID-19. Evelyn recounted this during a meeting with some foreign visitors.
Evelyn disclosed that the popular prophet was found dead in his office after conducting a service in the church.
She was quoted as saying: "He ended the race prayerfully". She revealed that he spent about three hours in prayers before the last service on the mountain and was looking very healthy.
She said he never showed any sign of illness or worry and that his main concern was about the prayer line they offered to Indians against the COVID-19 pandemic.
Afterward, he came up to shower and she left him to have some time to prepare for service as worship had started. Few minutes later, he stepped out for ministrations. While ministering, he spoke about a time to come and time to leave.
According to her, his statements were spiritual and suddenly, he left the stage and went to his inner chambers. She waited a few minutes and thereafter decided to check on him.
And she met him sitting on the chair like someone reflecting but unconscious. She quickly beckoned on his disciples who came and tried to revive him to no avail.
Of a truth, he went home to be with the Lord and left us with a message, "watch and pray".