Manchester United 'Agree £77Million For Jadon Sancho'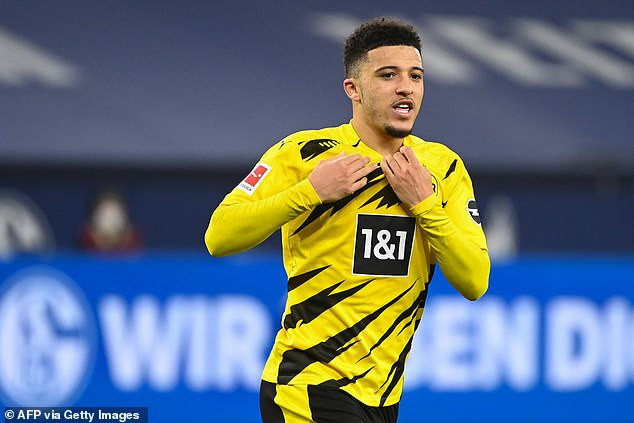 Manchester United football club of England are reportedly on the verge of signing Jadon Sancho after finally agreeing to pay Borussia Dortmund's huge £77million asking price.
The England winger was the subject of a £75m offer earlier in the week from United which was swiftly rejected with Dortmund handing United a 'take-it-or-leave-it' offer of €90m (£77m) for the 21-year-old.
Now according to a report by reputable German publication, BILD, United have now gone back to Dortmund with a new offer that has met their valuation and the deal could be concluded in the coming days.
The £77m deal would see Sancho become United's third most-expensive transfer ever, behind Paul Pogba and Harry Maguire.
Dortmund have been desperate for Sancho's future to be determined before July 23 and are keen for tbe deal to be wrapped up as soon as possible so they can get reinforcements.
United have long been pursuing the 21-year-old forward, with Ole Gunnar Solskjaer identifying him as his No 1 target last summer.
Personal terms on a five-year contract have already been agreed, meaning there are only formalities left to complete before Sancho can be announced as a Manchester United player.
Sancho will be United's first big signing of the summer and could be followed through the doors at Old Trafford by a centre-back, the report adds.
Sancho moved to Dortmund in 2017 from Manchester City in an £8m deal as a 17-year-old.
He has scored 50 goals and registered 64 assists in 137 Dortmund appearances since, including 16 goals and 20 assists last season in a difficult campaign for the team in 2020-21.
Anthony Joshua, Eddie Hearn Confirm Rematch Against Oleksandr Usyk
Anthony Joshua, the former heavyweight boxing champion who was dethroned over 12 rounds by Oleksandr Usyk in Saturday night's fight, wants an immediate rematch.
Joshua, who remained upbeat despite the surprise defeat, was frank about his take on the loss and ready to get his titles back.
His promoter, Eddie Hearn has confirmed the British boxer's rematch with Oleksandr Usyk.
Joshua was outboxed and dethroned by Usyk at the Tottenham Stadium on Saturday night.
AJ could not withstand Usyk's speed, movement and accuracy and the Ukrainian is now the new heavyweight champion.
Although the Nigerian-born boxer recorded some moments of success throughout the fight, they weren't enough to give him victory.
The bell saved AJ from being knocked out as Usyk ultimately outclassed Joshua and had him out on his feet in the final round.
The Ukrainian boxer recorded 117-112, 116-112, 115-113 against Joshua to emerge a two-division king of the world.
Hearn told Sky sport that AJ has vowed to win the rematch which will certainly be his next fight: "I spoke to him [Joshua].
"It was a tough fight, gruelling fight, he's not quite talking the way you'd expect him to talk at the moment.
"Devastated. Already talking about training again. They want to look at the eye socket, he says it's fine.
"That was always the danger of the fight – you overthink the fight, you try and be too technical, you don't use your attributes and you don't make your mark early enough in the fight.
"AJ's desire is still there.
"The fighter in AJ is already talking about, 'I'll win the rematch, I'll win the rematch.'
"It was a tough defeat. Usyk was the deserved winner and he's got to make changes in the rematch.
"He will want to go straight back into that rematch, he will be the underdog in the rematch this time after that tonight, but that's what he does.
"He chose tonight to take on a pound-for-pound great. It didn't work out, but he should get credit for that.
"He was beaten by the better man and congratulations to Oleksandr Usyk."
Anthony Joshua Loses IBF, WBA, WBO Heavyweight Titles To Usyk
Anthony Joshua on Saturday night, lost his IBF, WBA and WBO belts in a stunning fight at the Tottenham Hotspur Stadium.
His reign as IBF, WBA and WBO ended in a stunning fashion, as Usyk won by a unanimous decision.
The judges' result sheets read: 117-112, 116-112 and 115-113.
The Ukranian's speed and skill proved to be too much for Joshua, who was saved by the bell.
Joshua was badly hurt in the third round and carried a swelling injury on his right eye at the end of the fight.
This is the second defeat of his career, after he was upset by Andy Ruiz Jr in 2019.
Tonight's loss will now throw a spanner into the works of an undisputed title fight against Tyson Fury, who again faces Deontay Wilder on October 9.
Lyon reveal why they rejected Arsenal's offer for Aouar
Usyk becomes the only third boxer (after Evander Holyfield and David Haye) to win world titles at cruiserweight and heavyweight.
Anthony Joshua Releases Statement Ahead Of Title Fight With Oleksandr Usyk Tomorrow
Anthony Joshua has weighed in 19lbs heavier than Oleksandr Usyk ahead of their heavyweight bout tomorrow night, September 25.
The British-Nigerian boxer came in at 240lbs for the defence of his WBO, IBF and WBO straps, the same weight he carried for his fight against Kubrat Pulev in December.
Usyk, the former undisputed world cruiserweight champion, weighed in at a career high 221.25lbs.
That is an increase on the 199.5lbs from his debut at heavyweight and the 217lbs for his triumph over Derek Chisora.
Speaking to Sky Sports, the Watford-born titan hinted at what his game-plan may entail, and plans to outmuscle Usyk.
'I can out-box him, of course I can,' Joshua said. 'And I can out-strength him.
'You have to have a bit of aggression, boxing skill, head movement. There is not just one factor that determines a fight.
'Obviously we have our go-to, our strength. I will use my strengths.
'But it's called a boxing match for a reason. I love the sweet science. I will display my boxing skills, but I won't make it too complicated in there.'
He also insisted that he will attempt to knockout the Ukrainian in the fight.
'You always aim to prepare for a 12-round fight but hope to cut it short – you aim to knock people out,' Joshua added.
'You learn where their strengths are, where their weaknesses are. He has good stamina. So we work around, not just losing weight, but rounds of sparring and rounds on the heavy bag to generate good stamina.
'We build boxing memory in our muscles so they don't get fatigued when they are exploding on the opponent's body and face.'
The fight will take place at the Tottenham Hotspur Stadium on Saturday 25 September.