Sen Andy Uba In Trouble Over Heritage Bank Debt (Video)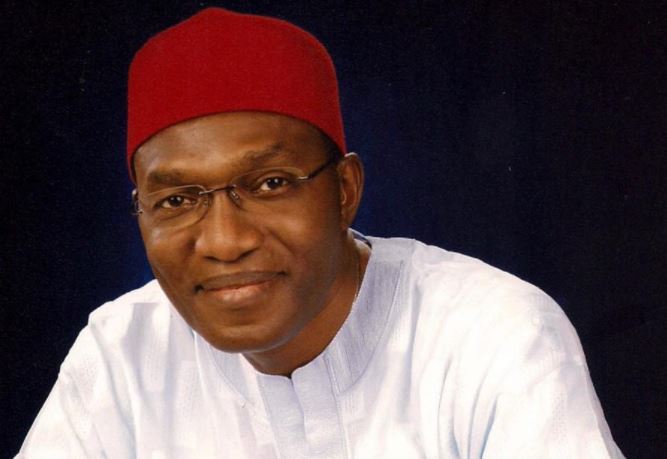 A leading APC governorship aspirant in the Anambra governorship election fixed for November 2021, Andy Uba, is currently swimming in trouble, JomogNews Nigeria reports.
He is said to be heavily indebted to Heritage Bank.
Though the exact amount Uba owes the bank has not been made available, a credible source stated that the debt is in billions.
His indebtedness, insider confirms, has become huge source of worry to the bank executives so much so that the bank mobilized early on Monday, June 21 and stormed his Abuja residence to compel him to pay.
In a video that has gone viral, a voice, ostensibly one of the bank's executives, was heard saying
"We are staff of Heritage Bank in Abuja and we are here Senator Andy's house house in Abuja.
"He has been owing the bank for a couple of years now.
"We are here for a peaceful meeting with him to pay his loans which are depositors money.
"If this debt is not paid, staff will lose their jobs. We are here to appeal to him," the obviously frustrated banker said.
A known face in the Nigerian political space, Andy Uba had won the Anambra state Governorship election in 2007 in a landslide victory and was sworn on May 27, 2007.
But the people of Anambra were stunned when on June 14, 2007, barely two weeks and three days after his swearing-in, Senator Andy Uba was removed from office by a judgement of the Supreme Court.
It was a judgement that spurred uproar in many quarters across the nation because many legal minds argued that the apex court, at that time, had no jurisdiction over the case.
Senator Uba, at the end, however, accepted the sad development and congratulated his opponent, Peter Obi, who became the bonafide governor.
This was after the soft-spoken Senator from Ugah in Anambra South Senatorial District had served President Olusegun Obasanjo as a senior aide in charge of domestic affairs.
The Presidential Villa position energized his political influence across the length and breadth of Nigeria.
It also upgraded him into the club of billionaires in cash and assets.
Subsequently, after the governorship failure, he, in April 2011, won the Senatorial election to represent his District. He did two terms and was in charge of lucrative and grade A committees like INEC.
He is currently in the governorship race which comes up on November 6, 2021 but the debt crisis may be the spoiler.
Born on 14 December 1958 in Enugu, Uba who attended the Boys High School in Awkunanaw and Concordia University is not fresh to controversies.
In the 2011 Senate election under PDP, he won with 63,316 votes, ahead of Chukwmaeze Nzeribe of the All Progressives Grand Alliance (APGA) with 43,798 and Senator Ikechukwu Obiorah of the Accord party with 24,724.
Uba's election was challenged by Senator Obiora, the Accord candidate, who claimed that Uba had forged his West African School Certificate (WASC) and had not obtained any of the university degrees that he claimed.
The story of allegedly faked degrees dates back to a story written by two investigative reporters and published by The News in December 2006. Reporters claim that both Concordia and California State University said that although Uba enrolled, he did not graduate from either university.
Video:
Senator Andy Uba in trouble over debt he is owing @heritagebankplc pic.twitter.com/Jhz8Ap5LDu

— Jomog (@oguntayoomobola) June 21, 2021
Court Restrains DSS, AGF From Arresting Sunday Igboho, Blocking His Bank Accounts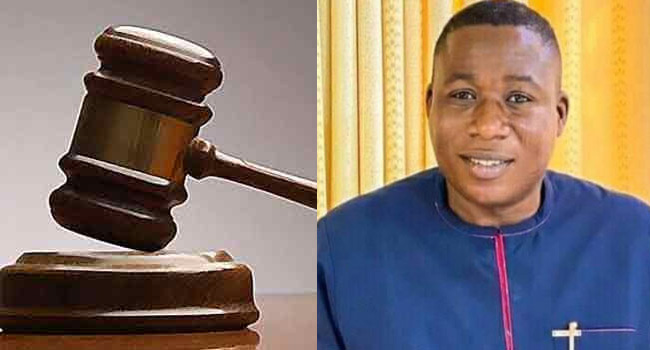 An Oyo State High Court has granted an ex-parte motion stopping the Department of State Security and Attorney General of the Federation from arresting Yoruba Nation agitator, Chief Sunday Adeyemo, popularly known as Sunday Igboho.
The court also restrained DSS and AGF from blocking bank accounts of the Yoruba rights activist.
Justice Akintola gave the order following an ex-parte motion moved by his lawyer, Yomi Aliu (SAN), at the court on Wednesday.
Speaking to journalists after the court proceedings, Mr Aliu said, "The court has ordered that he must not be arrested, intimidated, harassed, detained, or killed. The court also said that his account should not be blocked," Yomi Aliu said.
"The court has proved itself as the defender of the masses. The court has granted permission for him to exercise his fundamental human right of free movement.
"He can now walk freely as a Nigerian and his house must not be attacked. AGF is also a party in this case. I m sure he will obey this judgment. He is a senior advocate. I urge the government to be law-abiding," he added.
Igboho had through his counsel, Chief Yomi Aliyyu ( SAN), filed an application before the court asking for N5bn damages for the destruction of his cars and residence in Ibadan during July 1 raid on his residence by the Department of State Services.
He also asked the court to stop the Attorney General of the Federation, DSS and other security agencies from arresting him or infringing on his fundamental human rights.
Igboho had prayed for, "An order of injunction restraining the respondents, their agents, privies and associates in other security forces and/or anybody acting on their behalf and/or instructions from arresting, detaining, molesting, harassing and/or in any way interfering with his to personal liberty, freedom of movement of Chief Sunday Adeyemo aka Sunday Igboho, enjoyment of his property without fear of invasion of his home by the respondents and their agents," among others.
The court order comes the same day when the DSS produced all 12 detained aides of Mr Igboho before the Federal High Court in Abuja.
The apprehended aides have been accused of stockpiling arms to cause chaos in the country.
Meanwhile, Mr. Igboho is now being tried by the Benin court on fresh charges bordering on illegal migration, dubious connivance with immigration officers, and an attempt to cause civil unrest.
The court on July 28 granted him access to medical care and ordered that he be transferred to another detention facility.
Igboho and his wife were arrested in Cotonou on July 19, while they tried to catch a flight to Germany.
The court, on Thursday, ordered his wife's release and returned him to police custody.
The court adjourned the suit until August 18.
Hushpuppi: Governor Zulum Speaks On Alleged Visit To Abba Kyari's Residence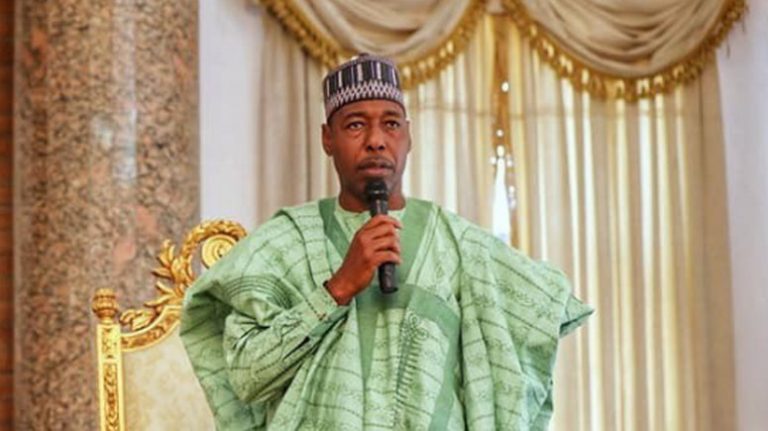 Borno State Governor, Babagana Umara Zulum, has issued clarification regarding a viral video being used to claim he and his predecessor, Shettima, visited Abba Kyari at his residence.
Gov. Zulum said he does not know the residence of the suspended Deputy Commissioner of Police, Abba Kyari and has never visited him.
The governor said the video was recorded at Senator Shettima's residence during an empathy visit.
Kyari was recently suspended by the Nigeria Police over his alleged involvement in Hushpuppi's fraud saga.
However, a video emerged on Monday on social media, alleging that Governor Zulum and his predecessor, Senator Kashim Shettima had visited DCP Kyari at his residence over the incident.
But Malam Isa Gusau, spokesman of the Borno governor on Wednesday, said it was an old video being recirculated by some mischief makers to rubbish the governor and his predecessor, Senator Shettima.
According to Gusau, the video in circulation was rather an event, which occurred on June 30, 2021, long before the indictment of the embattled DCP Abba Kyari by FBI in the case of Hushpuppi.
Explaining further, Gusau said, that video was when Shettima returned to the country after being rumoured to have died in the United Kingdom where he went to spend holidays with his families.
He said, "The same video falls into the hands of mischief makers who decided to use it for their selfish gains. I decided to make this clarification because Abba Kyari, who promised to issue the clarification himself, did not do so, more than four hours after making the promise.
"A video in circulation was recorded by some associates of Abba Kyari at the residence of Senator Kashim Shettima in Abuja on June 30, 2021, when Abba Kyari paid an empathy visit to Shettima following the mischievous circulation of rumours that the Senator had died in the UK.
"Kyari himself had shared the same video on his verified Facebook wall on June 30, shortly after he visited Shettima.
" Kyari who hails from Borno State and in Shettima's constituency visited the former Governor to wish him well like many others had visited the Senator during the time," he said.
Gusau released a video of some sympathizers who had also visited the Senator the same period, which showed the senator receiving them in his house, the same place being described as Abba Kyari's house.
Gusau also pointed observers to take note of the TV behind Zulum and Abba Kyari with a CNN breaking news on the release of American Comedian actor, Bill Cosby, which, as can be verified by anyone online, happened on June 30, 2021.
DSS Releases 5 Buhari-Must-Go Protesters Arrested At Dunamis Church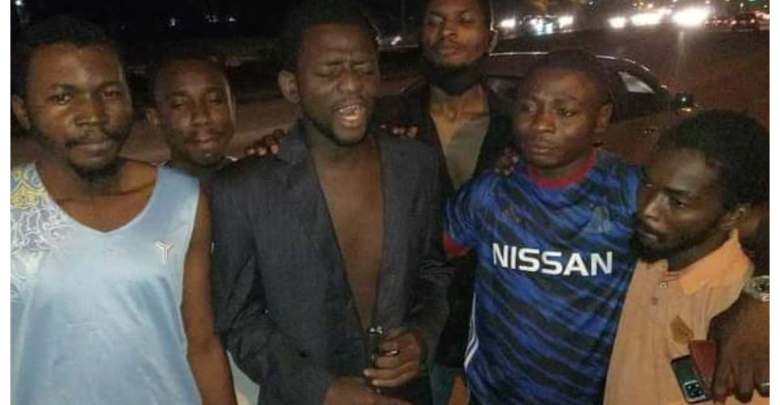 #FreeDunamis5: The courageous young people (#Dunamis5) illegally detained by Buhari's tyrannical regime were just released from detention by the lawless Nigerian secret police, Department of State Services (DSS) after 30 days in detention because they wore #BuhariMustGo Tshirts to Dunamis Church service in Abuja on July 4 2021.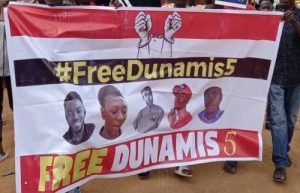 We want to appreciate everyone who stood firmly by these young men and the #Revolutionnow movement during their unjust incarceration-torture and dehumanisation in the hands of Dr. Paul Enenche's church security before they were handed over to the DSS.
The lawsuit in pursuit of justice for the five revolutionaries will continue at the Federal High Court and administrative sanctions will be pursued against the Magistrate that ignored a superior court order ordering their release as well as the three DSS lawyers who flagrantly ignored the higher court orders to arraign them before the Magistrate.
Their lawyers will also pursue a contempt of court proceeding against the DG of DSS, Yusuf Bichi Mogaji in coming days. Special thanks to the lead lawyer in the case, Barrister Tope Tomekun and his team for a marvellous job challenging the authoritarian regime relentlessly!