Lawan, Gbajabiamila Disagree With Southern Governors over Call for Restructuring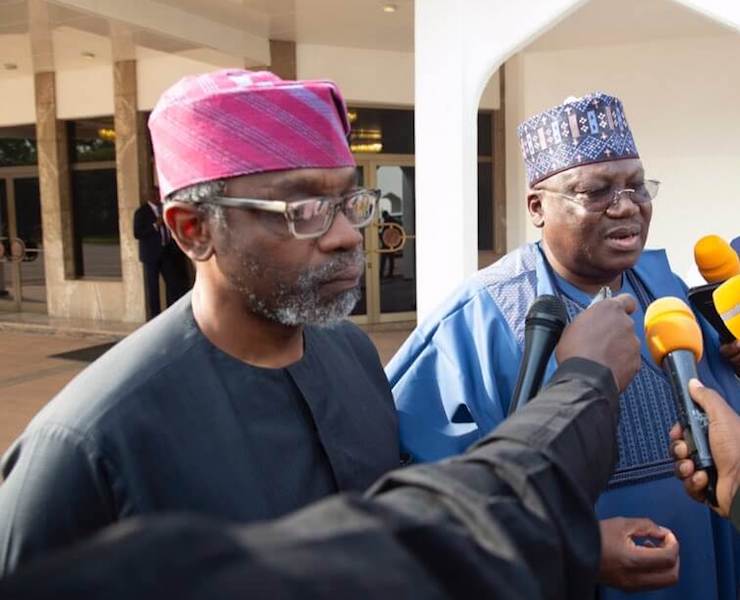 The  Southern Governors' call for the convocation of an "urgent national dialogue", "bold steps to restructure the country", "total ban on open grazing" and for President Muhammadu Buhari "to address the nation", was faulted by Senate President Ahmad Lawan and House of Representatives Speaker Femi Gbajabiamila.
This is contrary to the backing the call got on Wednesday from senators from the South and members of the House of Representatives from the South.
Lawan accused the governors of retreating to regionalism to address a national issue that should be collectively decided upon.
Gbajabiamila, in the same vein, said to end the security challenge, all must 'imbibe the spirit of oneness, togetherness, unity and love."
Former Nasarawa State Governor Abdulahi Adamu, a senator representing Nasarawa West, accused the governors of "betraying the trust."
But a former Oyo State Governor Rashidi Ladoja, Igbo youths and Minority party members of the House of Representatives from the North gave their backing to the governors' call.
Lawan and Gbajabiamila spoke at the Presidential Villa in Abuja after the prayer along with President Buhari. Senator Adamu spoke in Keffi, Nasarawa State, also after observing the prayers.
Lawan said: "I believe that, as leaders, especially those of us who are elected, should not be at the forefront of calling for this kind of thing because, even if you are a governor, you are supposed to be working hard in your state to ensure that this restructuring you are calling for at the federal level, you have done it in your state as well.
"What you may accuse the Federal Government of, whatever it is, you may also be accused of the same thing in your state. So, we are supposed to ensure that we have a complete and total way of ensuring that our systems at the federal, state and even local government levels work for the people.
"We should avoid regionalism. We are all leaders and we are in this together. The solutions to our challenges must come from us regardless of what level of government we are, whether at the federal, state or the local government level. I believe that Nigeria is going to come out of these challenges stronger".
Lawan added: "I also want to take this opportunity to say that we have diminished the local government system. I think we can attribute the security issues to the absence of a functional local government system.
"I think the time has come for us to take up the challenge and ensure that the local government system functions. This is as we look for ways to curb the security challenge. We must never neglect the local government system. We must go back to our local government system to ensure they are autonomous and functional".
Gbajabiamila said: "If truth be told, we all have equal shares in the blame for what is happening today.
"Whatever challenges we have, we must all come together to make sure that we resolve these issues we're facing. We must imbibe that spirit of oneness, togetherness, unity and love that would take us through this."
Senator Adamu slammed the governors, saying: "The recent meeting of the Southern Governors Forum is an act of betrayal of trust. Each governor swore to an oath and they emphasised loyalty to the sovereignty of this country. They pledged their loyalty to the President of the country. That's their oath of office.
"While we accept the fact that we have various forms of association and freedom of expression as citizens, they have failed to express their views through the right channel.
"They are members of the Council of State. There is no better forum at their level to take a joint decision than such forum. The fact that they have taken a decision as a divisive move, does not speak well of their intention.
"I think they are just playing to the gallery. What they are saying is not new. They are like broken record, saying the same thing over and over again.
"Why can't they come to the appropriate body which is the National Assembly to project their ideas?
"They have members in the National Assembly who are representing them. If they have an issue that is so important as that, which borders on the Constitution of the country, they should go there and express their grievances.
"We would sit, debate it and see how best we can come out of it. There can't be Nigeria if every one wants to have things happen in his or her own way.
"There is a Constitution and there is a framework that we are supposed to operate as governors. To go outside it is a betrayal of their oath of office.
"Each of them talking there, if you take a look at what is happening in their individual states, they cannot in all honesty and good conscience, challenge Buhari.
"Just take them one by one and see what they are doing in their states and what the people who voted for them are undergoing.
"Is it Buhari that caused it? Did Buhari withhold their federation account allocation? Did Buhari collect their internal revenue? It is just enough of this nonsense.
"Anybody who wants restructuring should bring his proposal to the National Assembly as a private member bill.
"They have members who would bring it up. I wonder why educated people, some of whom are lawyers, would just want to make noise to divert attention.
"Our eyes are on the ball and they would remain on the ball. They can go on talking, Nigeria will remain a united country."
On agitations by some groups to secede from Nigeria, Adamu said those clamouring for, would fail.
He said: "I'm a bit disappointed in those subversive elements calling for separation from Nigeria at a time when everybody should bow before their creator and pray for peace to reign in our land.
"Those clamouring for separation and secession in this country will fail by the grace of God because they do know as a matter of reality that their peace and prosperity is dependent on the stability and continued existence of Nigeria as a nation.
"We can't succeed as smaller nations. We have to find a way of understanding ourselves as citizens so that we can work together."
Lagos lawyer Mike Ozekhome said the call for a national dialogue by the Southern governors was unnecessary.
He argued that the recommendations of the last National Conference had not been implemented.
Delivering a paper as a keynote speaker at the 25th Law week of the Awka branch of the Nigerian Bar Association (NBA), Ozekhome argued that another national conference would amount to a waste of time and resources.
The rights activist, who spoke on "Legal profession in a lawless society", said if the southern governors wanted to get it right, they should have referred to the 2014 recommendations which he was part of.
He said: "I was at the 2014 National Conference headed by the late Justice Idris Kutigi, and the over 200 recommendations we made at that conference were yet to be touched.
"So, when I heard the 17 southern governors talking about another conference… I know they mean well for the country, but we do not need another dialogue.
"Let them go to the 2014 recommendations, they will see that we recommended state police, we recommended part-time legislature."
Also, VON DG Okechukwu advised Nigerians not to see the socio-economic and security challenges facing the country as a reason to give more powers to state governors who are already mismanaging their powers.
He warned that conceding more powers to the governors, whom he described as "emperors" would put the country's democracy in grave danger.
"It will be paradoxical for us to expect good governance at the sub-national level when the governors have locked up democratic institutions," Okechukwu said in a statement yesterday.
The VON boss, who is also a founding member of All Progressives Congress (APC) called on Nigerians to look beyond the frenzy of restructuring as canvassed by the Southern governors.
He argued that giving more powers to governors will by omission or commission create Frankenstein monsters which will put our democracy in harm's way.
Sen Andy Uba In Trouble Over Heritage Bank Debt (Video)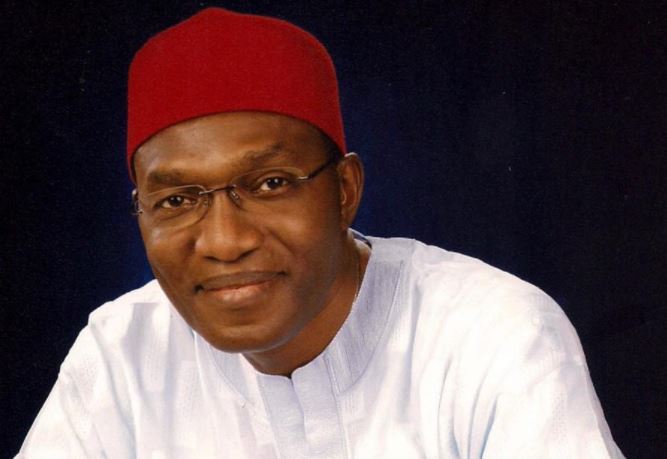 A leading APC governorship aspirant in the Anambra governorship election fixed for November 2021, Andy Uba, is currently swimming in trouble, JomogNews Nigeria reports.
He is said to be heavily indebted to Heritage Bank.
Though the exact amount Uba owes the bank has not been made available, a credible source stated that the debt is in billions.
His indebtedness, insider confirms, has become huge source of worry to the bank executives so much so that the bank mobilized early on Monday, June 21 and stormed his Abuja residence to compel him to pay.
In a video that has gone viral, a voice, ostensibly one of the bank's executives, was heard saying
"We are staff of Heritage Bank in Abuja and we are here Senator Andy's house house in Abuja.
"He has been owing the bank for a couple of years now.
"We are here for a peaceful meeting with him to pay his loans which are depositors money.
"If this debt is not paid, staff will lose their jobs. We are here to appeal to him," the obviously frustrated banker said.
A known face in the Nigerian political space, Andy Uba had won the Anambra state Governorship election in 2007 in a landslide victory and was sworn on May 27, 2007.
But the people of Anambra were stunned when on June 14, 2007, barely two weeks and three days after his swearing-in, Senator Andy Uba was removed from office by a judgement of the Supreme Court.
It was a judgement that spurred uproar in many quarters across the nation because many legal minds argued that the apex court, at that time, had no jurisdiction over the case.
Senator Uba, at the end, however, accepted the sad development and congratulated his opponent, Peter Obi, who became the bonafide governor.
This was after the soft-spoken Senator from Ugah in Anambra South Senatorial District had served President Olusegun Obasanjo as a senior aide in charge of domestic affairs.
The Presidential Villa position energized his political influence across the length and breadth of Nigeria.
It also upgraded him into the club of billionaires in cash and assets.
Subsequently, after the governorship failure, he, in April 2011, won the Senatorial election to represent his District. He did two terms and was in charge of lucrative and grade A committees like INEC.
He is currently in the governorship race which comes up on November 6, 2021 but the debt crisis may be the spoiler.
Born on 14 December 1958 in Enugu, Uba who attended the Boys High School in Awkunanaw and Concordia University is not fresh to controversies.
In the 2011 Senate election under PDP, he won with 63,316 votes, ahead of Chukwmaeze Nzeribe of the All Progressives Grand Alliance (APGA) with 43,798 and Senator Ikechukwu Obiorah of the Accord party with 24,724.
Uba's election was challenged by Senator Obiora, the Accord candidate, who claimed that Uba had forged his West African School Certificate (WASC) and had not obtained any of the university degrees that he claimed.
The story of allegedly faked degrees dates back to a story written by two investigative reporters and published by The News in December 2006. Reporters claim that both Concordia and California State University said that although Uba enrolled, he did not graduate from either university.
Video:
Senator Andy Uba in trouble over debt he is owing @heritagebankplc pic.twitter.com/Jhz8Ap5LDu

— Jomog (@oguntayoomobola) June 21, 2021
Army Rescues More Kidnapped Kebbi Students, Kill Bandit
The Nigerian Army has confirmed the rescue of more students of the Federal Government College, Yauri, Kebbi State who were kidnapped by bandits on Thursday.
JomogNews Nigeria reports one teacher and three students have been freshly rescued by the military from the custody of the bandits.
This development was confirmed to Naija News in a statement on Sunday by the Director Army Public Relations, Brigadier-General Onyema Nwachukwu.
The statement noted that one teacher and three students were rescued by the military on Saturday while one of the bandits was killed and some items including motorcycles and handsets were recovered.
The Army statement reads: "Troops of the Nigerian Army operating under the auspices of Operation HADARIN DAJI supported by Nigerian Air Force component have rescued more abductees of the FGC Birnin Yawuri.
One teacher and three students were rescued yesterday at Makuku, in the ongoing search and rescue operations.
The troops also killed one bandit and recovered nine motorcycles and four handsets from the fleeing bandits.
Additional troops have also been deployed to dominate the forest and deny the bandits freedom of action."
It will be recalled that two teachers and five students were earlier on Friday 18 June 2021 rescued by the gallant troops in a coordinated firefight with the kidnappers.
14 Gunmen Killed As Security Officers Repel Attack On Police Station In Benue
At least 14 gunmen were killed by the police in a foiled attack on Kastina-Ala police station, Kastina-Ala LGA of Benue state.
Catherine Anene, police spokesperson in Benue, confirmed the incident in a statement on Sunday.
She said the attackers numbering up to 50, invaded the police station in the early hours on Sunday to rescue some of their members arrested and detained on Saturday.
The police spokesperson said the officers on duty, however, repelled the attack, killing 14 of them.
"On 19th June 2021, five bandits were arrested and detained at Kastina-Ala Police Division for investigation and prosecution," she said.
"On 20th June 2021 at about 0130 hrs more than 50 other gang members of the detainees mobilised and invaded the police station to rescue their counterparts.
"Officers at the division who were already at alert engaged them in a gun duel and were able to subdue the bandits.
"Fourteen of them were brought down during the exchange of fire, while several others escaped with gunshot injuries.
Anene said the command has launched a series of operations to rid of criminal elements in the LGA.
In recent times, communities in Benue have been targeted by gunmen.
Early this month, over 20 people were killed in Odugbeho community in Agatu LGA of the state.
In May, over 30 people were reportedly killed — including students of the College of Education — in Katsina Ala LGA of the state.