Kwara: Dep-Gov Kayode Alabi Relocates Mistress, Kids To Ilorin Without Husband's Knowledge … Wife Threatens To Leave Matrimonial Home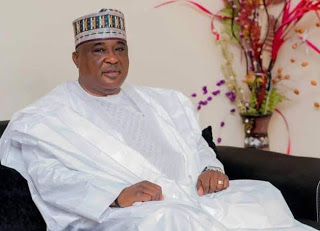 The deputy governor of Kwara State, Kayode Alabi, is currently enmeshed in an infidelity scandal resulting from his alleged extramarital affair with a bank manager. Insiders revealed that the woman involved, a mother of two, who hails from Ogun State and used to be the account officer of the deputy governor, has been going out with the latter for God knows how long.

The woman's husband, a banker too, got wind of the dirty dealings between his wife and Kayode Alabi in 2018 but when he challenged her, she denied it, claiming theirs was just a business relationship.

A source close to the couple disclosed that the husband of the estranged woman hardly spends time in Lagos as he is said to be working in Calabar, the capital of Cross River State.
It was learnt that the union which was consummated in Abeokuta, Ogun State, in 2010 had been a rollercoaster until Mr Alabi came into the picture, albeit with little or no suspicion from the husband.
Although they had a glamorous wedding back then, it was gathered that the banker was already pregnant before wedding day.

The husband, who also hails from Abeokuta, said everything was going on smoothly as he never had reasons to doubt his wife's faithfulness to the extent that if any of their friends told him any negative story about her, he would never believe.

However on the fateful day, a weekend, he left his station in Calabar to Lagos with the aim of surprising his wife who was living in Lekki.
He was said to have even brought along a surprise gift for her, but little did he know he was in for the real surprise until he got home around 10:30 pm due to Lagos horrible traffic.

When he got home, he was calling out for her, but to his astonishment his wife was not home. It was her housemaid who said her madam only told her she was not feeling fine and wanted to go to the hospital. Panicked, the husband called his wife severally to get the name of the hospital but she did not pick, neither did she return his calls. At a point, her phone was said to have been switched off, getting him so perplexed.
As luck would have it, she later called her househelp in order to know how her children were faring, oblivious of her husband's presence in the house. And immediately the maid told her on phone that oga had been around since evening, she abruptly ended the call. She returned home early in the morning to tell her husband lies as to what she went through the night before.
Things began to change from that day, coupled with her strange behaviour. This prompted her husband to start suspecting her, trailing and giveing her close monitoring which culminated in him finding out his wife had allegedly slept overnight with Kayode Alabi, the Kwara State deputy governor in his Lekki home.
As if that was not enough, their children started echoing Uncle Kayode Alabi's name telling their father, "Daddy did you know uncle Kayode? He used to come to our house, sometimes he would send his driver to come and carry us and mummy."
This irked the husband that he went to Guarantee Trust Bank where his wife worked, and got details of his wife's bank statement (he himself being a manager at First Bank). The details of her transactions revealed how Kayode Alabi has been sending millions of naira to her accounts.
It was further revealed that in 2019 Mr Alabi also sponsored her trips to Dubai and in the same year both of them went to London for shopping without the knowledge of her husband
Sources told Trust BethNews that the husband accosted his wife with all the facts that she openly confessed to him that she was actually engaging in romantic affair with the deputy governor in other to safeguard her job.
On hearing this , the angry husband lodged a complaint at the woman's office thus making the bank's management to transfer her to Port Harcourt branch since the offence did not affect her official duty or breach any known codes of the bank.

When the woman informed her lover of her transfer from Lagos to Port Harcourt, the deputy governor allegedly told the mother of two to tender her resignation and join him in Ilorin with immediate effect.

Without informing her husband who was already not talking to her anymore, she packed her belongings and with her two children, a boy and a girl, she moved to Ilorin in order to begin a new life fully with her Kayode Alabi.

The deputy governor who received the woman and her two children quickly ordered his boys to prepare an apartment for her in an undisclosed area within Ilorin metropolis.

He also promised to get the woman a federal government job so that after he might have left office , the woman would be able to take care of her children.

The mother of two has since gotten a job with a federal government agency courtesy of the deputy governor and now resides in Ilorin with her children .

Her husband said he may be seeking legal redress because "no one can forcefully take my wife and his children all because they're in power or has money, and if Kayode plays pranks to claim those children, we will proceed for a DNA test.
"All i wanted is to have my children back."

A few days ago, when Kayode's wife heard about the whole scenario through tatafo, she allegedly confronted her husband also called her husband lover before threatening to pack out of Kayode's matrimonial home.

Efforts to speak with the deputy governor proved abortive as his lines could not be reached to get his own side of the story but some of his aides who spoke to us wondered if those children were not the deputy governor's children

Mr Kayode Alabi was chosen as running mate to governor Abdulrahaman Abdulrazaq and ran a joint ticket with the governor under the platform of all progressive Congress.

Watch out for the second part of the story plus the part the mother of two played during Kayode Alabi's inaugural ceremony as Kwara deputy governor.
Source: Beth News
Pastor Funke Felix-Adejumo Tells Rich People to Dump Their Poor Friends (Video)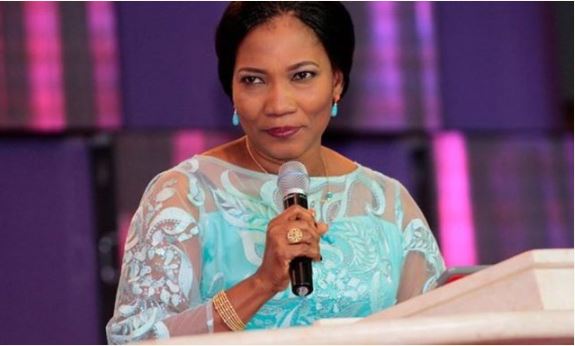 A Nigerian pastor, Mrs Funke Felix-Adejumo of Agape Christian Ministry has urged her members who are rich to dump their poor friends.
She urged her church members to move on if they notice that they are now richer than their friends.
According to the controversial preacher, "Some of you are the best person in your group. Wake up, that group should expire tonight."
She continued, "If you are the richest person among your friends, that relationship has expired."
"Befriend wealthy mentors, because you look like what you look at"
The clergywoman is popular for her prosperity sermons.
Watch video below:
Raymond Dokpesi: Polygamy One Of My Greatest Errors In Life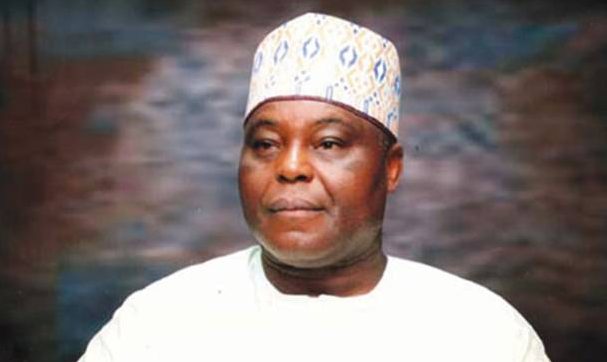 The Chairman Emeritus of DAAR Communications Plc, Raymond Dokpesi, on Saturday said one of the greatest errors of his life was going into polygamy.
According to him, contrary to the impression that he entered into polygamy because of his wealth, he revealed that it was due to internal family challenges.
Dokpesi stated this in an interview with journalists in Abuja on Saturday as part of the activities to mark his 70th birthday.
The media mogul also revealed how he survived poisoning as a little child even as doctors in Poland predicted that he would not last more than 35 years.
The PUNCH reported that Dokpesi's autobiography titled: "The Handkerchief", would soon be unveiled to mark his 70th birthday scheduled for October 25.
He said, "I am a Catholic and I definitely will tell you that one of the greatest errors of my life is polygamy. But it is not something that I desired or something that I wanted. It was a situation that developed, I just had no alternative.
"A lot of people looked at it as if it was wealth that distorted my behaviour but the truth of the matter is that there were internal family challenges that led to the polygamy. I was married to a Polish woman, I wanted to remain with the Polish woman, I still desired it in my old age but she left Nigeria for reasons that she was the only child of her parents and so she had to stay with her parents and I had to stay here and there is no leave in marriage.
"And so, I shuttled down to Poland over 16 times requesting her to come back to Nigeria and stay but as the only child, she wanted to be by them. My mother was very anxious that I should have children that are my own; kids that I don't have to enter a plane to go and visit. That whole thing caused the instability that later affected my life."
The DAAR Communication boss further gave insight on how Polish doctors gave him a 35-year life span.
"Well, let me say 35 years was the benchmark that was given to me because in my very early years, I was very sickly. I was fairly handicapped because I could not talk from the very beginning of my life; but very many people assumed that because I could not talk, I could not hear or I could not understand what it was.
"So, I would normally just look and see, watch things as they happened. And I vividly recall when one of my father's very close friends came to intervene about my schooling and he condemned, outright, any effort to invest in me because I was very sickly and secondly, he had not seen any child of a northerner succeed.
"I was handicapped and that was the toughest moment in my life at that stage and at that time, I felt highly discriminated against, I felt that I was likely to be denied the opportunity to live," Dokpesi recalled.
"By the time, I was about 12 years I was terribly sick, my mother and father took me to several places from hospitals to native doctors and churches praying, looking for an opportunity for me to survive.
"They later took me down to Agenebode, when my father had almost given up, that I was not going to survive. We went through the banks of River Niger at the time. When we got to the destination, they said I had been poisoned and the people that committed the atrocity were there present and they will be able to deliver me," he added.
Eventually, he was cured. "But behold, here I am, 70 years old, all those challenges put behind, I am strong, I am healthy and I thank Almighty God and all Nigerians that have given me support all through to be able to reach this year," he enthused.
Video: Wike Jokingly Threatens To Place A Curse On Godswill Akpabio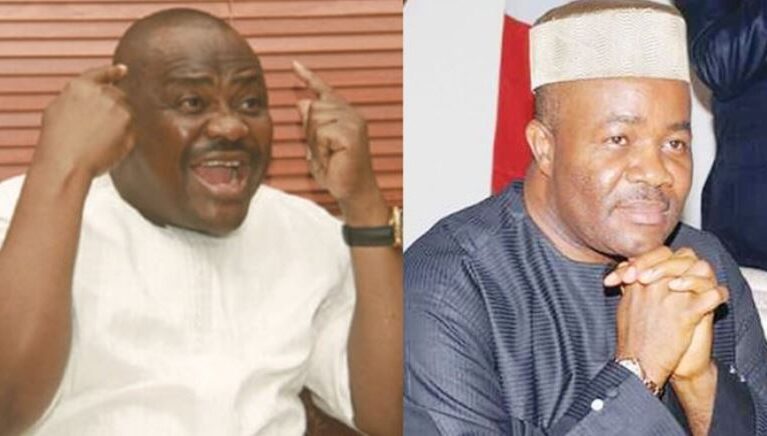 Rivers State Governor, Nyesom Wike has been spotted in a viral video jokingly threatening to place a curse on Minister of Niger Delta Affairs, Godswill Akpabio.
Alongside other company, both politicians can be seen in the video having drinks when the Rivers state Governor made the comment, saying "do you want me to curse you?".
The duo were having drinks when the Rivers state Governor made the comment.
This drew laughter among those present.
Watch the video below: