Tight Security As Tribunal Set To Deliver Judgment On Petitions Against Sanwo-Olu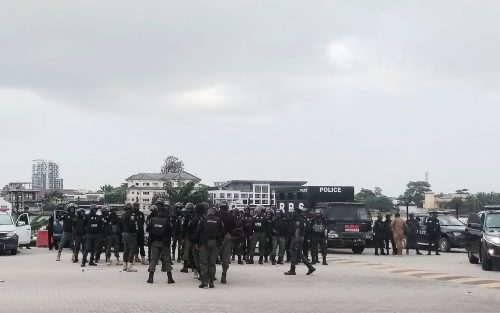 Security has been beefed up at the Roseline Omotosho Courthouse, Ikeja, as the Lagos State Election Petitions Tribunal is set to deliver judgement in petitions challenging the election of Governor Babajide Sanwo-Olu.
The Peoples Democratic Party governorship candidate for the state in the March 18 poll, Abdulazeez Adediran, also known as Jandor, and his Labour Party counterpart, Mr. Gbadebo Rhodes-Vivour, filed the petitions.
Security operatives took over the main entrance of the courthouse, screening journalists, lawyers and others before they could gain entrance.
Securing operatives prevented a number of people from entering the premises.
Adediran, in his petition, alleged that the governor presented a forged West African School Certificate to the Independent National Electoral Commission.
Adediran also accused Lagos deputy governor, Kadri Hazmat, of not including an oath declaration in the INEC Nomination Form EC9.
He added that APC did not comply with the Electoral Act when nominating Sanwo-Olu and Hamzat.
Rhodes-Vivour, in his petition, also challenged the eligibility of Hazmat to contest on the grounds that he allegedly renounced his Nigerian citizenship and swore allegiance to the United States of America.
NAN
Sterling One Foundation Commits to the African Union Year of Education (AUYoE) Alongside African Education Ministers and Other Stakeholders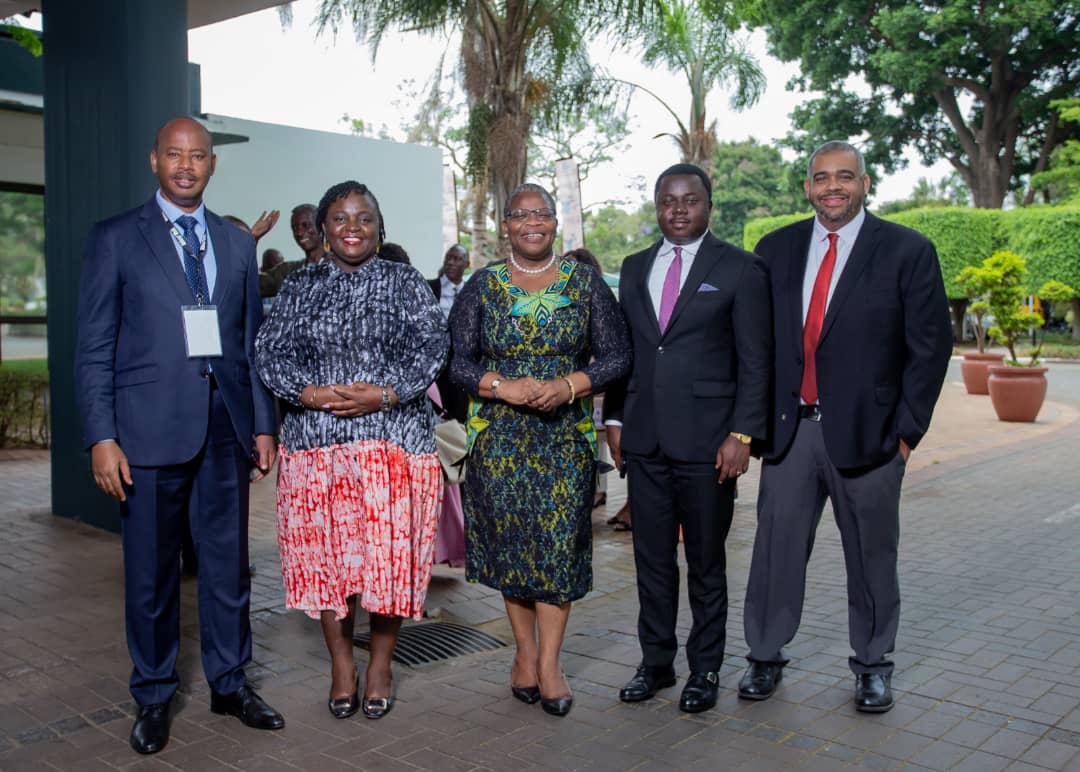 The Sterling One Foundation has reiterated its commitment to investing in foundational learning and working with the Association for the Development of Education in Africa (ADEA) and partners to boost education in Africa.
This commitment was made at the 2023 High Level Policy Dialogue hosted in Zambia by ADEA and the Zambian Ministry of Education to inform policy and decisions on foundational learning, foster dialogue and peer learning, and share good practices on what works in foundational learning in support of the African Union Year of Education scheduled for 2024.
Over the years, development experts have bemoaned the dire situation facing Africa's youth, given the inefficient education system in place to cater to them, coupled with the rapid rise in their population. In Sub-Saharan Africa, the State of Global Education Update reports that only 10% of 10-year-olds are able to read basic story texts or solve simple arithmetic problems, thus placing the region as the lowest in terms of numeracy skills and foundational literacy in the world.
With this challenge at the front burner, ten African Ministers of Education and some other country representatives agreed to prioritize foundational learning and develop a foundational learning starter pack model for the 2024 African Union Year of Education (AUYoE) and beyond, as an urgent step towards tackling the challenge.
The starter pack is expected to serve as a uniform resource material that will help the participating countries develop a sustainable solution for the problem. Furthermore, the model will prioritize data collection and analysis of the data in partnership with ADEA and other key policy partners to improve laws and bring to fore policies that foster more efficiency, peer learning and best practices in support of the AUYoE.
Sharing her perspective on the resolutions from the Dialogue, Mrs. Olapeju Ibekwe, CEO of the Sterling One Foundation hailed the ideas and strategies put forward, stating that it will strengthen the work of private sector and civil society organizations contributing to the solutions.
"Policies are crucial to sustainable development work in Africa and we are glad that the deliberations here have fashioned out ways to improve the work being done across the early childhood and primary education value chain. At our Foundation, we support the work of different stakeholders through grants, technical support and strategic engagements, and we are excited to see how the mainstreaming of the resolutions here will improve that work," she added.
Some of the key aspects the decision-makers at the Policy Dialogue hope to address in the immediate future include adoption of structured pedagogy for the continent, introduction of more age-appropriate teaching methods and use of technology to improve teacher quality, through training and performance monitoring and improvement.
The Minister of Education of Zambia, Hon. Douglas Munsaka Syakalima while stressing the importance of all stakeholders taking the resolutions seriously mentioned that education, especially foundational learning is at the base of what will drive Africa's development.
"It is by building people that we will derive the resources to craft a new vision and bring such a vision to life. Without foundational skills in numeracy and literacy, there can be no further learning quality," he said.
Participants at the High-Level Policy Dialogue got the opportunity to review some of the solutions and insights from the participating countries to see what works and where improvements and adaptations are possible. There were also school visits organized for participants to get some first hand experience of play-based learning and other important concepts made possible by the right policies.
During his remarks, the Executive Secretary of ADEA, Mr. Albert Nsengiyumva highlighted the need for a collective commitment to tackling the crisis the continent faces, stating that: "Africa is the continent most affected by the learning crisis, and it is where the solutions must be developed."
He thanked the participating Ministers of Education and other stakeholders for the work they have done so far, and urged them to continue on that momentum to ensure the acceleration of progress.
Some other leaders who spoke at the Policy Dialogue include Dr. Obiageli Ezekwesili, Founder of Human Capital Africa and Co-convener of the Foundational Learning Ministerial Coalition, and Dr Benjamin Piper, Director of Global Education at the Gates Foundation, both of whom advocated strongly for data-driven decisions and scaling what has worked.
About ADEA
The Association for the Development of Education in Africa (ADEA) is a critical voice and a forum for policy dialogue on education in Africa. It is hosted by the African Development Bank (AfDB) Group in Abidjan, Côte d'Ivoire. The anticipated impact of ADEA's work is that African countries are empowered to develop education and training systems that respond to their current and emergent needs and sustainably drive Africa's social and economic transformation.
About Sterling One Foundation
Sterling One Foundation (SOF) is a registered non-profit focused on tackling the root causes of poverty in Nigeria, and Africa through interventions and social impact programmes across five critical sectors namely: climate action, health, education and youth development, gender equality and empowerment, and food security. The Foundation's programmes adopt a central theme of prioritizing partnerships for the achievement of the Sustainable Development Goals (SDGs). For more information visit www.onefoundation.ng
Godwin Emefiele To Remain In Prison Over Unmet Bail Conditions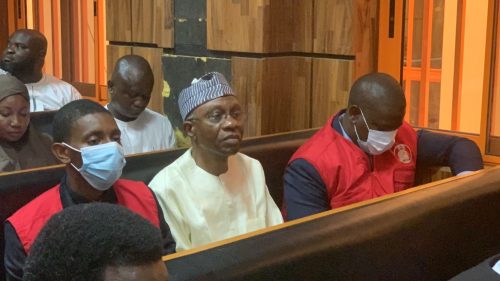 The former governor of the Central Bank of Nigeria, Godwin Emefiele will remain in prison after failing to meet the hefty N300 million bails set by the court.
Despite attempts by his legal team, the former CBN governor, who was recently arrested for allegedly breaking Nigerian procurement laws, has not been released.
Emefiele's extraordinarily strict bail requirements has proven to be a significant barrier to his release.
The decision to keep Emefiele incarcerated has sparked debate on the justice system's impartiality as well as the seriousness of the accusations brought against him.
Emefiele's supporters contend that the bail sum is excessive and could be an attempt to weaken his financial standing.
However, others opposed to Emefiele contend that the charges are severe enough to warrant punitive legal measures.
The severity of the charges against the Emefiele is demonstrated by the court's decision to uphold the high bond requirement.
Legal experts anticipate that Emefiele's legal team will intensify their efforts to secure a more reasonable bail amount, citing the potential negative consequences of his prolonged incarceration on the nation's economic well-being.
Culled: The NATION
Union Bank and BFREE Forge Strategic Partnership to Revitalize Loan Portfolios
Union Bank of Nigeria and BFREE, a cutting-edge German-Nigerian FinTech firm, have signed a Memorandum of Understanding (MOU).
This agreement signifies a joint commitment to addressing economic challenges and revitalising distressed loan portfolios in Nigeria. This MOU was formalised during the German-Nigerian Business Forum in Berlin on November 21, 2023.
Under the terms of the MOU, BFREE, in conjunction with its international financing partners, will explore the acquisition of distressed loan portfolios from Union Bank, with a potential investment cap of $40 million. The key focus will be refinancing non-performing loan portfolios, particularly those delayed in repayment or already written off.
Union Bank, a leading provider of loans to Retail customers and Small & Medium Enterprises in Nigeria, has proactively adapted to the challenging economic environment. The ongoing economic pressures have necessitated increased flexibility for loan repayment plans, and BFREE, leveraging artificial intelligence (AI), presents an innovative solution.
BFREE's AI-driven automated interaction with loan customers facilitates discussions and agreements on revised loan terms. This streamlined approach enables the rapid review of many loan agreements within short periods, resulting in higher repayment rates and reduced instances of loan write-offs for Union Bank. It also demonstrates the Bank's confidence in BFREE's robust recovery process. This strategic partnership not only positions Union Bank for enhanced financial resilience but also relieves the institution of the burden of managing low-performing loan portfolios.
President Tinubu's active participation in promoting Nigeria as a prime destination for business and investment underscores the collaborative efforts to attract international businesses. The anticipated increase in foreign currency inflow, particularly USD and EUR, is expected to alleviate pressure on the exchange rate of the Naira, contributing to economic stability.
Speaking about the partnership, Joe Mbulu, Executive Director of Union Bank, said:
"We are excited about the strategic partnership with BFREE as it aligns with Union Bank's commitment to innovation and adaptability. This collaboration signifies our dedication to finding innovative solutions to the economic challenges faced by our customers. By leveraging BFREE's advanced AI capabilities, we aim to enhance the efficiency of our loan portfolio management, ensuring flexibility for our customers in these challenging times.
This partnership reflects Union Bank's proactive approach to navigating the evolving financial landscape and reinforces our commitment to providing sustainable financial solutions to individuals and businesses in Nigeria."
Also commenting on the partnership, Julian Flosbach, Chief Executive Officer of BFREE, expressed:
"BFREE is thrilled to announce our strategic partnership with Union Bank, a collaboration that underscores our joint commitment to innovation and resilience in the face of economic challenges. With a track record of successfully managing over 4 million distressed customers across Africa, BFREE brings extensive experience to the table. Our proprietary AI capabilities will play a crucial role in streamlining Union Bank's loan portfolio management, offering unparalleled flexibility to customers during these challenging times. The commitment of our financing partners is instrumental in driving this initiative, highlighting their dedication to supporting Union Bank's revitalisation efforts."
Union Bank is optimistic that this strategic partnership with BFREE will not only bolster the bank's financial health but also contribute significantly to the broader economic recovery of Nigeria.