Nigerians Express Concern As COZA Share New Photos Of Pastor Biodun Fatoyinbo (Photos)
Fans of Pastor Biodun Fatoyinbo, the lead pastor of Commonwealth of Zion Assembly popularly known as COZA are worried over his new look.
In pictures making the waves, Pastor Abiodun looks a shoadow of himself.
The pictures started circulating shortly after Sammie Okposo's death, with many questioning what has happened to him.
Amazingly, the trending photos of his frail appearance were shared on COZA's official Instagram handle to publicize the upcoming Special Sunday Service which will hold at Manchester United Old Trafford stadium, in Manchester, England.
Tight Security As Tribunal Set To Deliver Judgment On Petitions Against Sanwo-Olu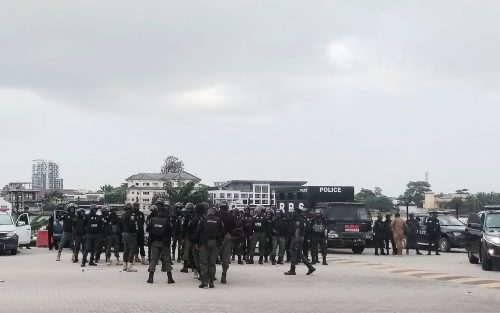 Security has been beefed up at the Roseline Omotosho Courthouse, Ikeja, as the Lagos State Election Petitions Tribunal is set to deliver judgement in petitions challenging the election of Governor Babajide Sanwo-Olu.
The Peoples Democratic Party governorship candidate for the state in the March 18 poll, Abdulazeez Adediran, also known as Jandor, and his Labour Party counterpart, Mr. Gbadebo Rhodes-Vivour, filed the petitions.
Security operatives took over the main entrance of the courthouse, screening journalists, lawyers and others before they could gain entrance.
Securing operatives prevented a number of people from entering the premises.
Adediran, in his petition, alleged that the governor presented a forged West African School Certificate to the Independent National Electoral Commission.
Adediran also accused Lagos deputy governor, Kadri Hazmat, of not including an oath declaration in the INEC Nomination Form EC9.
He added that APC did not comply with the Electoral Act when nominating Sanwo-Olu and Hamzat.
Rhodes-Vivour, in his petition, also challenged the eligibility of Hazmat to contest on the grounds that he allegedly renounced his Nigerian citizenship and swore allegiance to the United States of America.
NAN
Video: Supreme Court Complex On Fire
A section of the Supreme Court complex in the Three Arms Zone, Abuja, has been gutted by fire on Monday morning.
JomogNews reports that the cause of the fire on the nation's apex court in Abuja is unknown as of the time of filing this report.
The fire, which started around 7am, caused panic among staff members of the court who scampered to safety.
Though no human casualty was recorded, however, it was not clear whether sensitive documents and files were destroyed by the early morning fire.
The offices of three Justices have allegedly been burnt down, including that of Justice Mohammed Saulawa before it was eventually put off.
NAN reports that the Director of Press and Information of the Supreme Court of Nigeria, Dr Festus Akande, confirmed the fire.
"The fire has since been put out. There was no casualty," Akande said.
Meanwhile, JomogNews also learnt that the Federal Fire Service operatives have put out the fire, and everything has returned to normal.
Video:
Video: Mohbad's Mother Never Abandoned Him – Late Singer's Aunty Set The Record Straight
The aunt of late Nigerian singer, IleriOluwa Oladimeji Aloba, popularly known as Mohbad, has cleared the air on reports of his mother abandoning him during his childhood.
Reports had circulated following the singer's death that his mother abandoned him and his elder sister after her failed marriage to their father.
Her younger sister, in a video, debunked the reports as she recounted how Mohbad's mother stood by his side, even during his ordeal with Naira Marley.
According to her, the singer's mother only left him and his elder sister with their father, because he didn't allow her to take them, but they agreed to take care of them together.
She noted how Mohbad's mother was there for him during his trials with his former label boss, Naira Marley, and how she stood by him and his wife when they welcomed their son.
In response, many people acknowledged that Mohbad's mother was present with their father when they begged Naira Marley to resolve their dispute.
One person commented, "I knew the mom was always there for him. I saw her kneeling and begging Naira Marley."
Another person wrote, "She left her marriage, but that doesn't mean she left her son."
Someone else stated, "People did not make up the fact that the child sang it. But thanks for the clarification!"
Another person mentioned, "You can see his mother is as calm as he is. She only left her marriage, and there's no way she would be allowed to take that male child with her. Simple, she definitely didn't abandon him."
A different comment read, "A man who tried to bury his son the same night, you can only imagine what she went through in her marriage."
In an interview with TVC, Mohbad's mother spoke about her last moments with the singer, revealing that she never publicly disclosed her relationship with him out of fear that she would be kidnapped or killed.
Contrary to reports that she had no relationship with her son, she was close to him. He had even rented an apartment and three shops for her, and he made a promise to give her N5m to stock up the shops before his untimely death.
She disclosed that Mohbad lived in fear and never truly enjoyed his life. Two days before his death, he had pleaded with her to stay with him, but she refused for some reason.
Video: