Aisha Buhari Educates Her Husband On How To End Insecurity In Nigeria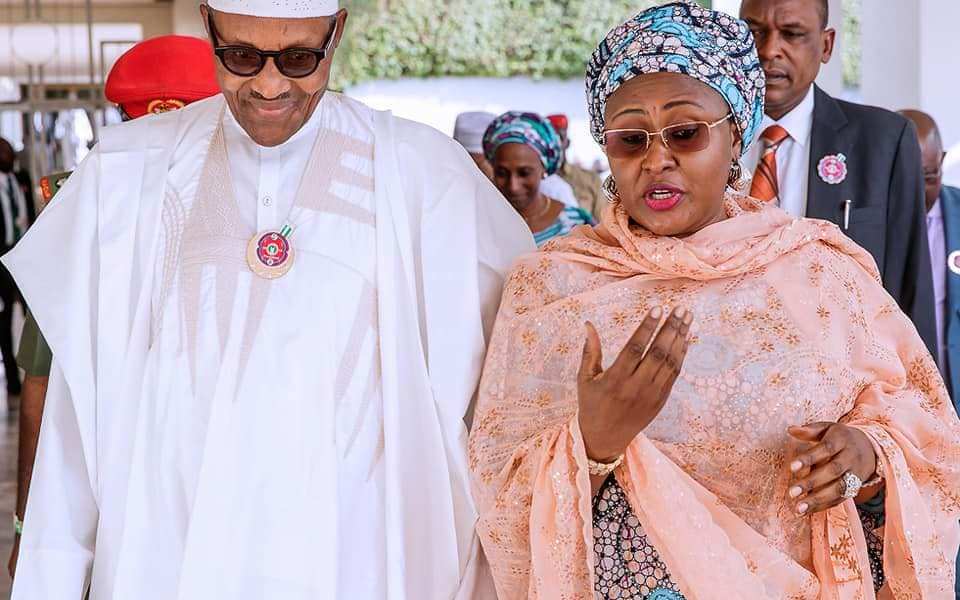 Aisha Buhari has asked her husband, President Muhammadu Buhari to hire hundreds of Nigerians into security forces.
The First Lady, Aisha Buhari has told President Muhammadu Buhari's government to hire hundreds of Nigerians into the country's security forces to boost the ongoing fight against insecurity, JomogNews Nigeria reports.
Mrs. Buhari also urged military and police chiefs' wives to support their spouses to accomplish their duties to the nation.
She said this while receiving the spouses of service chiefs on a familiarisation visit to her at the State House, Abuja.
She noted that rendering such support would help to boost their husbands' morale and strengthened their commitment to the fight against crime in Nigeria.
The first lady also appealed to relevant authorities to ensure massive recruitment of security personnel to boost the manpower of the security forces in the country.
While commending President Muhammadu Buhari regime's efforts to pay benefits of slain security personnel promptly, the first lady urged the authorities to sustain the tempo.
Responding, Vickie Irabor, president of the Defence and Police Officers Wives Association (DEPOWA), pledged their support and commitment to the first lady in her quest to providing services to the less privileged in society.
Mrs Irabor expressed determination to work in synergy with the first lady to ensure peace in the land.
"We know it is not easy; we have come to you to show our support because you are a pillar of support to us in the security family," she said.
In attendance were wives of the chief of army staff, Salamatu Yahaya; chief of air staff, Elizabeth Amao, chief of naval staff, Nana Gambo, inspector general of police, Hajara Alkali-Baba and SSS director-general, Aisha Bichi.
NAN
Court Restrains DSS, AGF From Arresting Sunday Igboho, Blocking His Bank Accounts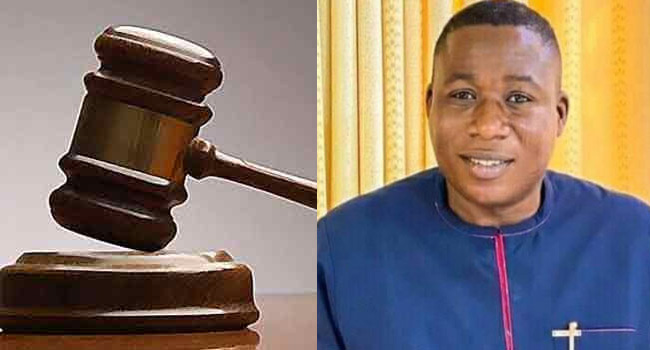 An Oyo State High Court has granted an ex-parte motion stopping the Department of State Security and Attorney General of the Federation from arresting Yoruba Nation agitator, Chief Sunday Adeyemo, popularly known as Sunday Igboho.
The court also restrained DSS and AGF from blocking bank accounts of the Yoruba rights activist.
Justice Akintola gave the order following an ex-parte motion moved by his lawyer, Yomi Aliu (SAN), at the court on Wednesday.
Speaking to journalists after the court proceedings, Mr Aliu said, "The court has ordered that he must not be arrested, intimidated, harassed, detained, or killed. The court also said that his account should not be blocked," Yomi Aliu said.
"The court has proved itself as the defender of the masses. The court has granted permission for him to exercise his fundamental human right of free movement.
"He can now walk freely as a Nigerian and his house must not be attacked. AGF is also a party in this case. I m sure he will obey this judgment. He is a senior advocate. I urge the government to be law-abiding," he added.
Igboho had through his counsel, Chief Yomi Aliyyu ( SAN), filed an application before the court asking for N5bn damages for the destruction of his cars and residence in Ibadan during July 1 raid on his residence by the Department of State Services.
He also asked the court to stop the Attorney General of the Federation, DSS and other security agencies from arresting him or infringing on his fundamental human rights.
Igboho had prayed for, "An order of injunction restraining the respondents, their agents, privies and associates in other security forces and/or anybody acting on their behalf and/or instructions from arresting, detaining, molesting, harassing and/or in any way interfering with his to personal liberty, freedom of movement of Chief Sunday Adeyemo aka Sunday Igboho, enjoyment of his property without fear of invasion of his home by the respondents and their agents," among others.
The court order comes the same day when the DSS produced all 12 detained aides of Mr Igboho before the Federal High Court in Abuja.
The apprehended aides have been accused of stockpiling arms to cause chaos in the country.
Meanwhile, Mr. Igboho is now being tried by the Benin court on fresh charges bordering on illegal migration, dubious connivance with immigration officers, and an attempt to cause civil unrest.
The court on July 28 granted him access to medical care and ordered that he be transferred to another detention facility.
Igboho and his wife were arrested in Cotonou on July 19, while they tried to catch a flight to Germany.
The court, on Thursday, ordered his wife's release and returned him to police custody.
The court adjourned the suit until August 18.
Hushpuppi: Governor Zulum Speaks On Alleged Visit To Abba Kyari's Residence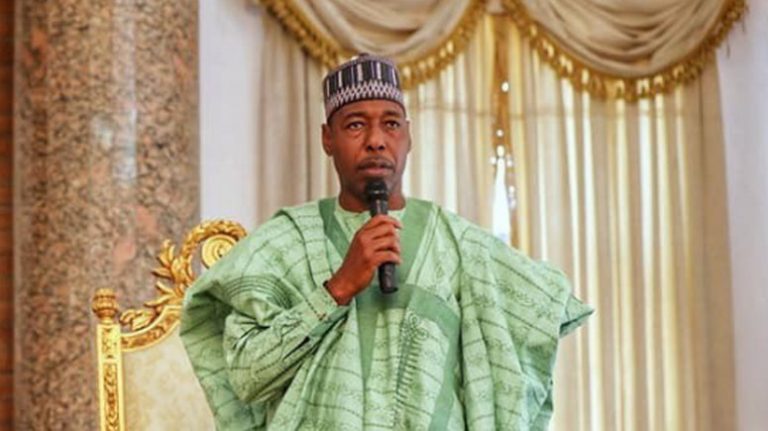 Borno State Governor, Babagana Umara Zulum, has issued clarification regarding a viral video being used to claim he and his predecessor, Shettima, visited Abba Kyari at his residence.
Gov. Zulum said he does not know the residence of the suspended Deputy Commissioner of Police, Abba Kyari and has never visited him.
The governor said the video was recorded at Senator Shettima's residence during an empathy visit.
Kyari was recently suspended by the Nigeria Police over his alleged involvement in Hushpuppi's fraud saga.
However, a video emerged on Monday on social media, alleging that Governor Zulum and his predecessor, Senator Kashim Shettima had visited DCP Kyari at his residence over the incident.
But Malam Isa Gusau, spokesman of the Borno governor on Wednesday, said it was an old video being recirculated by some mischief makers to rubbish the governor and his predecessor, Senator Shettima.
According to Gusau, the video in circulation was rather an event, which occurred on June 30, 2021, long before the indictment of the embattled DCP Abba Kyari by FBI in the case of Hushpuppi.
Explaining further, Gusau said, that video was when Shettima returned to the country after being rumoured to have died in the United Kingdom where he went to spend holidays with his families.
He said, "The same video falls into the hands of mischief makers who decided to use it for their selfish gains. I decided to make this clarification because Abba Kyari, who promised to issue the clarification himself, did not do so, more than four hours after making the promise.
"A video in circulation was recorded by some associates of Abba Kyari at the residence of Senator Kashim Shettima in Abuja on June 30, 2021, when Abba Kyari paid an empathy visit to Shettima following the mischievous circulation of rumours that the Senator had died in the UK.
"Kyari himself had shared the same video on his verified Facebook wall on June 30, shortly after he visited Shettima.
" Kyari who hails from Borno State and in Shettima's constituency visited the former Governor to wish him well like many others had visited the Senator during the time," he said.
Gusau released a video of some sympathizers who had also visited the Senator the same period, which showed the senator receiving them in his house, the same place being described as Abba Kyari's house.
Gusau also pointed observers to take note of the TV behind Zulum and Abba Kyari with a CNN breaking news on the release of American Comedian actor, Bill Cosby, which, as can be verified by anyone online, happened on June 30, 2021.
DSS Releases 5 Buhari-Must-Go Protesters Arrested At Dunamis Church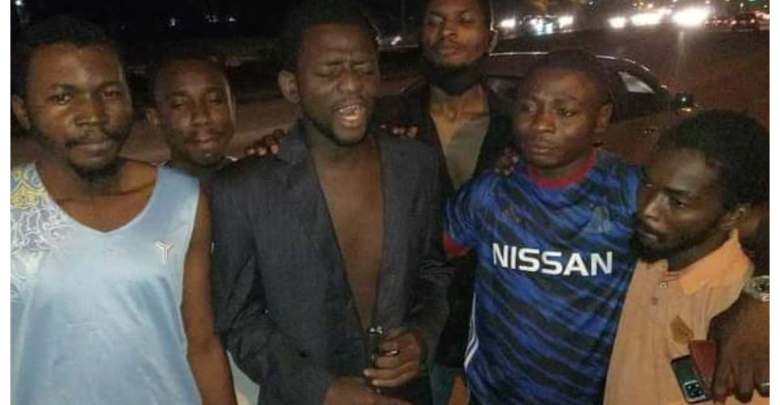 #FreeDunamis5: The courageous young people (#Dunamis5) illegally detained by Buhari's tyrannical regime were just released from detention by the lawless Nigerian secret police, Department of State Services (DSS) after 30 days in detention because they wore #BuhariMustGo Tshirts to Dunamis Church service in Abuja on July 4 2021.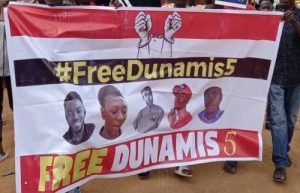 We want to appreciate everyone who stood firmly by these young men and the #Revolutionnow movement during their unjust incarceration-torture and dehumanisation in the hands of Dr. Paul Enenche's church security before they were handed over to the DSS.
The lawsuit in pursuit of justice for the five revolutionaries will continue at the Federal High Court and administrative sanctions will be pursued against the Magistrate that ignored a superior court order ordering their release as well as the three DSS lawyers who flagrantly ignored the higher court orders to arraign them before the Magistrate.
Their lawyers will also pursue a contempt of court proceeding against the DG of DSS, Yusuf Bichi Mogaji in coming days. Special thanks to the lead lawyer in the case, Barrister Tope Tomekun and his team for a marvellous job challenging the authoritarian regime relentlessly!