Stunning Photos Of Beautiful Actress, Shaffy Bello As Clocks 50.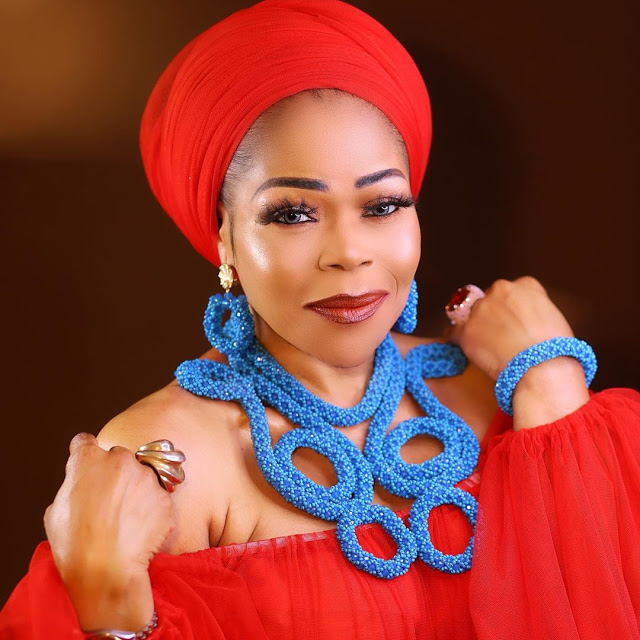 Nollywood actress and humanitarian, Shaffy Bello clocks 50 today, October 8. To celebrate her new age, Shaffy shared new fabulous and striking photos of herself.
See more beautiful photos of the talented actress below..
Family Speaks On Rachel Oniga's Demise, Cause Of Death
The family of veteran actress, Rachel Oniga, have denied media reports claiming she died from COVID-19.
Deaconess Toyin Odusote, the elder sister of the late Nollywood actress, Rachel Oniga, has confirmed reports of her demise and revealed how she died.
In a statement released by her sister, Deaconess Toyin Odusote, the family said the actress died from a heart-related ailment that she battled within a short period of time.
She said, "Contrary to diverse reports informing that she died from Covid-19 complications, we write to inform the general public that she died from a heart-related issue: an ailment she battled with for a short period before her demise.''
Ms Odusote also revealed that the late actress died in a Lagos hospital on Friday, July 30, around 10 p.m.
The statement also highlighted, ''We accept her sudden transition as God's design and we see it as a function of a race of life well finished. Painful as it may be, we accept it in good faith and total submission to her maker.
''Burial arrangements will be announced in due course. We appreciate the calls, messages, and condolences expressed by everyone and we pray for a sweet repose of her beautiful soul. Please accept this release as the only authentic one on behalf of the family until we meet to come up with another.''
Ms Oniga, who hailed from Delta State, was born on May 23, 1957, in Ebute-Metta, Lagos State.
She became a household name after starring in the Yoruba classic family drama, "Owo Blow".
The veteran actress featured in some of the best English and Yoruba Nollywood movies until her death.
Ms Oniga began her acting career shortly after her divorce. She was a full-time housewife and before then, a computer programmer.
After the separation, she went into business trading, travelling, and buying things.
She worked briefly at Ascoline Nigeria Limited, a Dutch Consultant Company before she made her acting debut in the Nollywood classic (Memorial Hospital) in 1993 and her debut Yoruba movie was 'Owo Blow'.
Over the years, the multiple award-winning actress also featured in notable Nigerian films including "Sango", Wale Adenuga's television series, 'Super story", "Doctor Bello", "Out of Bound", "30 Days in Atlanta", "The Royal Hibiscus Hotel", "The Wedding Party", and most recently, "My Village People".
Ms Oniga is survived by three children, grandchildren, as well as other family members.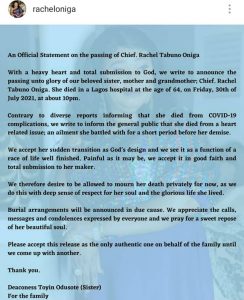 Breaking: Veteran Nollywood Actress Racheal Oniga Is Dead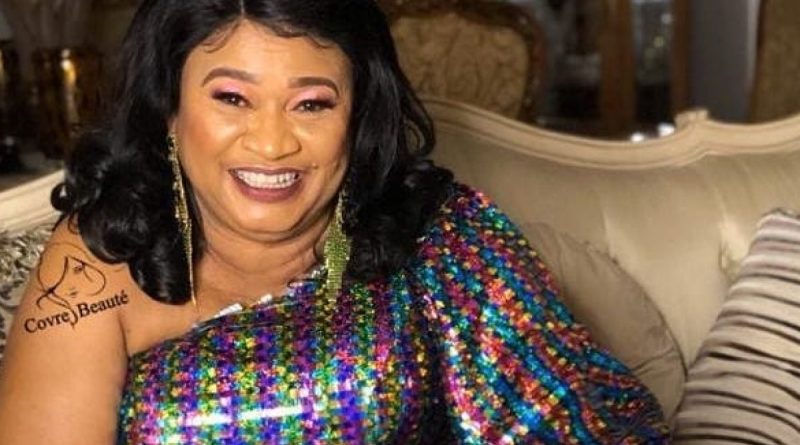 Veteran Nollywood actress, Racheal Oniga, has died. She was aged 64, a member of the Actors Guild of Nigeria has comfirmed.
Oniga, began her acting career in 1993, shortly after her divorce.
She was originally from Eku, Delta State.
She married a Yoruba man, but the marriage collapsed after she claimed another woman bewitched her husband and father of her children.
Among her popular works are Out of Bounds, Owo Blow, The Wedding Party, 30 Days in Atlanta and Power of Sin.
In recognition of her contribution to Nigerian theatre, she was gifted an apartment in Ikorodu by Governor Babajide Sanwo-Olu.
Details later…..
How Baba Ijesha Defiled Me With Keys – Victim Testifies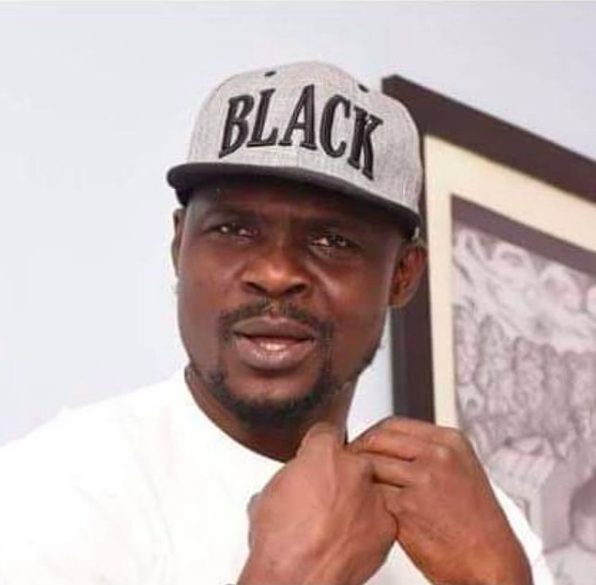 JomogNews Nigeria reports that a 14-year-old minor, who was allegedly defiled by a Nollywood actor, Olanrewaju James, popularly known as Baba Ijesha, has testified against him before the Lagos State Special Offences Court, Ikeja.
The teenager stated on Tuesday that Baba Ijesha once inserted his car keys into her private parts and sexually abused her, sometime between 2013 and 2014 when they first met.
Mrs Olayinka Adeyemi, the Director of Public Prosecution (DPP) in Lagos earlier informed the court that the state would be presenting the minor as its second witness.
She further urged Justice Oluwatoyin Taiwo to order members of the public and press out of the courtroom to protect the minor's identity, leaving only lawyers and court registrars.
"Sometime between 2013 and 2014, the defendant sexually abused the complainant (name withheld), then aged seven, by inserting his car keys into her vagina.
"He also placed her on his laps, touched her in a sexual manner and rubbed his penis on her body.
"On April 19, he indecently treated and sexually assaulted the complainant, now 14 years old, by sucking her fingers and touching her in a sexual manner.
"He also attempted to have sexual intercourse with the complainant by unbuckling his belt and unzipping his trousers after sexually assaulting her," the DPP told the court, speaking for the minor.
The actor was charged on six counts of sexual assault by penetration, indecent treatment of a child, and sexual assault, which contravene sections 259, 135, and 261 of the Criminal Law of Lagos State 2011, as well as 135, 263, and 262 Criminal Law of Lagos State 2015.
He has, however, pleaded not guilty.
The case was however adjourned till August 11 and 12 for the continuation of trial.