Court Jails Lover Who Posted Married Girlfriend's Nude Photo On Facebook….. Bags 21 Years Jail Term
An Ikeja High Court on Friday sentenced a fraudster, Adesanya Femi Paul to 21 years imprisonment over 419 charges and stealing from a US based business woman, Mrs Oluwatoyin Akinwole of N37.6 million.
It would be recalled that sometimes in 2018, Adesanya posted nude pictures of Mrs Akinwole on Facebook and other social media networks, and afterwards claimed that the business woman committed suicide on the Third Mainland Bridge in Lagos. It all started on Monday, June 11, 2018, the story and video went viral all over the social media.
Nigerians started sharing a story that someone, this time a woman, drove her car to Third mainland Bridge in Lagos, parked it by the bridge, or ordered the Uber driver to park, then stepped out of the car and took a jumped into the lagoon.
But the real story, from Dallas, was that of an alleged Texas-based Nigerian married woman whose nude photos with her boyfriend outside her marriage by name Femi went viral.
Mrs Akinwole later explained her story thus: "I am a business woman and I live in Texas, United States of America. Sherrifat lives in the USA and we were close friends when this issue started and she was the person who linked me to the Alfa(Ganiu) in Nigeria, but I wasn't talking to the Alfa.
She then traveled to London, England in March 2017 to meet Otunba Adesanya, who she had an affair with and she called and said that the Alfa told her that my death was imminent, except I perform some prayers.
''While she was saying this, Otunba Adesanya, came in and told me that he knows the Alfa very well and that I should obey him because he is very powerful and well known in Nigeria. Otunba Adesanya, also told me that he had several businesses in Nigeria including petrol filling stations in Ijebu-Ode, Ogun State.
Alfa Awojobi, was demanding N154,000 for the prayers and I told Sherifat and Otunba that I didn't have such money and Otunba Adesanya offered to pay N100,000 for me, while he asked me to pay the balance.''
Continuing, she said:'' I did what they said and Alfa started praying for me. He did that until April, 2018, and he insisted that I must come to Nigeria for the final prayers. I was really scared then and I didn't want to die the way my younger sister died. I returned to Nigeria and went straight to Alfa at Ijebu-Ode. He asked me to take my bath before entering his house which I did and by midnight, he brought four men and they started praying for me. Alfa then said he had seen more visions about my husband and children and I ended up spending N1.5million at the Alfa's place before returning to America. Otunba Adesanya, then came in and told me that he wanted to invest my money in oil business using his petrol filling stations. He took me round some filling stations in Ijebu-Ode and he was greeted as the owner. He asked me to invest a huge amount of money and promised that after one month, I will get back my 50 percent of my investment as profit, and I trusted him.
'' I borrowed N30 million and the person who loaned me the money paid it into his account. One month after I gave him the money, I called and started asking about the business; Otunba Adesanya, got angry and paid back the money into my account. I was shocked and this made me believe and trust Otunba Adesanya, to be a kind of genuine businessman. Then, I pleaded and asked him to continue with the business and then he asked me to change the money into dollar which I did and I took the money to him. Two months after then, when I tried to get back my money, he told me that the money I gave to him to invest into the business wasn't enough and he needed money and I went on scouting for more money. I continued to give him money until it reached a total of N75million. He also asked me to pay the sum of N31million through the Alfa's account.
'' But on December 2017, one of his boys called me on the telephone and told me that I had been defrauded, then I arrested him with some police and military men and they couldn't recover my money. I also got him arrested with policemen in Osun and Ondo states, yet, he went off the hook. Then, I brought in operatives of the Economic and Financial Crime Commission, EFCC, to arrest him, and they recovered 21,000 nude photos and videos of various Nigerian women. He claimed he was very sick and the EFCC granted him bail, but after his release he went on the internet and published photoshop nude photos of myself and him, claiming that he had sexual relationship with me, which was a lie. He was also the person who circulated the story that I had jumped into the Third Mainland Bridge Lagoon, over infidelity. The EFCC tried to caution him but he wouldn't listen because he wanted to blackmail me into stopping my case. I was given the advice to go to the IGP IRT and report my case and they trailed and arrested the Alfa as well as Otunba Adesanya".
The Economic and Financial Crimes Commission, EFCC, Lagos office, on Tuesday, December 11, 2018, arraigned Adesanya Olufemi Paul and Awojobi Ganiu before Justice Mojisola Dada on a four-count charge bordering on stealing and obtaining money by false pretence to the tune of N33, 617.000 (Thirty Three Million, Six Hundred and Seventeen Thousand Naira) only.
Delivering judgement on Friday, the trial judge, Justice Dada of Ikeja Special Offences Court sentenced Adesanya to 21 years Imprisonment. He was convicted and sentenced on a three count charge bothering conspiracy, obtaining money by false pretence and stealing contrary to section 1(1) and 1(3) of the Advance Fee Fraud Act and s278 and 285 of criminal law of Lagos State.
While delivering her judgement Justice Dada stated "I am satisfy that the prosecution has proven his case beyond reasonable doubt of conspiracy. "I hereby sentence him to 14 years on count 1 and 2 from the date he was arraigned. This to run concurrently. On count three for stealing, the accused sentenced to 7 years in prison", she stated.
After the judgement, prosecuting counsel for the Economic and Financial Crime Commission, S.O Daji, thank the court for a well considered judgement.
Army Rescues More Kidnapped Kebbi Students, Kill Bandit
The Nigerian Army has confirmed the rescue of more students of the Federal Government College, Yauri, Kebbi State who were kidnapped by bandits on Thursday.
JomogNews Nigeria reports one teacher and three students have been freshly rescued by the military from the custody of the bandits.
This development was confirmed to Naija News in a statement on Sunday by the Director Army Public Relations, Brigadier-General Onyema Nwachukwu.
The statement noted that one teacher and three students were rescued by the military on Saturday while one of the bandits was killed and some items including motorcycles and handsets were recovered.
The Army statement reads: "Troops of the Nigerian Army operating under the auspices of Operation HADARIN DAJI supported by Nigerian Air Force component have rescued more abductees of the FGC Birnin Yawuri.
One teacher and three students were rescued yesterday at Makuku, in the ongoing search and rescue operations.
The troops also killed one bandit and recovered nine motorcycles and four handsets from the fleeing bandits.
Additional troops have also been deployed to dominate the forest and deny the bandits freedom of action."
It will be recalled that two teachers and five students were earlier on Friday 18 June 2021 rescued by the gallant troops in a coordinated firefight with the kidnappers.
14 Gunmen Killed As Security Officers Repel Attack On Police Station In Benue
At least 14 gunmen were killed by the police in a foiled attack on Kastina-Ala police station, Kastina-Ala LGA of Benue state.
Catherine Anene, police spokesperson in Benue, confirmed the incident in a statement on Sunday.
She said the attackers numbering up to 50, invaded the police station in the early hours on Sunday to rescue some of their members arrested and detained on Saturday.
The police spokesperson said the officers on duty, however, repelled the attack, killing 14 of them.
"On 19th June 2021, five bandits were arrested and detained at Kastina-Ala Police Division for investigation and prosecution," she said.
"On 20th June 2021 at about 0130 hrs more than 50 other gang members of the detainees mobilised and invaded the police station to rescue their counterparts.
"Officers at the division who were already at alert engaged them in a gun duel and were able to subdue the bandits.
"Fourteen of them were brought down during the exchange of fire, while several others escaped with gunshot injuries.
Anene said the command has launched a series of operations to rid of criminal elements in the LGA.
In recent times, communities in Benue have been targeted by gunmen.
Early this month, over 20 people were killed in Odugbeho community in Agatu LGA of the state.
In May, over 30 people were reportedly killed — including students of the College of Education — in Katsina Ala LGA of the state.
Stop Tinubu From Controlling Alpha Beta – Ex-MD, Dapo Apara Begs Court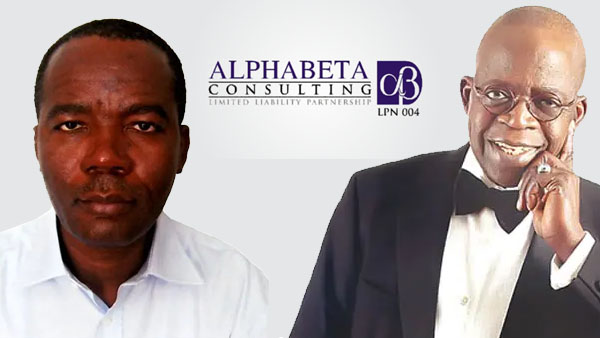 A former Managing Director of Alpha Beta LLP, Mr. Dapo Apara, has filed a suit before a Lagos State High Court asking it to stop a former Governor of Lagos State, Bola Tinubu, from controlling the finances of Alpha Beta.
In the suit filed by Mr Ebun-Olu Adegboruwa (SAN) on behalf of Apara on Wednesday, the former MD alleged that Tinubu controls Alpha Beta, a tax consulting firm that monitors and generates revenue on behalf of the Lagos State Government.
The ex-Alpha Beta boss had in 2020 filed a suit before the court but withdrew it before filing it a second time after making amendments.
Apara, who had in 2018, written a petition to the Economic and Financial Crimes Commission accusing Alpha Beta of tax fraud, asked the court to compel the firm to pay him his entitlements even as he alleged that Tinubu was the one that got him removed from his position as MD for investigating the firm's finances.
Apart from Tinubu, others named as defendants in the suit included Alpha Beta and the current Managing Director, Mr Akin Doherty, who is also a former Commissioner for Finance in Lagos State.
The claimant is seeking eight reliefs including "A declaration that the 2nd defendant (Tinubu), not being a named partner of the 1st defendant (Alpha Beta), is not entitled to direct or influence the affairs of the 1st defendant in such a way that will deprive the claimant (Apara) of his profits and entitlements from the 1st defendant.
"An order directing the defendants herein, to render an account of all sums due to the claimant from the defendants, from 2010 to date (and) an order tracing all funds and assets due to the claimant from the defendants herein from the inception of the 1st defendant till date.
"An order of specific performance of Clause 8 and 11.0 of the partnership agreement that created the 1st defendant by extant partners; an order for payment to the claimant by the 1st and 3rd defendants, of all sums adjudged to be due to the claimant from the said 1st and 3rd defendants on the submission of the accounts.
"A perpetual injunction restraining the 2nd defendant (Tinubu), from directing, influencing or in any other manner running the affairs of the 1st defendant (Alpha Beta) in such a way that will deprive the claimant of his profit and entitlements from the 1st defendant (Alpha Beta), the 2nd defendant not being a partner of the 1st defendant.
"Ten per cent interest in ruling (5) above; and cost of this suit of N10m."
In the statement of claim, Apara also narrated how Alpha Beta was allegedly formed in 2002 when Tinubu was still the governor of Lagos State.
The claimant said he was the one who came up with the idea of a consulting firm to help the state government to track and reconcile taxes.
"The claimant (Apara) avers that sometime in about the year 2000, he solely conceived, prepared and presented a proposal to the Lagos State Government on providing consultancy services using his registered firm, Infiniti Systems Enterprises, with respect to using computer technology to track and reconcile the Internally Generated Revenue of the state.
"The claimant avers that following the presentation of his proposal to the Lagos State Government, the second defendant (Bola Ahmed Tinubu) who was at the time the governor of Lagos State, demanded that 70 per cent equity interest in the project be assigned to a certain Olumide Ogunmola on his (Tinubu's) behalf before he, the second defendat, would approve the project," Apara said in his statement.
The former Alpha Beta boss claimed Tinubu nominated Adegboyega Oyetola and one Olumide Ogunmola.
He said due to the technological innovation that was deployed by him, the IGR of the state grew from N10bn per annum in 2002 to N300bn in 2019.
The claimant stated that in 2010 or thereabout, Tinubu directed that the incorporation structure of the Alpha-Beta Consulting Ltd be changed from a limited liability company to a limited liability partnership under a newly promulgated law in Lagos State.
He said the aim of the move was to shield Tinubu's involvement from public scrutiny.
Apara said as the head of the company, he began looking into its finances and he made many startling discoveries such as mysterious transfers of over N20bn in different currencies to several companies.
The former Alpha Beta boss said he realised that all the payments were sanctioned by the partners nominated by Tinubu and they were done without his knowledge, contrary to the terms of their partnership.
Apara stated that Tinubu was furious that he was looking into the company's finances and ordered that he be demoted to deputy managing partner.
He said he refused to obey this order and this led to a feud between the both of them.
No date has been fixed for the hearing of the suit.
Both Tinubu and Alpha Beta had last year described Apara's allegations as spurious.
The company had alleged that Apara was relieved of his position because he was involved in fraud.
A statement by the firm read in part, "The fact is that Dapo Apara began making his untrue allegations in the aftermath of his removal as Managing Director of Alpha Beta for fraud and unethical practices.
"While he was MD, Apara used his position to siphon huge sums of money from the company including but not limited to fraudulently converting $5m; money allegedly used to pay for cloud-based services that were eventually discovered to be worth less than $300,000.
"In July 2018, further evidence of his fraudulent and unethical practices was uncovered, including the revelation that he converted approximately N6bn belonging to Alpha Beta to his personal use."
Punch.